MISS HOMECOMING QUEEN CONTEST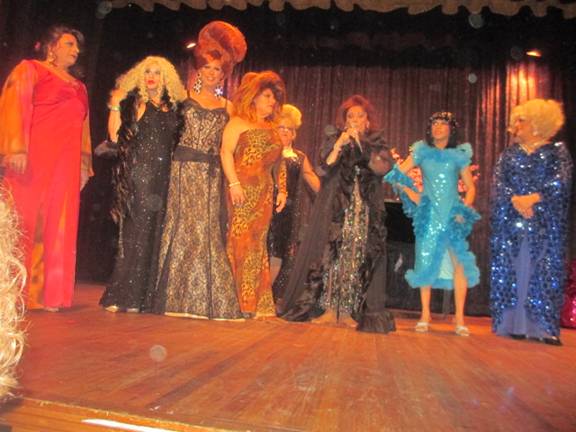 By Jeannie Lieberman
     May 26, Cherry Grove
It was that fun season opener at Cherry Grove Community House. How could the season begin without its new annual Homecoming Queen? Without lending her official imprimatur to the opening of all major events in the community?
Arts Project members were in high spirits greeting each other, many for the first time this season. The house was filled with royalty, many former HC Queens :Beach DeBris,  Uneeda Dunes, Ivana Cocktail, Luisa Verdi, Lola, Donna Pirhanna, Legs Labohn, Mandi, Cobra, Coco Love, Angela Merci, Urban Sprawl, Joan Van Ness, and more
And of course outgoing HCQ 2012 Robyn Kradles…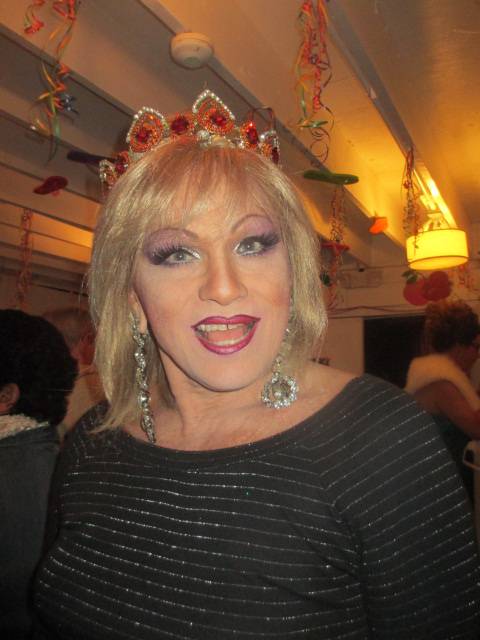 …who quipped when asked how it felt to be over "Its great! I didn't even pin this (crown) on"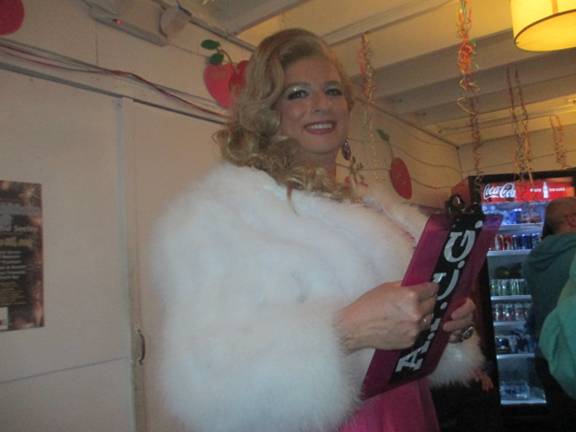 No one gets past HCQ Uneeda Dunes till doors officially open (and she's BIG)!
Celebs mingled in the crowd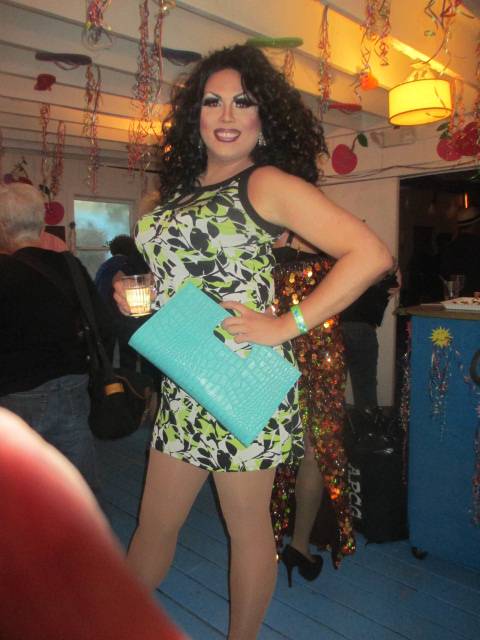 Rene Flaming
HCQ Beach Debris & Cobra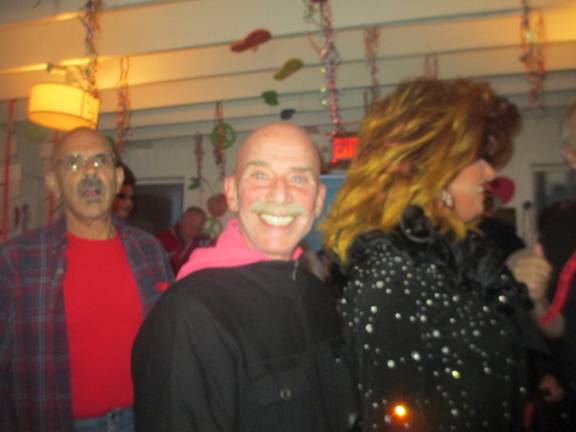 HCQ Legs Labohn in a rare smile escorting contestant Shirley Shapiro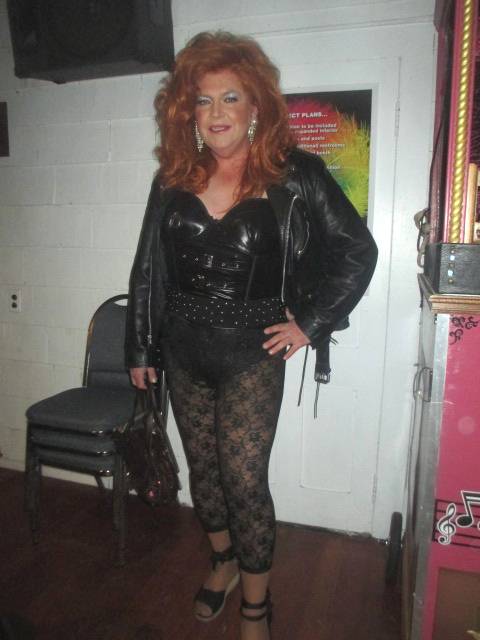 Ivana Cocktail in biker chic
The ever glam Donna Piranha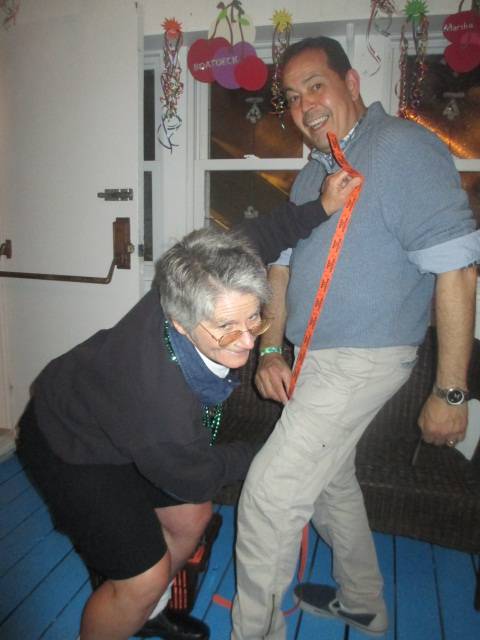 How many raffle tickets did you want? HCQ Luisa measured for the max.
The Contestants Arrive: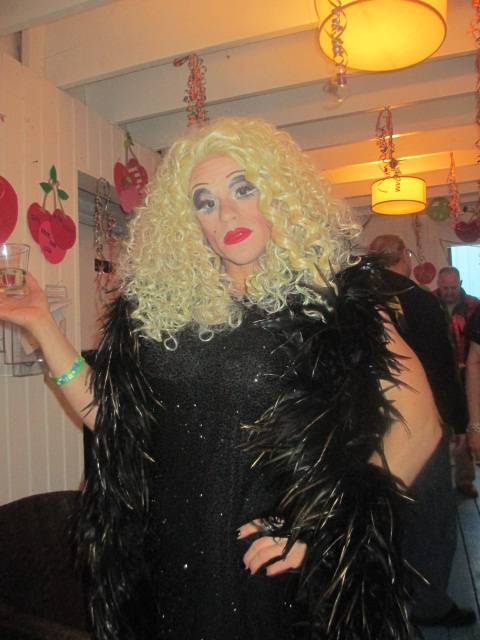 Robin Banks – "I want to change my life"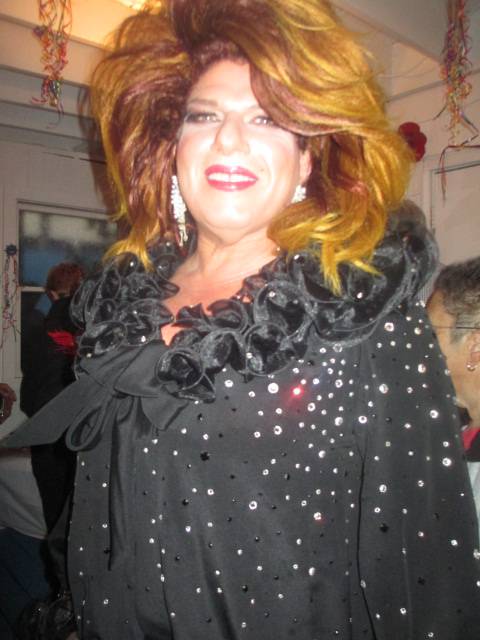 Shirley Shapiro – "I want to show what an old girl can do"
The ever nurturing Mother – "I want to give back to the community"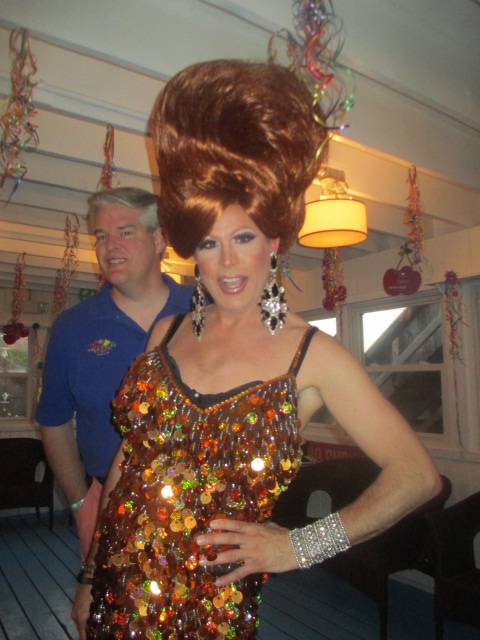 Whore D'Oeuvres of Palace fame: First time entry, "It's my time"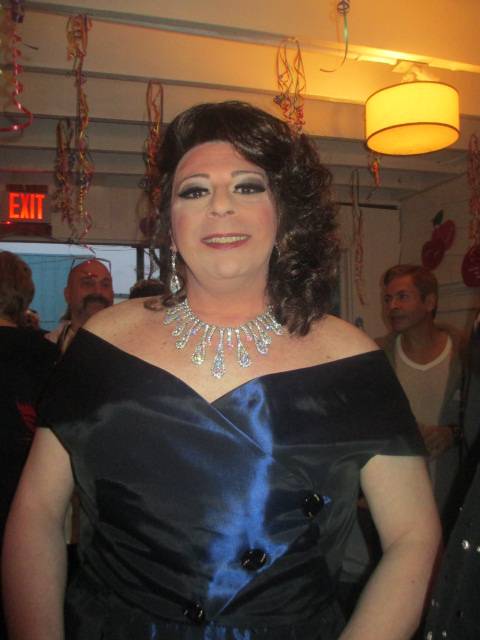 Jo Jo Gerard – long time resident –
The Audience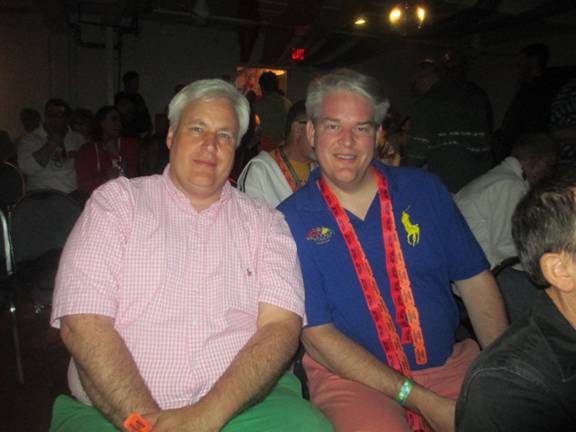 Newlyweds Curtis & Jack reveal who handles the money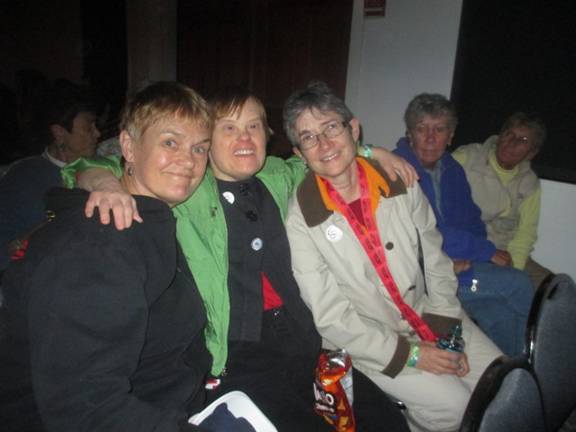 Martha, her sister & Ellen
Les Girls Linda & Barbara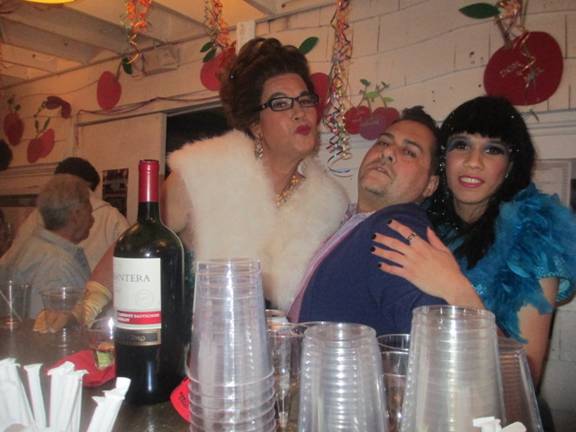 Beach DeBris, Lola and Juanita Martini show off new bar tending technique
Former Mr. Fire Island Leather BMG's approach more serious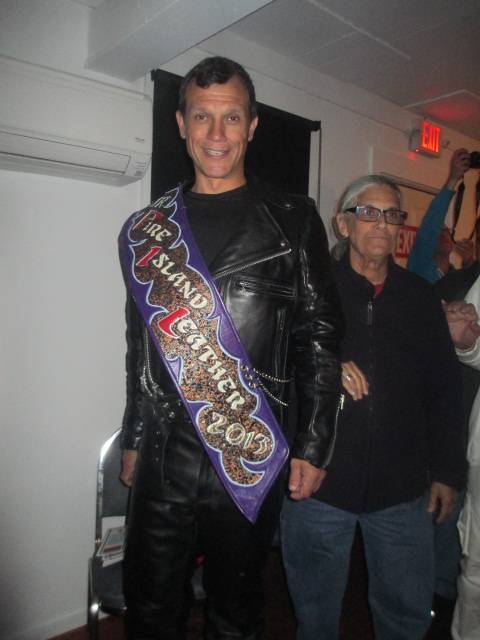 Perhaps because the current Mr. Fire Island Leather 2013 Candido Soares is standing by
Backstage
Wizard HCQ Urban Sprawl transforms Bobbie Green into a Panzi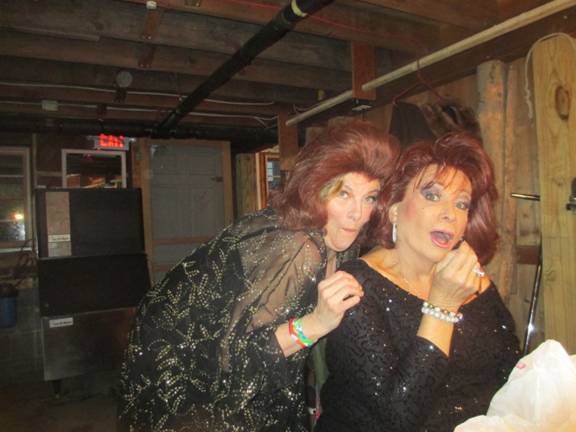 Am I seeing double? That's Bella wannabe Joanne Tavis with the real thing
Gotta get down on her knees to be here
THE CONTEST
Hosted by Panzi & Bella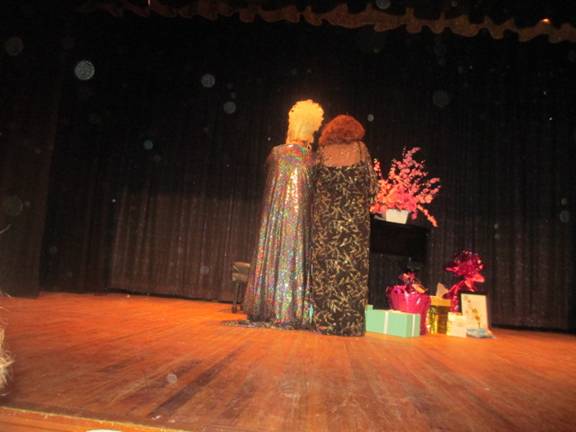 There they are…………..
Or are they???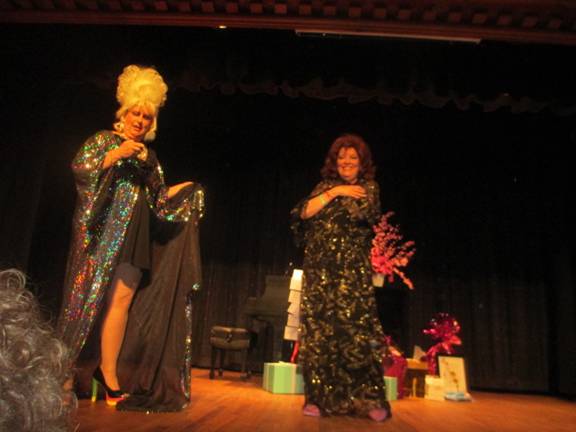 Borrowing from last year's smash hit Identify Theft theme of the Doctor's Fund show
Bobbi Hirsch and Joanne Tavis became Panzi & Bella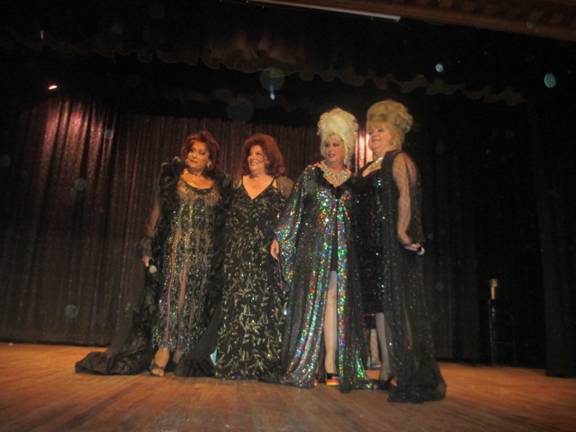 Double Vision!!! The Real Thing – nice try gals
Bella prefers the "other ' Panzi!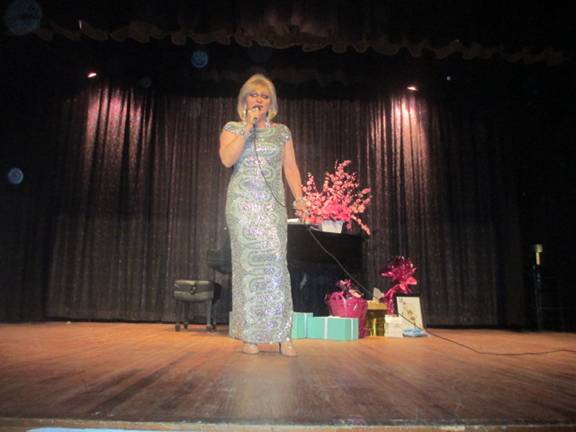 HCQ Robyn croons her swan song "I thought about you" to the enthralled crowd of devoted subjects.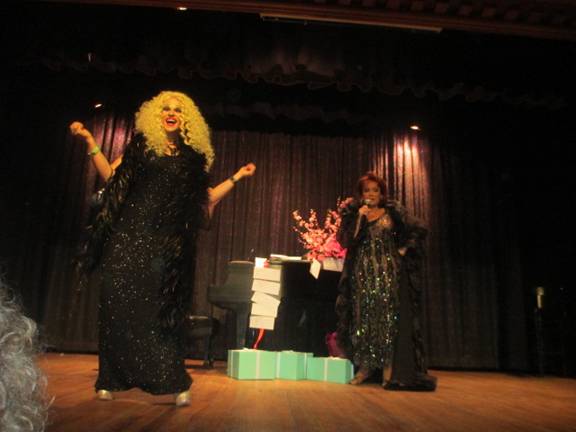 Robin Banks: "I woke up like this. If elected I'll rule with an iron fist – first one to get it – Bruce Michael" (???)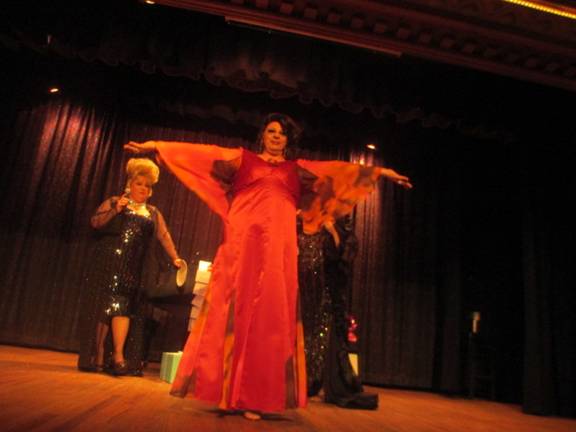 Jo Jo Girard, Grove historian from1928-1982 (the years she's been here??)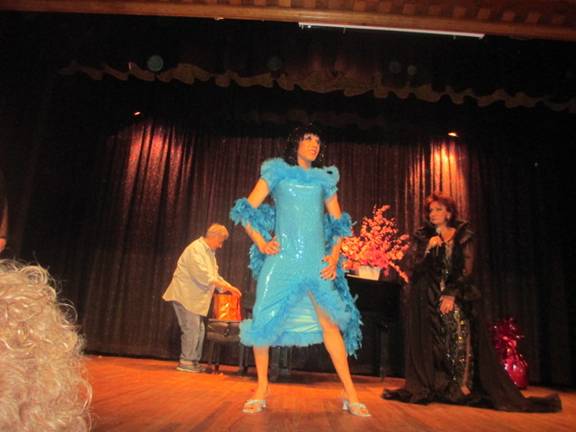 Newbie Juanita Martini – needs a little work —"I believe this is where the angels live;"
(That's the adorable Anita helping out in the back)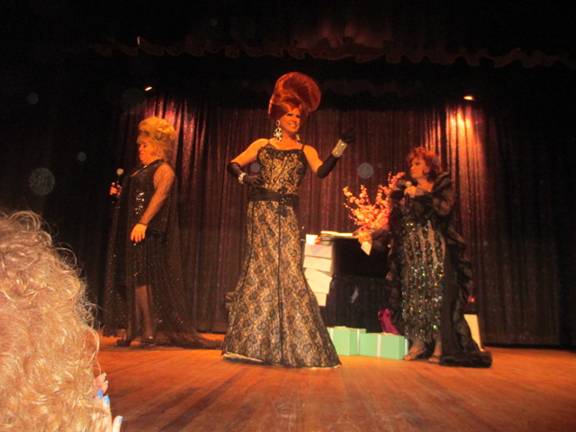 The gorgeous Whore D'Oeuvres wants it "because it's not the Pines"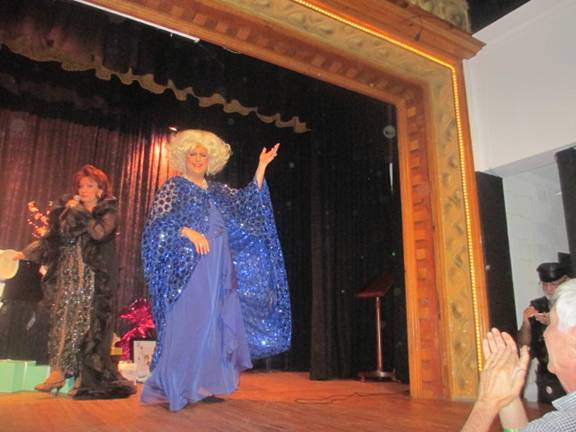 The ever expansive Mother had the best motives: One thing I can hope to accomplish is to t try to establish ourselves as the leading gay community and do it in a way to give back to the community "
Official photog Lorraine and Joan eating it up!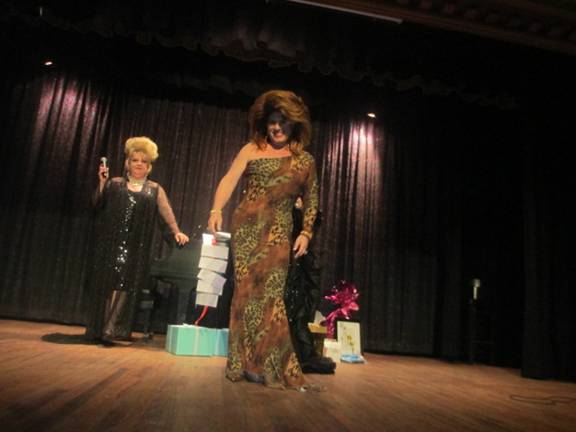 …and then it was Shirley Shapiro's turn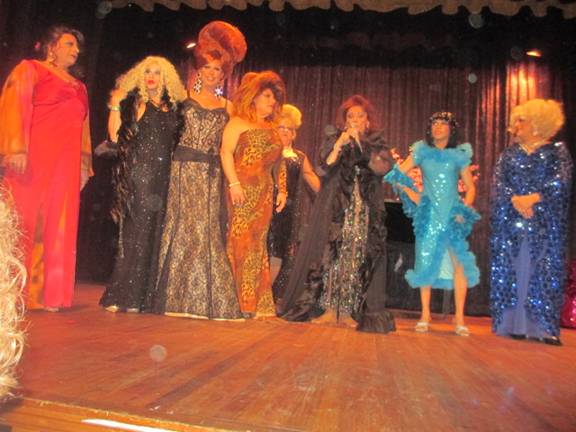 contestants Jo Jo Gerard, Robin Banks, Whore D'Oeuvre & Shirley Shapiro, MC Panzi & Bella, & contestants Juanita Martini & Mother
After a close run off – repeated twice for accuracy between newcomer stunningly statuesque Whore D'Oeuvre and community favorite Shirley Shapiro (you can't make these names up, folks – and they say it all)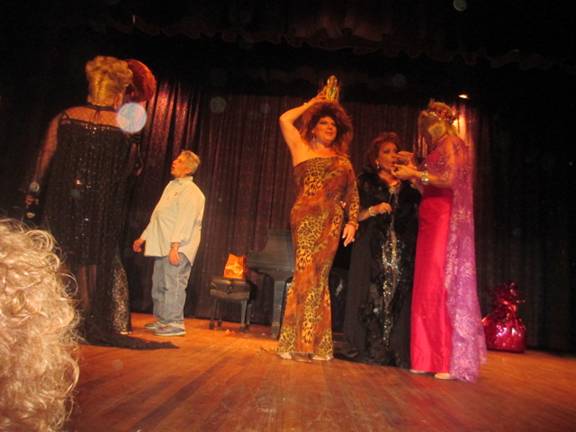 The  winner is…Shirley Shapiro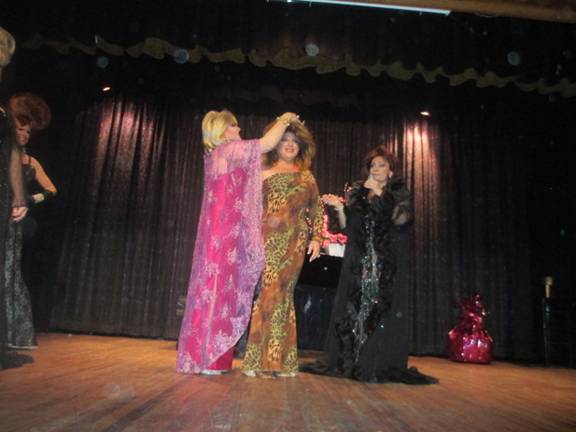 Robyn said she warned the contestants about crown-ready hair but no one listened!
"As Homecoming Queen, I would like to do a little something extra to save the Community House."
Partner Donald (Sister Sylvia Shapiro) will have a ball designing all those gowns for those Royal Command Appearances.
  LONG LIVE THE QUEEN!