If This Piano Could Talk
                                     by Sherri Rase
                                   photos and captions by Jeanne Lieberman
A word from our president Martha Pitkin
The Arts Project of Cherry Grove's "community" show on Labor Day this year was Dell Harbin's brainchild "If This Piano Could Talk", it was a reprise of 64 years of Arts Project history using archival footage from past shows with fresh new takes on classic numbers.  The cast was choreographed by the inimitable Dale Lally (is there NOTHING that man can't do?) and Darius Frowner helmed the piano and provided expert musical direction.  Modesty forbids discussing my solos, but let me share some of the highlights from backstage.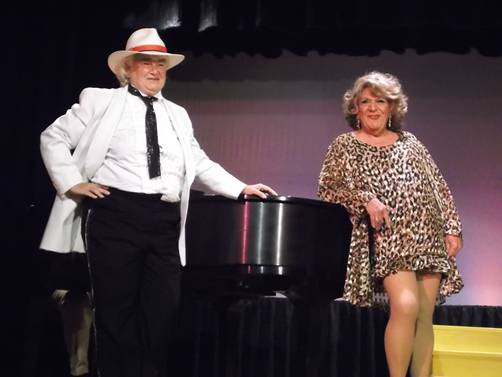 The most performed number on the stage at the Community House is "Broadway Baby", but we're actually "BoardWALK Babies"!  The ensemble put our hearts out there – why we do what we do?  Because we MUST!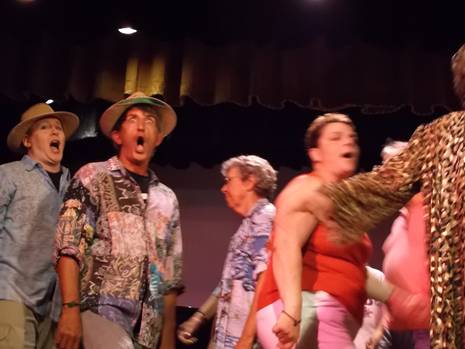 The cast trodding the boards on the Boardwalk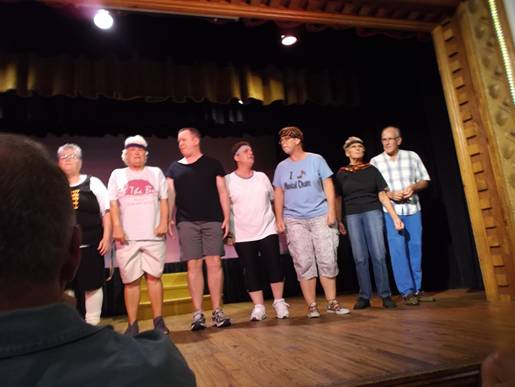 Next was a mature take on "God, I Hope I Get It" from "A Chorus Line", where the ensemble made a quick change into dance belts and leg warmers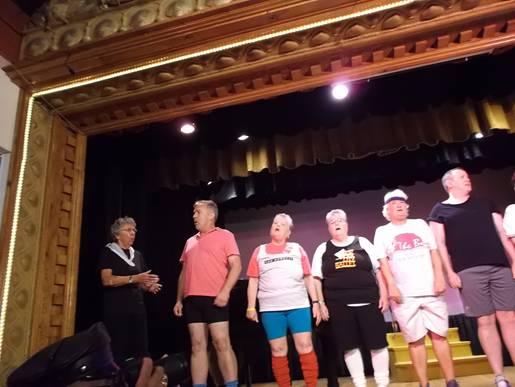 The Audition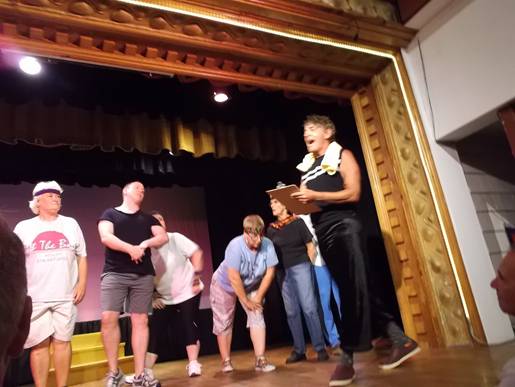 Stretch for the dance part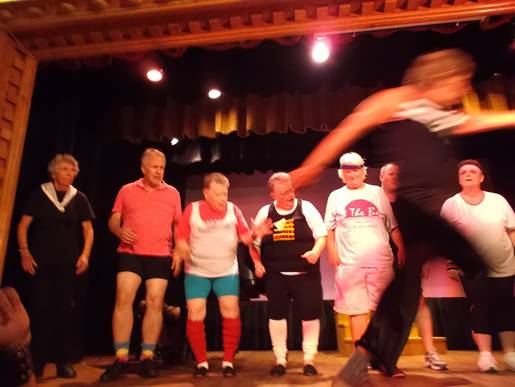 Do what??? Is he kidding???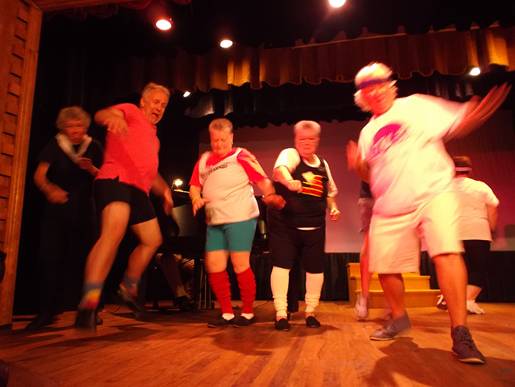 Did it look like this?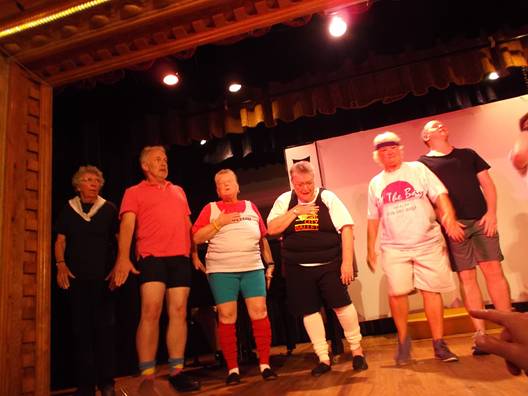 Whew! I think we got it!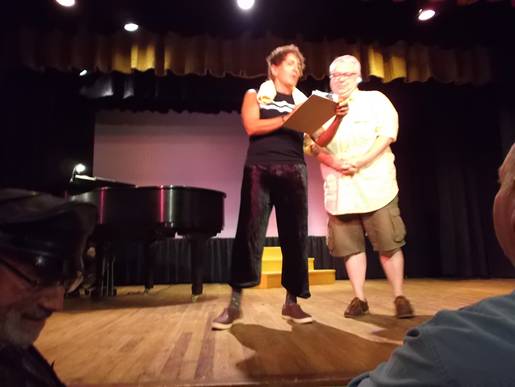 while Panzi auditioned for "Zach" (Dale as chameleon, changing even MORE quickly than the rest of us!) Somehow, Panzi didn't make the cut, but the show went on.
Some of my favorite numbers were ones that I hadn't seen done originally, but enjoyed watching friends perform –
Lynn Belensky serenading Pat Wagnis, on "The Man in the Moon is a Lady" with the two of them harmonizing at the end.  The clip of the original number featured a moon large enough for the Lady (Pat) to recline upon.
"The Miracle of the Bells" Linda Dickerman and Barbara Hirsch were featured in the first act as nuns,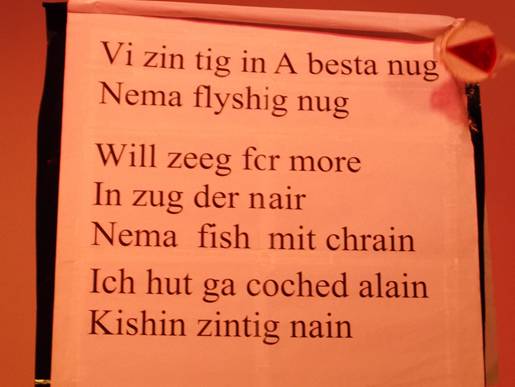 and in the second act, their sing along "Never on a Sunday" a la the Barry Sisters with rainbow hankies and follow-along lyrics had the audience laughing when they weren't attempting to sing in phonetic Yiddish. 
Sallyann Piacentino's hilarious rendition of Medea's torturous route to renown via a dramatic scene from the opera Adriana Lecouvreur where her co-star (a huggable baby doll) learned what it meant to cross Mommy Dearest.
 One of the Grove's most accomplished lip synchers, this time Sallyann chose Italian – as befits a legend most. 
Singing live (with cards) Ruth and Susan Freedner did a fabulous mashup on "Mad About the (Girl)" and "Mad About (Her) Blues".  Ruth was successful getting her words in edgewise, for the record.
Tim Webster and Martha Pitkin paid loving tribute to the Freedners as the "Andrews Sisters".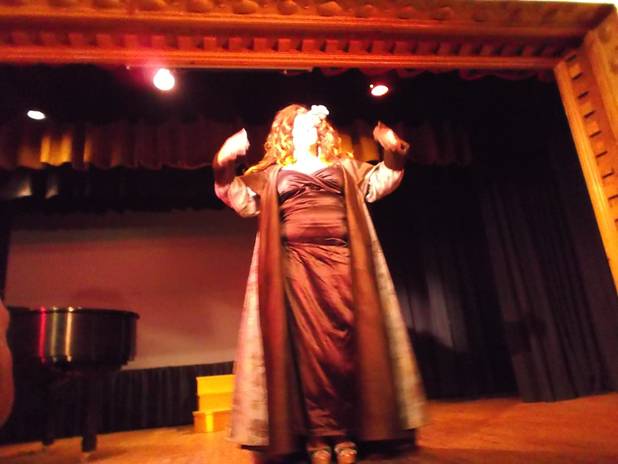 Other featured performers included Gusty Winds (Dan Alita) doing a star turn on "I Am What I Am",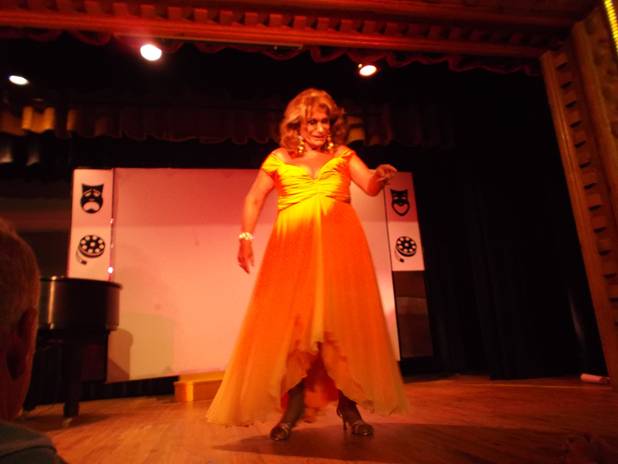 Bella doing a superb Totie Fields on "Stunning Me" from Ms. Field's Vegas show complete with audience repartee,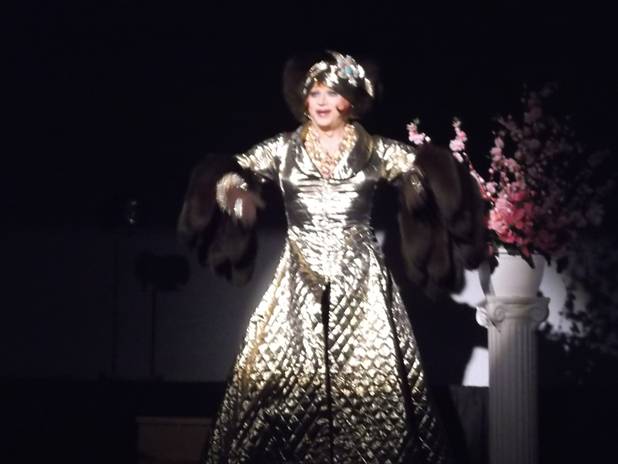 Demi Tasse pouring her heart into "With One Look" from "Sunset Boulevard"
and Homecoming Queen Robin Kradles sending up Billie Anne Miller with "Falling In Love Again" while her boys (Dell Harbin and Sallyann Piacentino) cuddled up to each other, rather than Marlene. 
Tony Bondi reprised his early 2000s "Raining In My Heart" with fluttering eyelashes that may have caused tornadoes in New Jersey!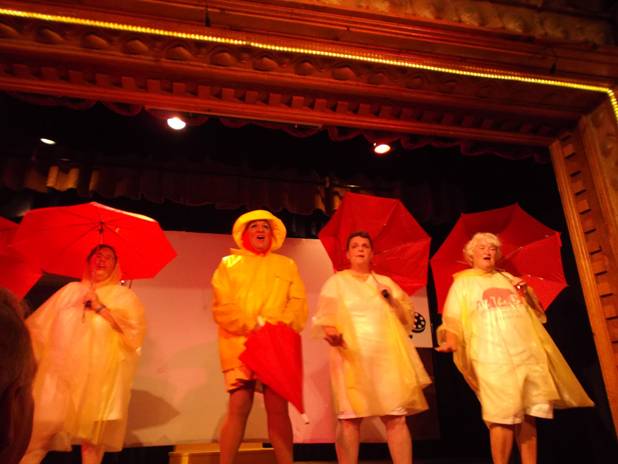 Soon joined by the chorus girls (note Sallyann's umbrella malfunction – the beauty of live theater)
Linda doing an almost exact replica (as we later saw) of the revered Dixie in "If I cant'sell it…"
 And then there was the live singing!
In addition to the opening numbers, James Lyons, Dale Lally and Eric Coyne wove together three favorites around the piano. James lamented and loved "My Man" with brilliant tenor passion, then passed the torch to Dale whose "The Man that Got Away" had verve and bittersweet longing.  Then Eric's beautiful rotund voice reminded them, they "Can't Help Lovin' that Man of Mine".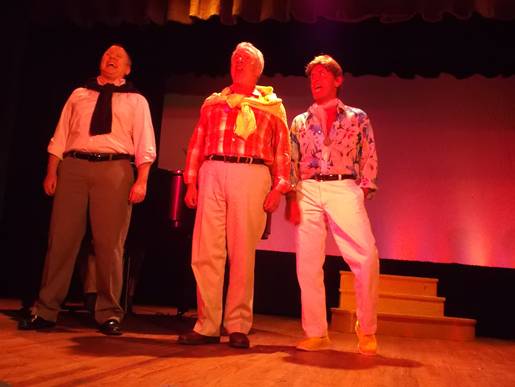 When they combined in a barbershop harmony at the end, there wasn't a dry eye in the house!  Kudos to the Lone Arranger, Darius Frowner – his musical wit and energy are infectious.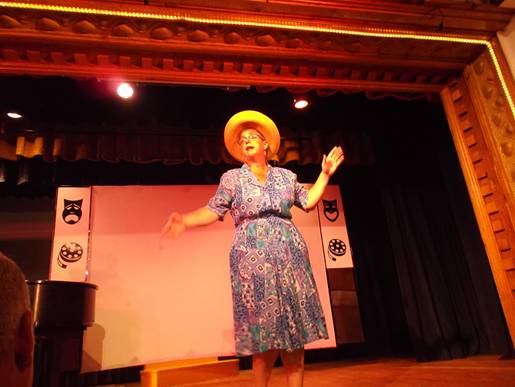 Sherri Rase sang the optimistic "Look for a sky of Blue"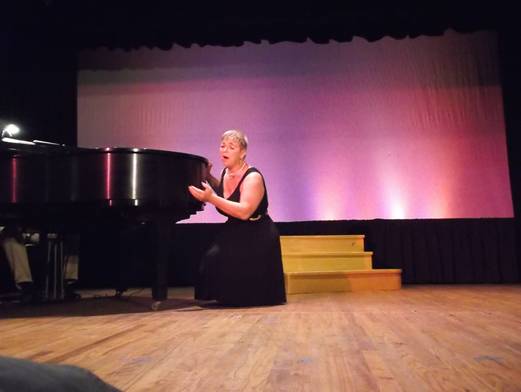 ..and then sang "So in Love" to a piano!!! Never sounded better as both songs showed off her vocal versatility and acting skills.
The ensemble then came together for a special tribute – Gerrie MacWhinnie reprising "Glorious Food" paying homage to her mother, Jeanne Skinner's performance in the Sal Piro classic "Class Reunion".  Adding new wrinkles to her mother's performance, another star is born in Cherry Grove!
Despite acquiring a new projector for the show, the ghosts of the theatre must have their fun.  The projector worked in rehearsal, but did not cooperate to show the video 'til the very end.
Philomena's rendition of "Send in the Clams"  on video was an audience favorite, with her comic timing and antic wit.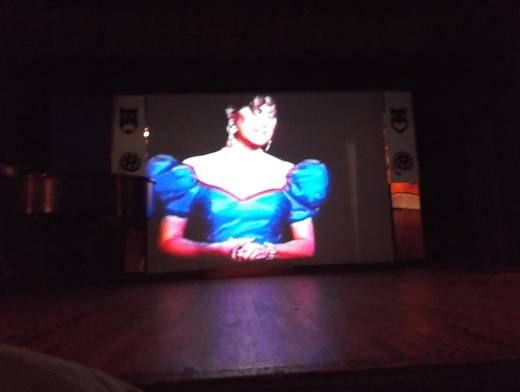 Finally, "Sgt Pepper's Lonely Hearts Club Band" from last season's "Glay", featuring Sallyann Piacentino on vocals, played before the cast sang a spirited "When I'm 64", in honor of the Arts Project.
THE FINALE & CURTAIN CALLS (pix courtesy of Bruce Michael Gelbert)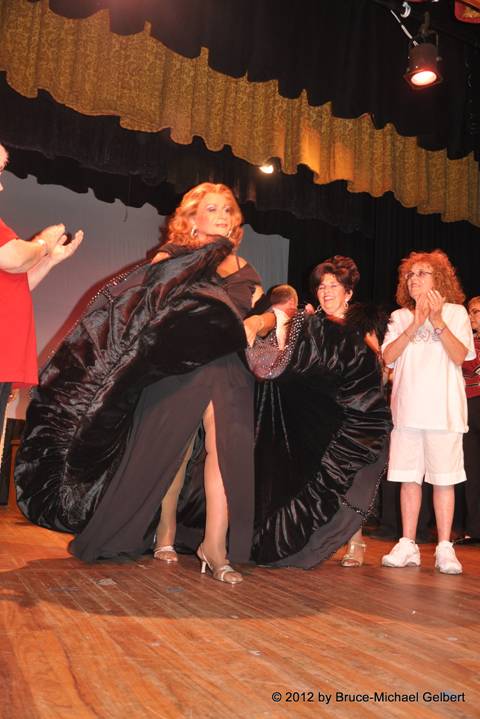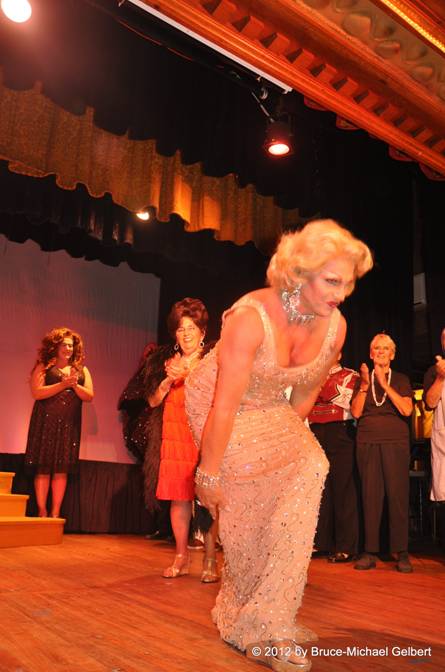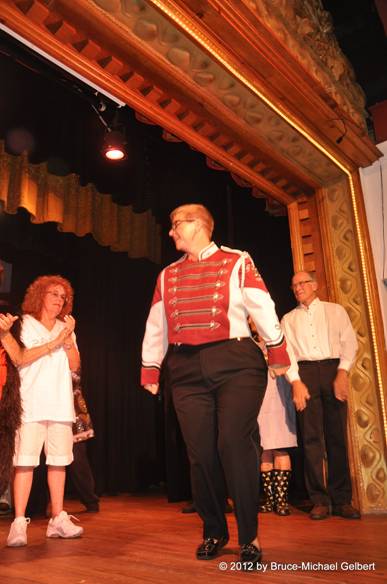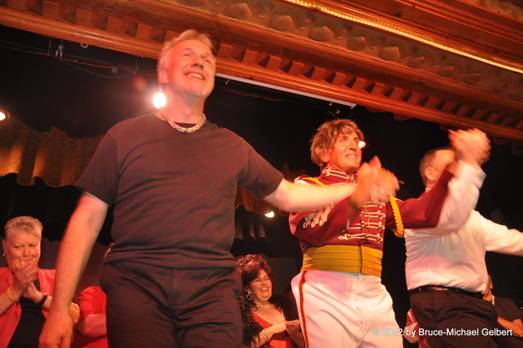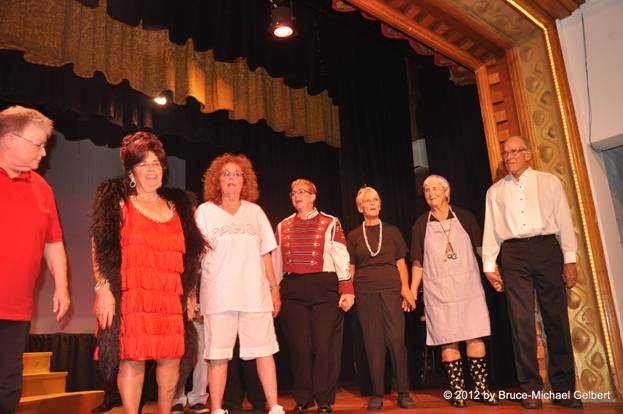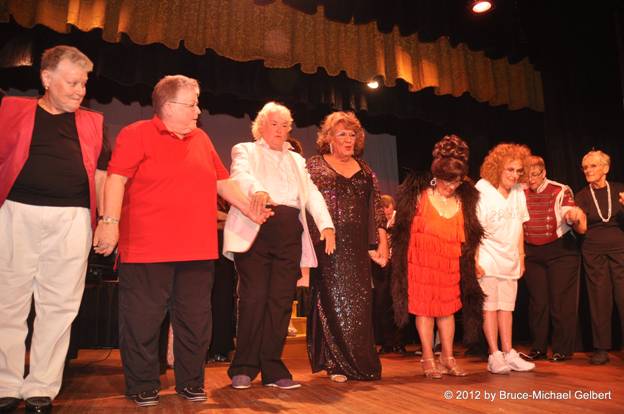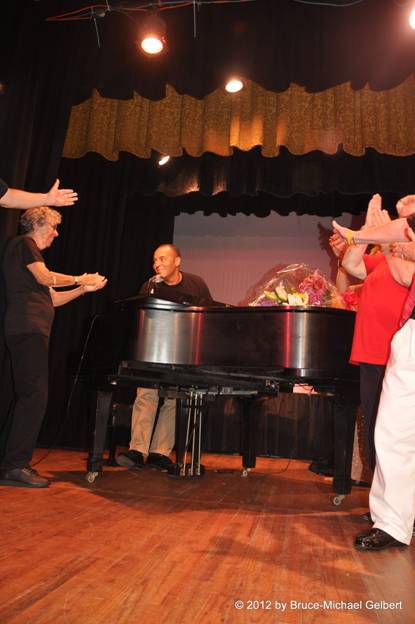 Editor's note: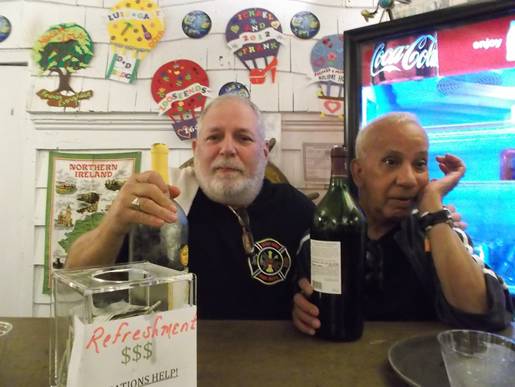 Martha and the bartenders played an unrehearsed major part in the evening when, to fill in the time to fix the projector, the decision was made to empty the frig and enlist the likes of Lorraine et al to serve free drinks to the audience. "We are not allowed to sell drinks for money – it would cost $800 per show for the license. So we did what we always do, give it away for a  donation" – but a great idea which lent merriment to otherwise awkward moments
 Intrepid audience members stayed to see the clips that couldn't be shown earlier. You could hear a pin drop – the audience was rapt and giving love to the Arts Project that it's been returning for 64 years, and counting.