Cherry Grove launches 37th Annual Invasion of The Pines with
 reigning Homecoming Queen Robin Kradles in the lead
                                                    by Denise Dell Harbin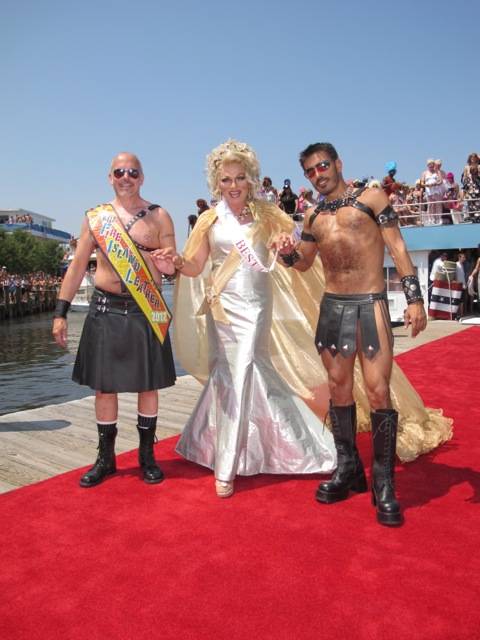 Queen Robin Kradles flanked by her escorts Mark Nayden, Mr. FI Leather 2012, and Collin Stone, a former Mr. FI Leather                                              photo Lorraine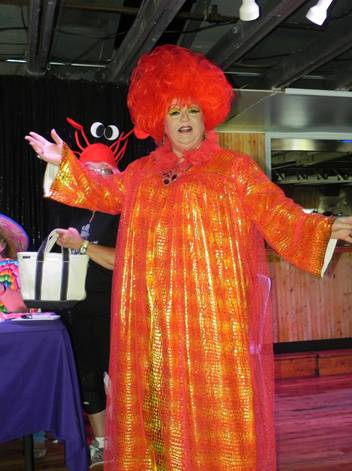 Panzi in orange prepares to lead the Invasion
                                Photo By Denise
Following the tradition of invading the neighboring community of Fire Island Pines on the 4th of July, a boat loaded to capacity, with cross dressing mandatory, set sail from Cherry Grove about 2 PM on the national holiday and headed east. The Queen carried forth the Arts Projects' theme of "Around the World" and represented Miss Universe, with an entourage of other "contestants" wearing sashes from imaginary countries. The carefully outfitted entourage included the APCG President Martha Pitkin; Aida Herring and her escort Shrimp (singer Jim Speake) of Scandahoovia; Demi Tasse and her escort String (Dell Harbin, publisher of The Violet Letter) from Asian mecca Tam-pon-ora, along with their love child Paddy; past Queens YaNeeda Dunes and Beach DeBree; Donna Piranha and her husband Roger Cortez of Polak; Sue Panzer and her partner Angela Smith joining Wen-D Bouvier as Dumb, Dumber and Dumbest, among others.
Queen Robin was escorted by Mark Nayden, Mr. Fire Island Leather 2012, and Collin Stone, Titan Entertainment porn star, in a black leather kilt leaving little to the imagination. They were later joined by Mr. Meatrack Candido Soares, wearing a newly made sash of moss and branches resembling deer antlers. The entire entourage was announced and then did a choreographed bow to both sides of the jam-packed Pines Harbor. Greeting these invaders in the Pines were Robin Byrd as well as the Grove's own Rose Levine. The Pines Judges awarded Queen Robin the "best individual" award.
While there was some question that Sip and Twirl, destroyed in last Fall's fire in the Pines, would be open for the usual merriment lubricated by the free drinks to Invaders, , Invasion leader Panzi was able to distribute bracelet's for admission and free drinks to their Pool Party, which was announced by Shequida and Bianca del Rio and Peppermint, as invaders strutted their stuff on a red carpet bridge over the pool. There was barbecue offered by the Blue Whale, and all in all, a good time was had by all! The entourage and invited guests trod across the dock and followed the red carpet through the sand to get to the rear entrance to the pool party. And no one minded!
A special salute was made the firefighters who helped save the Pines from worse devastation last October. They were led by Cherry Grove fire department Chief Jill Navarro and other members of the Cherry Grove fire department.
More fun in the crowd from Gilbert Baker, creator of the rainbow flag, as "Busty Ross" who was voted "Most Political"; the ever-present Drag Repair team that rescued Mother from a wardrobe malfunction and Titanic survivor, the Unsinkable Taffeta Brown.
The Invasion started 37 years ago when a drag queen named Teri Warren was refused service in the Pines because she was dressed in drag, and she then went back to the Grove and got friends who then, en masse, invaded the Pines, and it has become a friendly and fun tradition ever since. Panzi was one of those original invaders, and has led the parade of invaders ever since. He gets help herding the glittery drag queens from Aida Herring and a group of other close friends. Sayville Ferry owner Ken Stein has cooperated with the invaders every year, and for the first time in a long time, the fee for this special ferry ride was raised to $15. But no one seemed to mind! In fact, with the boat sold out before all who wanted to ride got a ticket, there is talk of a second boat next year!
As a part of the entourage, standing or sitting in the coveted top deck prow space, this reporter got the best view and enjoyed the day immensely. Thanks, Queen Robin, for including me! Long may you reign!
Photos by Dell Harbin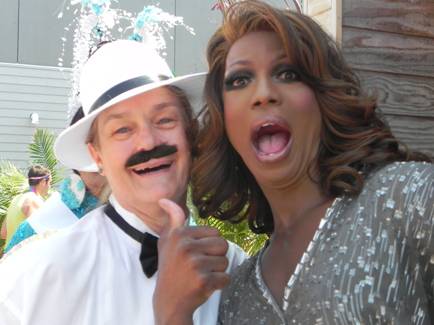 APCG President Martha Pitkin and entertainer Shequida;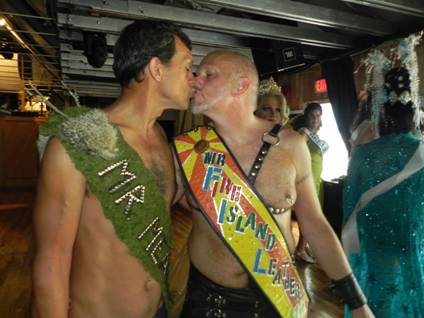 Mr. Meatrack Candido Soares gives a kiss to Mr. Fire Island Leather 2012 Mark Nayden;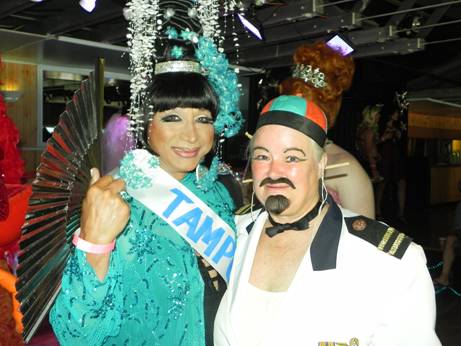 Tamponora's entry DemiTasse and her escort Dell Harbin
INVASION '12 
Photo journey by Jeannie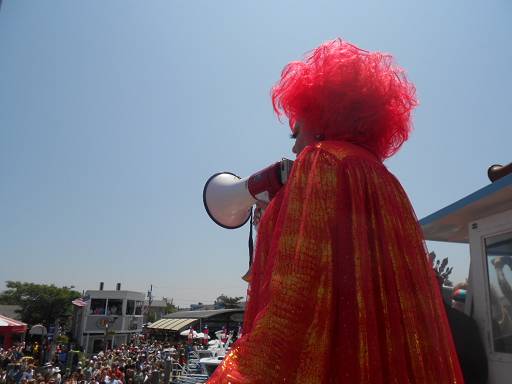 ..Panzi herding the flock to the boat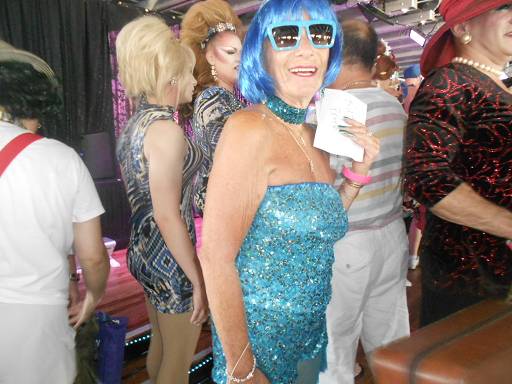 R.G. Joyce never misses a chance to dress up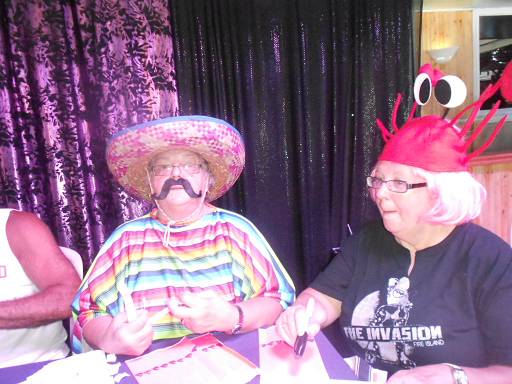 Selling the tickets – up $5 from last year – now $15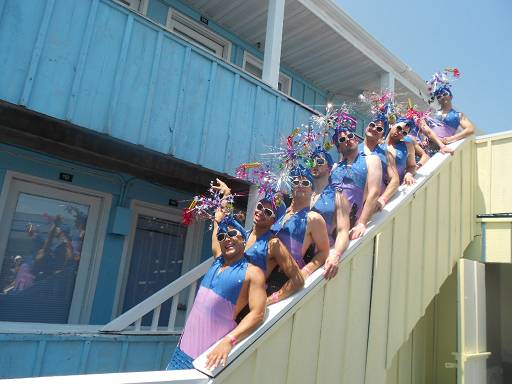 The synchronized swimmers return?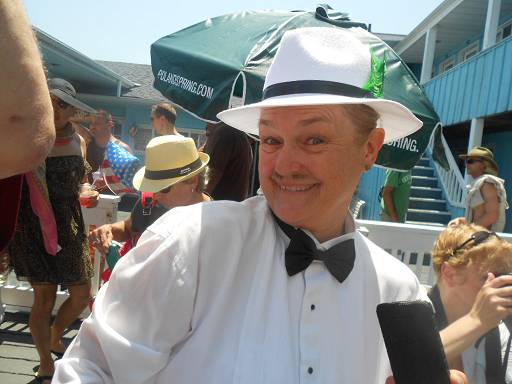 Cute CGAP Prez Martha
Ready!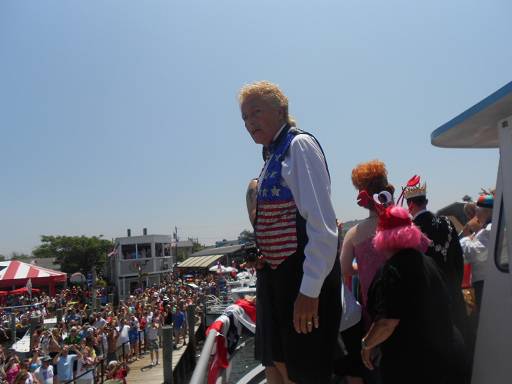 Chief photog Just Lorraine surveys her subjects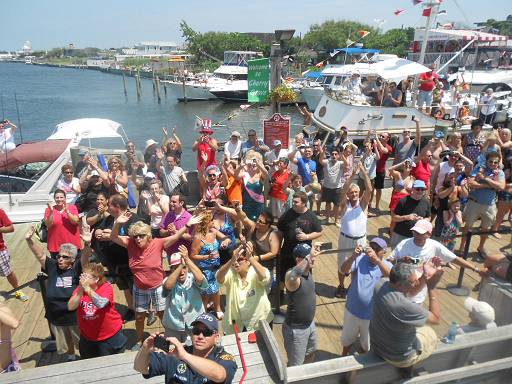 A motley crew passes through the crowds to board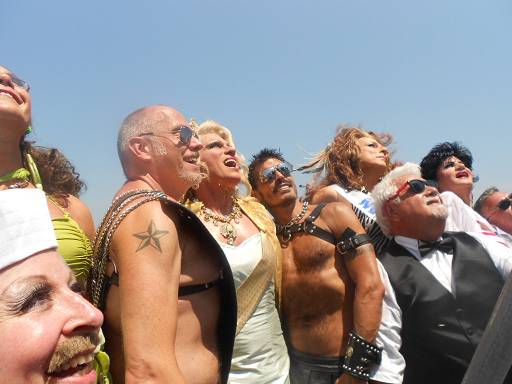 Obeying Lorraine's commands "Look Up"
The elite Royal Entourage huddle in the cabin for shade – on a really hot day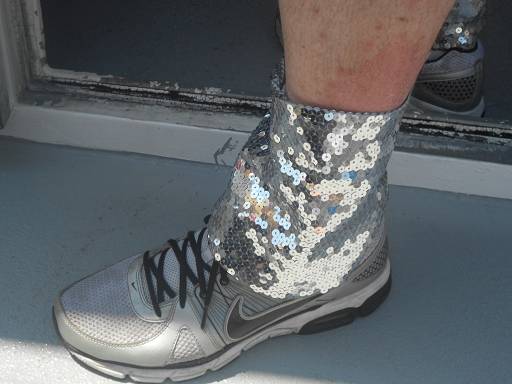 Well, it's a costume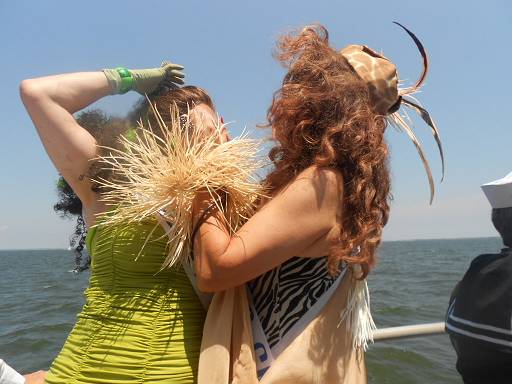 Let me help you with your "hair"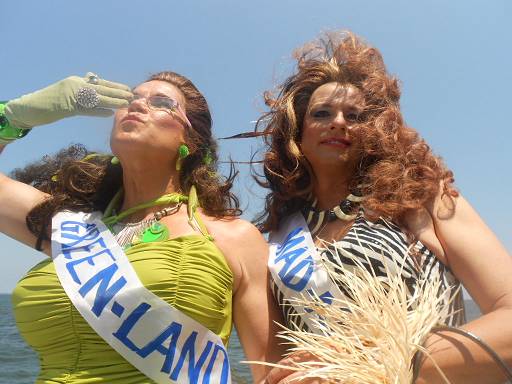 Oops! A photographer – Pose!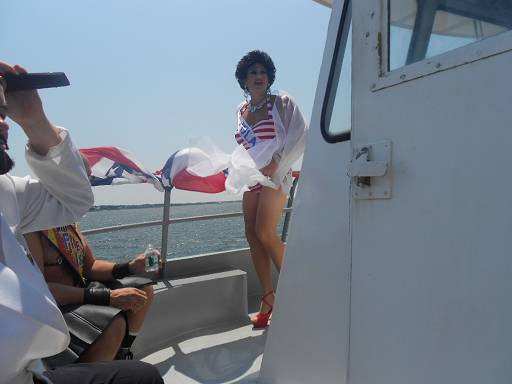 Donna Pirhana  can't resist showing off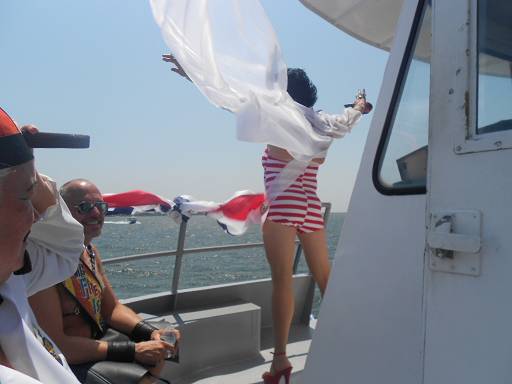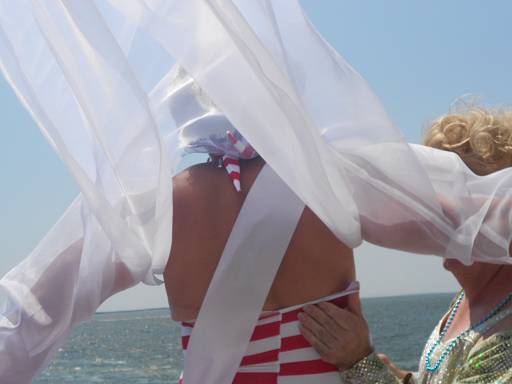 If you're going to pose dearie make sure everything is right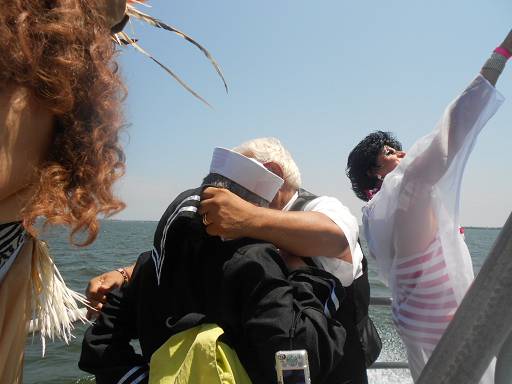 True Friendship
ALSO ON BOARD: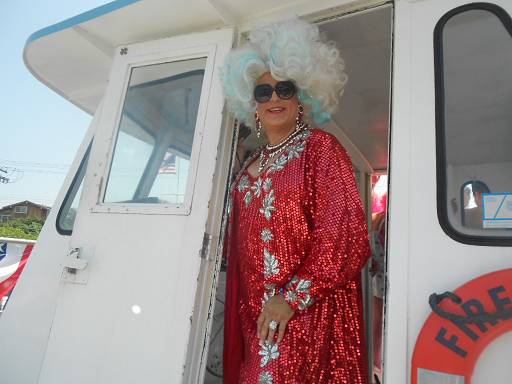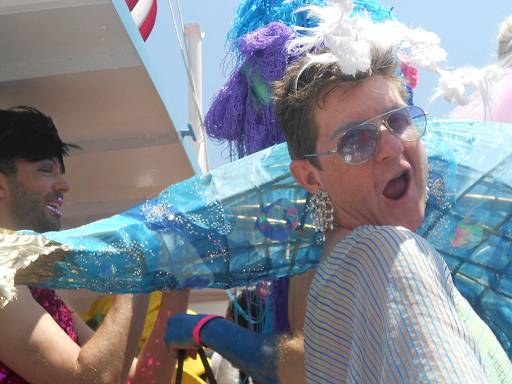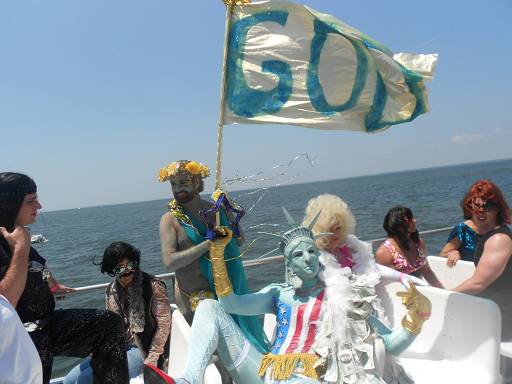 Look – God and Miss Liberty together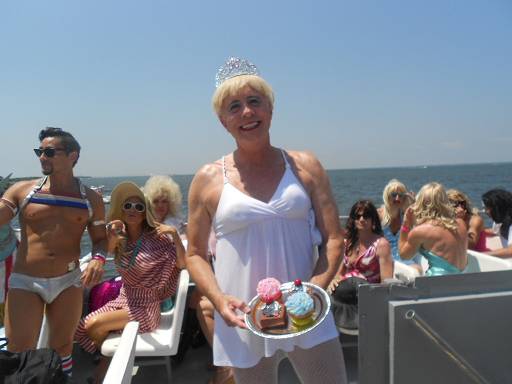 Refreshments were served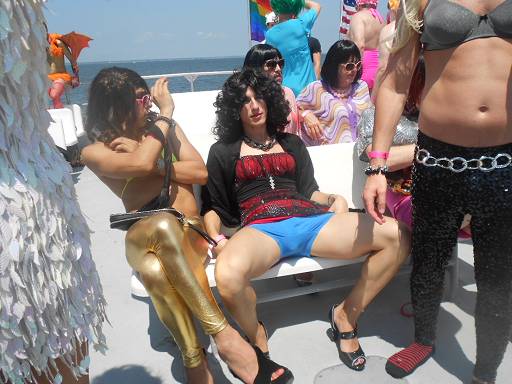 Not very ladylike!
My hair is holding up very well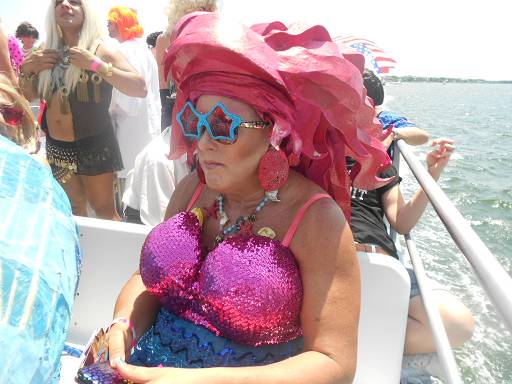 Maybe this is one Invasion too many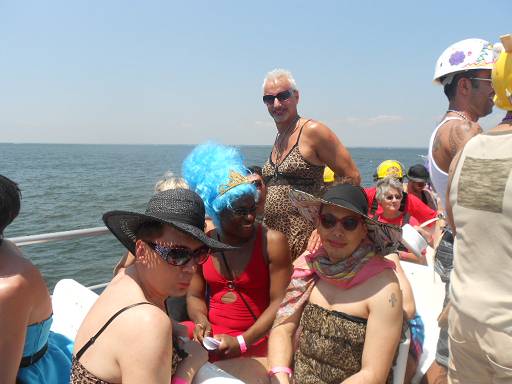 The busy Drag Repair almost elude my camera (see right)
They are: Dennis Noboa (director), Kevia Hughes, Patty Rosodo,
Wiliam Andriance, Felix Girevia, Joey Corona, Joe Tevlizzi, Josip Bulivac, Samantha Uigure & Andrea Duvalle – THANKS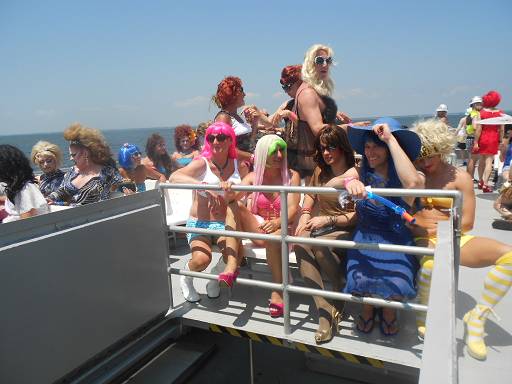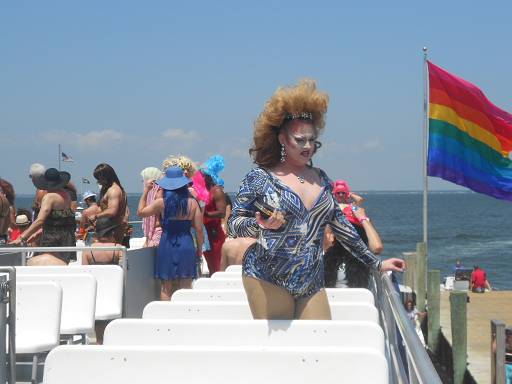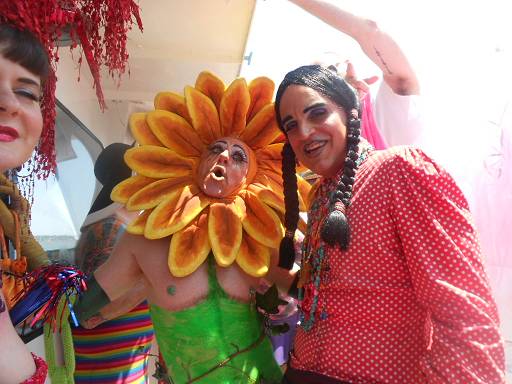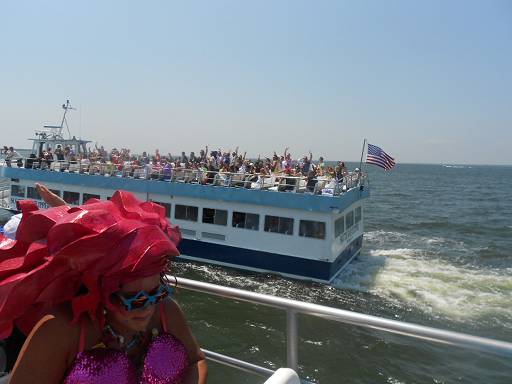 Lucky Passengers got quite a surprise
A little sun block please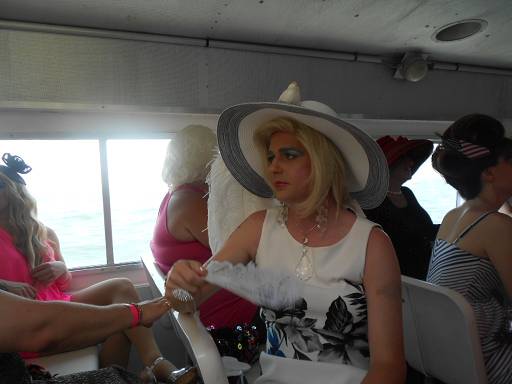 Quiet composure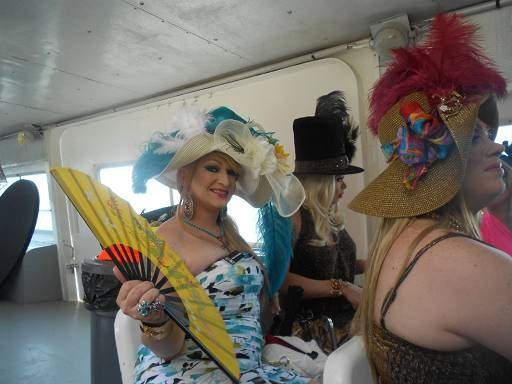 A vision!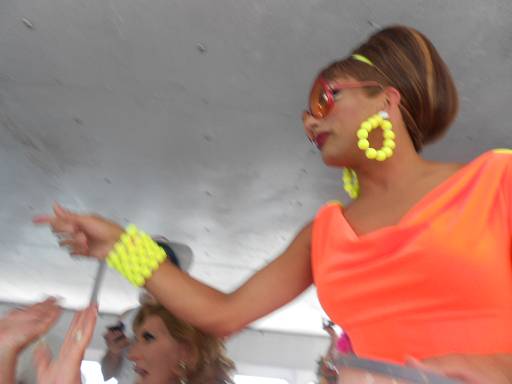 Listen to me!!!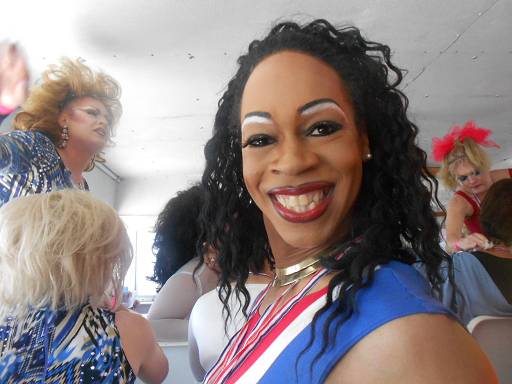 I feel pretty!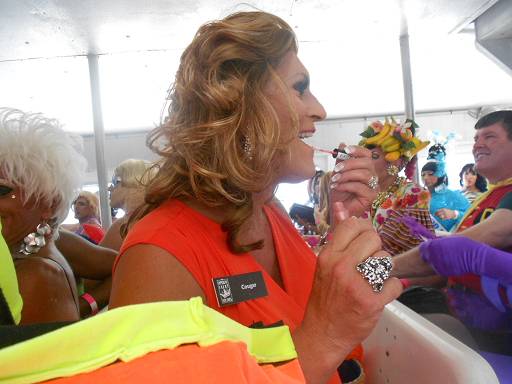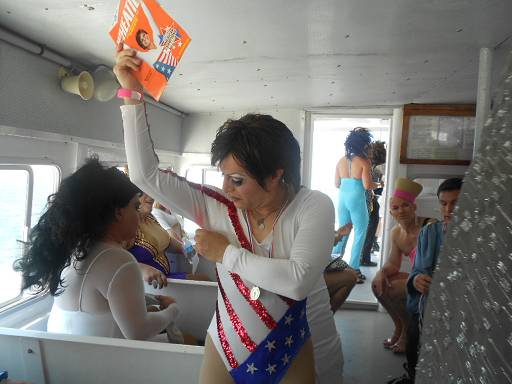 Mary Lou Retton – oops a tear in my uniform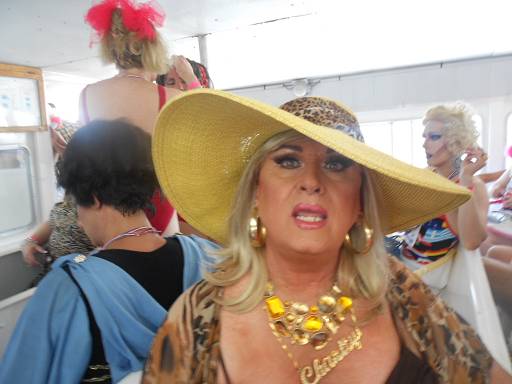 Charity wearing Joan Rivers Jewels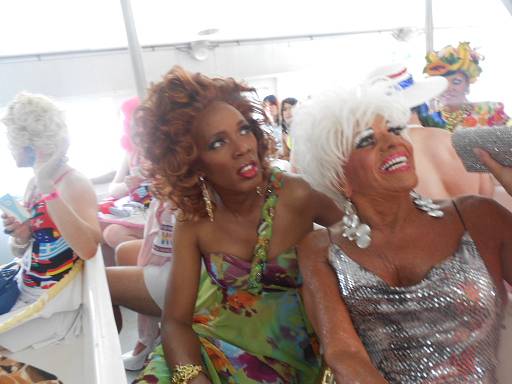 China & friend – timeless beauties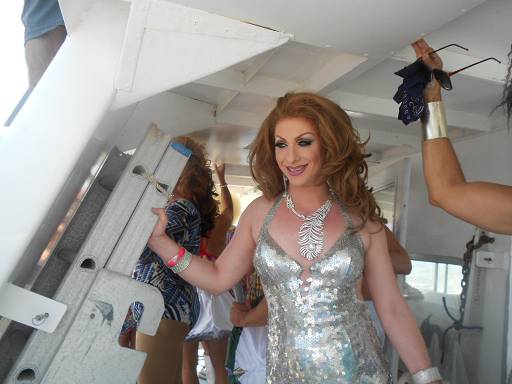 And another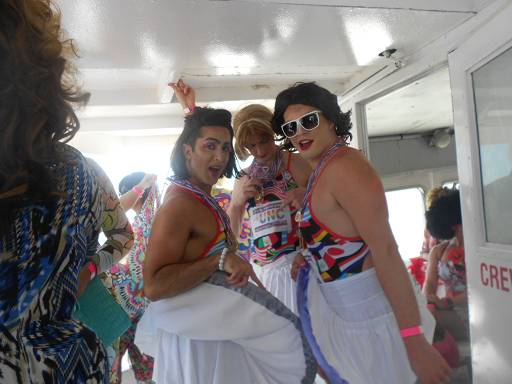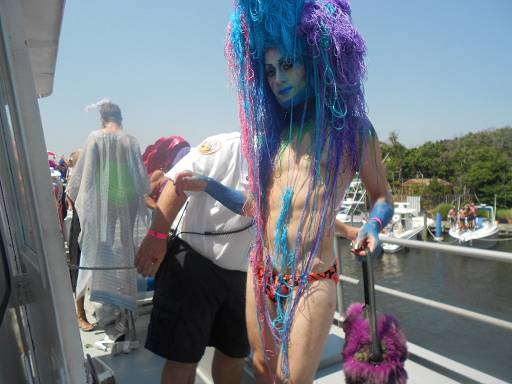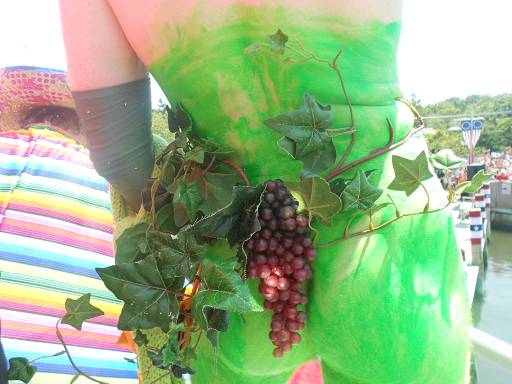 Some outfits were skimpy – must be the heat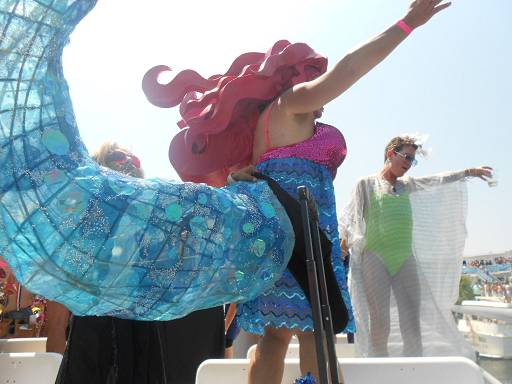 Mermaid gets it together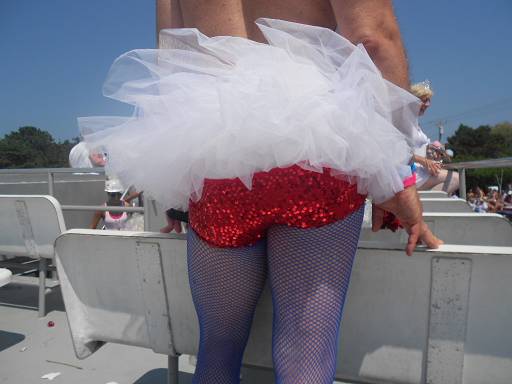 cute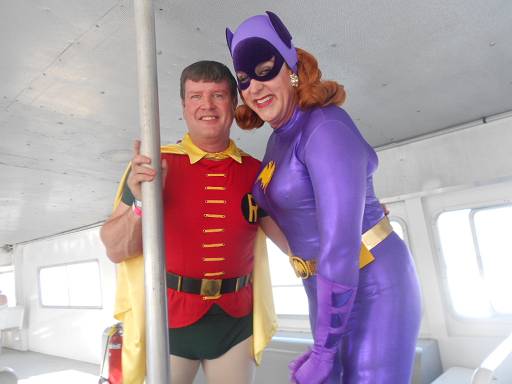 Yes, Batman & Robin ARE gay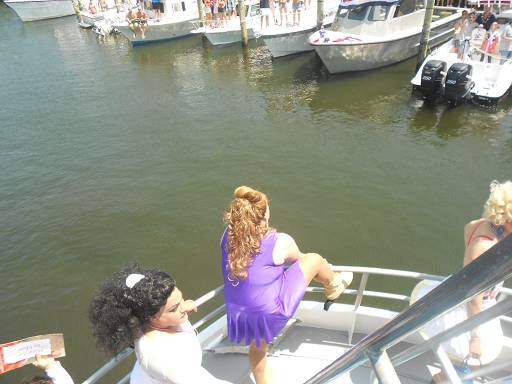 Tonia Harding so anxious to get to the boys she's ready to jump ship
It can't wait either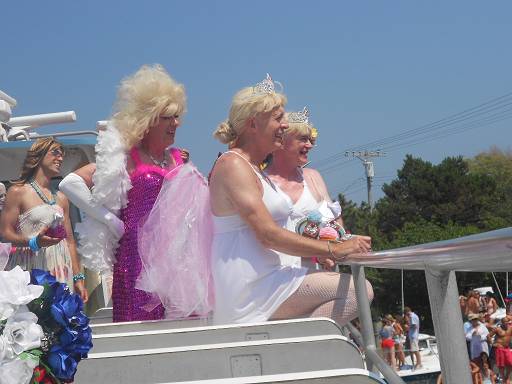 Balcony seat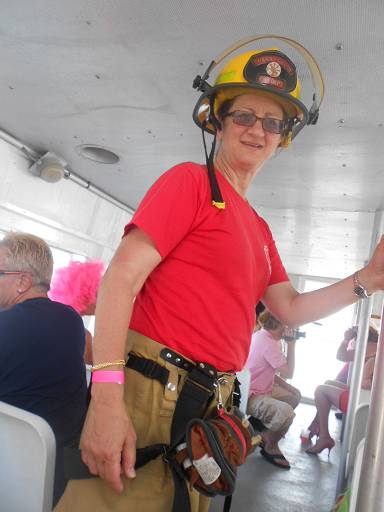 Let's hear it for our Fire Department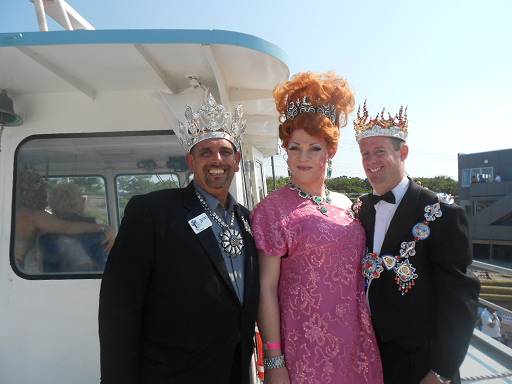 Imperial Court Royals
The Olympics!!!
Billie Jean King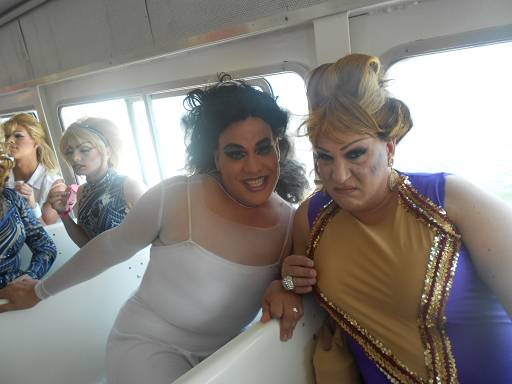 Nancy Kerrigan & Tania Harding still feuding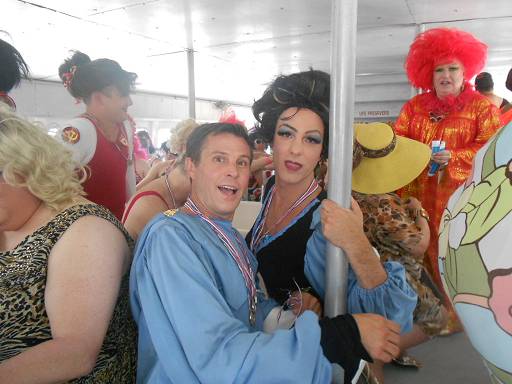 Torvil & Dean head the herd as Panzi prepares to lead them off
I toot the horn on the ferry when we enter the harbor – they toot back – it's my moment of glory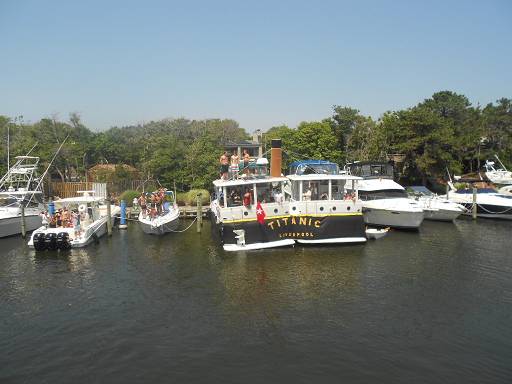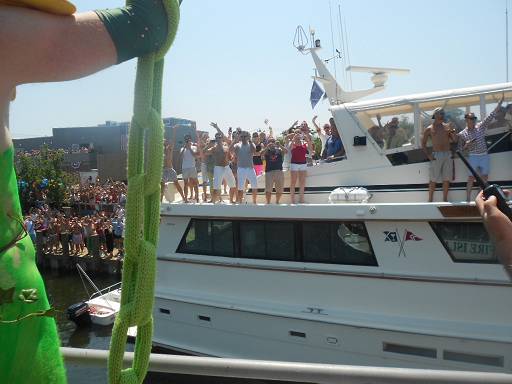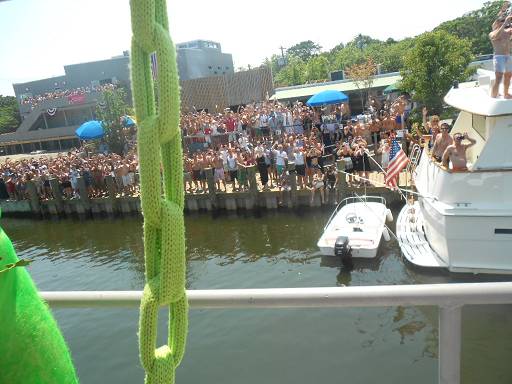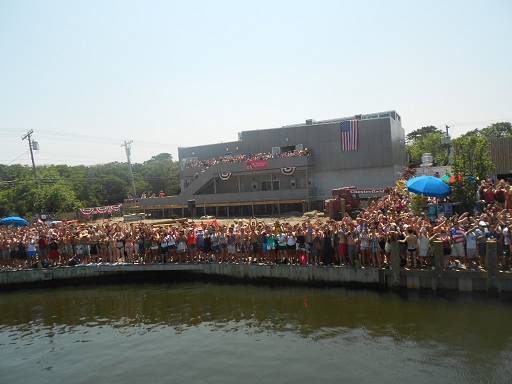 HAIL TO THE PINES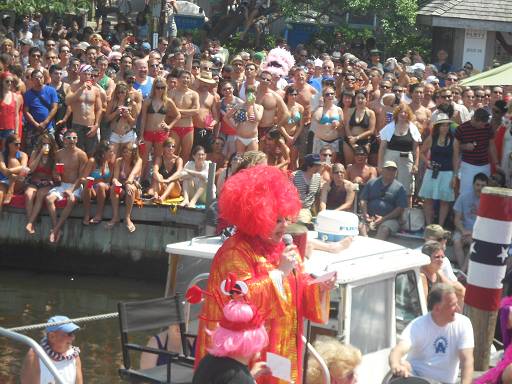 Panzi in charge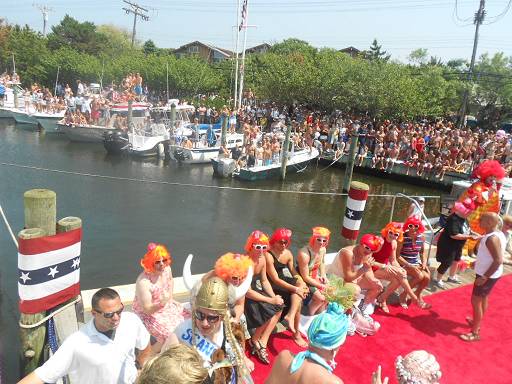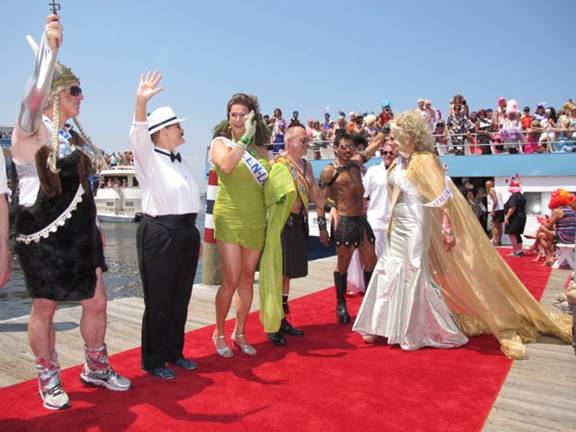 The Queen & her entourage                       photo by Lorraine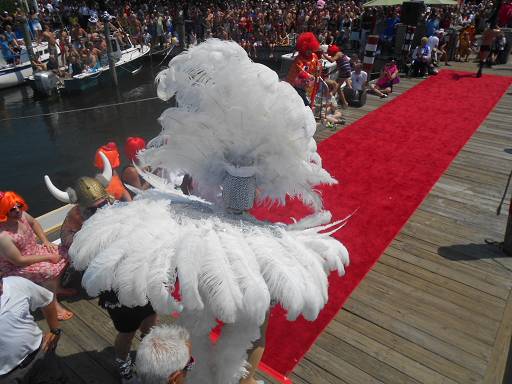 There is someone under those feathers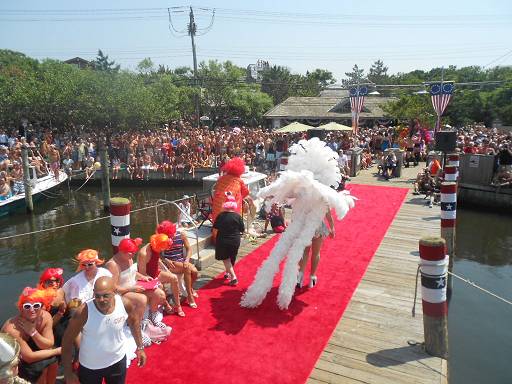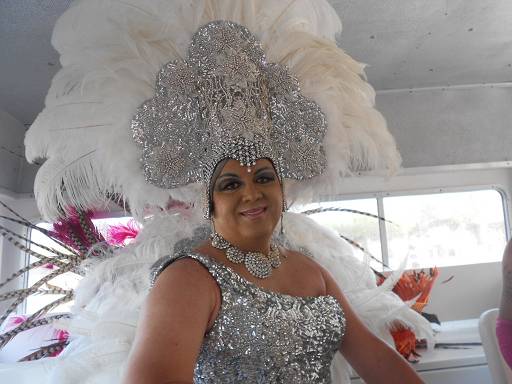 Oh yes there she is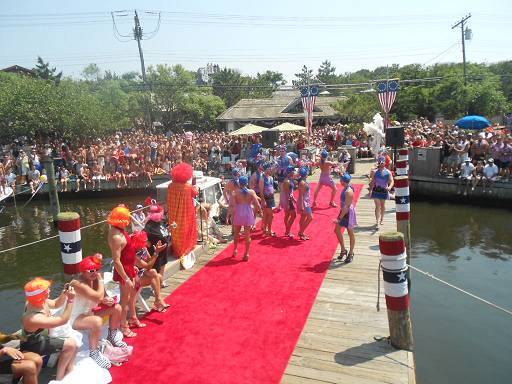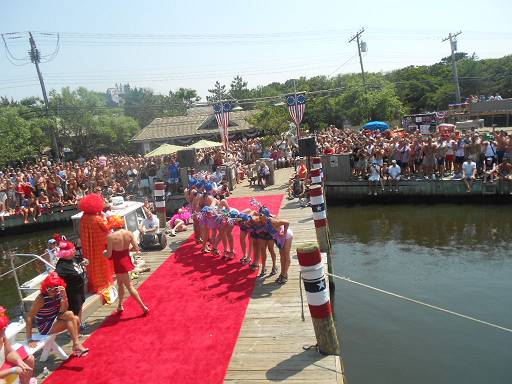 Remember those bathing beauties – now bowing to the judges – have they no shame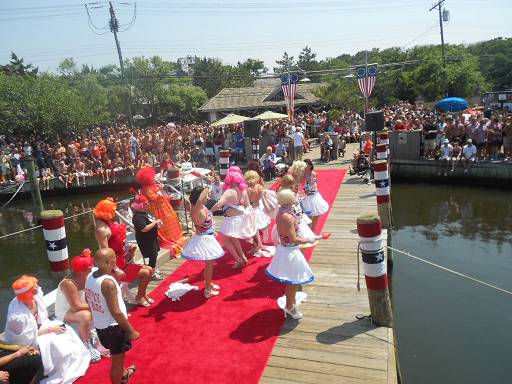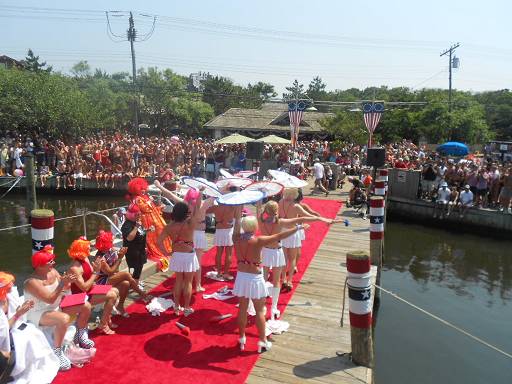 Get ready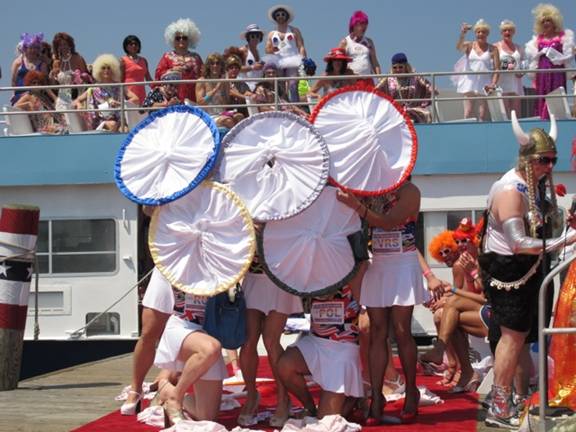 It's the Olympic Rings                      photo by Lorraine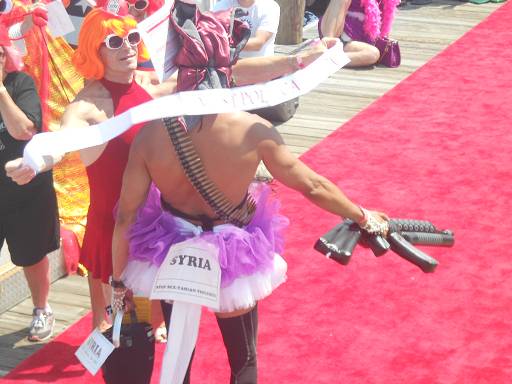 This Evita looks better than the one on Bway               photo by Lorraine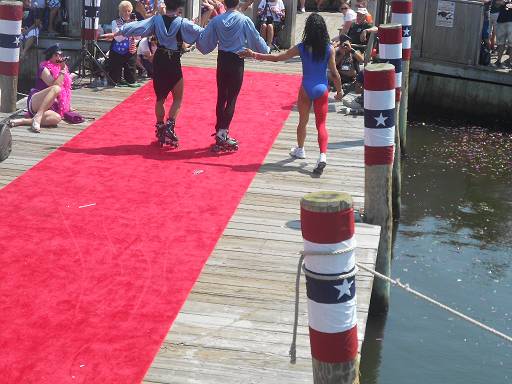 Torvil & Dean skating off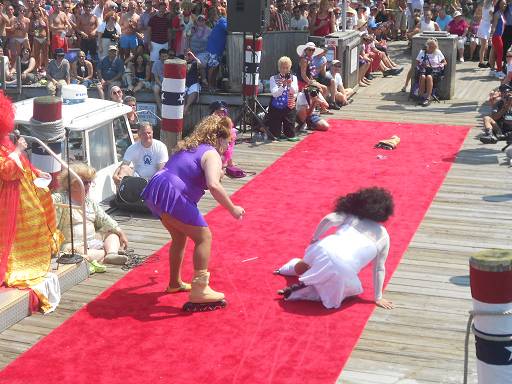 Harding attacks Kerrigan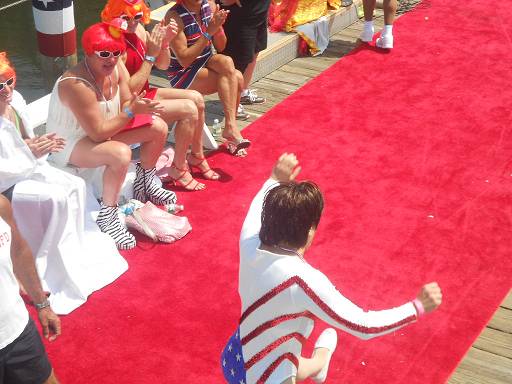 Mary Lou cartwheels   and sticks the landing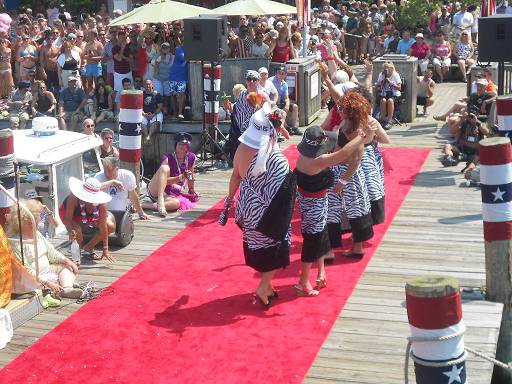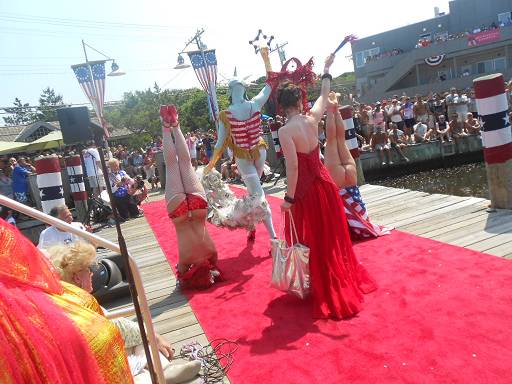 (their other side is worse)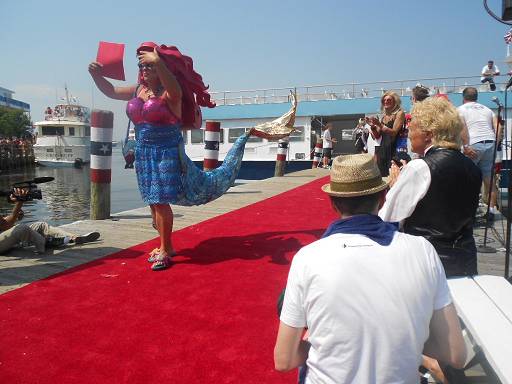 There she is- Mermaid, hair & tail in place
IN THE PINES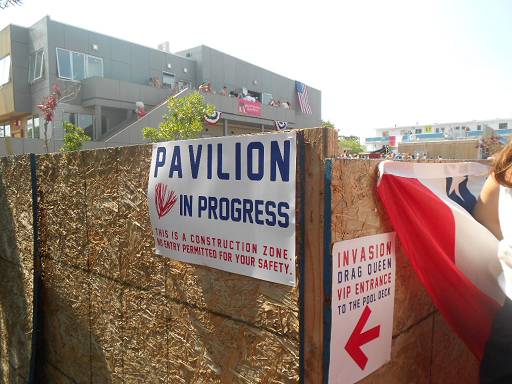 A somber reminder of last Fall's devastating fire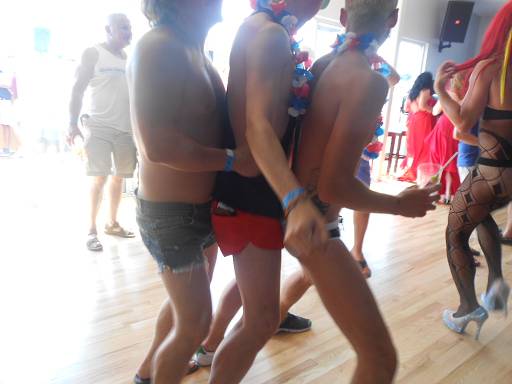 The Boys in the Pines certainly know how to party
(Sip n Twirl)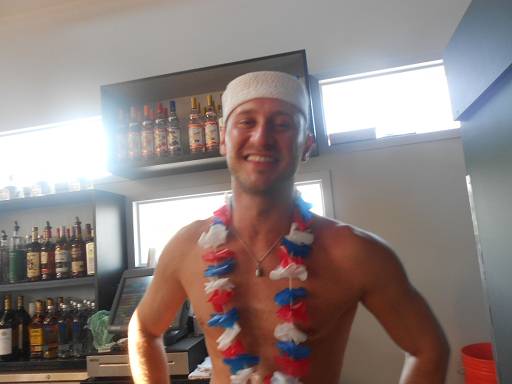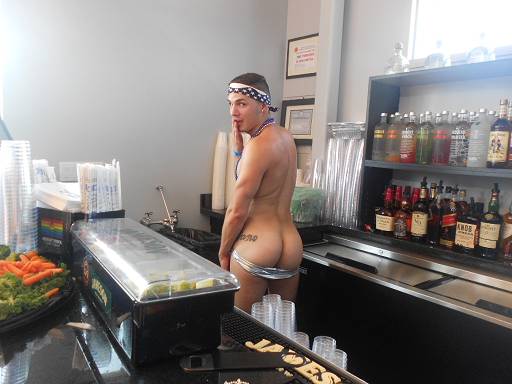 …and the waiters!!!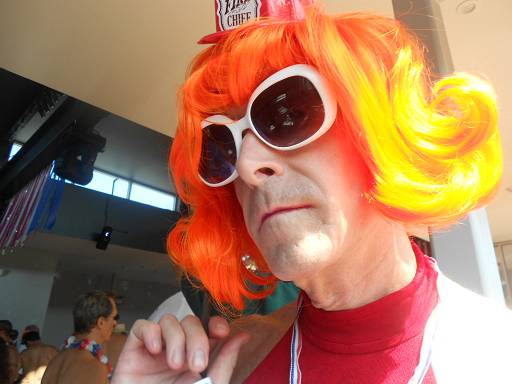 Our queens are prettier
GROVE GALS STRUT THEIR StUFF in the PINES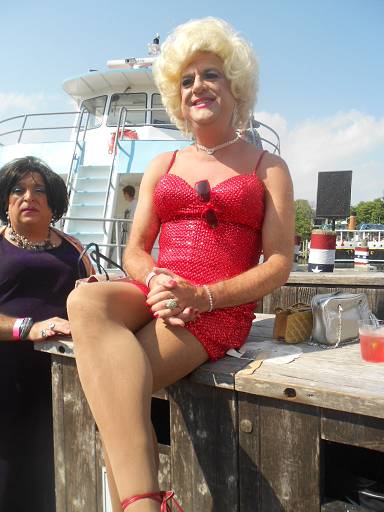 Here's a beauty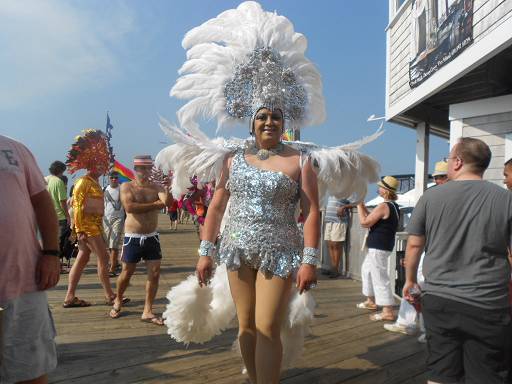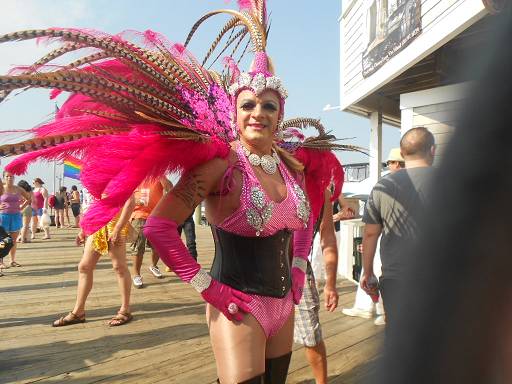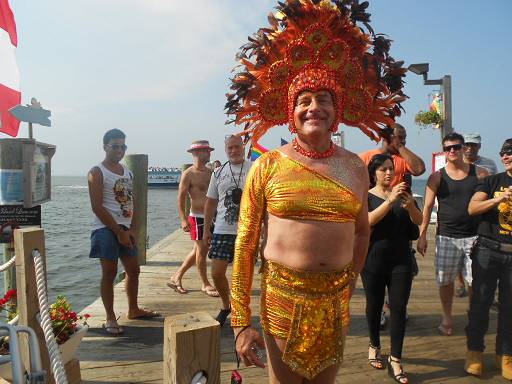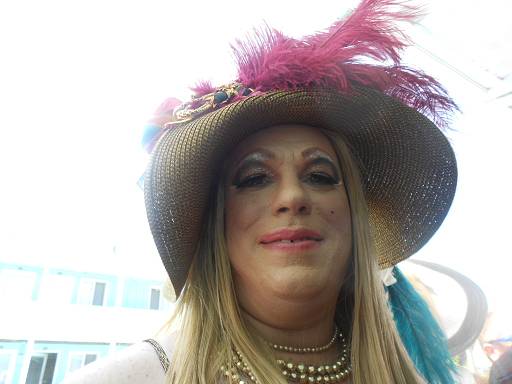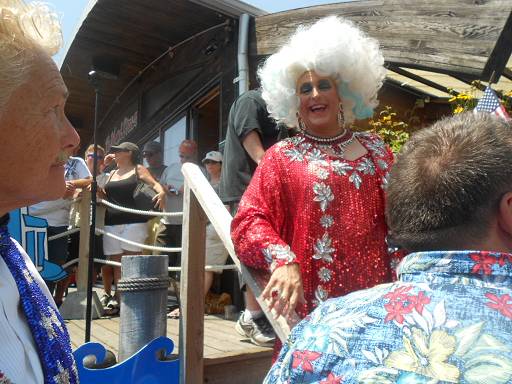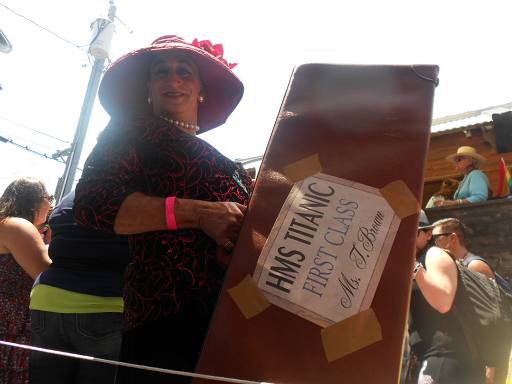 THE TRIP BACK: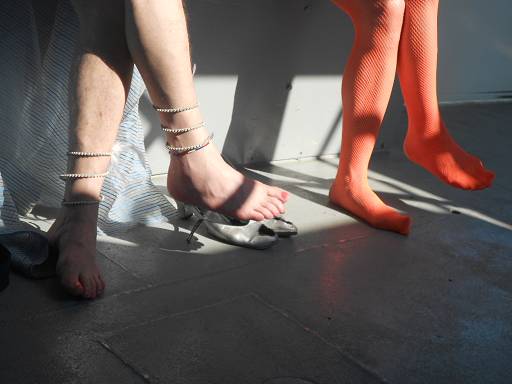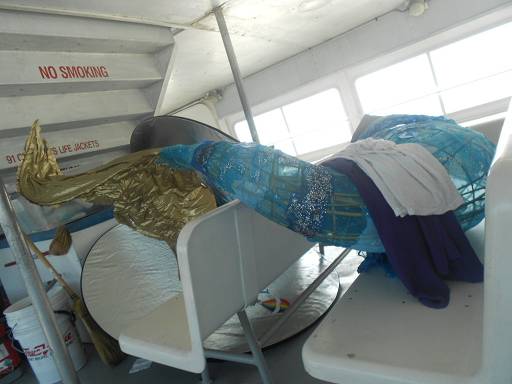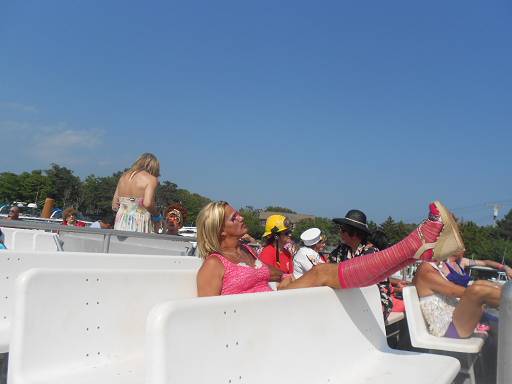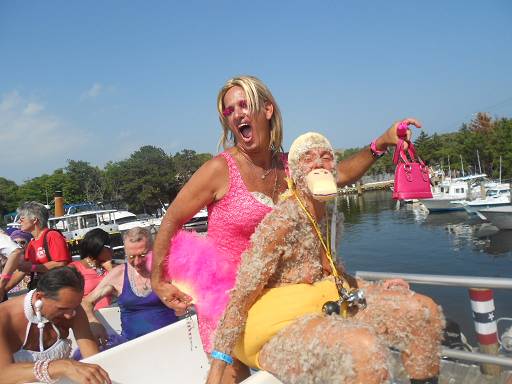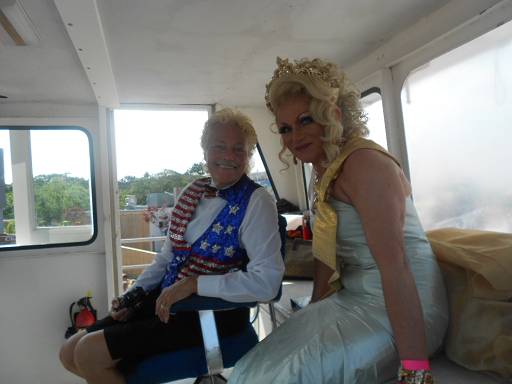 Lorraine & Robin relax a bit "So how'd it go?"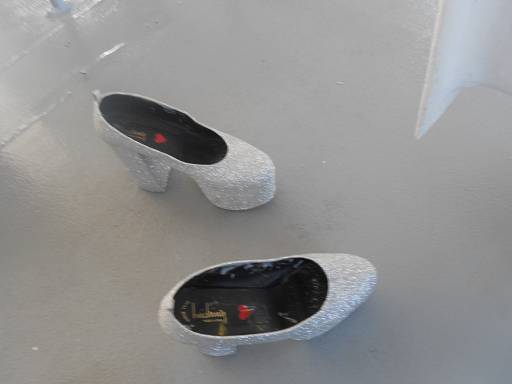 THE END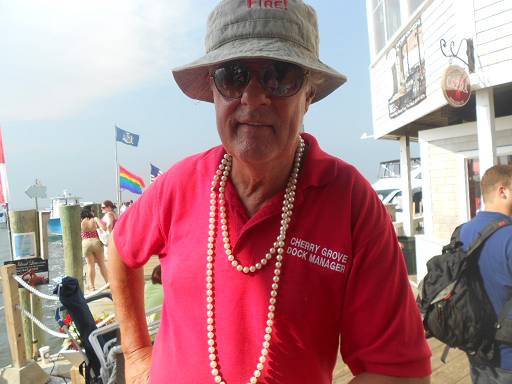 Dockmaster Paul: all Back to Normal…with pearls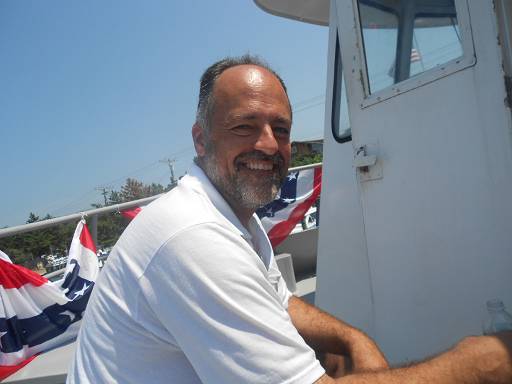 A smiling Captain Kenny Stein, all round nice guy
"I've been doing this for 30 years. I never get tired of it, But I can only relax when the ferry is safely docked in the harber and nothing stupid has happened to any of theme or the boat"
…a collective thank you from passengers present and past!!!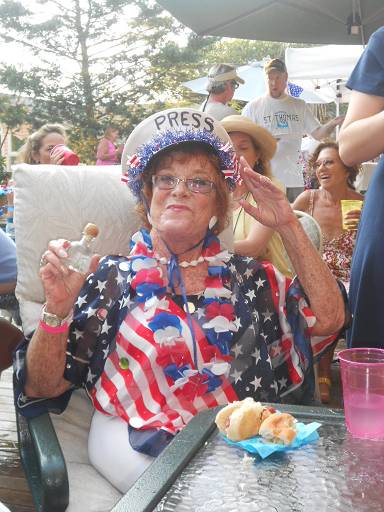 Off duty at last – what a day!!!