INVASION 2011
HAPPY MARRIAGE RIGHTS ONE & ALL
It was like moving through clouds, the mist so thick at moments one wondered if all that hair, make-up, costume was even visible. But on the plus side the 90 degrees heat was much cooler without the sun. "Happy Marriage Rights to One & All" she bellowed. So began another exciting Invasion Now in its 36th year (and possibly my 10th) it never gets old – the ingenuity is amazing Mother, who was smothering me under her flowing garb in the front seat on the ferry warned: Marriages performed on board are only valid for the duration of the voyage". I was surprised there were no as many "brides" but the topical did not bury the trademark gorgeous array of feathers, sequins, high hair and high heels.,
This year there were more multiples – The new Queen Yaneeda Dunes and her Disco Diva & Dancing Balls: consort Beach Debris, Lola, DJJames, Coco, Disco Sally, Fatal Faucet, Craven Morehead, Patti LaBall, De Vets,, Mel, Mr.Leather 2001, bouncer Switchblade Bobbie, Stanley Stanchon, Dancing King, Lotta Poppers, Velvet Ropes, and photogs Hairy Larry & Lucky Lens.
The most incredible was the Royal Wedding Procession, echoing the brand new emphasis on marriage – (with the same sex marriage bill barely a week old) the bride Kate was beautiful and her sister Pippa ravishing, the Princes Harry & William in full regalia so handsome, Queen Eliz & Phillip, Charles and was that Camilla who lost her wig on the runway in the Pines? (to the delight of the contingent of Drag Repair contingent who followed spraying hairspray in formation.
Even Fergie Duchess of Pork was there asking everybody if they had an extra ticket.
There were lots of other formations and even choreography. Specially the AARP Bathing Beauties, identical who performed a little water ballet – and 11 Pig Tail Pin-Ups who performed on diagonal (and gave Panzi specific instruction how to introduce them and when to wait!) While this does delay the procession too much of a good thing... is a good thing.
However there was still the gorgeous (and not so gorgeous) array of beauties with names such as: Lady Goldmember, Cassilina & Anita Volva, Summer Clearance (good one!), Busty Ross, Your Mom!, Prima Vera, Minnie Barr, Coma Tose, Delores Klitoris, Carmen Manranda, Trantoinette, V ictoria Bedlam, Mary Fagdeline, Tormenta, Sally Monella, Miss Jersey Shore, Slap-him, Miss Placed, Hsu-Nah-Mee, Anita Fixx, Merry Juana, Geri Act Trick, Anita Runway,, Patty Ho, Sany Knees, Melba Toast, Elke Hollick, Popus Maximus & Sexis Slavus and my old friends Grand Duchess Mother,Jean Nate, Miss JoJo Gerard, Vanessa Diamond, Beth Page & Brooke Haven, Crystal Balls, Antique (who trotted out her terrific toothless Mona Lisa).
"Panzi, Panzi, Panzi" the crowd chanted as we docked. "We bring you gay marriage" she countered. "Do you know anybody single?"
BOARDING AT THE GROVE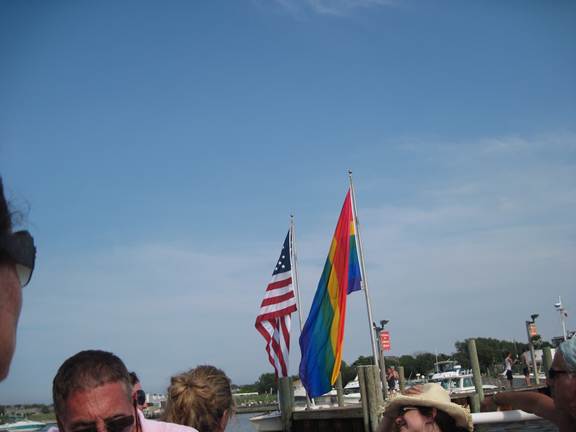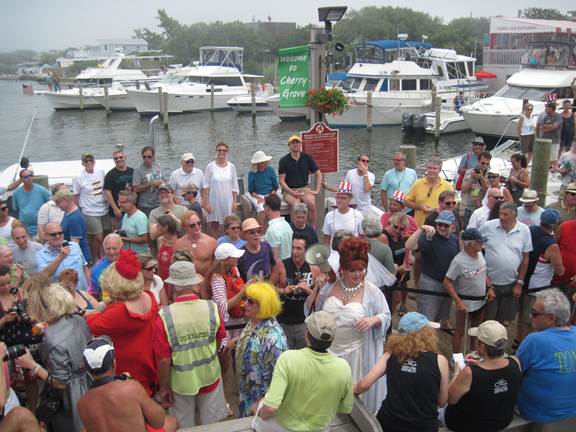 How many drag queens out of drag can you spot here?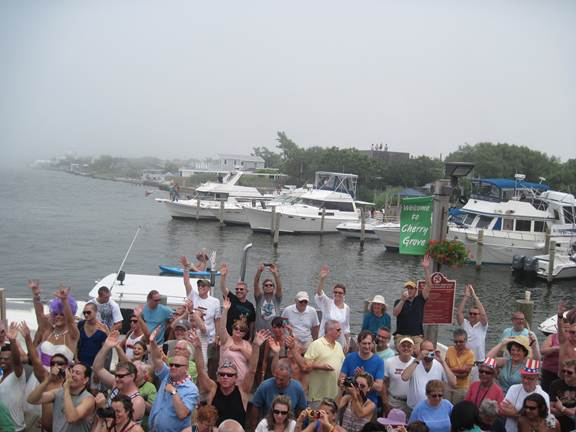 Good-Bye! See you in three hours……..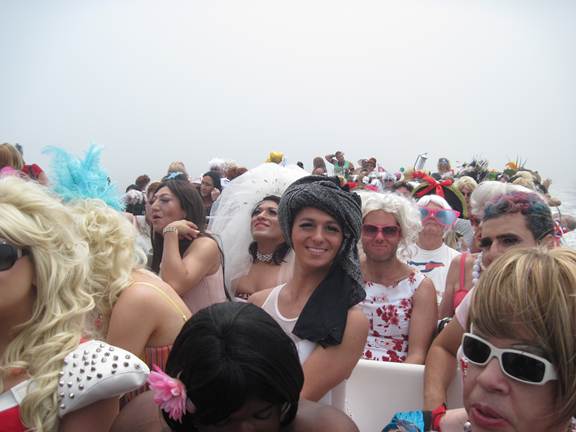 O.K. Requisite Group Picture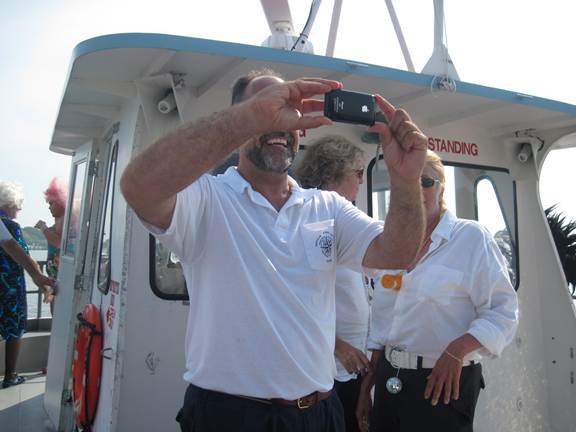 Even the Captain got into it!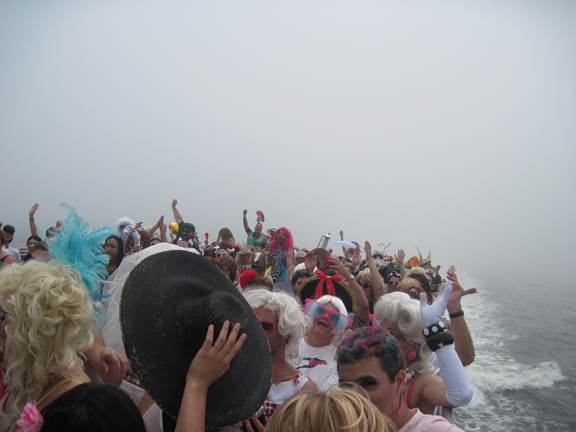 Hang onto your wigs, er, hats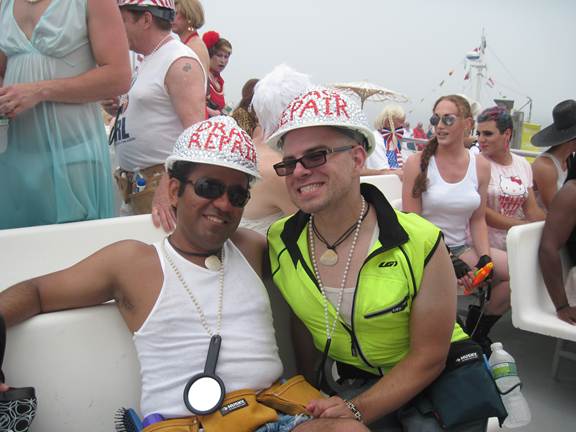 Drag Repair – so necessary, especially on the return trip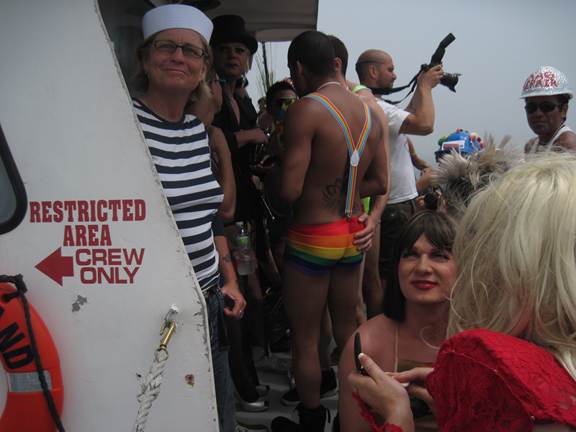 A friendly pat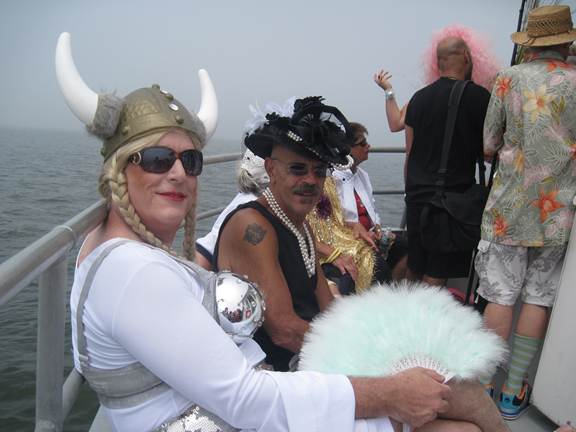 This must be Valhalla !
There she is, Mona…….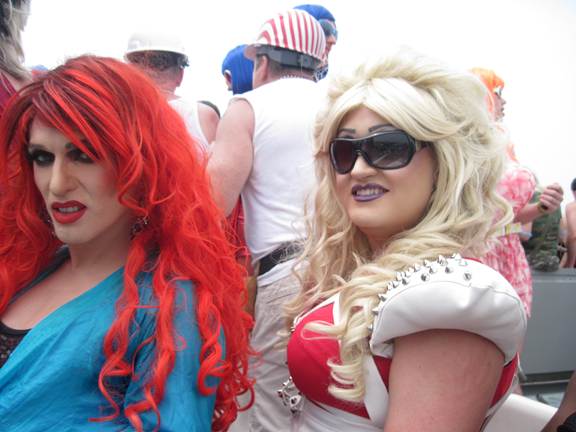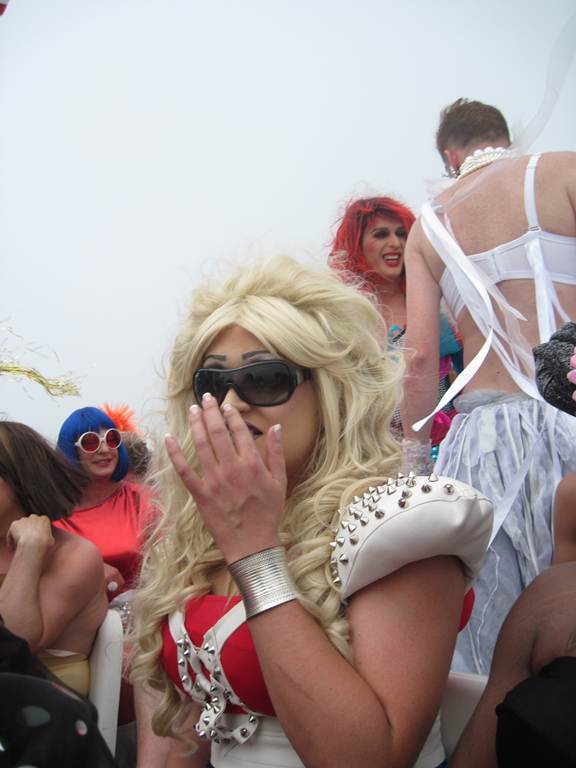 Oh! Her bra is showing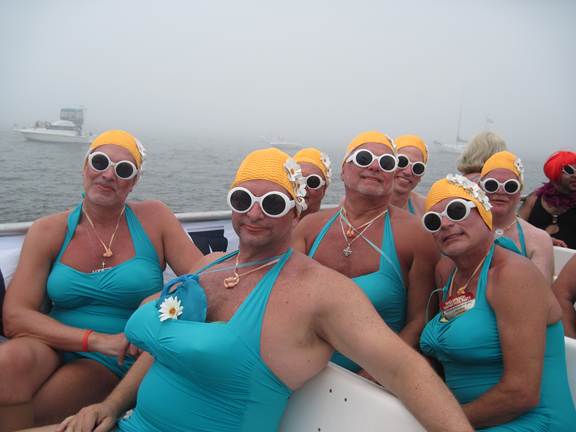 AARP Synchronized Swimmers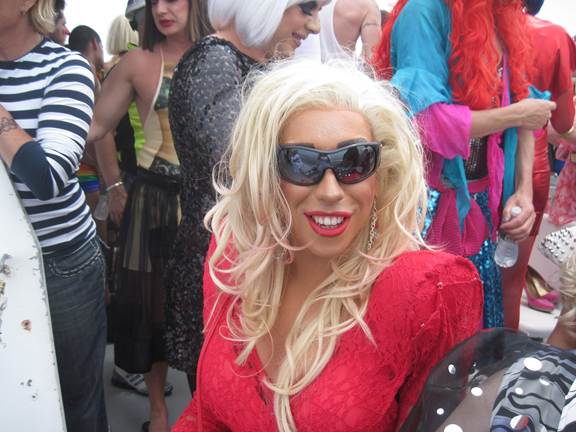 LADY GAGA!!!
A little drag repair here
Quick, Pose, it a camera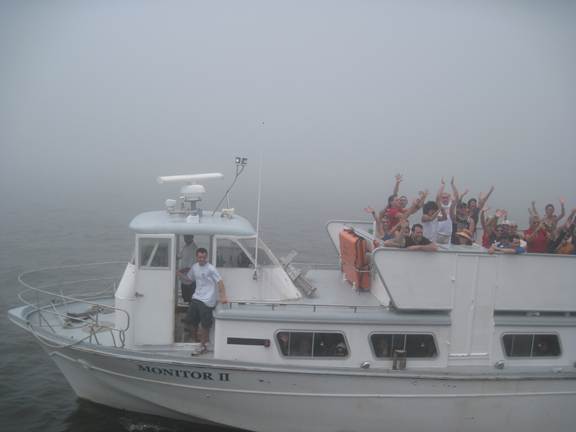 A passing party boat…in the fog but they can't miss us
My favorite job – tooting the horn and getting the yachts to answer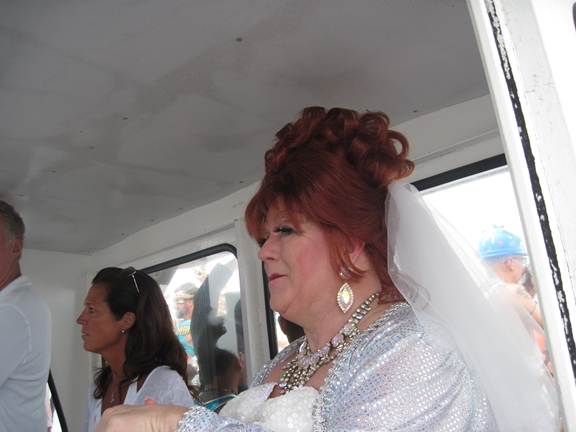 Panzi's finishing touches
A patriotic welcome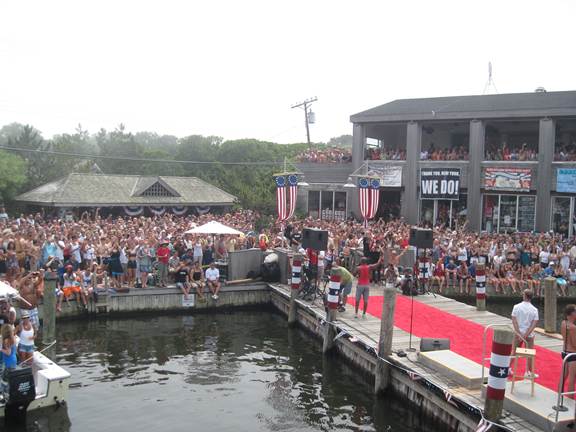 There's the red carpet
Yes, we love you too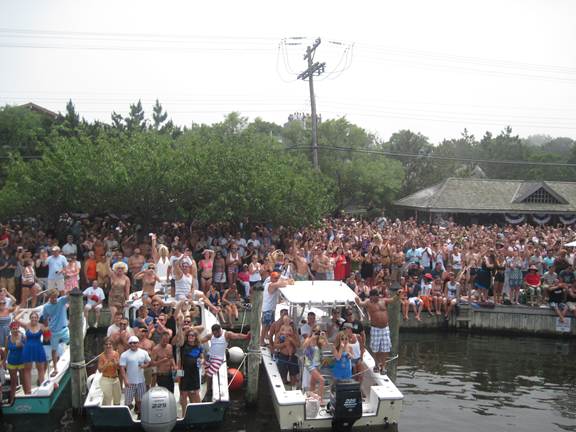 Look at those boats……..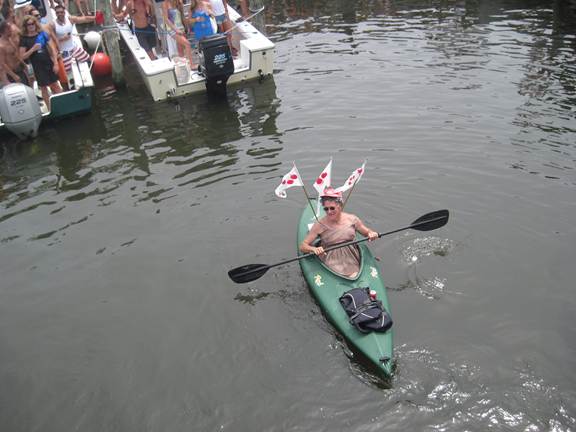 And our own flotilla - Timothea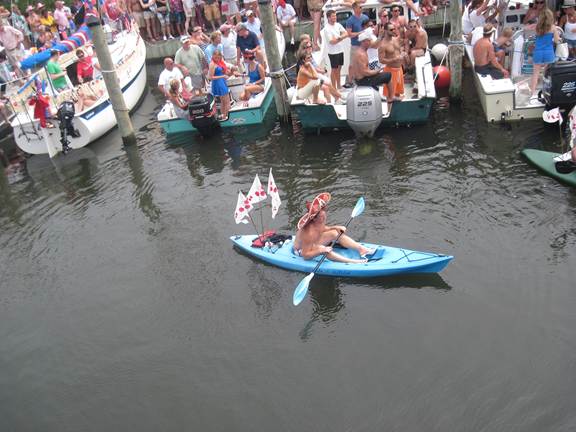 Look! Another
The judges watch the bathing beauties ballet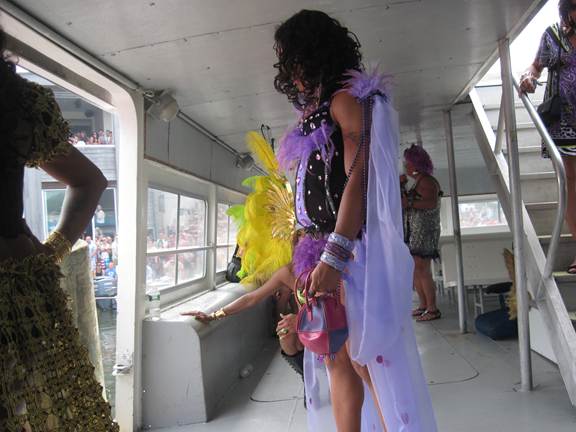 Next…
Feathers a problem
It ain't easy being a bird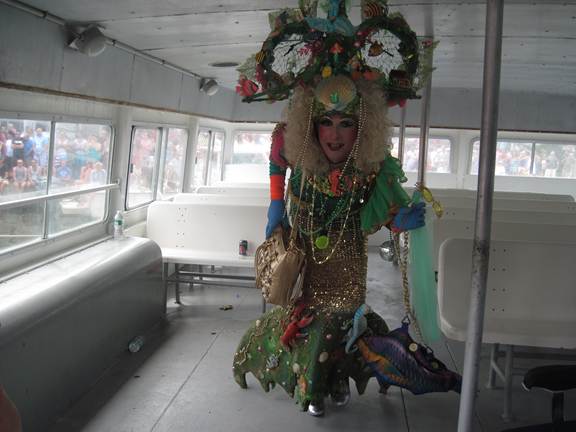 Get ready
Go!!!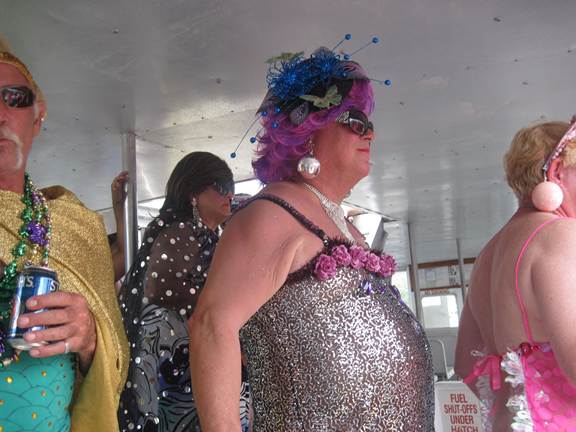 Words fail me!
Words never fail Mother
The Royal Procession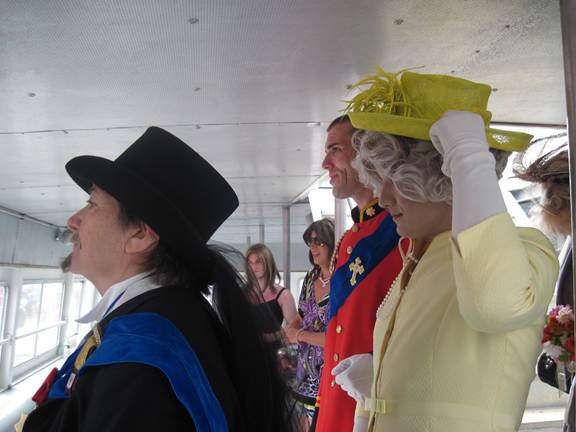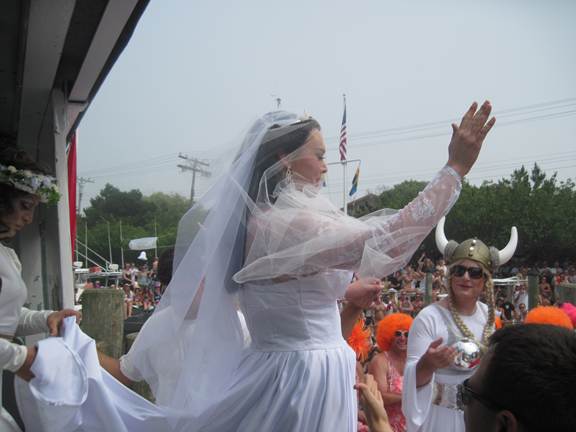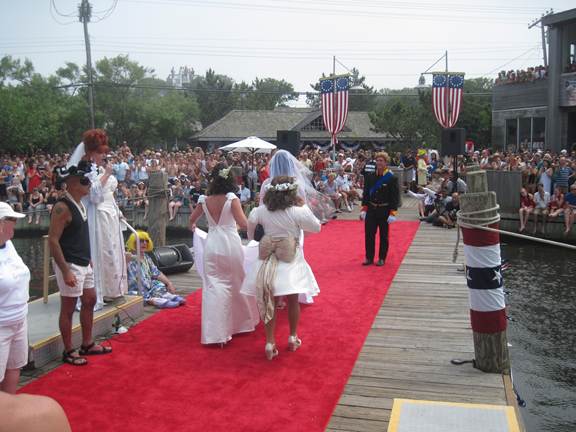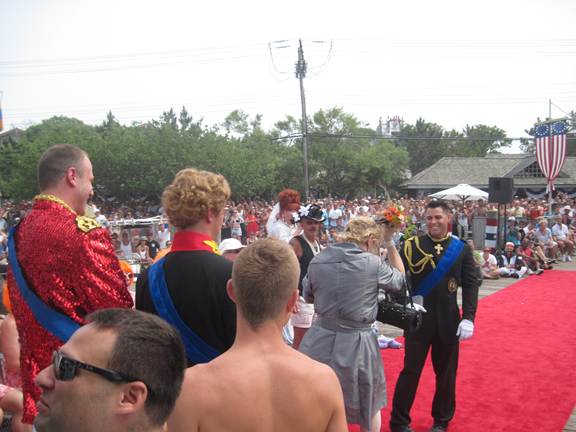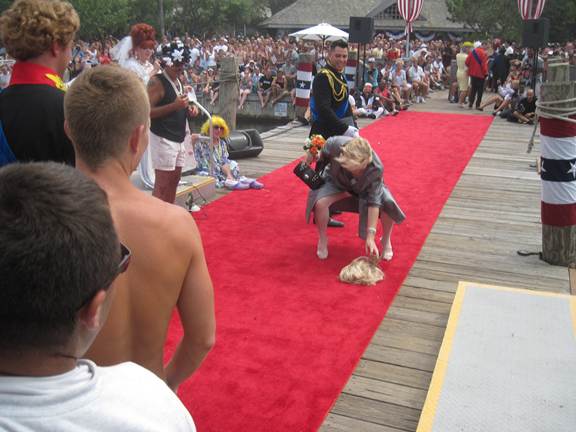 Oops– a wig AND a hat – that's tricky
Drag repair think it's hilarious
Before they destroy the ozone layer with their hairspray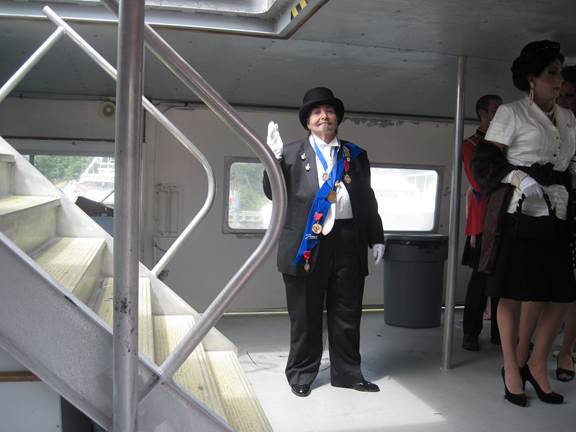 Wendy says "Whew – we got them all off!"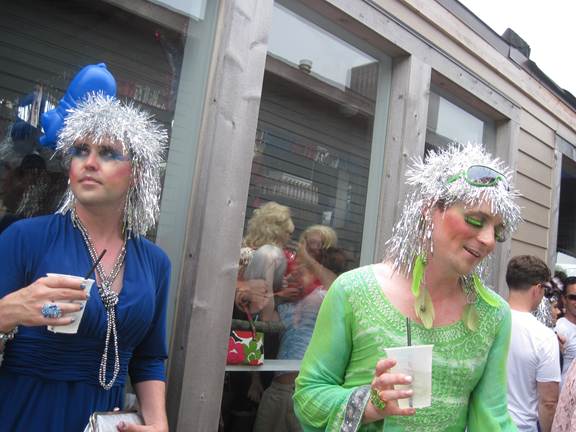 Pines debutantes do the drag straw thing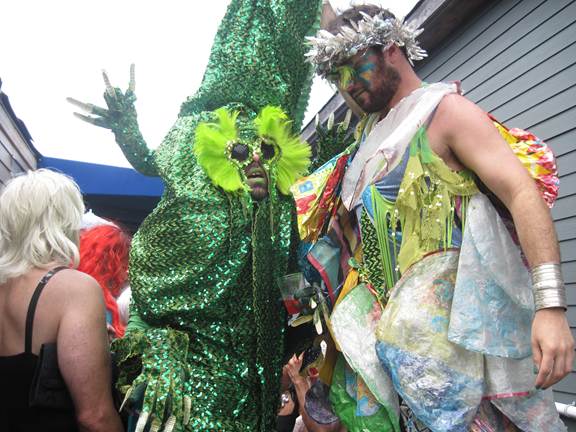 OK – THIS is an Alligator swallowing a human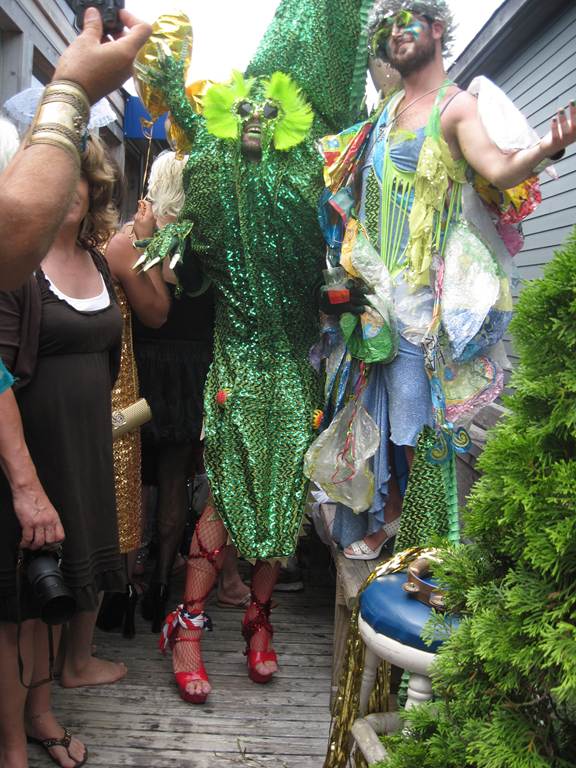 Don't know who he is – but only the humans feet remain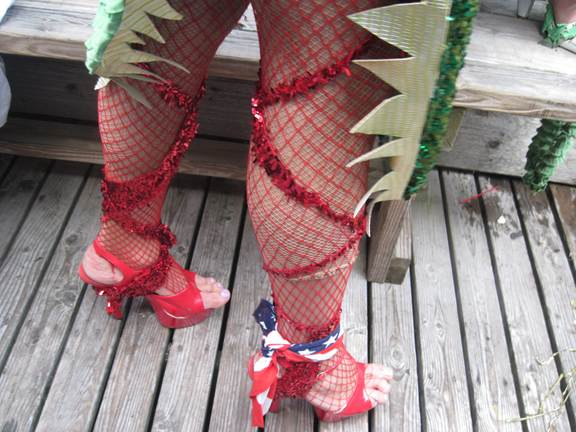 See?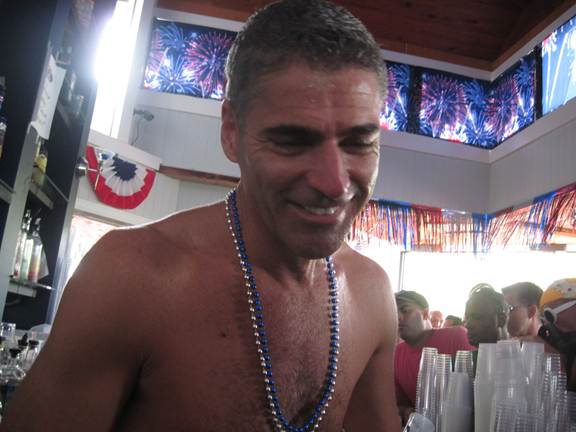 Our friendly frantic bartender – a welcome annual face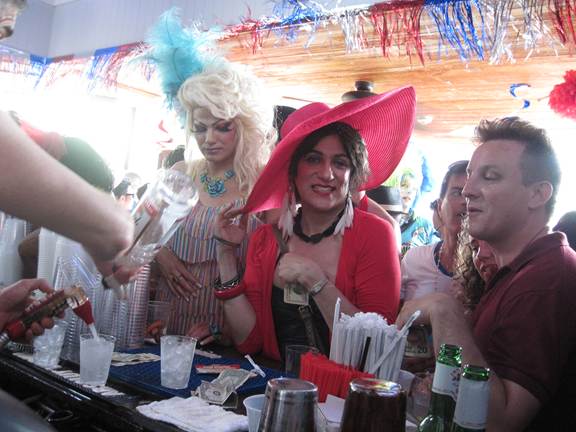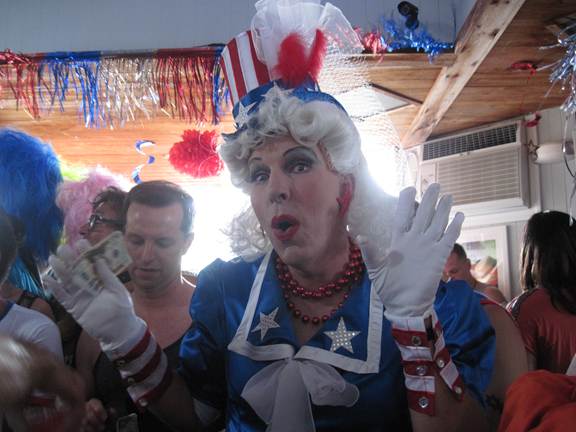 Working the bar…….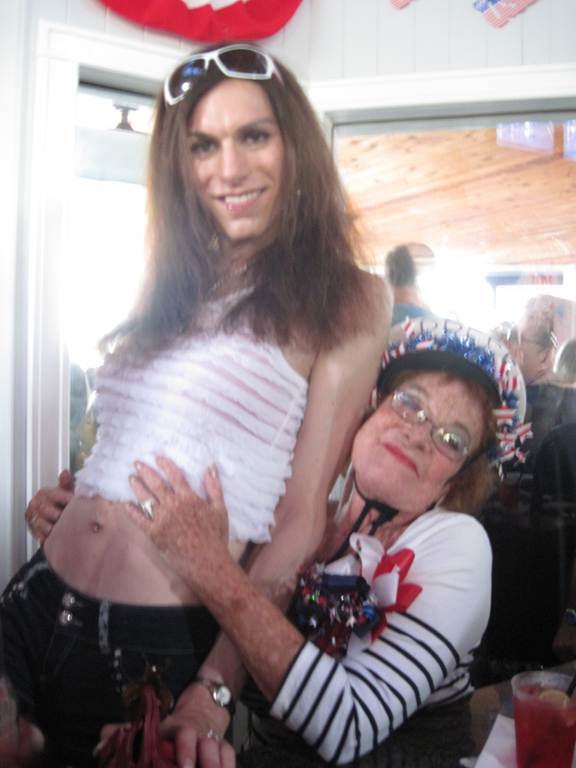 The long and the short of it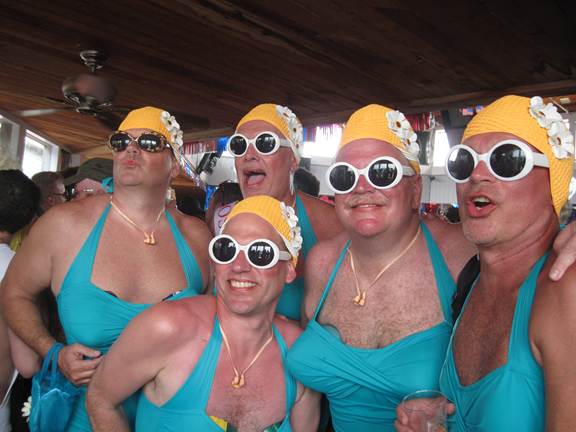 The beauties are really synchronized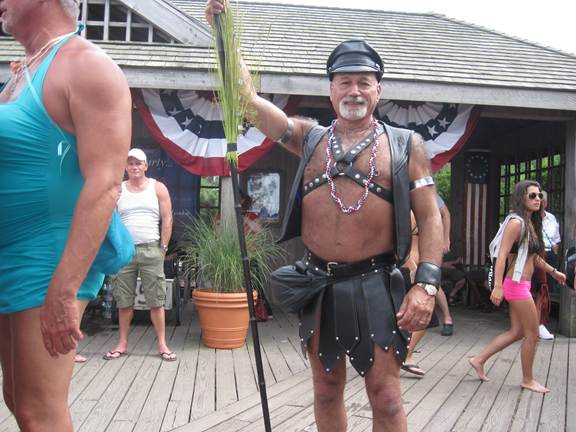 Our guardian Bruce Michael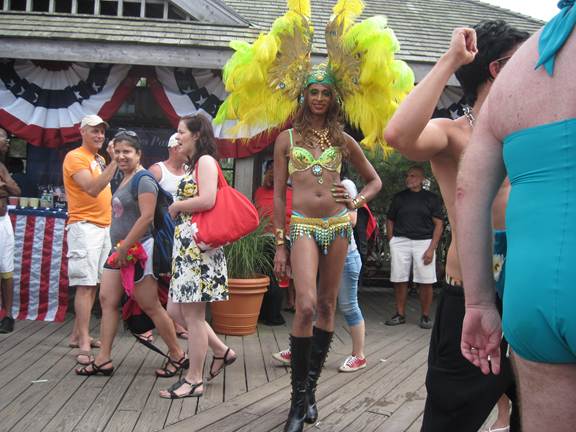 The funny part is the tourists are oblivious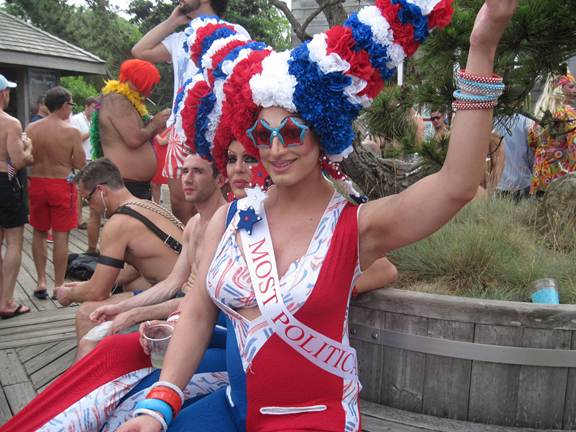 Prize winner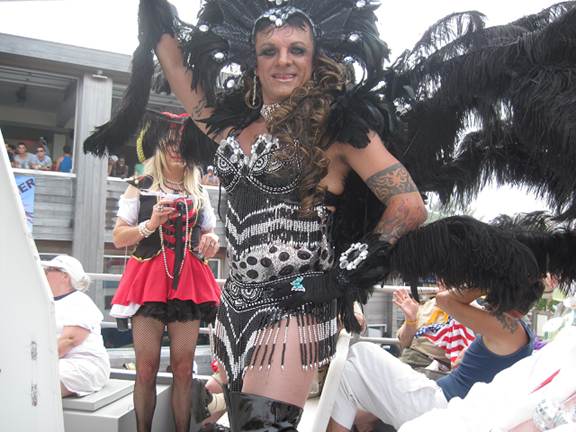 Another
Wow these shirts really wilted n the heat
I think it went well, don't you?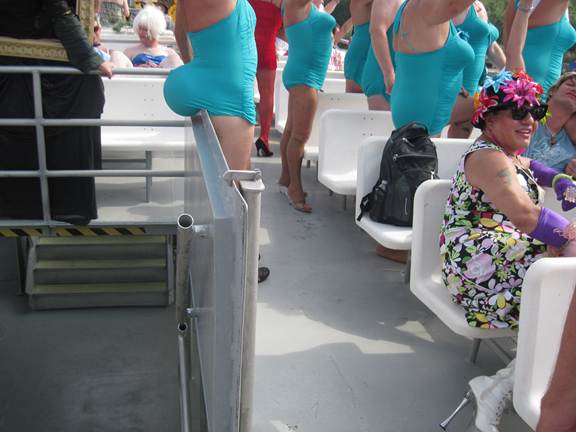 A little support for my ass
Doncha just love these?
You Gotta Ring Those Bells Dahling
Great! I don't have to smile for another 20 minutes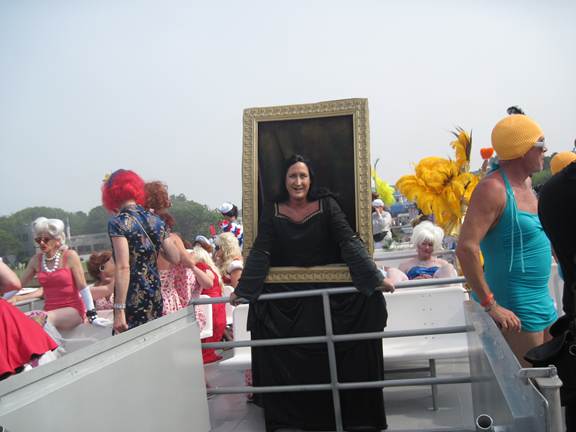 Mona takes a break!!!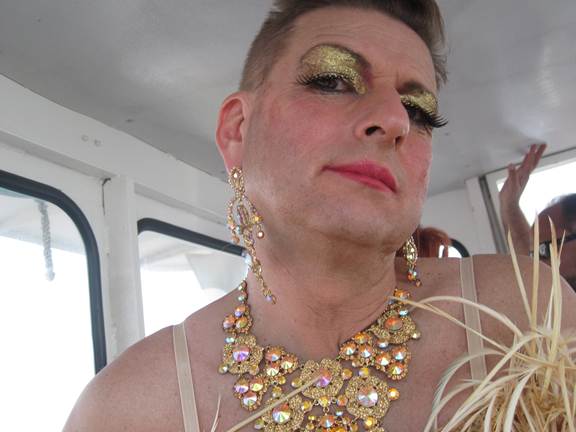 Yes! I'm regal even without my wig!
Did she leave anything at home?
Remember. Onboard romances don't count on shore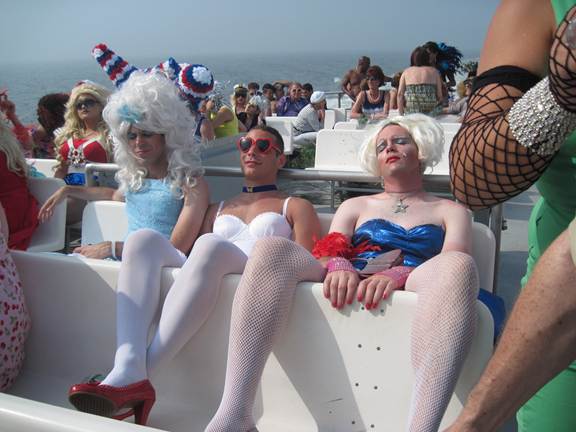 Priceless!
Also……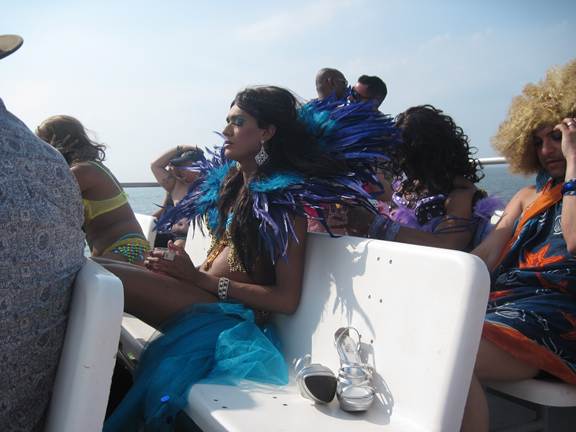 It's the shoes……….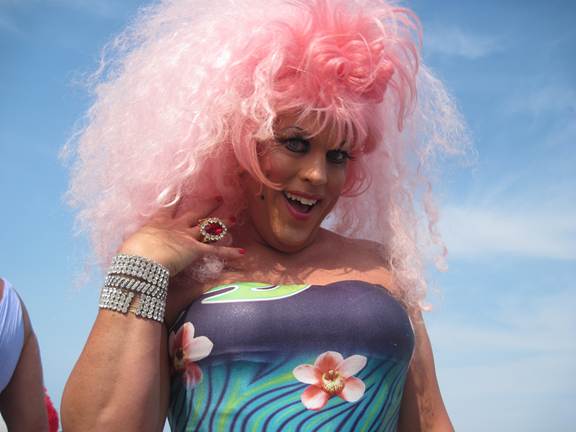 Coco NEVER looks bad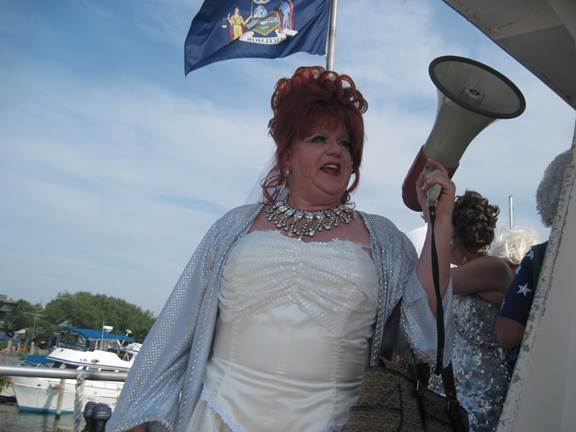 OK We Did It! Free drinks at the Palace!