The Joey Arias Show in Cherry Grove
                                   By Denise Dell Harbin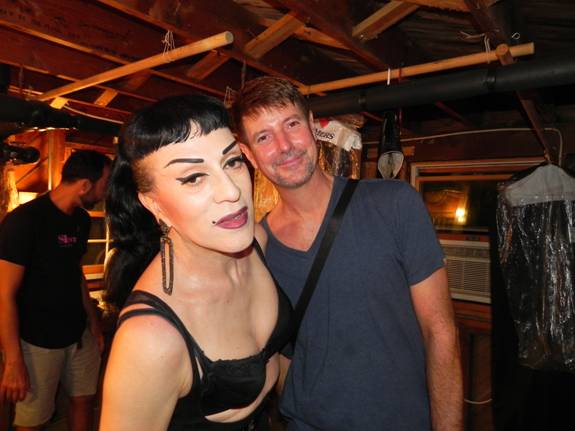 Photo by Denise
There I was, sitting in the balcony at the Cherry Grove theatre with some of the usual suspects...Bobbi and Doreen love this balcony. James Lyons was there, fresh from his performance the night before on this very stage in If This Piano Could Talk. Matt and Allison in the booth. And two newcomers to the balcony...two local cops!
Joey Arias took the stage with his accompanist Matt Doers playing that very piano. They had kept the gold steps in place from the night before and added a fabulous orchid arrangement to the piano and a barstool with a glass decanter...of water, one presumed.
Joey entered in a black leather dress, with a hard look...fierce drag
it is called...with short cropped bangs on a jet black wig.
Joey Arias has perfected singing in a voice like Billie Holiday. Maybe Billie after a hard night. And she had plenty of those! He started us off with You've Changed, a Holiday classic. The mike was popping and we were reminded of just where we were. Not in a smoky basement in Paris...no, in the oldest gay theatre in America, right here in Cherry Grove! Matt, in his ever non-plussed way, fixed the mike and we sang on. Joey sang I'm So In Love and personalized it for Fire Island. Well, at least for Cherry Grove! He did a tick...tick...tick with one arm and gave a FU to Gaga.
Then he jumped to a Beatles tune, Something in the Way He Moves. And all this in the Billie Holiday voice! And then he went back to the ticking arm. "That's art" he informed us.
Joey in his fierce drag has a severe look and an awkward femininity. It was a mostly young male audience, and most were people I had never seen before. Pines, I thought. And I applauded the Arts Project for reaching out to a new audience.
Next Mr. Doers played Claire de Lune on the infamous piano, while Joey Arias laid out pills on it's top. There was laughter with the pills...did the piano player want some? Red or white?
Joey feigned a headache, did an interpretive dance and started to recite a tale of childhood. "Now I go looking for daddy. He brings me presents like (he points to the pills) ice cream...I take off my patent leather shoes...daddy gets happy...I get money! Oh, mommy and daddy..." We realize quickly that he is talking about not his childhood, but fetish scenes. And then he sings God Bless the Child.
Funny, with drag queens I lose myself in the illusion that they are women. I never felt that with Joey Arias. He is a large and tough man in a dress and wig. Singing in a high but perfected voice.
He talked about the first show in the Cherry Grove theater...Birth of a Nation. The first gay theater...(hell-o! In Cheesy Grove. Yes, that is no typo. He said cheese-y! He had a dry irreverence about our little theatre.
Joey then sang In The White Room. Waiting for a piano...in the darkness. He launched into a lunatic soliloquy.
Joey Arias performs mostly in Manhattan, at places like Bar d'O. He performed with Sherry Vine, who now has her own TV show.
Then he sang Why Don't You Do Right (like some other men do) and gave us a look at the leg. The perfect gold digger...giving us a hint of what was available if we were willing to play the game!
Next he sang Why Not Take All of Me a capella and pulled an audience member up for some kisses. There was wonderful audience interaction!
Then Joey transitioned to a 60's girl group number...Be My, Be My Baby and the audience sang along softly. Next he treated us to an original song, which sounded very Latin. "I wrote these in Cirque (de Soleil) and called it I Love Your Eyes."
She/he wrapped up the evening with a very upbeat version of Cole Porter's Love for Sale and brought up another audience member to savor some of that love.
All in all, a well received night of entertainment. Joey had spent the previous evening with local hosts "and we drank...and drank...and drank" so we know Joey got a taste of the local flavor! Bravo Arts Project for your wide range of offerings this summer!
The Violet Letter
"The who's who and what's to do for Cherry Grove, Fire Island NY"
Denise Dell Harbin, Publisher
violet.letter@yahoo.comTheVioletLetter.com
631.597.7208