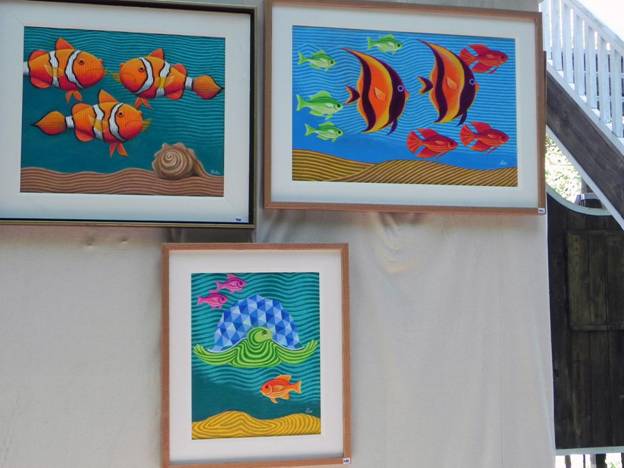 Painting by Poindexter  
                                   Kismet's Art House Krawl
                                                                           Photos and text by Bradlee White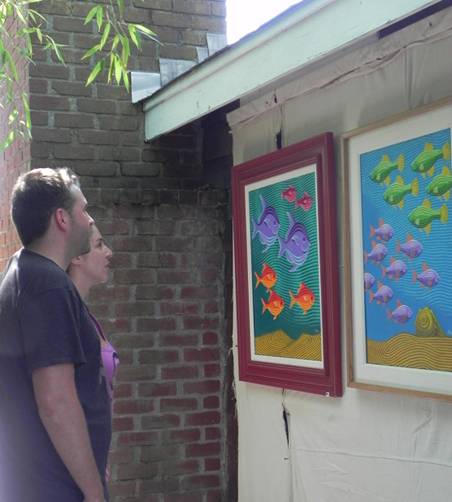 One of Kismet's biggest and best events, the traveling Art "Krawl" went off smoothly on July 21, again under the direction of Bill Poindexter.  Four of the artists also had their works accepted for the prestigious Lighthouse Art Show:  Bill, Peter Schmidt, Andrea Wikso and Mary Lou Parise.  Bill also received special recognition and a $100 grant from the Lighthouse.
Breaking tradition, a cool breeze kept artists and visitors comfortable on the 10-house tour.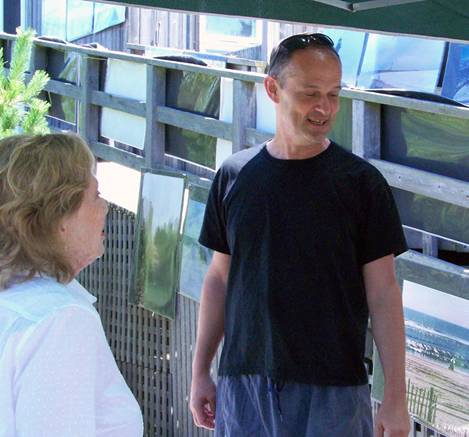 Regina English recruited friends Helen Q. & Delores S. to help with the large collection of Jacques' photos, with proceeds going to the Children's Cancer Project of the National Cancer Center in Plainview.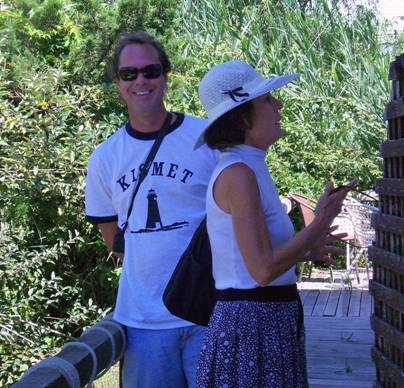 Joe Garneau expanded his hanging photo gallery to stretch to the back of Woods Hole and created house t-shirts.  He experimented with underwater camera housing, catching an unusual shot within a wave.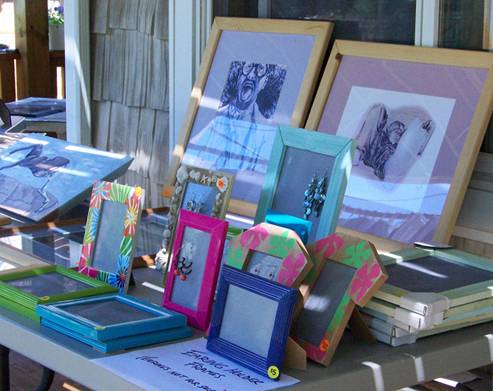 I went to visit the Butler house early, hoping the catch at least one of the talented children before they scooted on to other engagements.  Coty was showing a beautiful coffee table he had fashioned from the base of an old wagon found under Bark House when they first moved in.  He also had a new line and colors for his whimsical deer on bicycle t-shirts.  The full front deck also featured Shane's pencil drawings and Amber's photography.  Both Coty and his older brother Shane are industrial designers with Estee Lauder.  Mother Ginny teaches fashion and design to high-schoolers who will go on to teach 4-year olds.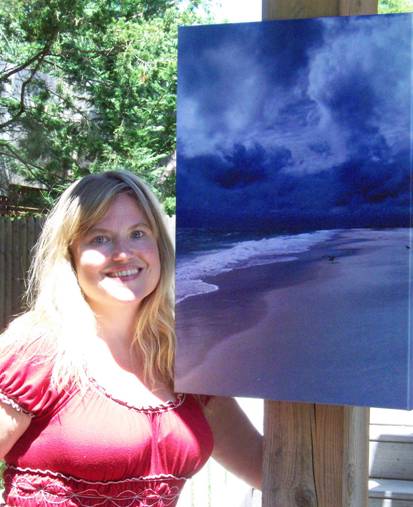 Rachel Towle, two years into photography and new to this venue exhibited at the Green House.  Her poster cover photo, showing unique perspective and colors, sold before the show started.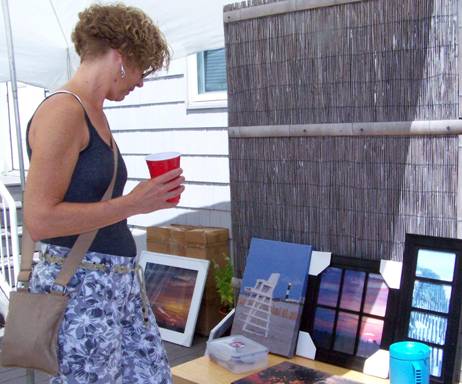 Peter Schmidt and Andrea Wikso again had a combined showing of their photographs, including a double rainbow from days before, a bald eagle, butterflies, the famous baby raccoon, sunsets and a collection of postcards.  I bought a print and a good supply of postcards of the coupling red wagons, "a Fire Island thing" – I don't know if my far-flung friends will get it but it totally cracked me up.
 Mary Lou Parise exhibited mostly new works, though she stuck to popular themes like flowers and water/boats.  Most interesting was a painting of bridges which she admitted was inspired by a calendar brought in to her painting group.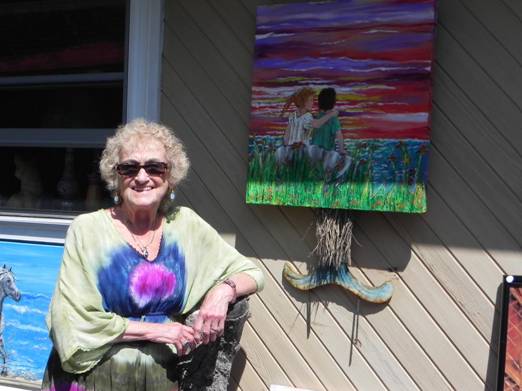 Teri Dahl showed two new posters of her now teenage grandchildren when they were tots.  She was exhibiting the last of her famous "bed on the beach" reprints.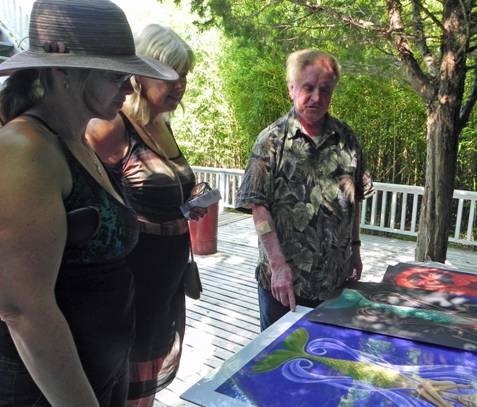 Bill Poindexter showed all new pieces based on a fish themed – impressionistic, with curvy lines and eyes that seemed to pop out of the pictures.  He's discussed a contract for shower curtains with a friend.
Vikki Labarera, who works part-time at the Inn (and full-time as a mother of two under two) exhibited at Joann's along with Johnny (Thunder) Toth.  As Victoria's Seacraft (etsy.com), she makes beautiful shell craftwork – hay wreaths wrapped in ribbon, letters and mirrors. 
Jon's style is evolving, fusing new concepts and ideas such as adding a Kismet sky to a New York City scene.  He showed a Kismet Café with a Van Gogh "starry, starry night."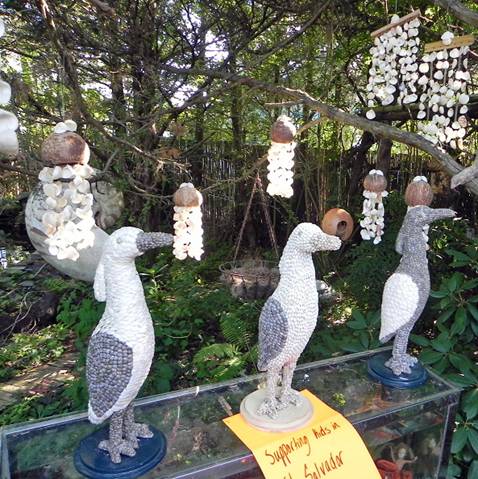 Caroline Stern again included works by several artists including George's paintings and Josh's jewelry (refashioned antique pieces like clay beads originally shown a Saks in the 1940s).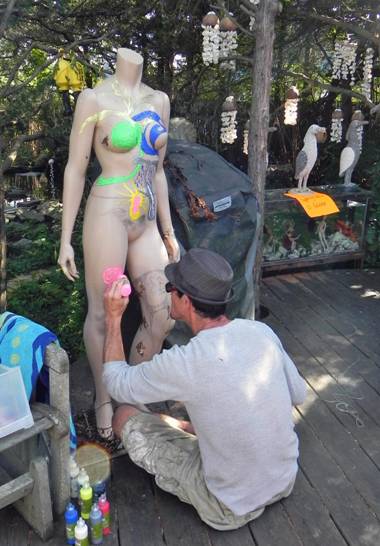 George decorates mannequin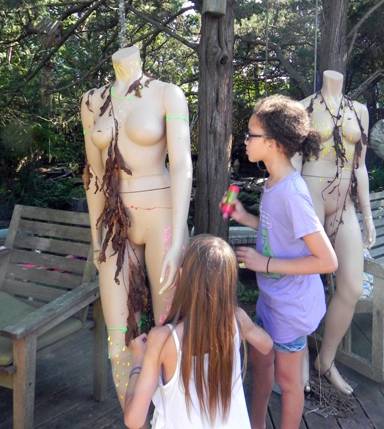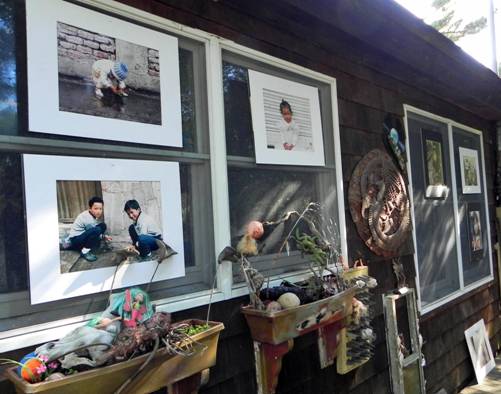 Caroline exhibited her photos of children from Ecuador for whom she performed voluntary dental work in January.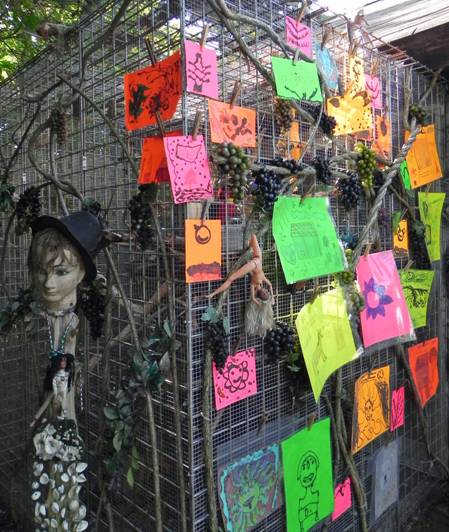 She also showed and sold shell art from San Salvador, much of it made by a family and their children there, who will receive all receipts.