was low key as many had to leave to celebrate elsewhere –
Here are some of the true Kismetics celebrating here at the Inn and Out: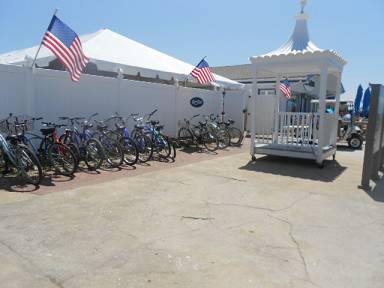 How do you know its Fathers day? Because Big Daddy Dom and crew are not hawking FD Shirts – a rare sight to see it empty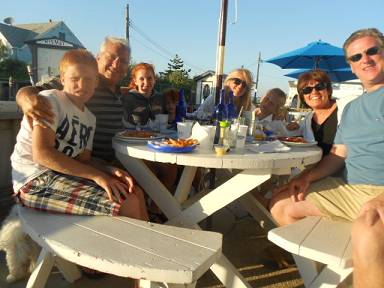 The colorfuls –Susan & Steve et al with Uncle Bob & Aunt Marie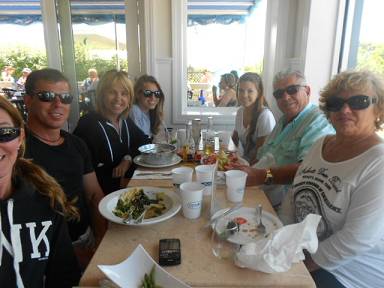 The handsome Liotta's for a good Italian meal – what else?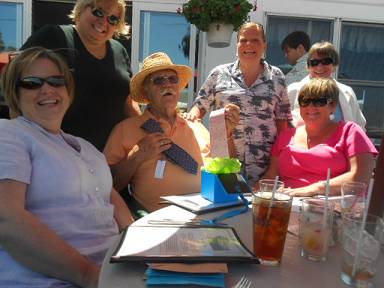 There's Erin, in a rare move away from the bar, with her family, Dad deciding which tie to wear.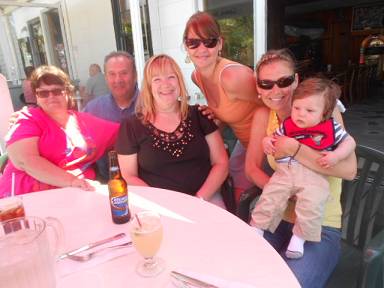 That's the newest Cole, baby Lydon John, and Mom Jen's family – much easier to assemble than the elusive Cole family dinner later that day!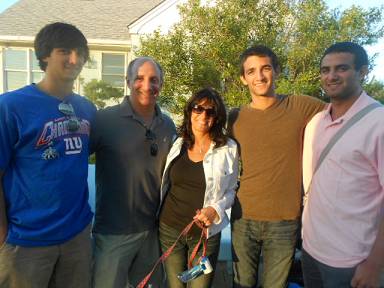 Party of 5 Schwartz's in a rare ensemble appearance – seeing quadruple?
They all look alike!!!
 Belated Father's Day to all who celebrated!
---
Mike Kunkel's Annual Coach's Party
                                                             By Bradlee White
Great start to Mike K. annual coach's party – good crowd enjoyed good food but the cold breezes drove guests off the roof deck before the band could get a good start.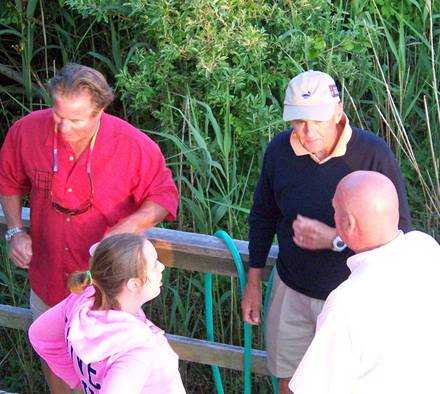 Mike & Chris entertain guests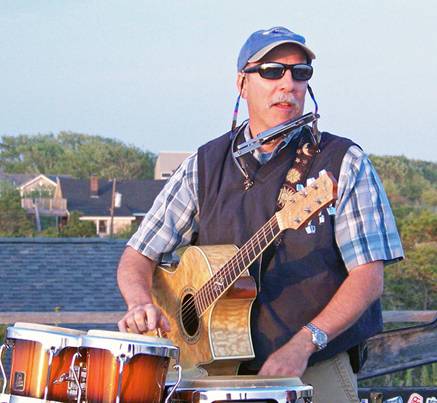 The famous One Man Band


Can't keep a straight face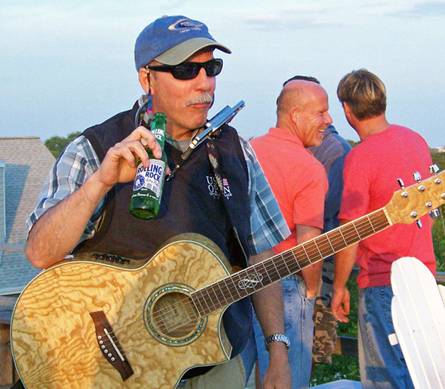 The band takes a break


Kenny giving Chris a hard time
                           …next year!!!
---
Artie Russo, old time owner of the Kismet Market reminisces…
Artie Russo and daughter Pam Manzo today
When wishing Artie condolences over the death of his longtime wife, June,
we reminisced about the old-time owner of Kismet's General Store.
Artie bought the store from Betty Maher 1966/67. He was a banker with a reverse dream: "I always knew I would buy a Cherry Grove store." Then he saw the Kismet ad and bought it sight unseen; he had never been to Kismet before. But he knew X Maher's family.
"It was a little punky general store…got all the gossip.  O.T. Wells was always a chief topic. People would stand in line for the Sunday Times. His kids were raised there. Daughter Pam and her brother got paid by finding change on the floor.
It was also a Post Office. He hid the stamps in the back of the oven but daughter Pam used to tell the customers where they were when they asked. The first year the family lived in the store, sleeping on cots.  Extra cots were put up for invited weekend guests and Saturday evenings they danced on the bar at the INN.
There was a piano that used to go from house to house wherever there was a party and ended in Barbosa's house. People used to think they were drunk when they saw it coming down the street.
Every Monday, after the Inn cleaned up, they drove him to the marina where he shaved to go to work
He gave it up in '74 because the bank wouldn't give him enough time off.
I am sure there are many more stories but pinning Artie down is a job