KISMET ART HOUSE KRAWL
Photos and text by Bradlee
Though there is always a rain date for the Kismet Art Show/Krawl, there is never rain. Count on it being hot and sunny. This year, even in the heat, there was a growing number of people making the rounds to the twelve locations to view – and buy – the work of Kismet's artists. They didn't stop coming either. I saw groups of people around several houses well after the 6:00 p.m. closing time.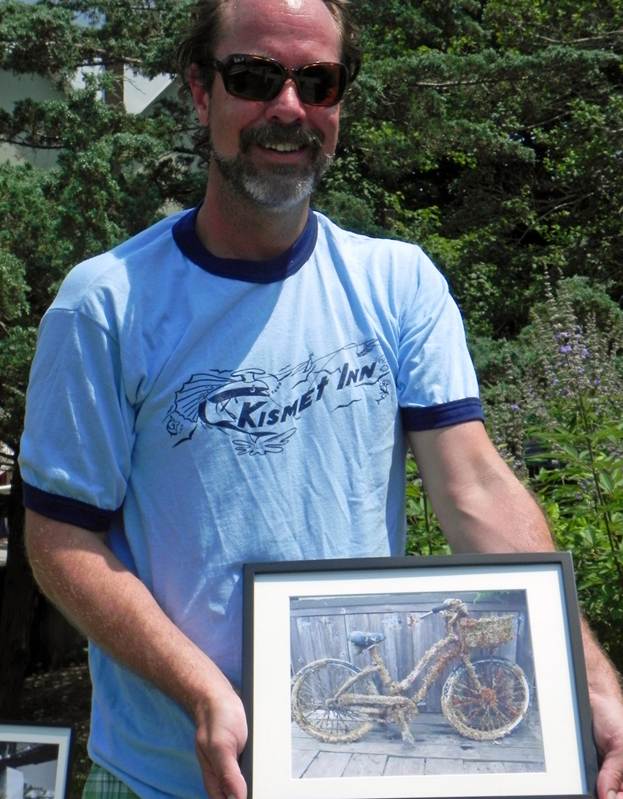 I didn't exactly follow the numerical ordering listed on the colorful event flyers, though I did begin with number one – Joe Garneau. Joe joined Woods Hole last summer after realizing his beloved Montauk had been Hamptonized. His offering featured beach photographs with a few cityscapes. UPS dropped his shipment, breaking all the frames, but it added a kind of rustic aura. My favorite photo was of a bicycle covered with tiny marine crustaceans, dredged from the bay in Fair Harbor . Apparently riding old bikes into the bay was, and maybe still is, a youthful sport there. (It's been rumored to have happened in Kismet too, but we have far fewer opportunistic docks).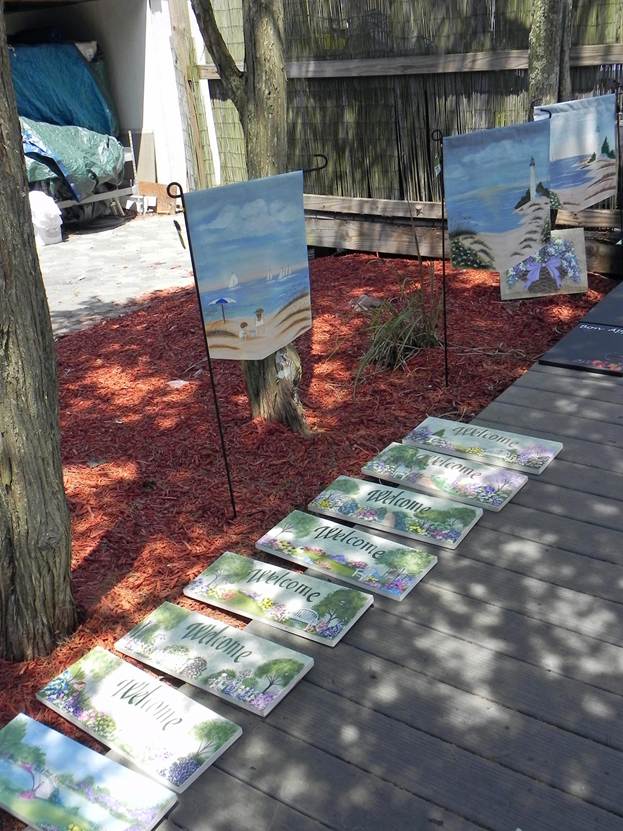 Beth Altieri – John's cousin – paints her colorful floral designs "on anything that doesn't move," including glasses, salad oil cruets, mail boxes and bird feeders. They were all quite beautiful: For a wishful moment I felt like emptying my cupboards and bringing her all my plain glass Target-ware. She also exhibited a number of whimsical house signs and beach flags.
Photo by Jeannie
Katy Poletti and Carolyn Durso presented a joint showing of their photographs. Axel, from Ms. Alice's candy store, also exhibited jewelry. Katy was a high school friend of Carolyn's daughter Theresa, who passed away last year. Katy and Carolyn worked together – "every Wednesday night" – to put together this exhibit where all profits went to a special West Islip High School Music Department Scholarship in Theresa's memory.

Carolyn's photos included a new series of Kismet iconic images including one of the "Jeanne" bicycle seats, Sam Wood's "Making It Happen" truck and the house sign from Noah's Ark.

Photo by Jeannie
She also showed new techniques learned from Katy, a professional with a BFA in Photography. Katy's work ranged from very good to absolutely breath-taking.
Andrea Wikso and Peter Schmidt again produced a joint exhibition of their photography. There were some beautiful Fire Island scenic photographs, including a number taken in the early morning of 9/12/2001 and of the incredible sunset off the Kismet dock this past July 4th. I love the baby raccoon photo (a copy of which hangs in my bathroom) and the butterflies. Peter has been working more on canvas, a process called Giclee, that looks like painting and carries a 100-year no sun-fade guarantee. Most of the photos on the Kismetopoly game box (still for sale at the Market and Red Wagon) are Andrea's. Pete maintains an art wall on his website, SWAMPonline.com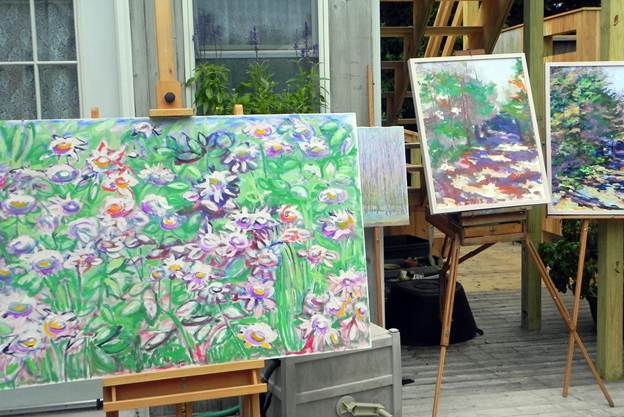 Although Alyson Brier was not here to be a part of the krawl for the last few years, she has been very active in the Berkshires and in Manhattan where her landscape paintings are available by appointment at Carole Pinto Fine Arts. She has a gallery showing scheduled for the fall at Studio 57. She also has a web site, AlysonFendelBreir.com. For this show she brought out a series of small paintings she did last winter. She loves to paint the same scene at different times of day and year, illustrating nature's changes. She paints at the Art Students League in the city, where she met and shares a studio with Kismet artist Susan Strider.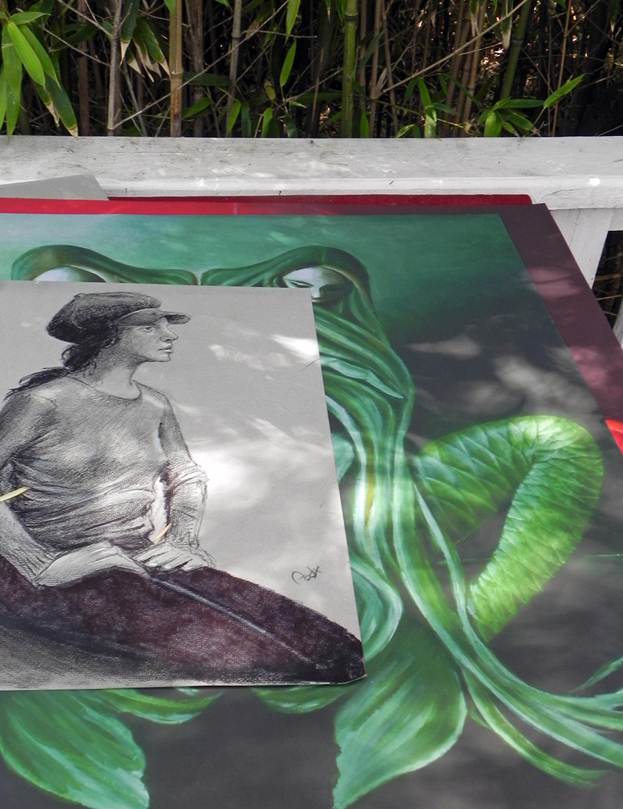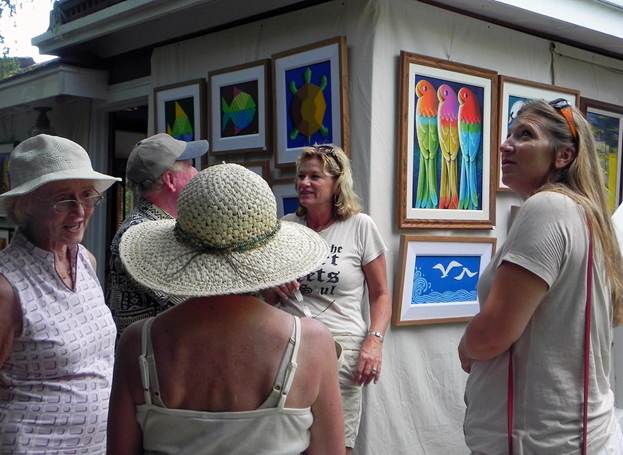 Bill Poindexter, artist extraordinaire and the show's organizer again drew large crowds to see his work. (Both Bill and Peter Schmidt have entries in this year's Lighthouse Art Show). Bill has expanded on his paintings of brightly colored, geometric turtles and fish. He began by asking himself "how can I create a painting with totally straight lines, something colorful that no one else has done?" Viewing them, the words "pixilated" and "quilted" came to my mind. Bill says they will likely be printed on some type of fabric materials in the near future.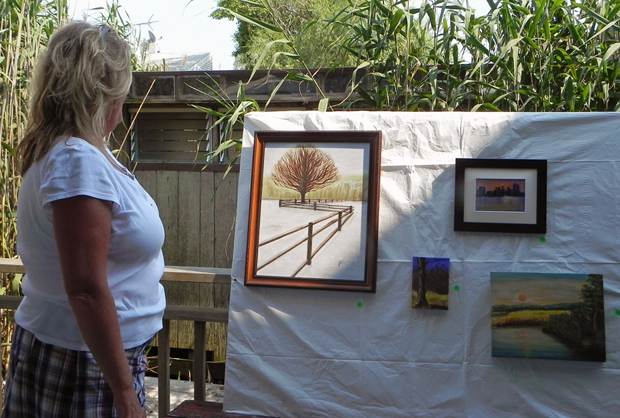 Mary Lou Fiore-Parise is, of course, Mike Fiore's very talented sister, who again returned to Kismet to show her work. Once she retired several years ago, she turned to painting – her passion. She is in her studio two days a week where she produced an all new body of work to bring to us. She paints in a variety of styles which have proved to be very popular in our Kismet show.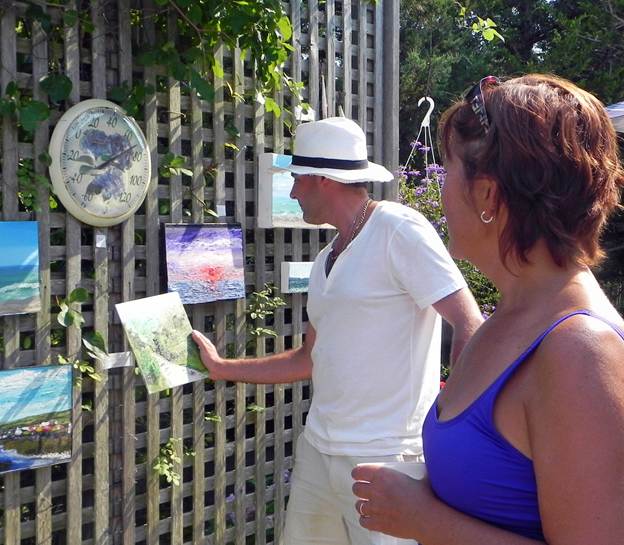 Jonathan Toth, aka Johnny Thunder, again exhibited at the Cole house where Joyce's garden – like Alyson's – also drew a lot of rapturous attention. Jon exhibited his latest work, a foggy ocean scene with the illusion of floating. His "tools" – brushes and paints – were artistically arranged in buckets below the French box easel of a type used by the masters hundreds of years ago. In addition to beach scenes like a "Driftwood Tree" and "Ideal Love," he showed cityscapes and work done in Italy . He's currently offering art lessons, "Discover Your Inner Artist" in Kismet on Wednesday and Thursday afternoons – 347-404-0583.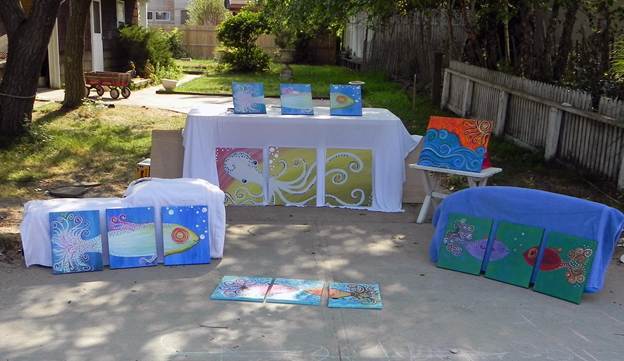 Ashley Quent lives at Pelican Roost and works at Surf's Out where her paintings have been shown in the windows. She began painting last year and was encouraged by many who had seen her work to enter the Kismet show. She is an Education major at SUNY Courtland where she plans to add art to her studies and her career plans.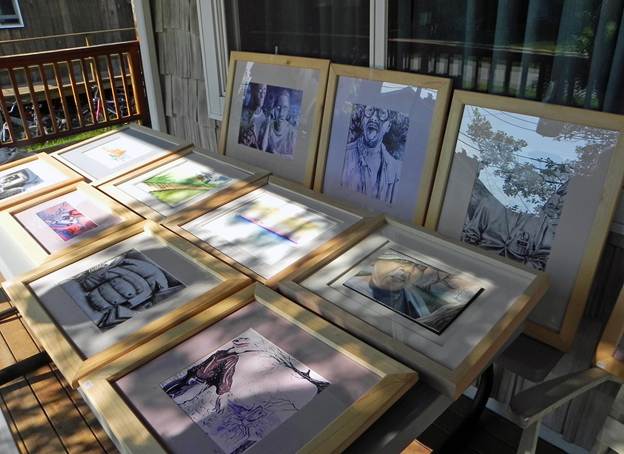 The Butler family at Bark House is a very talented one. Mom Ginny is the star face-painter at the annual East Lighthouse Block Party. All three children are involved in artistic endeavors, though Amber was unable to bring her work out this year.
Coty exhibited his t-shirt designs featuring last year's "Deer Pong" and a 2011 "Deer Jumping off a Lifeguard Stand." He also designed tote bags, but they were sold out by the time I arrived. Shane works in both water colors and acrylics—his parents exhibited a collection of his very excellent work. Both sons work as designers for Estee Lauder.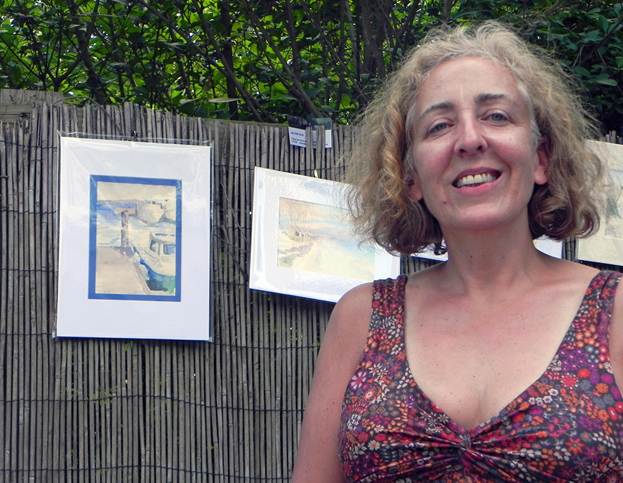 Susan Strider works almost entirely in water colors. She was primarily showing small, impressionistic scenes from Fire Island . She is usually out early in the morning or at that certain time of the evening when she can capture the magical light of the island in her small sketchbooks. She did a workshop in pastels in Provence last year and was among the Merit Scholarship winners shown at the Art Students League. Her housemate, Bob O'Brien also exhibited photos on canvas.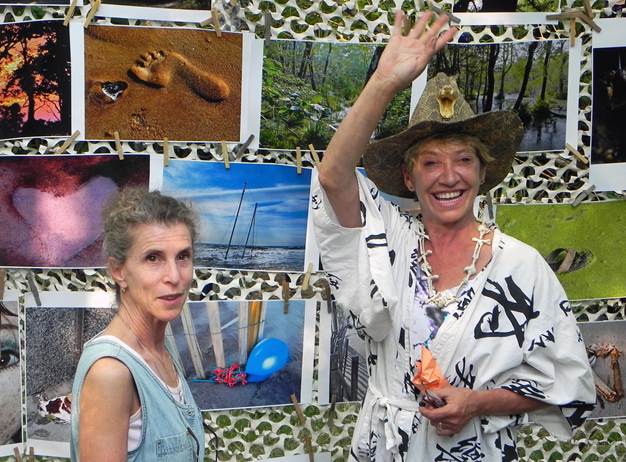 Saving the best for last, I entered Caroline Stern's "EYEGASM." As always, all of Caroline's property – the buildings, the Yurt and the land – is canvas for her artistry. As always, too, she shared her space with the work of friends – Auri Chara's sculpture, Stephan's living portrait and some of George's paintings (though he modestly deferred to Caroline as the artist.) This year, a fabric wall of Caroline's travel and Fire Island photographs hung in the front yard where she welcomed visitors. The back deck attractions included a birthday celebration, face painting and a new aviary for two of her three magnificent birds, Sinbad a Yellow Bibbed Glory and a Rainbow Glory. Thirty-year old Macaw, Mingues stayed inside the house along with newly adopted Grease Spot, a hamster rescued from the streets of Manhattan .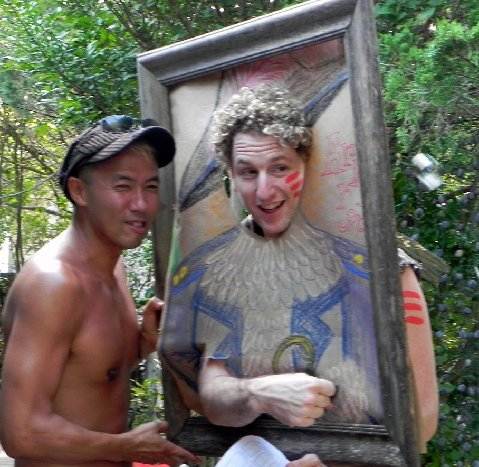 Artist Stefan's living art
We missed two artists who had shown their paintings from the beginning of the Art Krawl: Teri Dahl has been ill and under treatment at home in Oakdale and Bob Negrin was unable to make this year's show. Fortunately, "Bicycle" Bill saw me from their living room and alerted me before I made the long, winding climb to the rooftop deck.
Kismet's Annual Bake Sale : Sweet tooths soon satisfied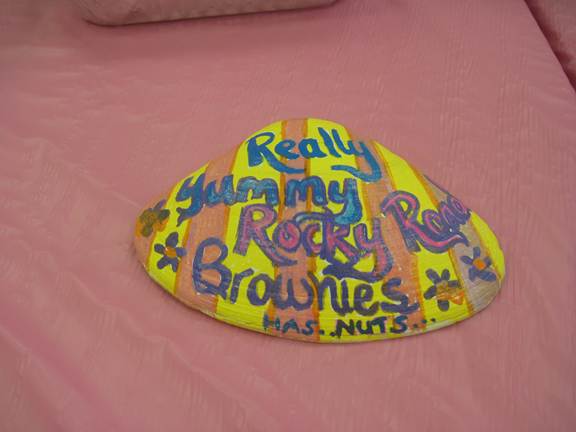 The KFDA (Kismet Fire Department Auxiliary) continued their yummy tradition of selling cakes made with love by their citizens (and restaurants)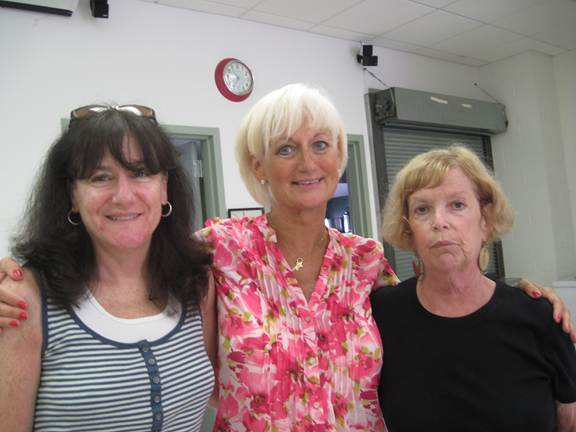 Cheryl, Pat, Phyllis
Minus flowers and books, of previous years it was a low key, highly successful venture organized and executed by Pat V, Nancy, Phyllis B, Cheryl R, Michelle S and impressive contributions that sold out except for some cookies and cupcakes which will be served on kids night at the movies
Kismet Typical Woman: Triple threat: She reads for book club, plays mahjong and bakes!!!
THE CONTRIBUTORS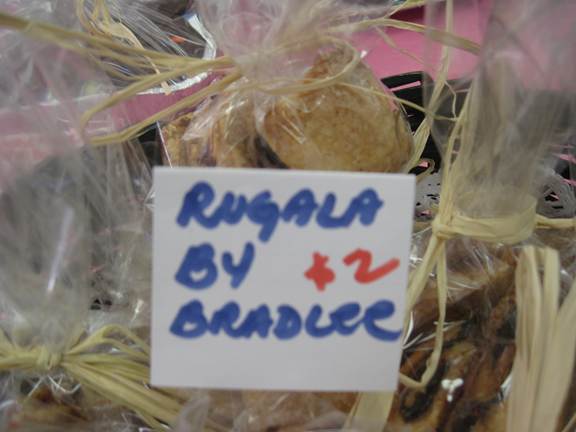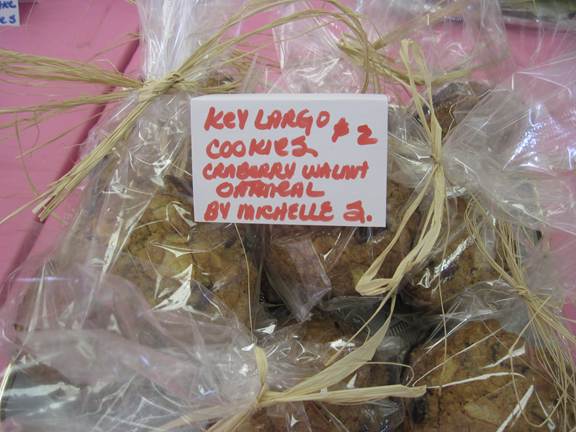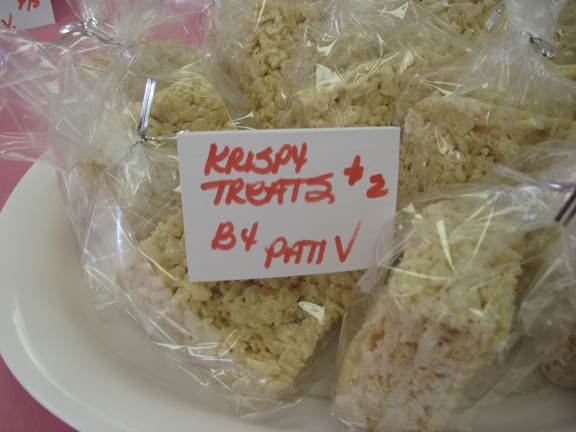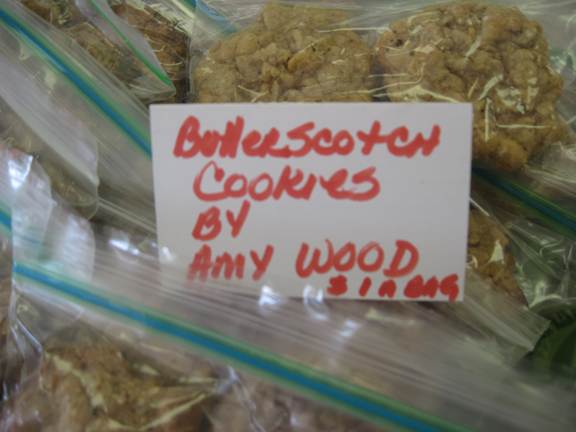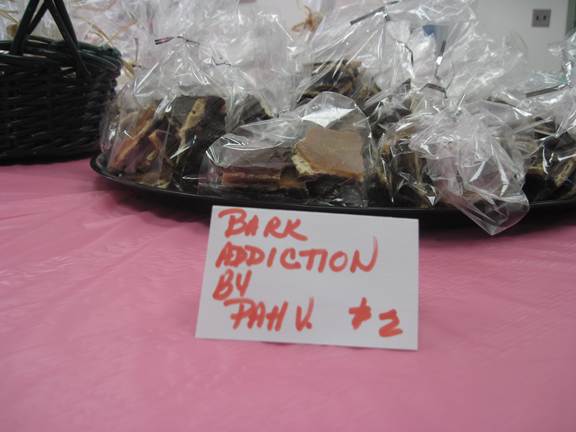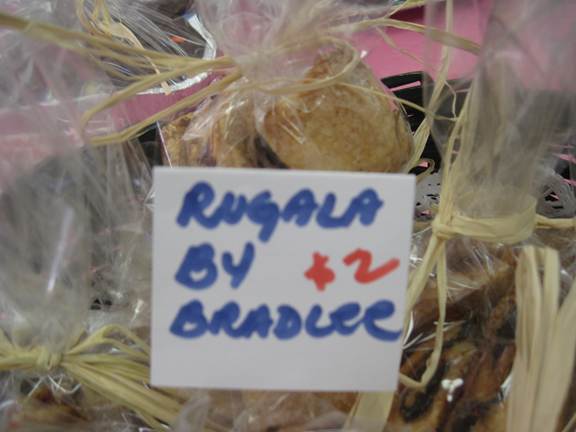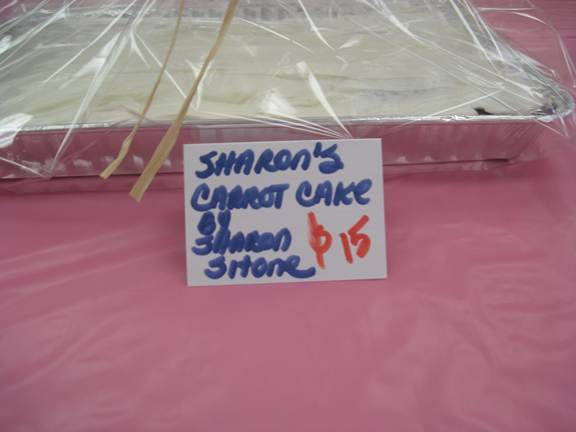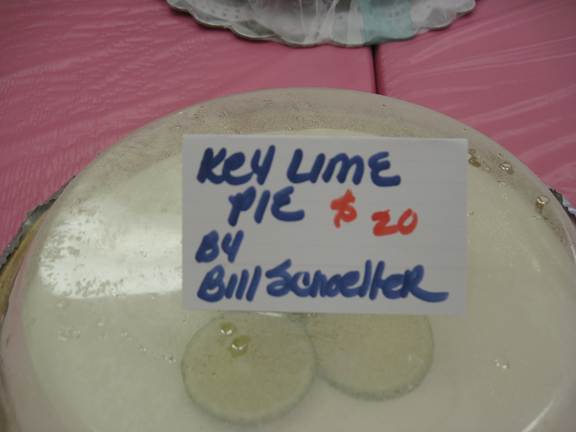 How we love our kitchen men!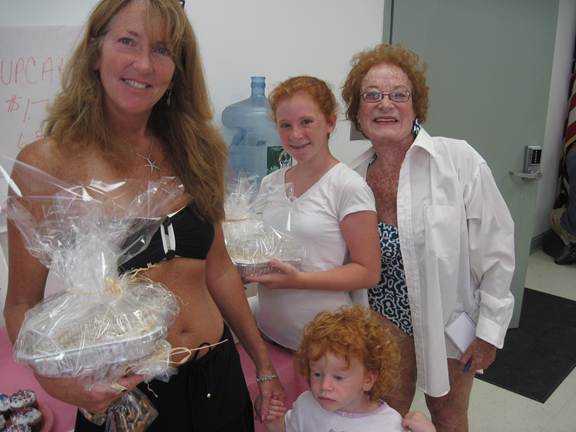 Three generations of redheads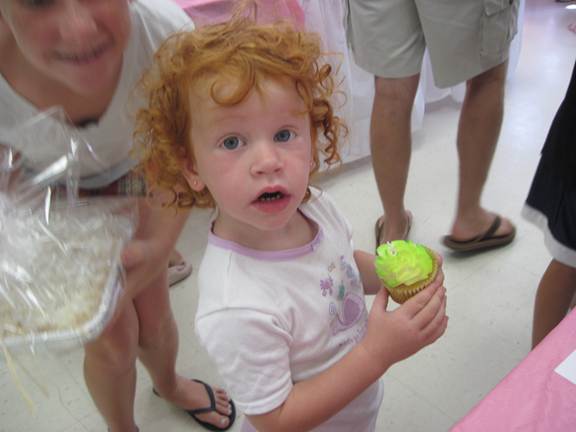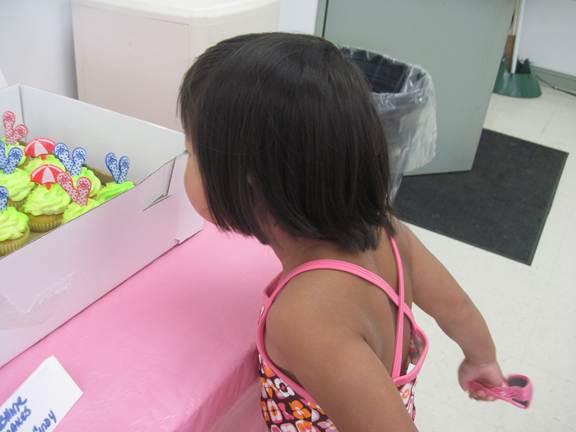 Ummmmmmmm, which one?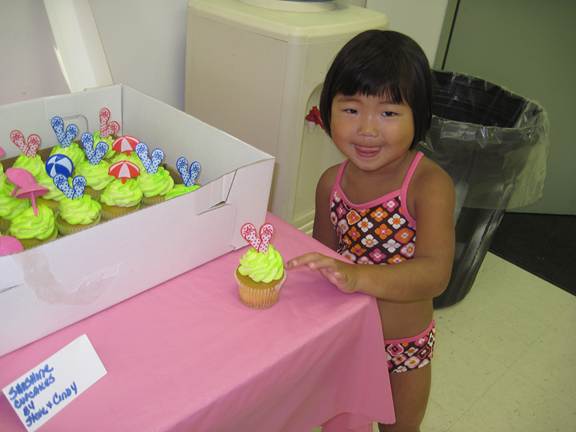 Good choice!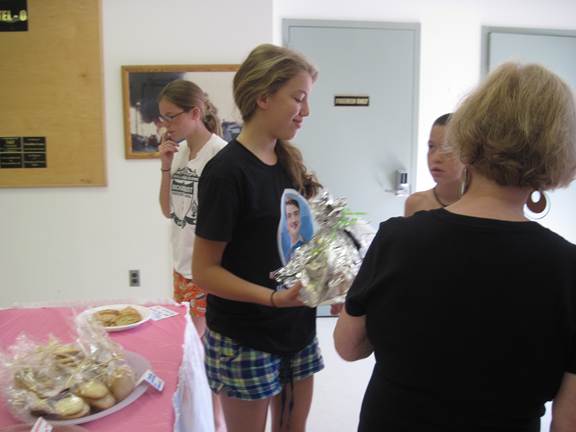 Older kids spend their allowance
Serious selections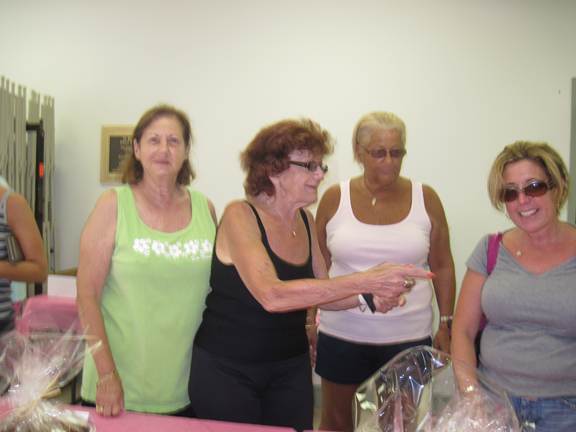 Oh Good some grownups
Artie G, having just downed a macho man's mega breakfast still has room for a cake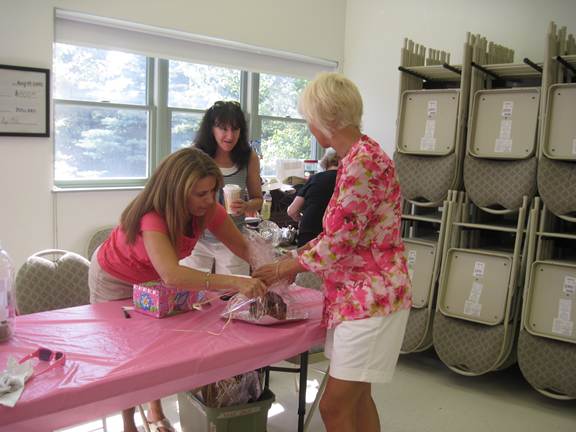 Michelle, Cheryl & Pat fix the price! How much should we charge for this one?
OK! Pay up.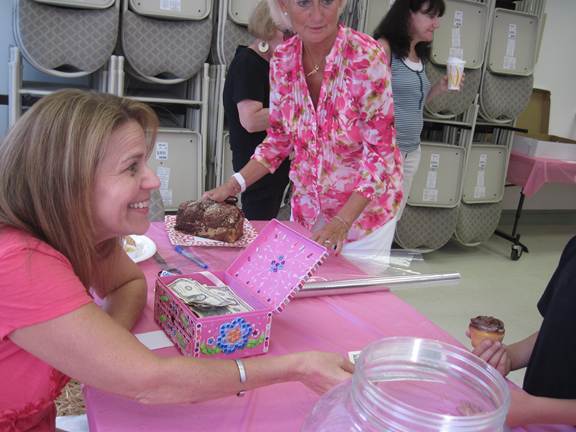 Cakes come at a cost!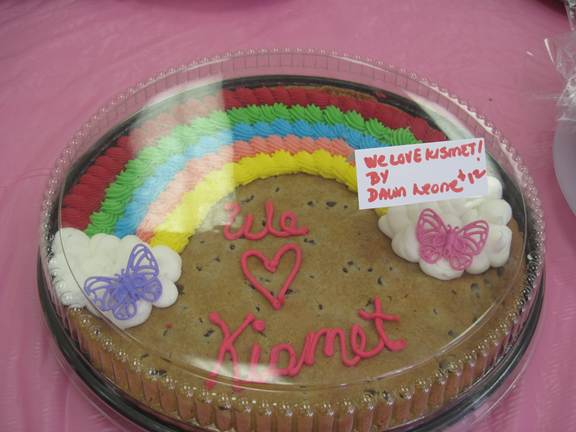 Ever wonder what happens to these cakes………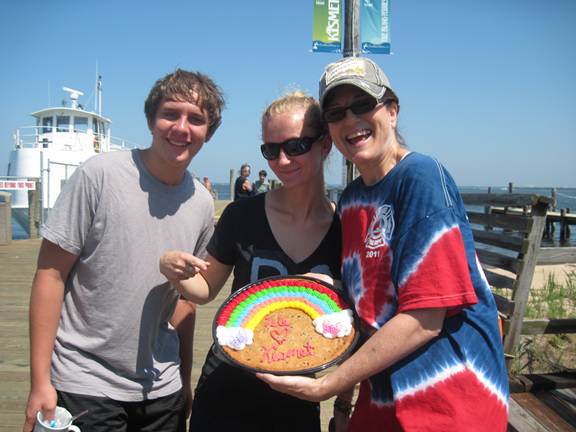 Happy consumers……..