The Kismet Kolumn July 20 '11
ALMOST HALFTIME!!!
By Jeannie
Almost out of suntan lotion, bathing suit sales picked over (my favorite drag queen name on the Invasion was "Summer Clearance") and catalogues are pushing Fall Fashions – don'cha love that in the midst of a heat wave!
The "substitute people" – the weekly renters - are starting to show up (wait till next month – you won't know anyone!) And as the hordes of day trippers invade our tiny community it is a matter of pride that we still look clean and manicured – thanks in most part to Sam Woods carting and street cleaning and Lou Romanzi's army of workers specially Monday when the din of weed whackers dominates (so what's a little noise in Paradise when it looks so good?)
Speaking of noises – what's with the ferries that are suddenly honking their presence at all hours of day and night?
Jeannie,
Horn Sounding – We are sounding the appropriate US Coast Guard horn signals for a vessel in a backing situation. The one long and three short blasts are standard when backing away from a dock. This all came about when a Bay Shore neighbor issued a complaint to the Coast Guard and the Coast Guard had to take action and enforce the regulation. With Fire Island Ferries neighborhood location we do not sound these signals as a good neighbor policy. That has all changed with the complaint and we will continue to sound horns until the Coast Guard tells us otherwise. We are in contact with the Coast Guard and attempting to provide a quieter alternative but that will need to be reviewed and approved. There is no timeframe at this time. Tim Mooney
And this might be a good time for me to interject my Comments on Canine Cacophony after Licari's Love Letter to dogs & Dawn's Doggie Dialogues, but I'm afraid I'd get bitten.
KCA President, Marsha Hunter, reminds Kismet property owners who have not done so to date, to send in their 2011 KCA dues as invoiced in May. The Fire Island Association's (FIA) annual general membership meeting is Saturday, at 11 AM July 30 at the Ocean Beach Community House, new FIA president, Suzanne Goldhirsch, presiding with guests: Town and State elected officials. On Kismet beach scraping, the Kismet Erosion Control District has been advised by our environmental consultants that it is unlikely the District will receive a permit this summer from NYS/DEC and FINS to scrape the beach, since our beach does not meet those agencies' permit requirements as to beach criteria this season.
The Kismet Bake sale, presided over by Pat V, Nancy, Phylis B, Cheryl R, Michelle S et al was a yummy affair with impressive contributions that sold out exceptt for some cookies and cupcakes which w ill be served on kids night at the movies (see article in Fireislandsun.com)
CITINGS: Odd Couples Club x2, the Founding Fathers of Sat AM post tennis INN Breakfast: Peter S, Arthur G, Charlie U (in witness protection program), Salteen import Mel and group baby Tom L (only 58) criticizing each others caloric intakes and choices: Peter-"Artie how can you have eggs and pancakes?" Art- It's protein. Tom L the fussiest -eggs over very very easy, no butter, bacon… pancakes for the others. The topic for debate: which the correct word for when Tom's son Nick L, 19, has a girl in his room? Inappropriate or Improper??? It always ends up "Artie! You're an idiot!'
Mike & Marge F look on
Out owner Paul B sending for ice from the Market instead of his own place for son Tony's little league party. Hmmm- very interesting.
"Little Joe" Inn bartender distinguished himself falling off a deck July 4th in the Pines. Pretended it was a dance move as he emptied his pockets of sand. Can't take that kid anywhere..
PARTY LINE: FYI when telephones first became available in the home there weren't enough to go around so several families had to share one line. If you picked up telephone you could hear if someone else was using it and you had to wait. It was a friendly thing. It was called a "party line".
Double Whammy BD in Out's tent for Patti Romanzi & her twin brother Tim, ringside seats for the Journey cover band. Patti said "the drinks flowed like water thanks to our special waitress (daughter Bryanna)" which left guests thoroughly anesthetized by midnite. "Those tents are nice" said Lou R. Patti said "WOW!".
While the grown-ups played in their tent an army of at least 30 Kismetics invaded FH's White Party last Saturday: many of The Next Generation Casey & Gracie, Kiley & Taryn P, Morgan B, Rob V, Nick L, Sam W, Anthony P, plus Jill Metcalf, Joey Bellinzoni, Chrissy, Shane Carew, Jack Heilpern., INN's Tanya, Yellow Pelican and Pelicans Roost and Yellow House sharehouses. If we threw a party here what color would it be?

Sports: There WILL be softball – do you here that Verne? Ask Lou. Zumba continued Sundays at noon – gals love it for the high and the fun, guys love it for the hormones it releases later – go! Here's a quote from Roz as it got intense "the mind should never write checks the body can't cash"
Don't miss Empire State Stompers at INN Tuesdays – the best!
Here is my DREAM LIST of COMING EVENTS ;
Kismet House Krawl: pix of the past by Dennis
2007
2007: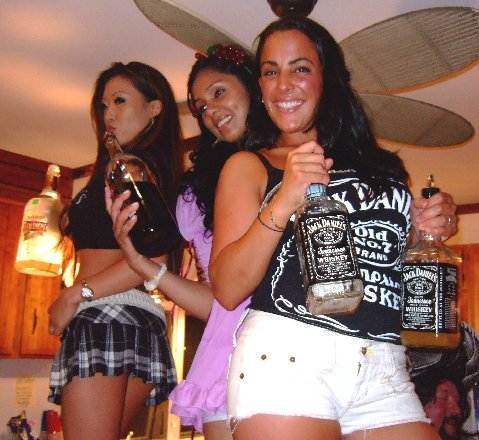 2006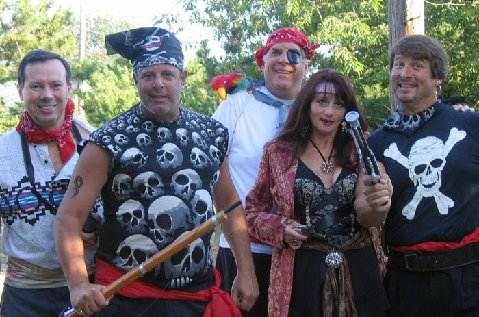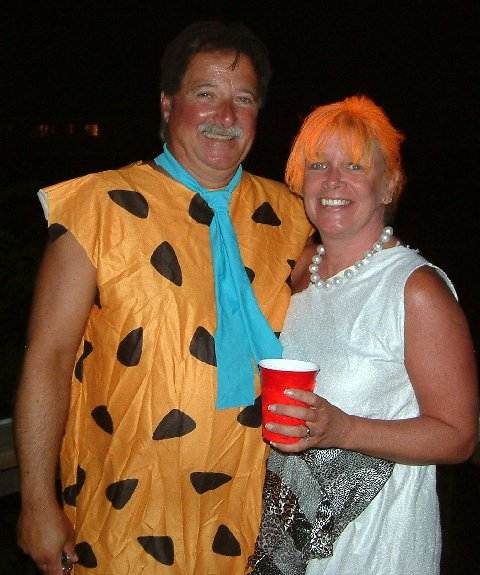 2005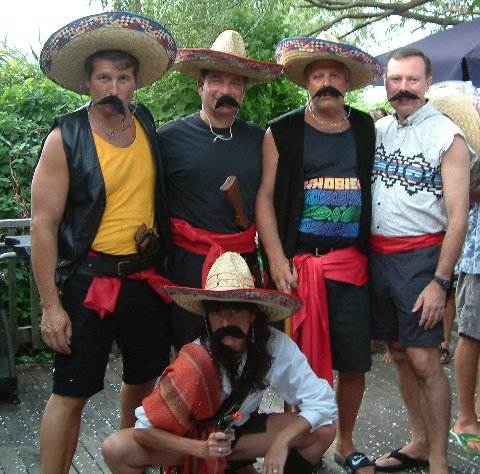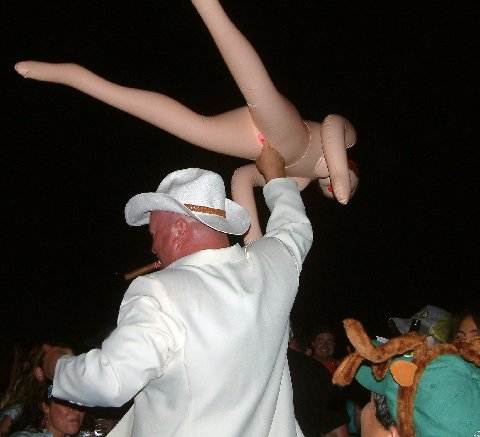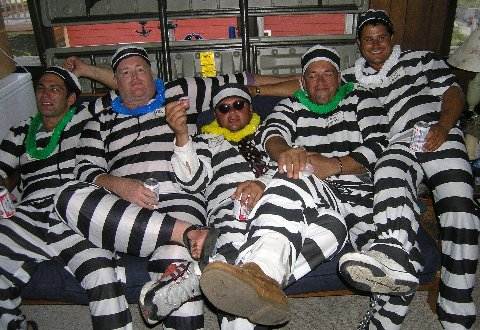 (these guys were the best – they stayed chained together all evening)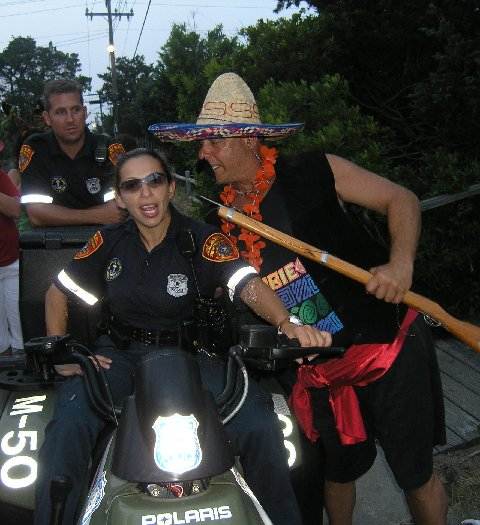 2004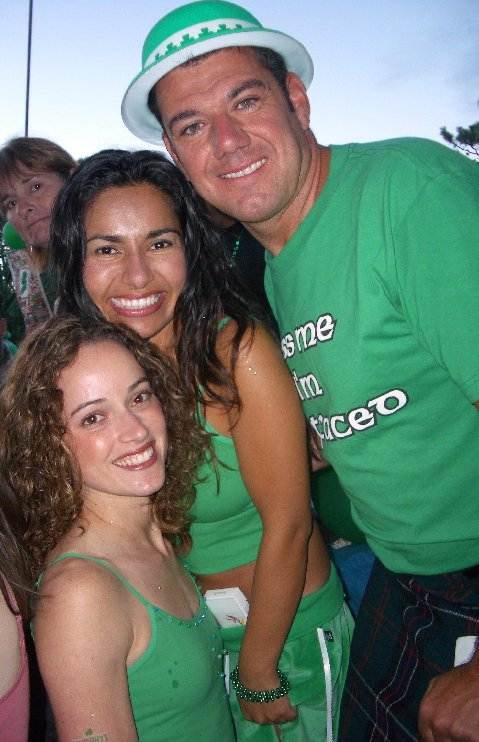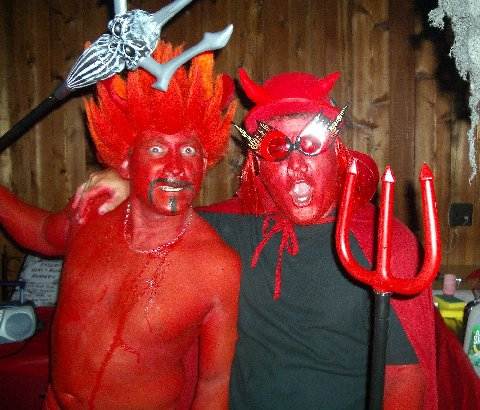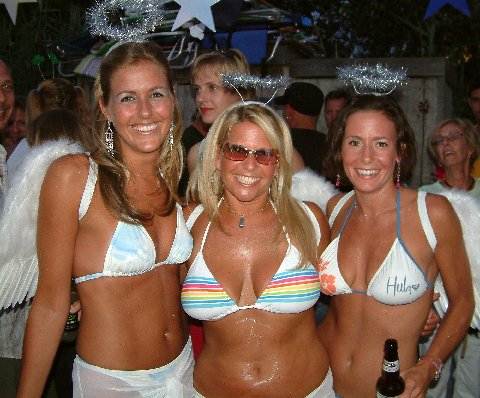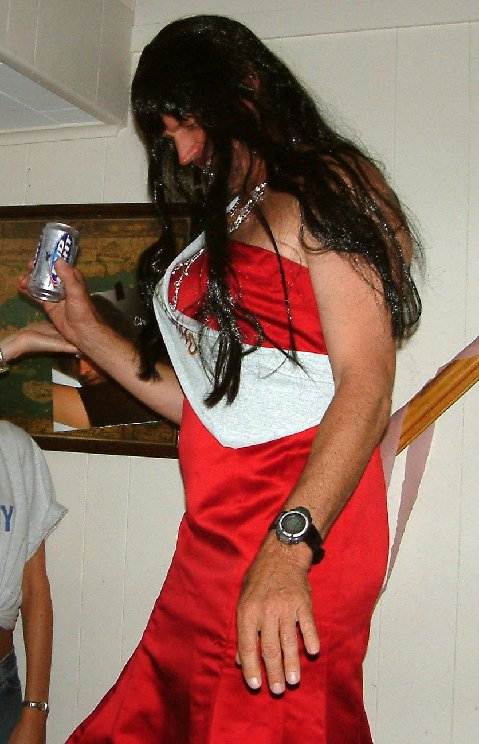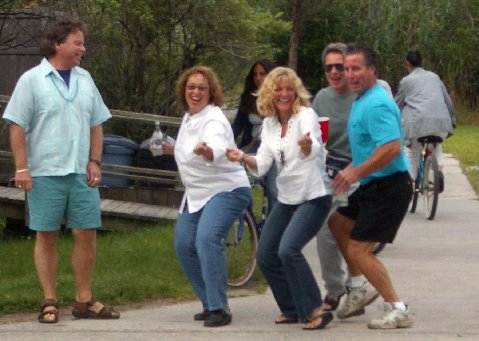 2003
That's the Casino!!!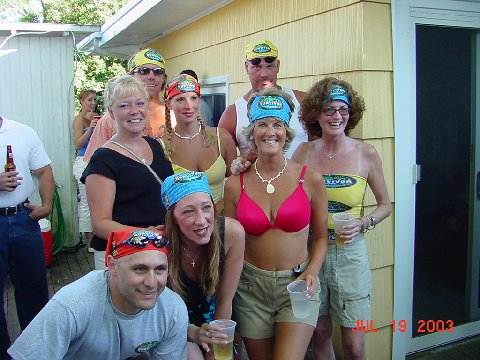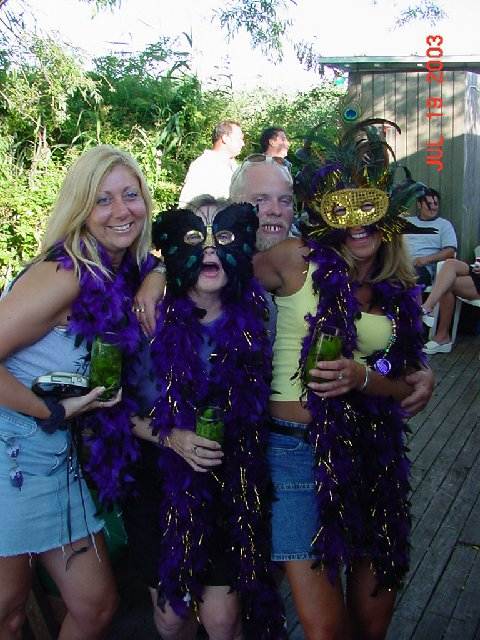 2002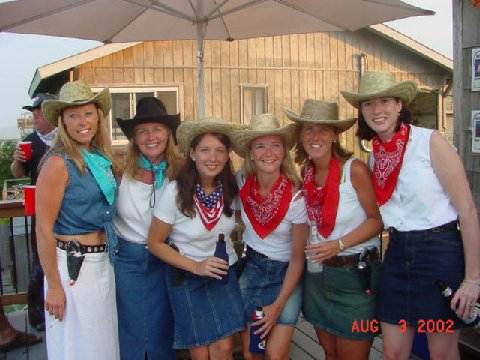 Cowgirls & Indians
The most creative of all events ever in which 7-8 houses would choose a theme in secret and transform their house into it – from the deco orations to the clothes they wore, drinks they served, music they played. Each a total surprise. i.e. the 'Ool house became an entire wedding brides grooms ushers bridesmaids you entered thru a wedding arch and there were party favors, then they would all join the crowd on to the next house. There was a medical tent with sexy nurses and MDs with weird specialties, drinks were administered by attendants from huge syringes, our own KFD Dom's house was totally Sesame street with huge animals that dwarfed the guests and so on as houses mixed and melded – cowboys and Indians, nurses, brides, cocktail waitresses until there was a Fellini-esque quality as all the houses melded at the Out of Inn – my favorite was the last house which was a gambling casino, guests were given play money at Black Jack, Poker, Crap tables and served drinks while they played (and there was one Real Table with Real Money shhhhhhhhhh).
If interested n resurrecting contact Bob at Brown Sugar.
The big daddy of'em all was the original Hooker's Ball mandatory costumes as Pimps or Ho's (several Salteen husbands seen sneaking in as Johns). We had theme parties like: Come as your Fantasy, Come as you are not in White, (I came as a bride with my entire house the wedding procession) St. Paddy's day parade with real bagpipers marching through town and B-S serving Corned beef and cabbage and lots of beer. Those were the days my friends, all done without a firehouse and no entrance fees.
Another dream Volleyball Tourney with several teams labor day weekend (competition so fierce they used to import ringers) tams had names and we still have among us the original Nasty Boys: Jay Smith (whom the younger players say is still "awesome" at the net), Palace's Elliot, plus Vinnie, Bryan, Ryan, Jayson, Sarah (atta girl) - can be done just needs a little organizing – Pancake breakfast I shall miss seeing families and friends eating together, And on the Wish List is KFD vs SFD softball game with cheerleaders et al
ENDQUOTES: overheard at beach: I went off my beer diet and had one soda- too much sugar - at least beer has 3 parts protein. Their girlfriends were on the soda and candy diet. Congrats to the Japanese women's World Cup team for rescuing the US from pretending to care about soccer (Stephen Colbert)
…and that's Kismet
(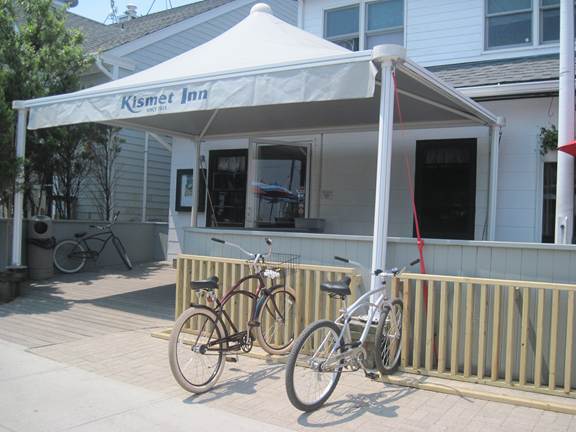 Hey, there's a new bike rack – get off my deck
Even waitress Jo can use some hugs from Mom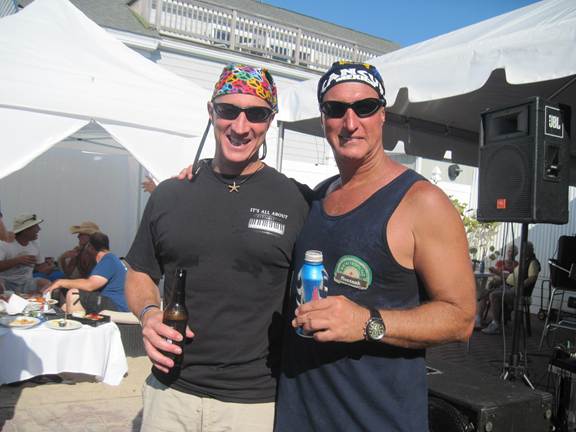 The Sarle brothers play the Out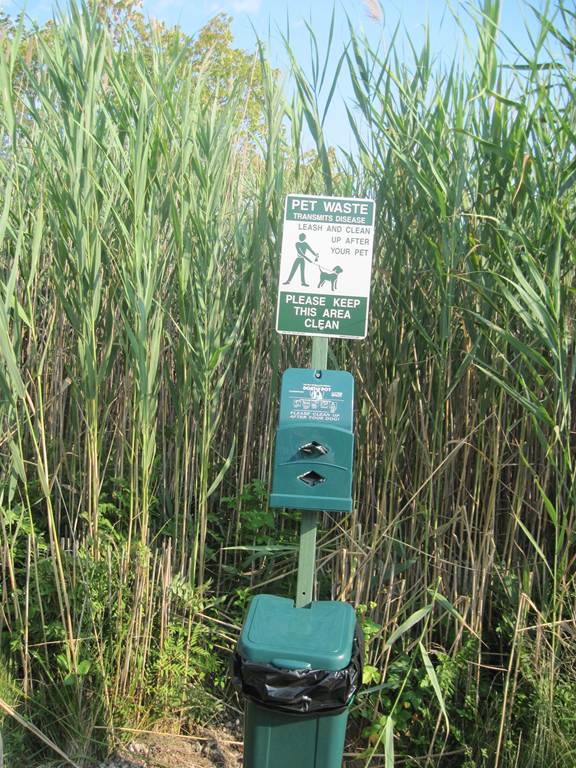 We are SO civilized!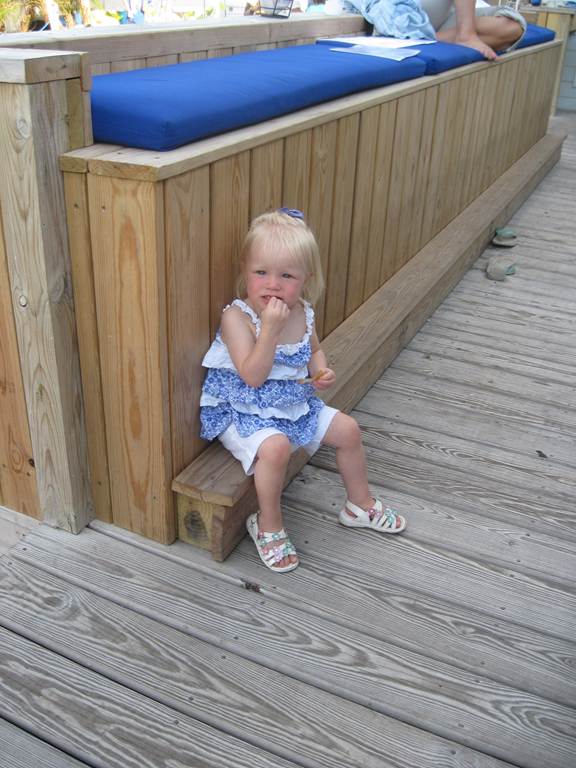 Hey, can I get some service here?
…and that's Kismet!!!