KEEPIN' KOOL  IN KISMET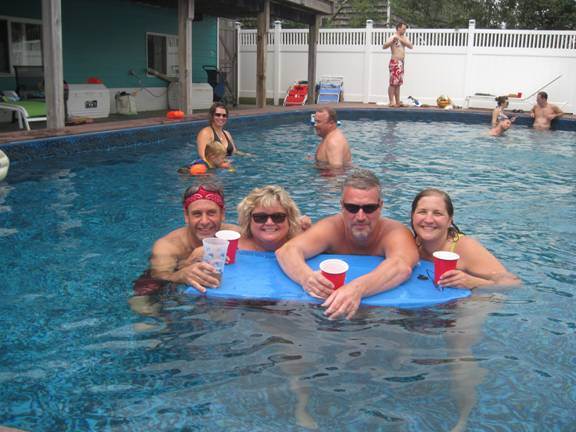 The luckiest renters in Kismet – the 'Oolies!!!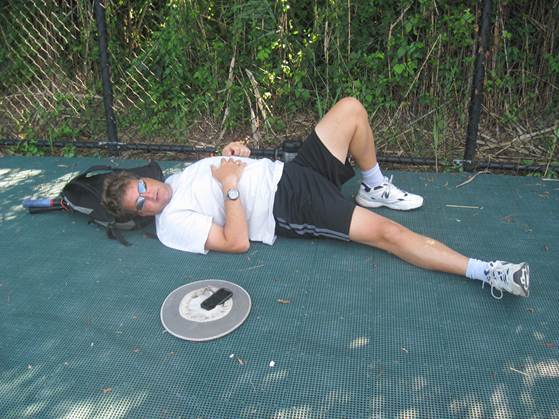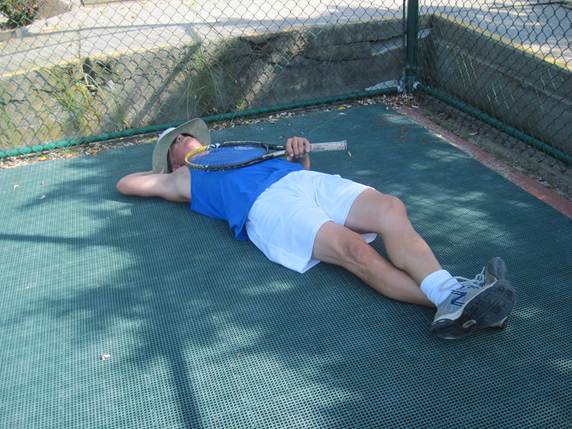 Kismet Athletes cope with the heat – Dean, Licari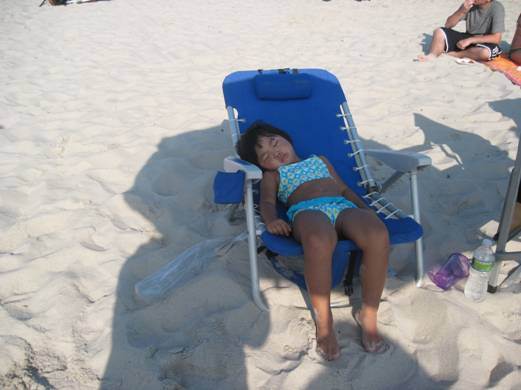 INVASION TIME                      
                                                      By Jeannie
INCOMING!!! As the hordes of DT's (day trippers) arrive.  "Where's the beach?" they pant, hot from the mainland. Go to the beach – know anyone? Try to get a drink from your favorite bartender? He's too busy. Bike down the streets? Fageddaboutit!
Watching the ferries The Out's Dennis is happy "We are doing what we planned, we are bringing in new people from Islip, Bayshore, on boats, the weekly renters plus the walk-ins -  good for business" (but for the town? I dunno)
To accommodate the weekly/weekend renters who pay off the mortgages we should have
NEW RULES FOR THE SUBSTITUTE PEOPLE: 'Curb Your kids, leashes optional but not required (yet)" kids like gnats flying off house ramps onto street on those little skateboards – squadrons of them taking over – knocked CA's Myna down.
CELL Phones: do not stand in middle of street screaming "Yeah – its great – no cars, c'mon over…(Oy! More)
MUZZLE YOUR DOGS – yes, they want to establish their presence with existing dogs and challenge to a bark fest – Muzzle'em!
DO NOT STEAL OUR BIKES They are our "cars" and penalties for theft should match mainland – exile them in chains
NOISE POLLUTION – this should be a nice QUIET town. Competing Bands Blasting through the night are OK – not OK:  Kids screeching, screaming whining or the practice of Loud Oratory (this goes for parents, too)
POLITICOS AT OUT; On a hot steamy Sunday a meet and greet fundraiser by the Nolan Reform Team arrived here at an invitation only event to listen to Fire Island residents. Tom Licari helped to spread word in Kismet that Supervisor Nolan would be in town and was looking to hear from them. Supervisor Phil Nolan - seeking re-election for Islip Town Supervisor.- the Kismet go-to guy - Installed sidewalks throughout Fire Island, restored over 1 million cubic feet of sand to the Fire Island shoreline, instituted an over-sand vehicle permit program and meets  regularly with FI A leaders. Also seeking election or re-election are Renee Ortiz for Islip Town Council, Ginny Fields for Islip Town Clerk, Councilman Gene Parrington, and for Islip Receiver of Taxes. These people can help us. To learn ore about the candidates see related article in FireislandSun.com
FIA SUMMER MEETING KCA president, Marsha Hunter, reports that the meeting was held on July 30 in Ocean Beach, hosted by Mayor James Mallot and OBA President, Edith Charlton. The new president of the FIA, Suzy Goldhirsch, could not attend due to surgery, but the Executive Officers of the FIA: Bob Spencer, (Davis Park), Hugh O'Brien (Saltaire), John Lund (Davis Park) and Marsha Hunter (Kismet) were on hand to conduct the meeting. Chris Soller, Supervisor of the FINS emphasized a working partnership with the Fire Island communities. Speakers were: Islip Town Supervisor, Phil Nolan; Suffolk County Treasurer, Angie Carpenter, Captain John Hanley, Executive CEO of the Suffolk County Police Marine Bureau; and Joe Vietri of the Army Corps, Chuck Bowman of Land Use, and Mario Posillico, who addressed the FIMP and the Programmatic Environmental Impact Study on long term sand nourishment being undertaken by FINS with the Erosion Control Districts of participating Fire Island communities. Special thanks were given to Jerry Stoddard, Director Emeritus, who recently concluded just under 25 years of service as President of the FIA.
The Party Line: Happy BD & Bon Voyage to the beautiful Bryanna, who, though spawned of two attractive parents emerged with an exotic look all her own – graced the beach party thrown by adoring parents Lou & Patti Romanzi as she gathered with her friends (and most of the KFDA, MM's, Seabay Heights hoi polloi – even visiting dignitary "Doc" Mike O'H to watch his son work), to feast on teen oriented Out delicacies (like sliders) at the end of a perfect beach day. Mom Patti, prone to tears at the very mention of "empty nest syndrome" looked around at one point and said "this doesn't suck". Bryanna off to college in Ft.Lauderdale and already on the Rowing team (what's with that rowing, Mallory W, Loren L, et al are all doing it – what happened to table tennis or whiffle ball.  Bryanna looked radiant as she biked her boyfriend to the ferry later that night. The MM's celebrated someone's birthday I don't think even they remember, plus Debbie & Eddie's twins – with the emphasis on the word "merry".
CITINGS The Out's Dapper Dennis with the toothy grin has day job - construction -– he worked underground in NYC last week "modification on a fan chamber in the New York subway" –""I need the money" Hey Dennis, we're drinking as fast as we can!
Matt Crawson, Jeanine's hubby, Cole son-in-law, started training for a surfing tournament in 6-8 weeks – bitten by his surfboard – a long deep gash in his leg – will be out of commission for weeks – speedy recovery Matt
Bradlee much luckier -after her awful accident on the way to the ferry when "the sidewalk came up to meet me" and she fell face down on the pavement – fortunately some cosmetic dental repair, no stitches, but a swollen lower lip that actually looks a little sexy! All around girl hero, Jo Bellinzoni, Inn waitress, first responder to dock accident using EMT training she learned in her 6 years as a Life Guard. You go, Girl. Jill had to take her tables. Artie G confided in me his awareness of all the space the Kron keeps giving him. We can't help it Artie, some personalities just inspire us.
Happy BD to Kismet Octogenarian Bob Freiberg – won't give it away – just keep truckin'.  Condolences to Joe & Joanie McK on the passing of Joe's father this past weekend.
COMING ATTRACTIONS: Yes, we have them again!  Annual Henry Gates Clam Shucking Contest and Charity Tennis Clinic for West Islip Breast Cancer Coalition Aug 9th at Out. Maggie Fisher memorial Swim from lighthouse to Brightwaters Friday 9AM Aug 5. Duck Races Aug 14.
ENDQUOTE:  Sign outside the INN: we've been serving alcohol since 1935. Come join the tradition.
                                                   And that's Kismet!!!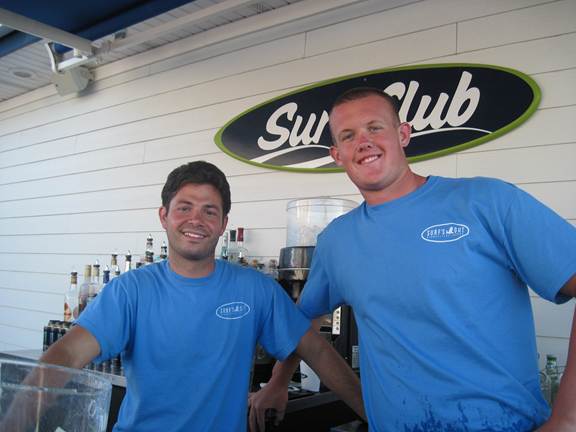 Tip your bartender – specially when they're this cute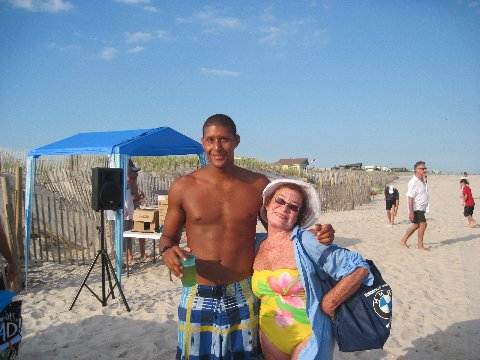 A little something for the author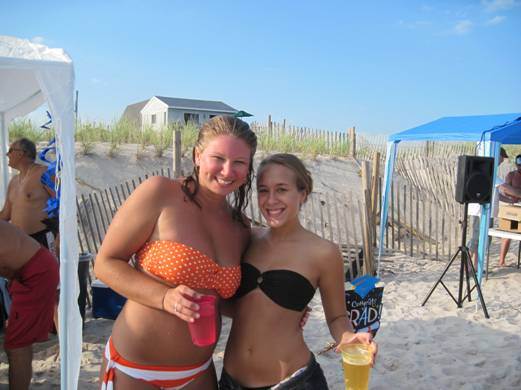 How cuTe are they : Happy Birthday Bryanna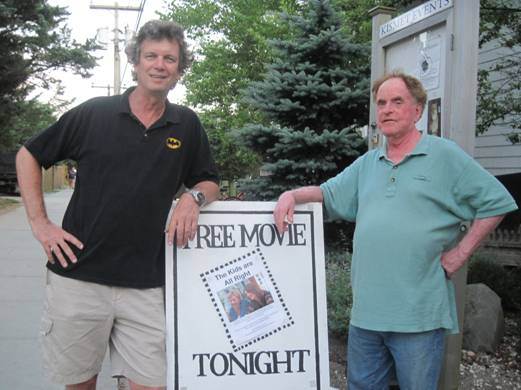 One provided the movies – the other stuck with it
The essence of Kismet – my bicycle seat