FISun Kismet  kolumn last 11
IRENE TRIED TO SHUT US DOWN BUT THE WORLD GOES 'ROUND AND LIFE GOES ON – KISMET STYLE!!!
                                                      By Jeannie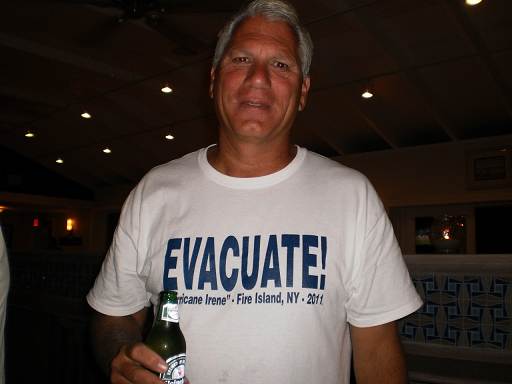 The Hurricane – yet another view
The flip side to Patti's frothy account of generator lit group of gourmet dinners during the storm there was a gritty scene. An army of 10 which included Rusty, the Chiros, Duke, and more unsung (and here unnamed, sorry) heroes trudged through the town .- looking for dangerous trees about to fall, and areas of weakness where the ocean would wash over all the way to t he old firehouse where the ocean traditionally br4aches which would mean major flooding in Kismet – with boots filled with sand, water and ocean foam (disgusting Linda later said) the trekked around   Linda had her bag packed as did some others in case their house flooded seeking higher ground – it was grueling and exhausting, and most, not having generators, would return home exhausted to a dark house, cold showers if any. When the storm was over Sunday instead of partying they all went home and fell into bed.
The Mimosa party on the beach was Monday – a bonding, moment no doubt, for those who gave their best protecting us – before the rest of us could return.
Carmine & Joanne's beach house "basement" was flooded ruining his refrigerator, water heater, and other equipment which will have to be replaces while he outside of the house, continually sand based looked like stucco.
The Hellers, whose mansion was made hurricane proof by state of the art high tech construction, had to leave on a minor technicality – he hadn't enough fuel for his generators.
BUT LIFE GOES ON and it was Labor Day Weekend!!!
BLT@BVT
Ascending the stairs to this annual soiree – whose etiology stemmed from Ye Olde Hookers Ball at Adhem's, and we thank you Bill for keeping up the tradition, some were turned away at Bicycle Bills BVT annual Black Tie & Lingerie party – where guests had to pass approval from a house appointed guard at the Gate in who approved or disapproved of your costumes.  Myrna made the effort of a black tie but was dismissed, Dennis, who covered al the categories with his superman shirt, beads, black bowtie and Phantom Tuxedo jacket barely passed muster (can you imagine). I, arriving back from the Pines, completely changed into my multi layered best Frederick's of Hollywood garb at midnite and trekked to Seabay wrapped in a cheer black chiffon ruffled cape which I was told I had to remove before entering – my Bergdorf best - from a nubile in an orange colored sheet! (Someone should give this girl the "A" Guest List). Bucking the long line of those leaving on the circular stairs I climbed yet further to find a sparsely populated but extremely happy crowd which included Gregg & Jane and friends, Emmie & Shugrue, liquor infused from her earlier party, and a gaggle of guys from Saltaire.
(see related article)
Party Line: The MM's substituted uncle Brucie and friend Barry and beautiful daughter Paige for Cindy and Steve who were settling son Andrew into Leslie U Art Institute of Boston where he is majoring in  photography (much to their dismay on Labor Day weekend??? Luck to Andrew on his college career) - but the good times rolled as it continues as a halfway house/ soup kitchen for Gary & Dawn, Jay & Linda, one of the Licaris, Cheryl or Tom, Chris & Barry, Debbie & Eddie and twins. So thank you Jennifer & Neal, the constants, for keeping a sort of Alice in Wonderland Black Hole you can fall into and emerge a bit wobbly hours later.
Sunset House' Hunkle & Donna  hosted a party for long time Kismetics– Cartoon Alley, Jimmy & Joanie Pats Carpet ("still honeymooning after 20 years" – is that possible?), Greg, P,  Risque Biz Beckster, Avelon, et al…
The Out hosted a record setting crowd of almost 1000 who came for the Rich Mahagony band – a new experience for Kismet as downtown was packed– during which they sold out of most beers - and by Monday Paul B never looked so exhausted.  It was a large but well behaved crowd
The Inn, established in 1925, created a new drink "Dark & Stormy" enjoyed  by the regulars – Boaties, renters, et al.
 And haosteed the Annual Snappers Tournement (see related article)
A last note on t he earthquake, Ken of Boatel thought he was having contractions! Nikki Sean & John G at the Market all had different reactions just a few feet from each other.
The OUT Had the Decker wedding (see related article)
The INN had the annual Snapper tourney (see related article)
Sports: After an email announcement that required an accountant to decipher Pour answer to the US Open, The Kismet Annual Tennis Tourney happened. The Winners were Dean De Carlo and Jim Surge; Runners up were Jeff Kaufman and Tom Holtz. (see related article)
Despite my years here I had never heard of "Tumbleweed Tuesday" -        the day after Labor day, when all the renters and partygoers leave – the streets are deserted except for the few stalwarts who went to the INN to celebrate in quiet comradery. I saw Larry, Ashley, Muggsy, John, Buddy, Chiros, Tommy Fields, assorted KFD members among the celebrants  the YR's (Year Rounders) and the rest were letting out a deep breath at home as the really nasty  weather insured the streets were bare. What a contrast! 
It is now ALD – (After Labor Day) I assume it means for families their time to sink back into structured predictable routines 
But for Singles ALD means we can now be with the people we wanted all summer – like gathering nuts for the winter we exchange phone numbers and make, dare I say it…DATES!
And new life to look forward to as our ever fertile tribe increases: Brendan & Stacey Mooney expecting, Jen & Muggsy expecting, Dom & Kellie expecting (a girl!!!)
Endquote: Life's an adventure, dress accordingly. 
Some scenes from around town
AT THE OUT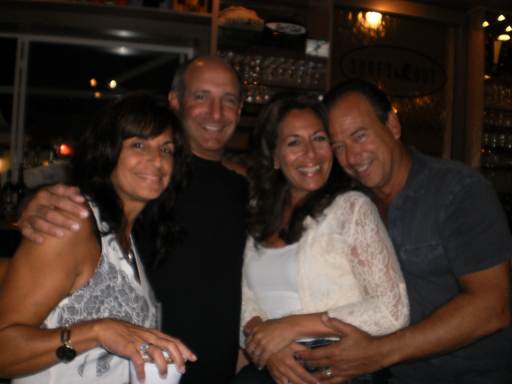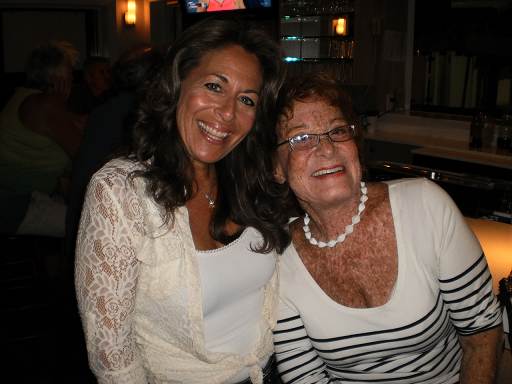 WINNERS_ BIGGEST PARTY PEOPLE OF SUMMER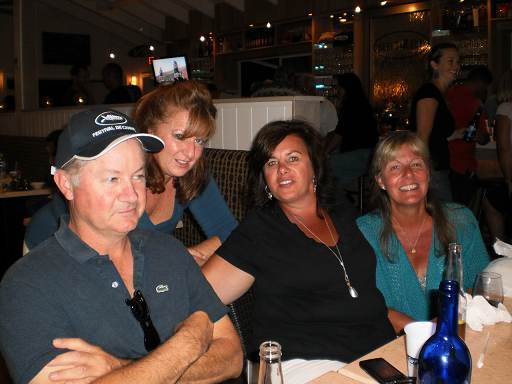 THE IMPORTANT PEOPLE
Who's that girl? That's no girl, that's my daughter!
AT THE INN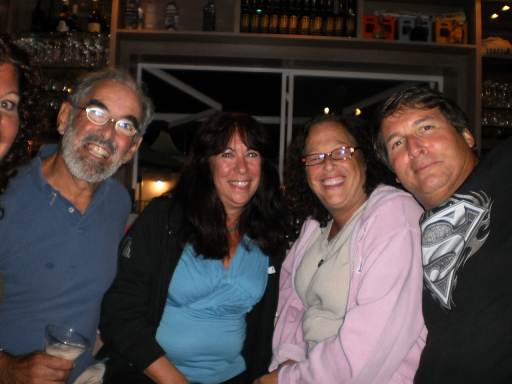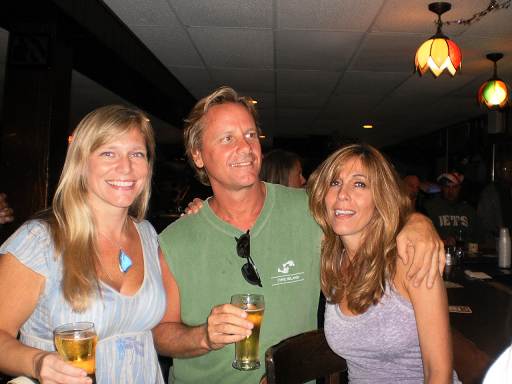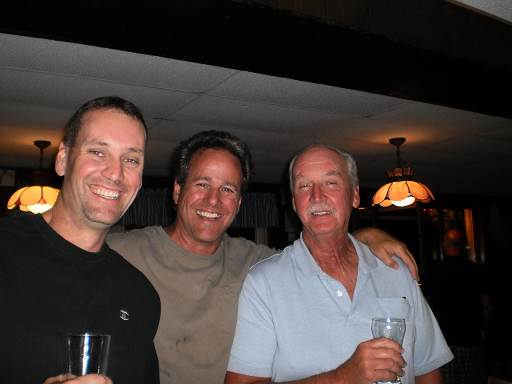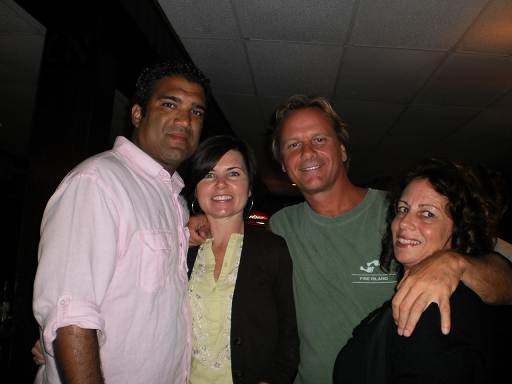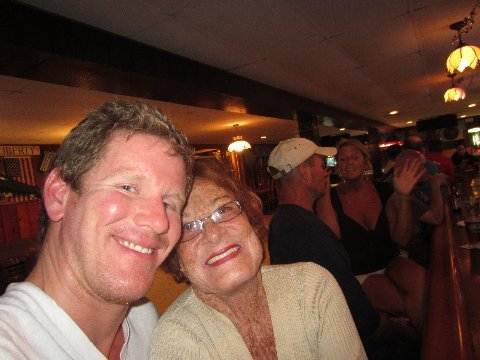 I planned to highlight special moments of the summer (like one above) but I can't seem to focus on much before the hurricane– it was traumatizing to those on the Island and those in America, many of whom suffered even more!
Writing this column has always been a chore, beach deadlines especially stressful – but it means I must keep an eye and an ear on the many and varied Kismetics, some new, some I know and love through the years………………thank you for the pleasure.
                                      ...and that's Kismet!!!
For those who are curious about the relative sizes of Fire Island Communities
Fire Island Communities

Community

Households

Atlantique

55

Ocean Bay Park

179

Corneille Estates

51

Cherry Grove

254

Davis Park/Ocean Ridge

305

Dunewood

99

Fair Harbor

338

Fire Island Pines

588

Summer Club

40

Kismet

184

Lonelyville

73

Ocean Beach

761

Point O'Woods

124

Robbins Rest

35

Saltaire

423

Seaview

377

Water island

71

Total

3,957
All household numbers are approximate.

<![if !supportLineBreakNewLine]>

Pre IRENE (photos by Caroline)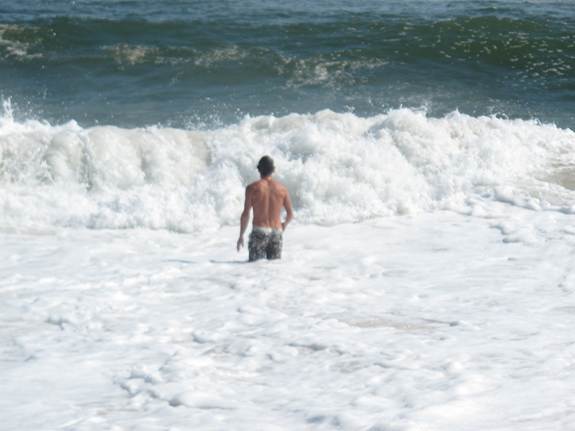 Hurricane Irene?  Bring it on!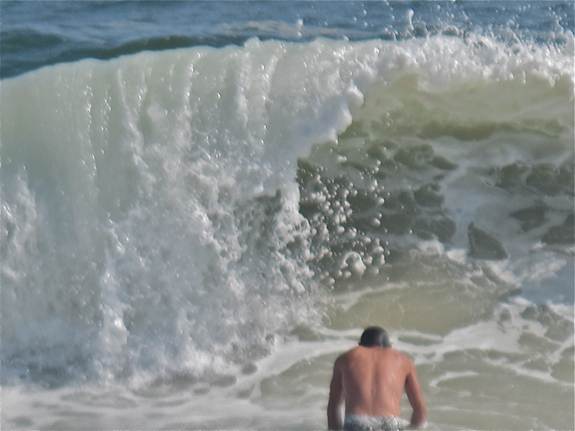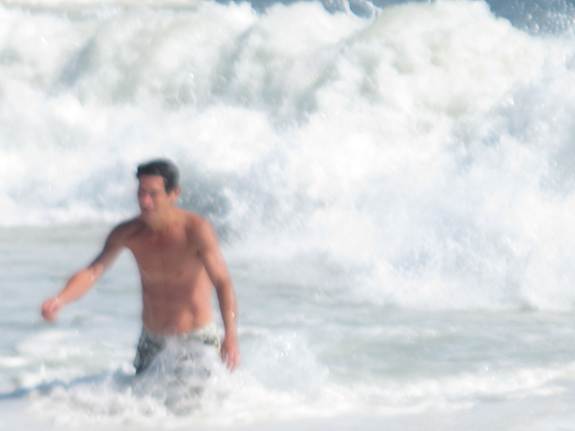 Wow – really big – I better get out of here
All boarded up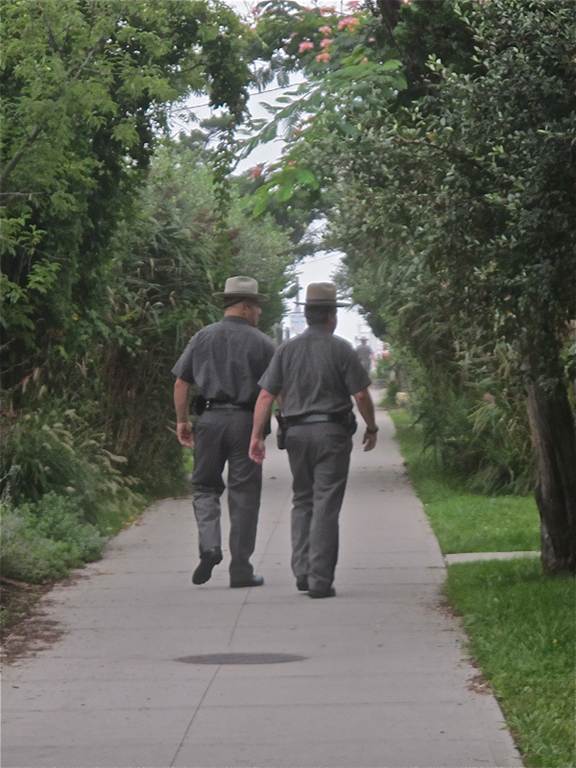 Leave or give us next of kin names
OK! OK! We're leaving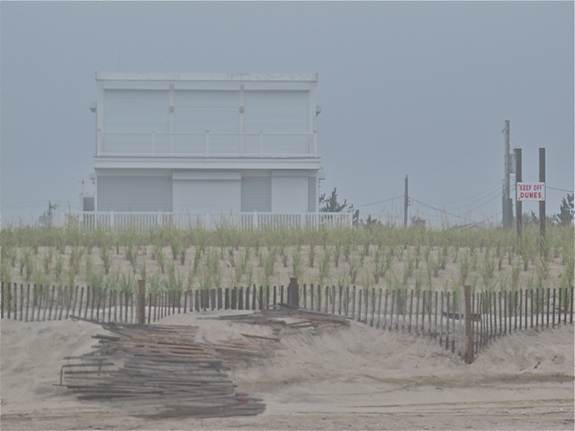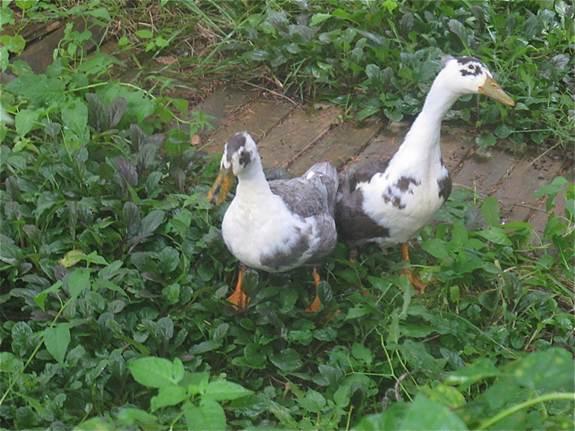 Even the birds were confused – which way to go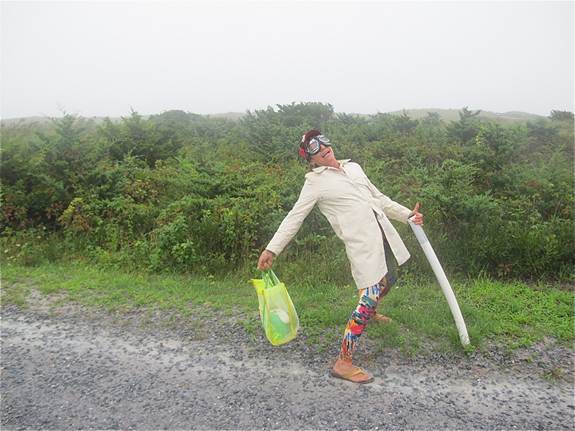 Hurricane? What me worry???
After (photo by Rusty)
AT THE INN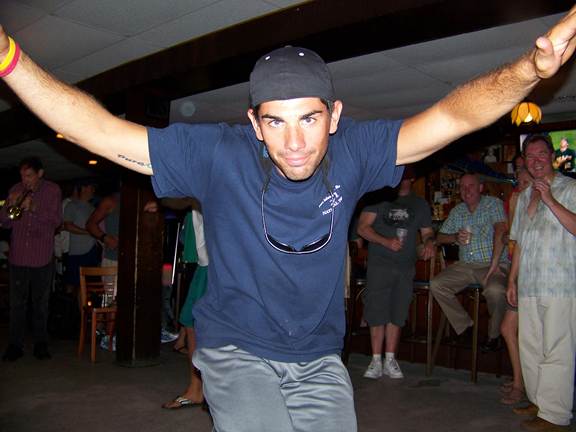 Lifeguards celebrating at the INN
The Empire State Stompers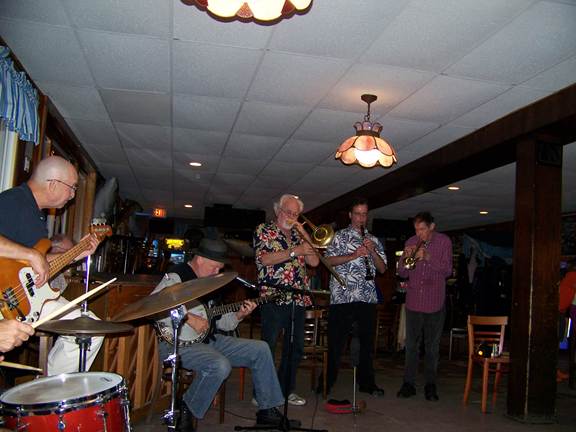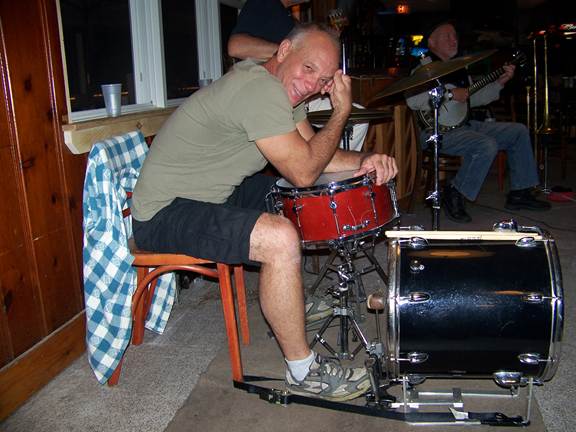 The drummer reacts to the "guest performer" above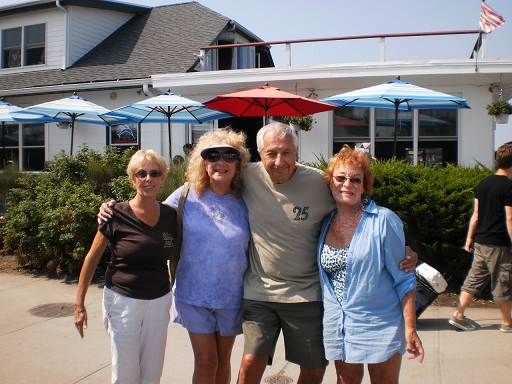 Reunion of "old timers" Bradlee, Helene, Nat & Me
Don't go – I'll miss you………….