KISMET ANNUAL KLAW FLEA MARKET
June 16th, 17th 
                                      Photos and text by Jeannie
This year's event was the best organized which showed in the abundance of donations and the crowds who shopped.
A great community event for a great cause.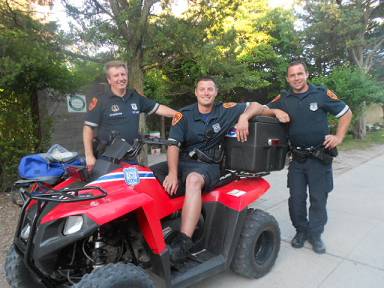 Our Mounties – did we need a police guard? They should be posing for a calendar!
Outside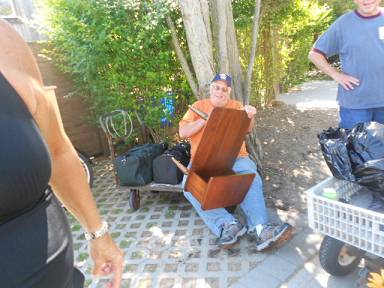 Kevin B – I do the screwing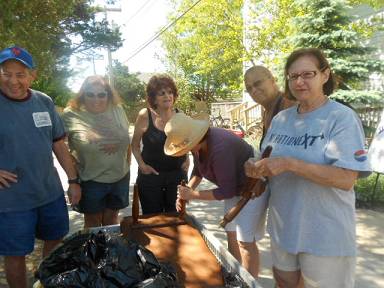 The eager Xanadus began shopping "off the wagon"
Lots of merchandise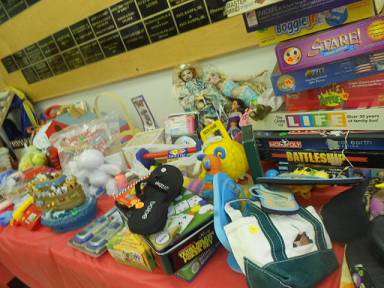 …for kids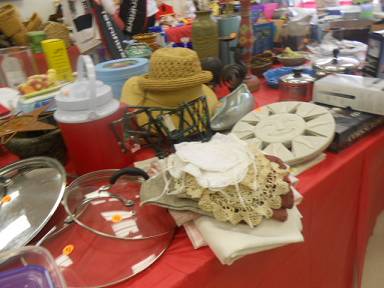 …for grown ups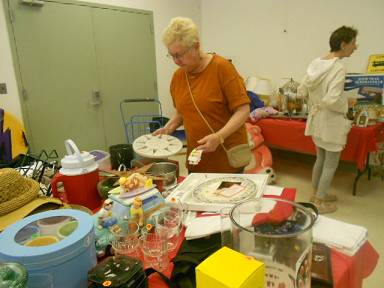 Setting up – Carole and Susan
Here they come! (Helen's still setting up!)
Stuff grabbed off the table by wise early shoppers "I'll take this" "We need that!"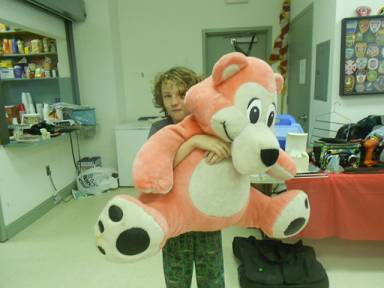 Dad, do you think this is too big?
OK! I'll take these.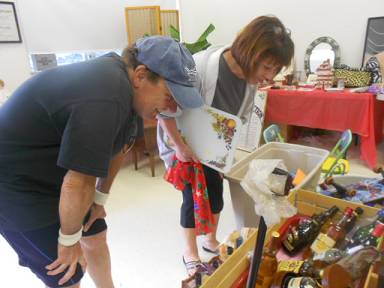 Veteran shoppers Joe & Joanie are naturally drawn to the Wagon of Cheer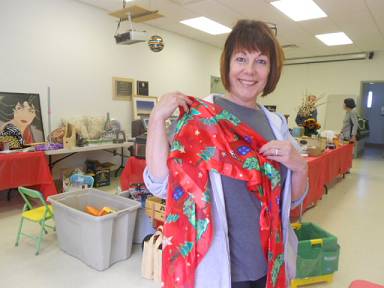 But there is fashion "...for the Christmas Party"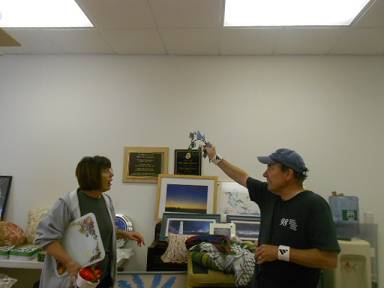 And household –"we could use that!"
Rita came to the rescue of her grandkids as I tried to talk them
out of some of these (do they look frightened?)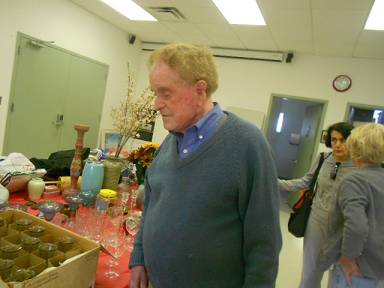 A knowing appraisal from our local artist Bill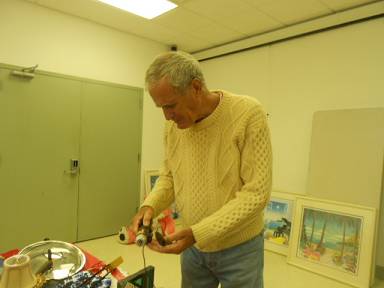 Here's a man who knows his tools
Though she is Scandinavian she knows to "buy Jewish Memorial candles for black outs because they burn almost 2 days"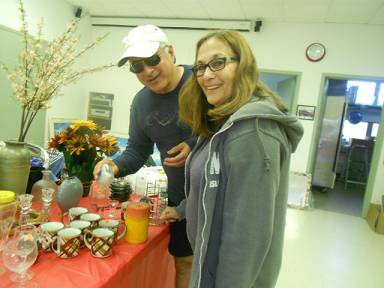 Rose & Ken "I used to be conceited but now I'm perfect"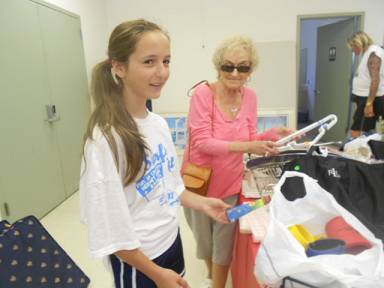 Angie and her granddaughter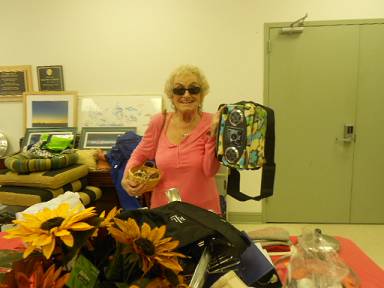 Look, a radio beach bag! Clever!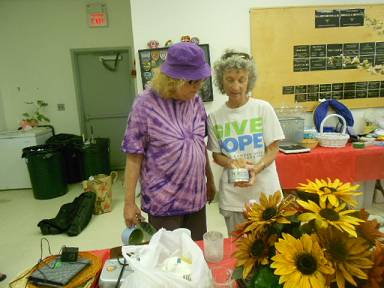 Helene and sister perusing
Helen, how much is this?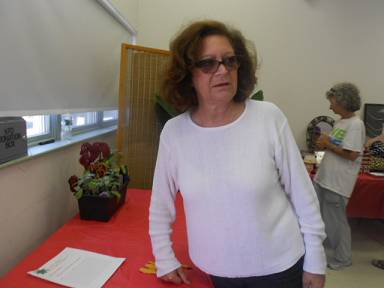 I'll try the silent auction – where is everyone?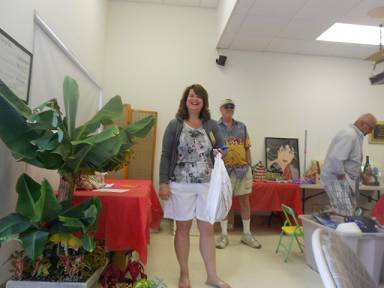 Chris happy at the activity (in her new shorts)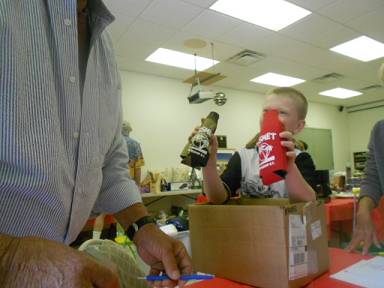 These are to hold beer? Honest Dad?
Little girl's treasure trove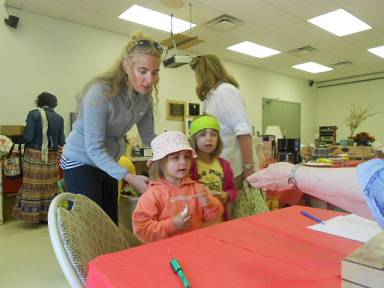 We'll rake these
…and I'll take this!
A hat that says "Brooklyn" I left mine home!!!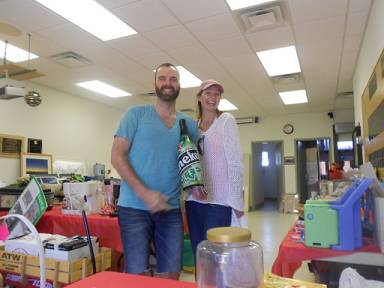 Perfect for a party!!! (specially filled)
These boys cannot believe the prices: "It's too cheap"
"It would be awesome if this store was open every day"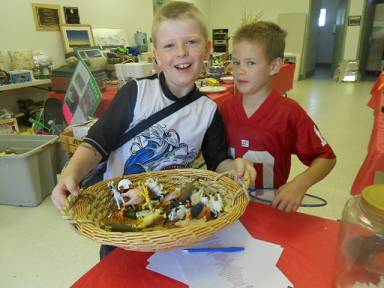 We'll take these!
The money madam – Linda H
Wagon of Cheer: Bradlee lets winners drawn by "innocent children" Thomas & Emily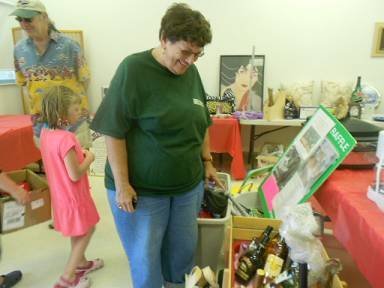 Barbara B-"Did I really win? I'm in shock
You can have the wagon back" (third time the wagon has been returned – and to think there were some who bought raffles because they wanted the wagon!)
Also overheard:  Tony Manzo who hates to be photographed – "you can tell you're getting older when you start shopping the orthopedic section"
Note from event organizer Bradlee:
No exciting bid off like last year's Shark between Ashley & Caroline, but with really nice donations and lots of shoppers, KLAW netted over $2800 (Flea Market, Silent Auction & Wagon of Cheer).  We also received a generous donation from board member Barbara Winter.
Shop Assistants:  Helen Q, Marilyn P, Carole T., Barbara Winter, Alice Nyburg, Christine H. Bradlee, Alice's friend Doreen, Susan G., Linda H. 
Set up:  Myrna U, Helen, Carole, Linda, Susan, with Alice & Bradlee loading & unloading
Mark Nyburg took flyers door to door weekend before
Transport help – Christine H. & Skee&Barbara
Clean up – Dolores D, Pete S. + Alice, Bradlee, Barbara, Doreen + Andy's help to store throwaways & John Altieri to pick them up.
Many bags and boxes were loaded onto Christine & Pete's truck and donated to St. Mary's in Bayshore
Stopped to help Sat a.m.: Nicoletta V. setting up book tables.
Wagon of Cheer Winners: 
1.  Barbara Winter - Wagon
2.  Denise Torino – Vodka Assortment
3.  Janine Keehan – Wine Basket
Silent Auction winners:
Patt Villachi – Racine Spa Day and Beauty Basket  
Meal at The Inn - John Blesso
Surf's Out – Mark Nyburg
Kismet Market certificate – Helen Quenser
Teeth Whitening – Annette Kiider
Plants - Marsha (not Hunter), Bradlee
Kitchen Baskets-  Roz S., Chris Jenks
Ann Littlejohn photo - Linda Nekan 
Remember these kids (see above)
They immediately took their purchases, put them on a wagon and set up shop around the corner! Where they bought 20 little figures for $1.00, they sold each for 25 cents a piece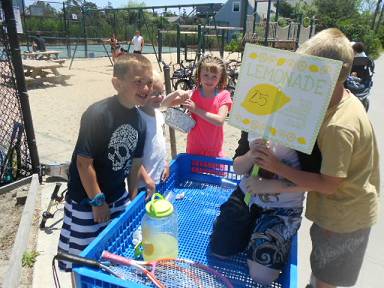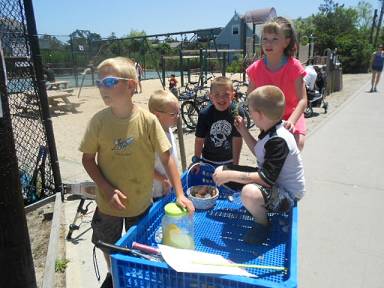 …………….future business tycoons, no doubt!