LEGENDS IV: CAMP C.A.M.P
(CACOPHONY OF ARTISITC MALADJUSTED PERFORMERS)
Former Grove Homecoming Queen reunite at Summer Camp
One of the great things about being a former Homecoming Queen is you are guaranteed a theater career in the Grove forever or as long as….!
Campy camp girls
A pre-show drop –in backstage offered a shock – rare anomalies – Drag Queen heads over summer camp short and t-shirts garb – of course, anyone thinking there is no way to sex up camping duds needs to take a look at these lovelies in their unique uniforms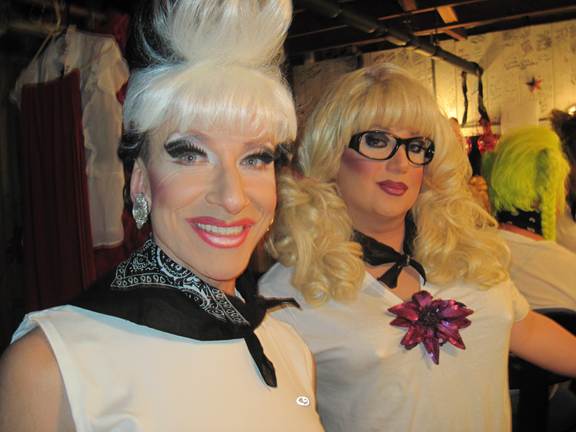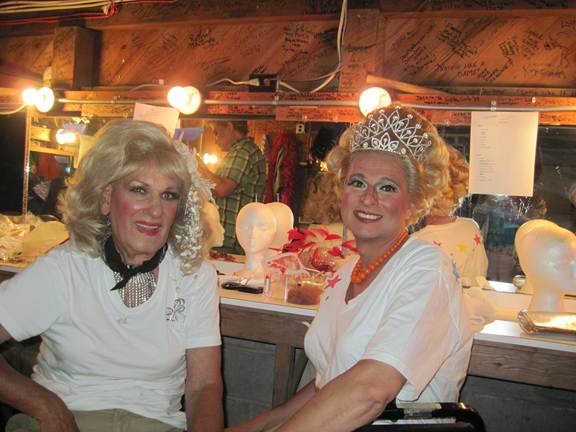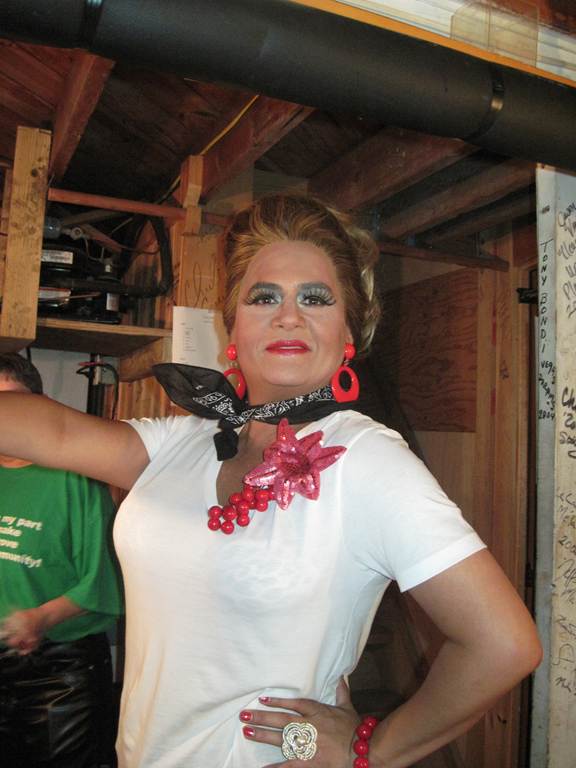 You lookin'at me? Don't you believe I'm a camper? It's my sun hat!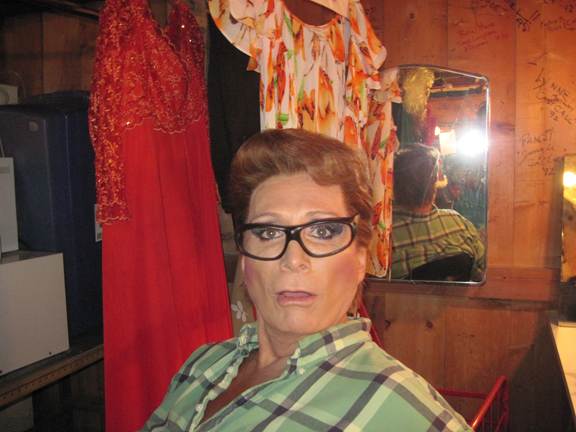 Show biz history – when I saw Bella in this I thought she hadn't changed into her gown yet – WRONG! SHOCKING – Bella is Butch!
THE SHOW
Matt Baney Head Counsel & director:
"I am your head counselor hope to make your experience the best available in this price range
Across the woods the Pines campers won't be getting up for another hour with servants offering croissants and café ole. Here don't forget to ask for second s of the delicious gruel dinner
It's our Annual Fourth of July Talent Show (so much show, so little talent)"
Meet the campers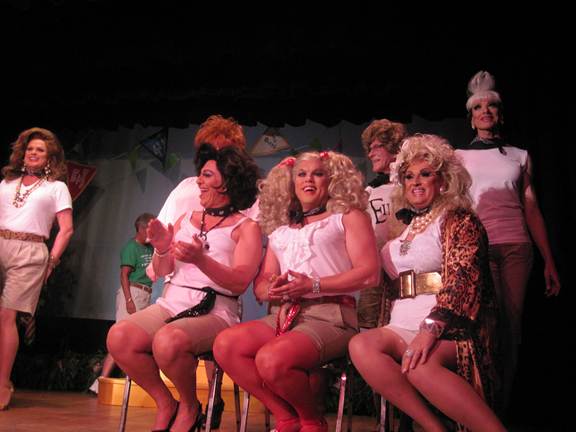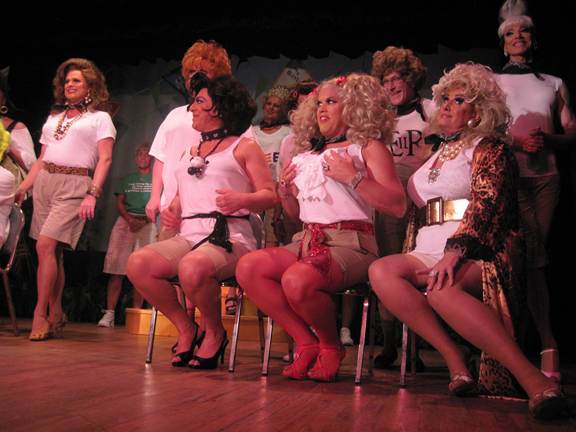 What's the meaning of CAMP to you Philomena? - Cacophony of Artistic Maladjusted Performers - Good Girl!
Coco complains "I hate it here and I want to call my parents" Matt; The cell service stinks here so you will have to write them a letter: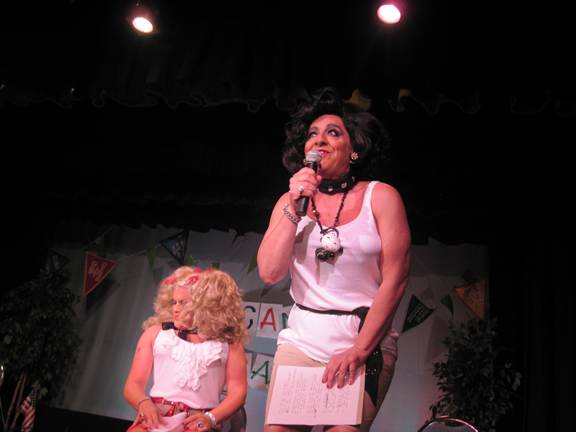 Unhappy campers writing home in special version of "Hello, Muddah, Hello, Faddah" which rhymes Malaria, Gonorrhea & Diarrhea (something every parent wants to hear)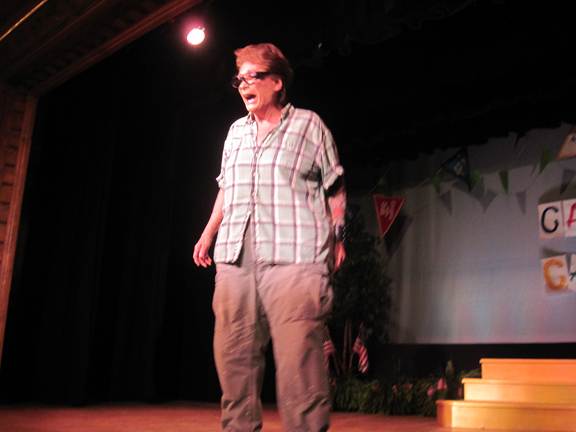 A butch lesbian coach "Ms. Beaste" whose lyrics are too dirty to print here! (When drag queens do their take on lesbians its no holds barred)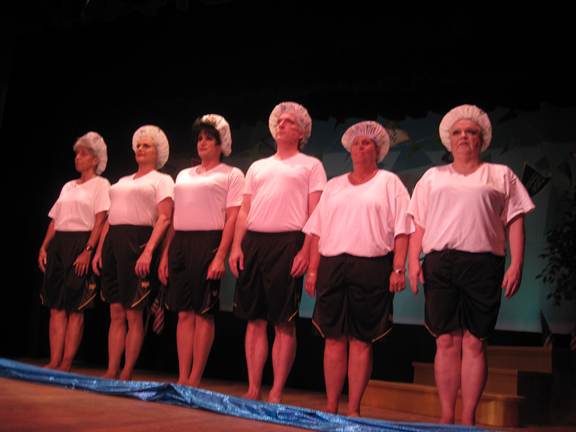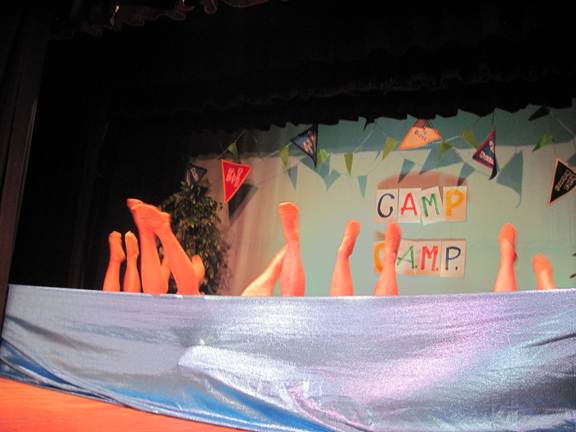 The theme from the Olympics heralded this team of synchronized swimmers (perhaps the funniest number I have ever seen – clean, simple, clever): Panzi, Doreen Rallo, Philomena, Donna, Matt, Bobbi Green go through their paces – give'em the Gold!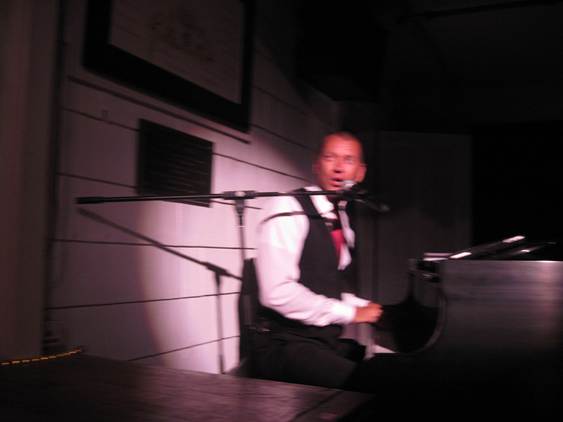 Dan Daly's original song dedicated to "Troop 69 - the troop for the impaired," consisting of Scarlet Oh!, Beach DeBree, YaNeeda Dunes, Donna Piranha and Lola Galore who flashed their condoms illustrating obedience to their motto Be Prepared
I 'm the new scoutmaster, and I have been assigned
To The Campfire Girls of Cherry Grove…Troop #69
This lovely group of Girl Scouts is loyal and quite brave
But for some strange reason all these chicks could really use a shave
We set up camp this evening…before it got too dark
Our campsite is due east in Judy Garland National Park
My girls don't mix with strangers or accept gifts from queer folks
(DONNA)
"LIKE HELL… I just did two park Rangers… for a pack of smokes"
Campfire Girls…Troop 69…A troop for the impaired
Repeat our Girl Scout motto girls… BE PREPARED
When hiking in the forest….I suggest we walk in twos
And avoid the risk of injury by wearing proper shoes
Now in case you find you're lost between the Grove and The Pines
Just use the meat rack motto… "Never leave your Friends behind"
Meet campfire Girl COCO …for a girl she's got big bones
And when she tries to speak…she sounds just like James Earl Jones
Her Boy Scout terminology … leaves us all perplexed
She seems to think A WEBELO is a form of ORAL SEX"
Tonight we lit a fire and made dinner for the troop
And I figured just for starters, we would cook a can of soup
I offered Lola one big bowl of chowder from the pan
She refused to use a bowl and said…I'll just take it in the can
Our campfire girl from Holland is Greta Vandergan
She earned a plumbing merit badge from a Butch named Fran the Man
She plugged a hole in our dam now the water will not spike
So how did Greta do it? She stuck her finger in the dyke.
My Campfire girl named Joanie…cooked her hot dog on a fork
But refused to eat it till she knew whether it was beef or pork
And when she found her answer….the news was something BIG!
She marched downtown to City Hall shouting "WIENER IS A PIG!"
Campfire girls troop 69…The troop for the impaired
If you see them in the woods…you should be kinda scared
These ain't your average Girl Scouts…I really must confess
They can pitch a tent inside their dress… they really one hot mess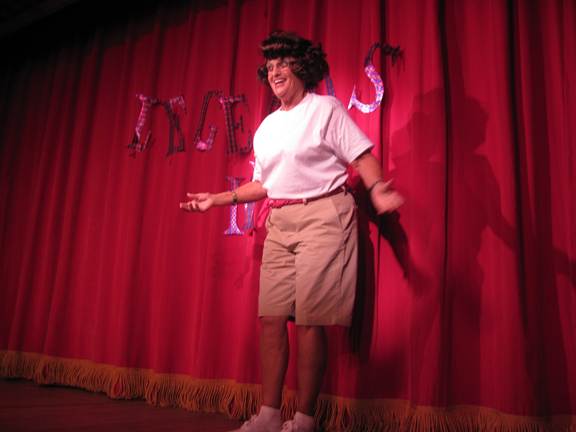 Scarlett Oh! Treated (?) us the "Beaver Song" which only she could get away with because she's so cute!
OF COURSE YOU CAN'T KEEP DRAG QUEENS OUT OF DRAG FOREVER!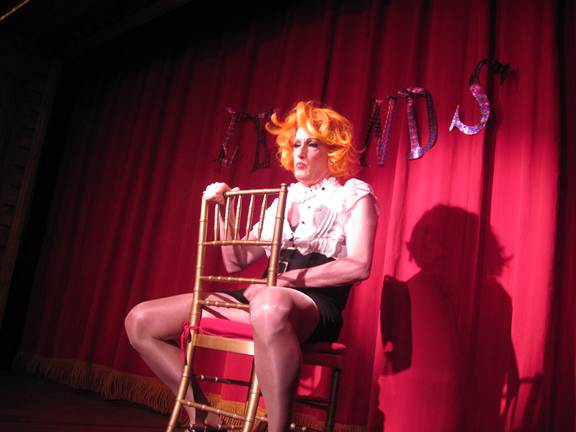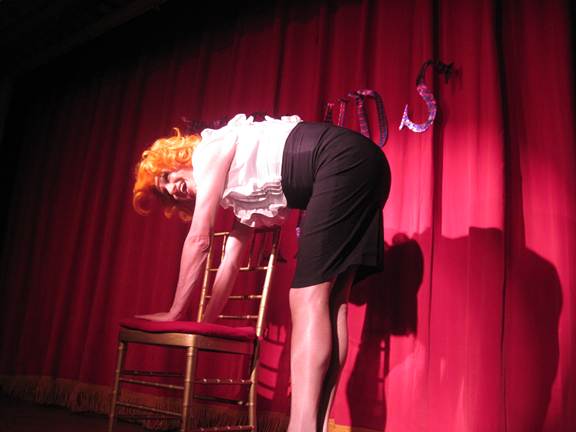 After hearing the late great Dixie sing this I adopted it as my own – but in a special delivery package the glamorous Urban Sprawl ,vowing, "If I can't sell it, then I'm gonna sit on it, 'cause I ain't gonna give it away," showed us just what it is she is not giving away!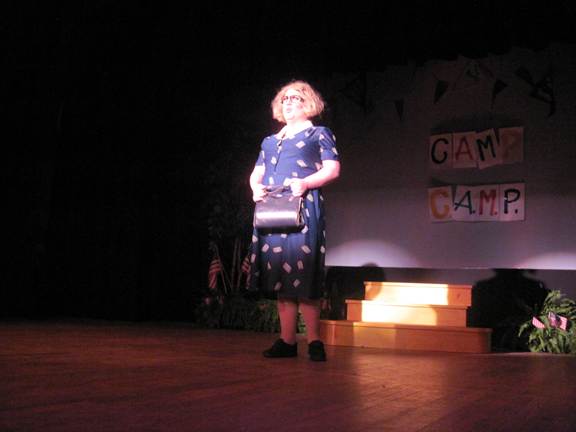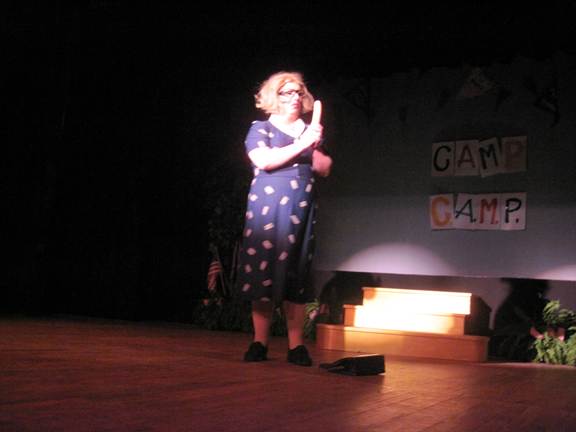 Well what else can you expect from a lonely camp librarian as Ariel sings to her dildo "I love you, I honestly love you" and then demonstrated how much…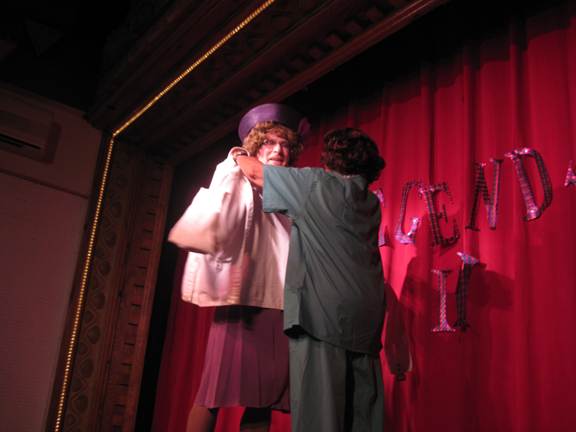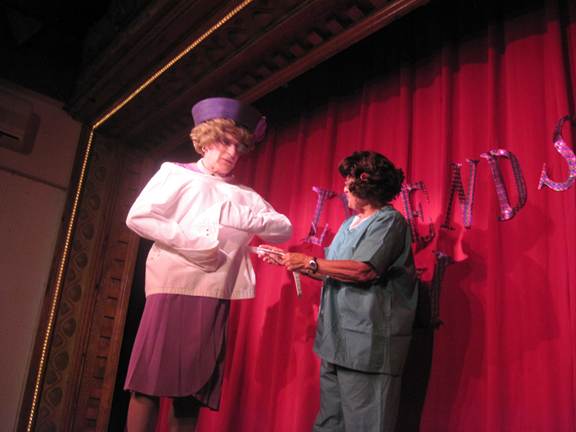 Uh Oh – Queen Mother Timothea being conned into a strait jacket by perky attendant Scarlett O and still maintained her royal dignity as she exited in new garb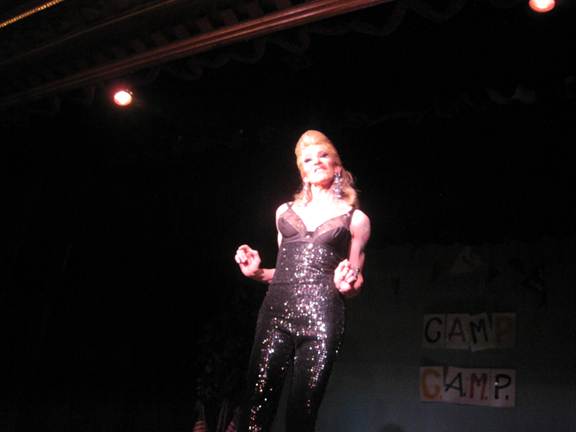 A sexually seething "fast girl" Angela Mercy, spat out, threateningly, "You drive around town with the guy I love …"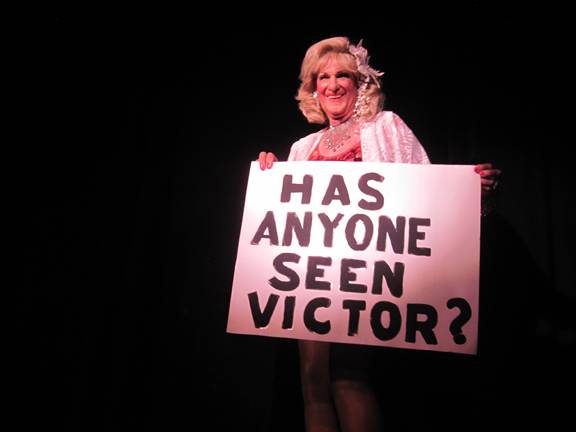 Cobra, having more fun than anybody – a drop in from the Doctor's show – flashed her cards.
Never know what to expect with Panzi - here as "Bridget the Midget, she's a little showstopper," in a helium fueled chirpy chipmunk voice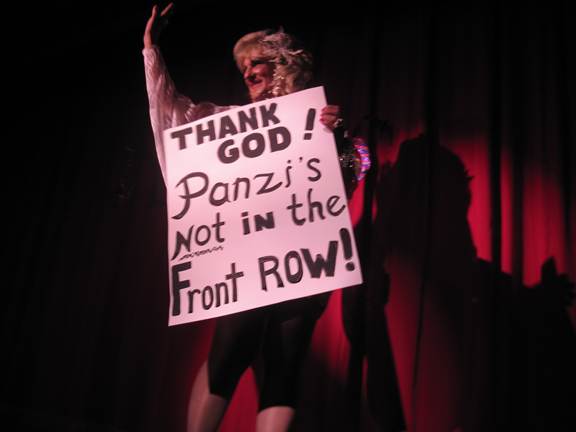 Motown bumblebee Lola, gushing, "You're my honeybee (come on and sting me)."
The Dueling Divas, Charity and Donna, started off friendly enough with "It's Raining/Enough Is Enough,"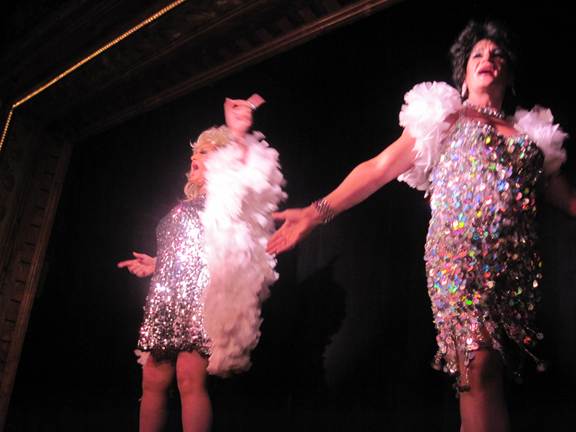 but quickly descended into sibling rivalry: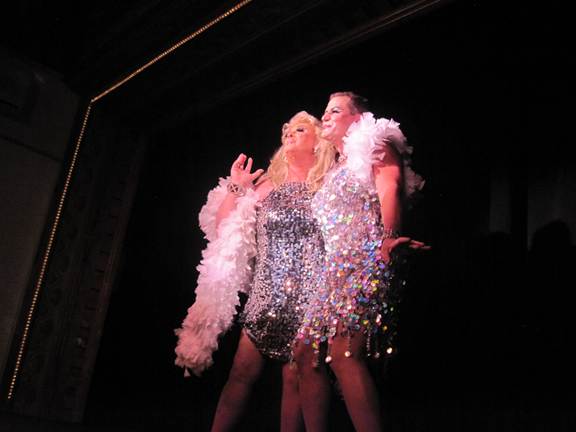 "This is the last duet," they vowed, concluding in a flurry of wig snatching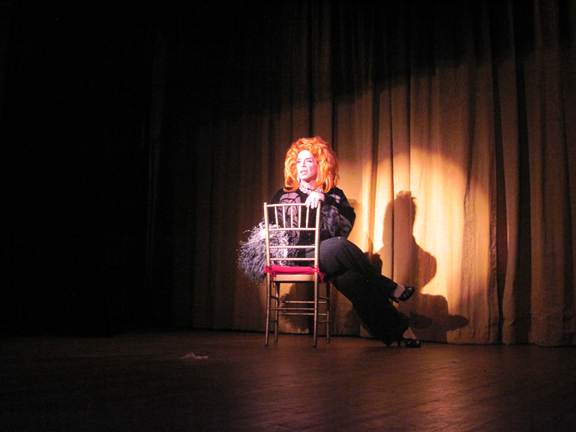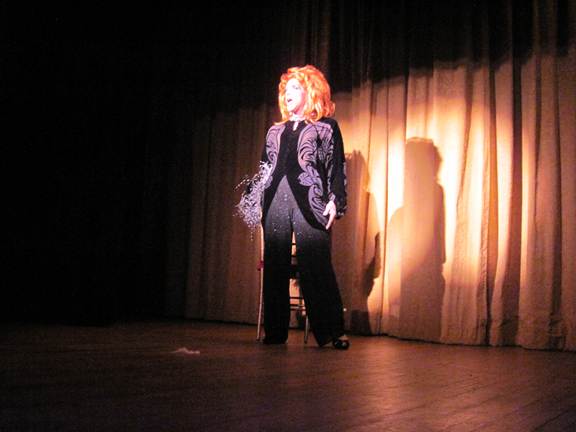 Sylvia Shapiro, (aka HRM Legs Labohn) always marches to a different drummer and interjected a stirringly serious note in the anthem "I Am What I Am" reminding everyone of just who they are……brought the house down with many a teary ovation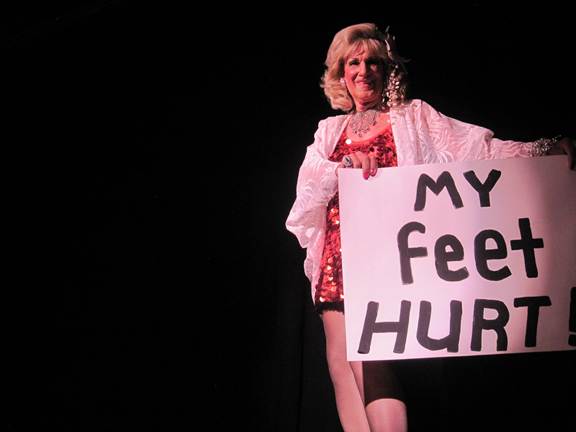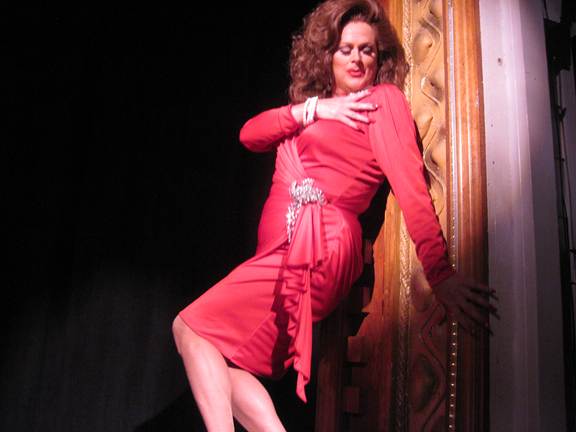 Philomena, Latina Lady In Red teased: "Take it or leave it—or leave it alone."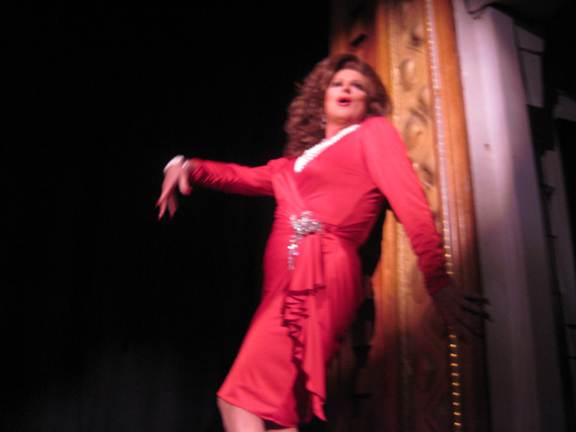 She's so hot even my camera melted
The finale – all pretense of camp clothes ejected –back in drag where they belong
Bows…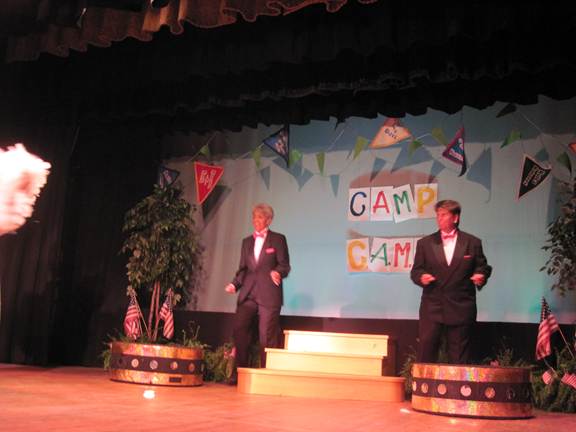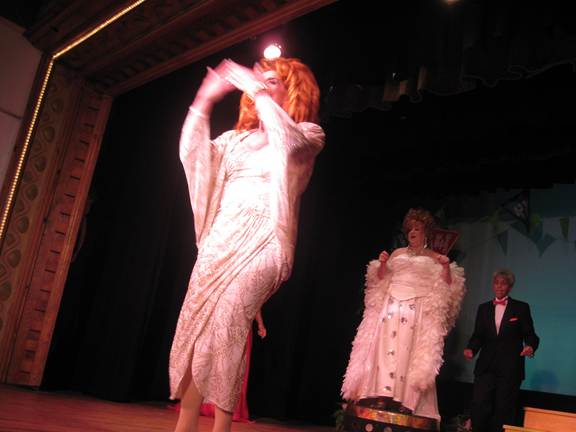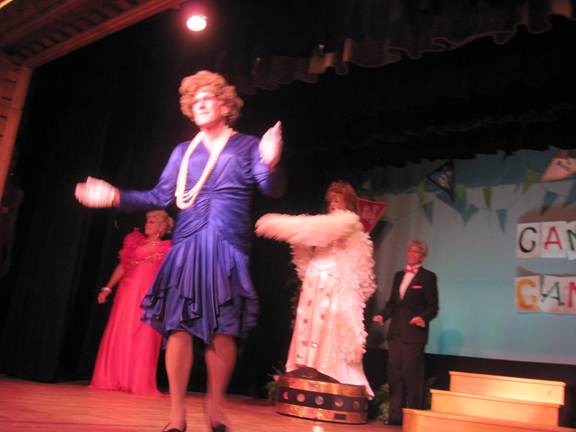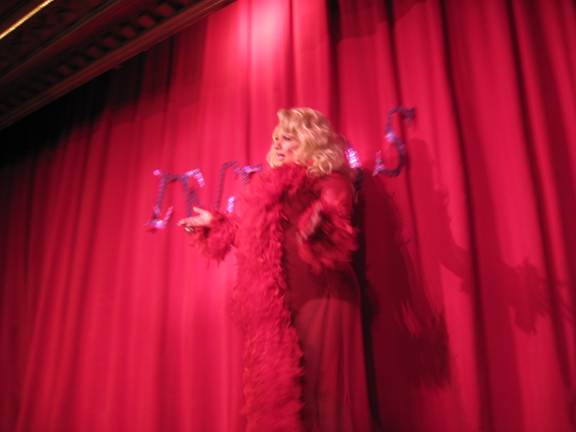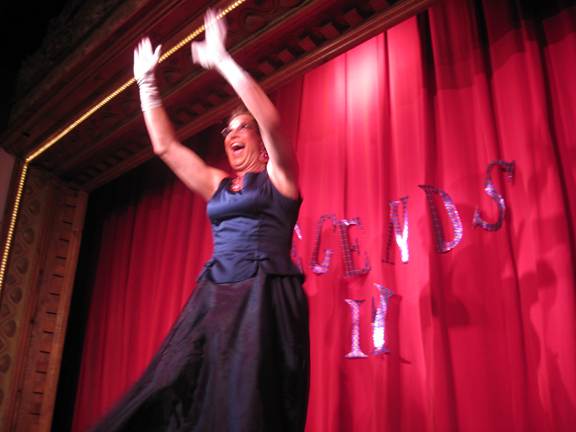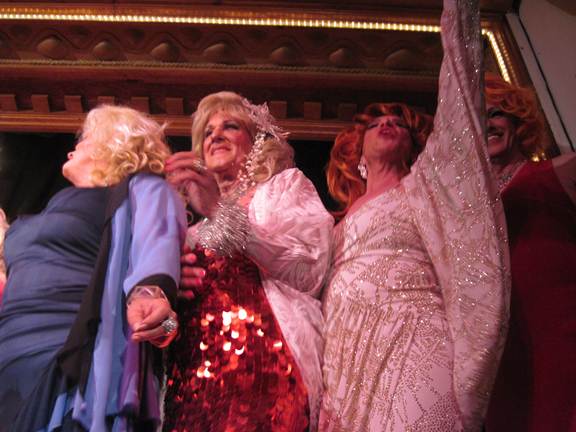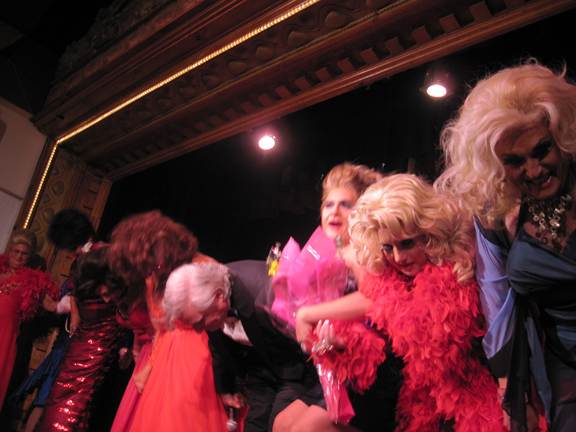 Wigmaker's delight as a group bow displayed a wide array of wigs
No, not over –
More Bows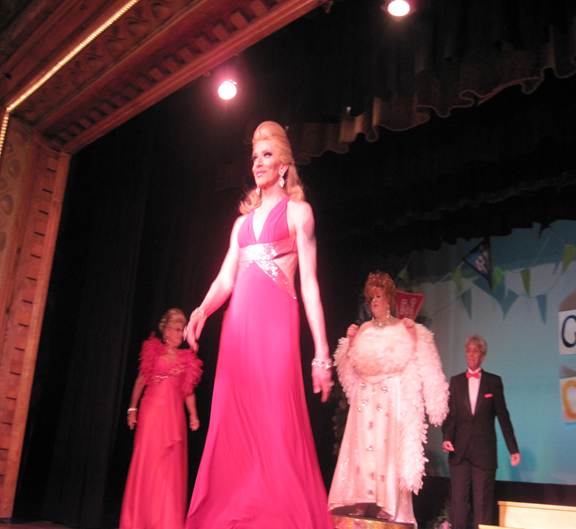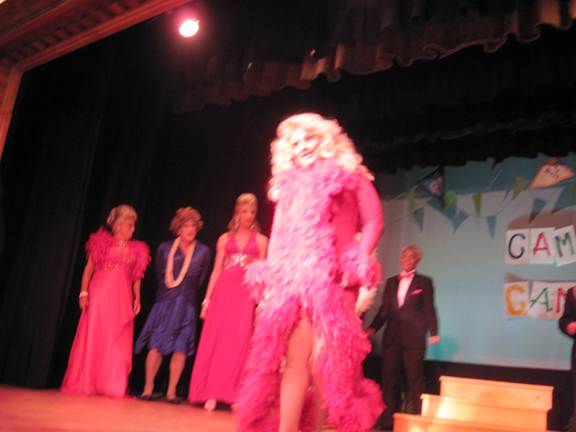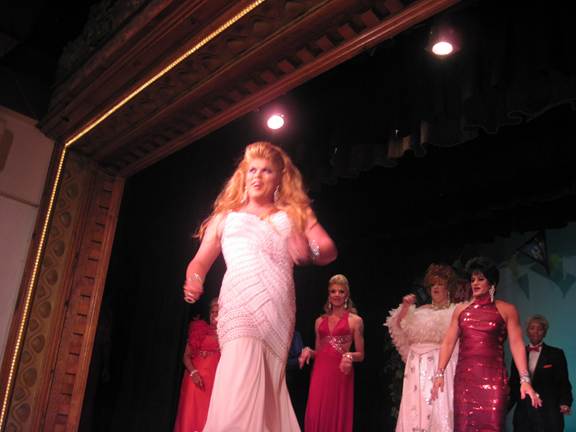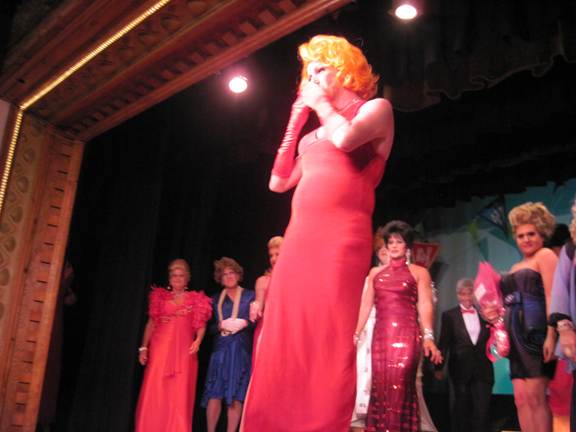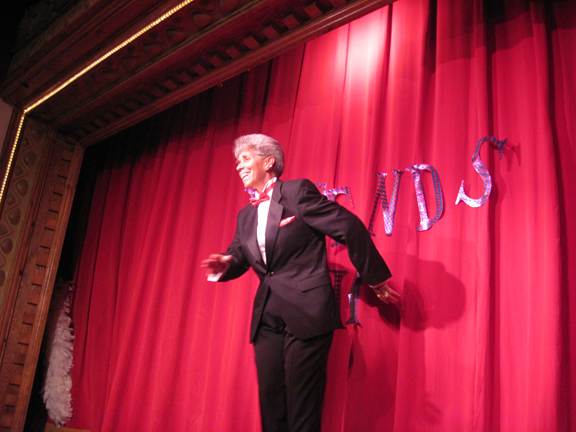 And then a surprise ending: The Winner of the Talent contest is: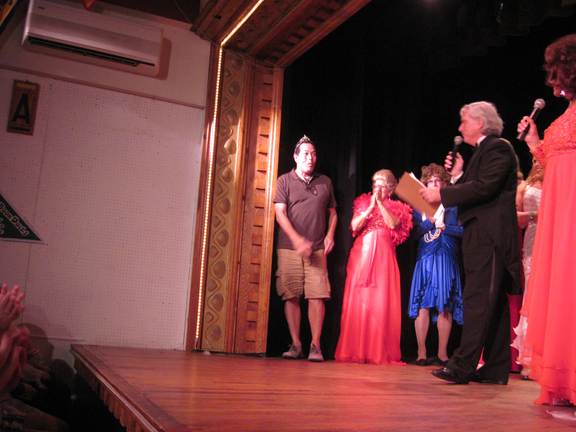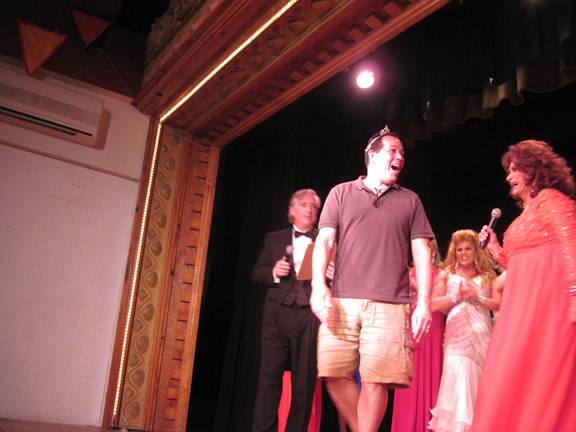 Luisa Verde (in the audience)
The "Queen" had that deer in the headlights look when he won the talent contest!!! A truly hilarious note because he was so genuinely shocked..
A Final Message: This is your head counselor: Tomorrow's Beach game will be guess the gender of the naked fat people
Kudos to the crew, which consisted of Sherri Rase, Martha Pitkin & Ellen Biggers, Alison Brackman, Kathy Morroni, Arthur Cohen,Eileen Alley and Michael Romanelli,

Matt: "I love my cast. They make me laugh. Thank god we found this island because nobody else would have us"