Liza at the Palace – the Ice Palace!!!
                                       Text & photos by Jeannie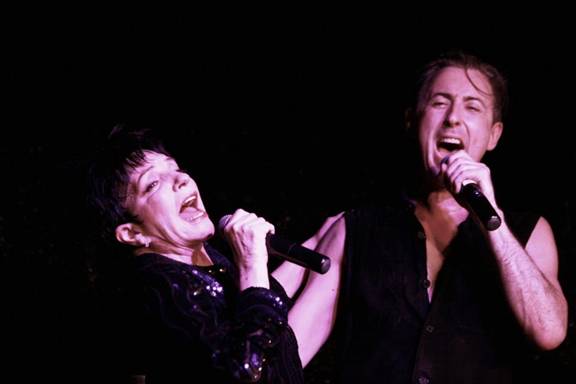 I know. I didn't believe it either. The REAL Liza Minnelli after so many look-alikes have lip synched here through her entire repertoire and wardrobe?
Yes it was! Pinch me! And with the excellent Alan Cumming in a two hander that tops the charts of Ice Palace shows, or possibly all shows at Cherry Grove!
To make it even more special it was a one time only event produced by the very capable Daniel Nardicio for the Diva series, who maintained his charm under all that pressure to control a crowd clamoring for seats. Kudos for managing to satisfy everyone one way or another.
The Ice Palace was stifling hot, crowded to the max with SRO lining its walls. And so many drag queens – Bella, DemiTasse, Charity et al in full regalia in the VIP section– how could they stand it – wigs, make-up. corsets… My hair was dripping into my eyes "You're a woman - You should have brought a fan!" Charity exhorted!
As a warm up act, for an already red hot crowd Nardicio imported three Stage Door Johnnies (strippers) from Chicago: Ray Dunn, the Bazooka and the No Pantser Romancer who made me jealous because at least they could take their clothes off in that heat!
In a packed house literally bursting with Liza anticipation few if any could deflect that energy. Fortunately it was Alan Cumming, consummate actor/performer and close friend of Liza's who regaled us with stories of their friendship and how they met 14 years ago when he was performing in Cabaret. Liza went backstage to meet him and said "Alan, I want to be your friend forever" and so they are.  Endearingly self deprecating, Cumming revealed "I can dance, just not the same steps as everyone else".
After earning everyone's rapt attention he segued into a mash up of Adele's "Someone Like You", Lady Gaga's "Edge of Glory," and Katy Perry's "Firework," illustrating his unique dramatic flair, followed by a sexy/cynical "Mien Herr" so perfect for this audience.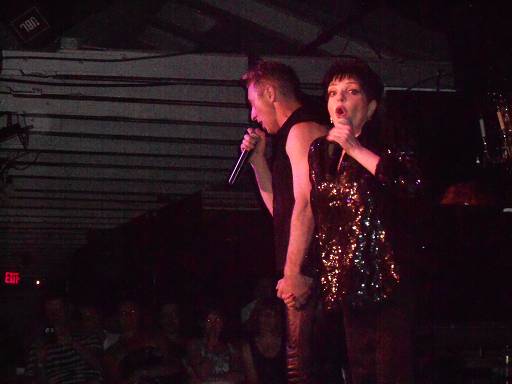 When it was finally time to introduce Liza he had the crowd in his hands. And then she was there in her signature black sequined top over plain black pants,
One could see almost immediately why he was chosen and why he was there. Protective, supportive, and appreciative, Cumming held her hand, fed her lyrics, and guided her through their routines – often to great comic effect. They started off with an hysterically haywire duet "Baby Its Cold Out there "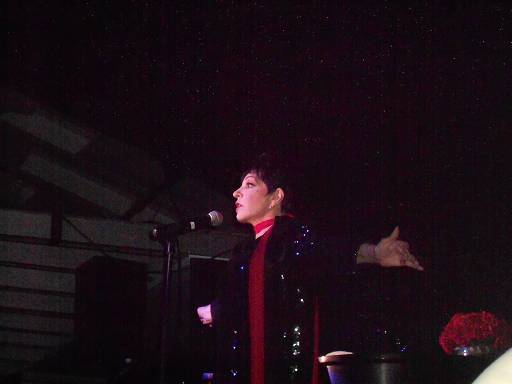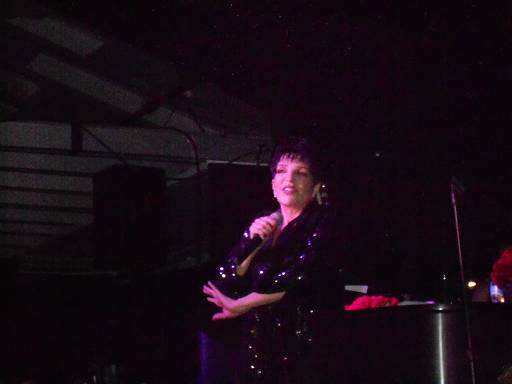 When Liza was ready to sing her fist solo  it was apparent the crowd was not ready to  cease shouting their love so that her attempt at a serious introduction, "about a time when you could be beaten or worse just for being  yourself" to the Charles Aznavour anthem, written in the  1970s about the difficulties gay men faced "to those who are different …no one has the right to judge me; tell me if you can What Makes A Man A Man" took a while before the crowd settled into the sentiment – when they did they roared their approval. 
Considering it was a beach crowd there was surprising gravitas in the content in this seemingly casual evening: The pianist Lance Horne composed a song for Cumming "I'm American" in which the enthusiastic crowd almost overlooked lyrics like "I get to fight but I forget what for …But I'm American"
And the final song had the audience singing along to Annie Lenox'  "Why… (these are words i never said… these are the tears we shed…this is the fear, this is the dread, this is the content of my head…)"
But the encore that brought it all home with "Maybe This Time/Come to the Cabaret," in which both Alan and Liza led the entire "congregation"
These were the moments that burned into the memories of all who were there.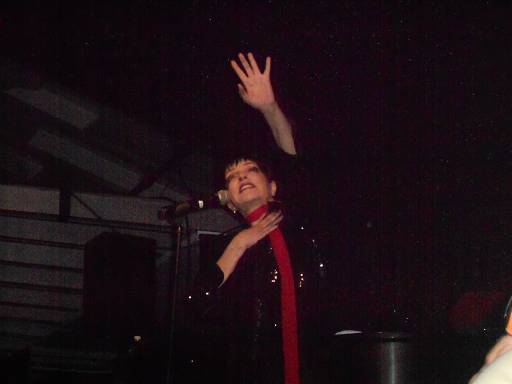 Illustrating both generosity of spirit and an appreciation of the Grove Liza and her entourage of 8 dined (and closed the place) at Sandcastle Friday.
On Sunday, at the Miss Cherry's contest @ 5 PM. the place was packed to the water's edge and Alan were there with his boys cheering the queens on stage.  Charity and China were judges on the panel. In the middle of the show Liza took to the stage and the crowd went wild, while chanting her name over and over.
The Diva Series will feature Sandra Bernhard and Margaret Cho next.