Miss Fire Island 2012 Yuhua Hamasaki
Miss Fire Island 2012
Yuhua Hamasaki, Holly Dae & Monica Storm Take Top Titles in 47th Annual Miss FI Contest
                      By Bruce-Michael Gelbert, Fire Island Q News.com
On September 8 at the Ice Palace, Yuhua Hamasaki was crowned Miss Fire Island 2012 and won a $500 cash prize, Holly Dae was named Entertainer of the Year and won $600, and Monica Storm became Ms. Fire Island (FI) 2012 and took a $300 cash prize, in the 47th annual Miss Fire Island contest.  Of the eight contenders for the Miss FI title, others winning prizes beside Yuhua were the new Miss Cherry Grove (CG) Dallas Dubois, winning $300; Miss Ice Palace Roxy Brookes, awarded $150, and Lauren Ordair, netting the Coors sponsor award of $100.  Of the 15 competing for Entertainer, winners, beside Holly, were Judges Award recipient, with a $150 prize Skyla; Kitten With a Whip, deemed Most Popular and winning $200; Absolut sponsor award winner Busted, taking the $100 prize; and Miller Lite winner Gassy Winds, winning $100. Of the five Ms. FI contestants, other winners, beside Monica, were new Ms. CG Whore D'oeuvre, who soldiered on although a man stepped on her train, tearing the back of her gown, shortly before her appearance on stage, and won $150, and Donna Piranha, who was given the Next Magazine sponsor award of $100.
Judging the competition were Ray Cusimano, of Che Bella Cosmetics and Skin Care; Mike Fisher, of Cherry Grove Guys.com; Renée Flaming, Miss FI 2009; Scott Hirsch, of Island Mermaid restaurant, in Ocean Beach; Mark Nayden, Mr. FI Leather 2012; Michael Plosky; Stephanie Stone, Miss FI 2007; and Dennis McConkey, the Tally Judge.
Mistresses of Ceremonies for the afternoon were Ariel Sinclair, Miss FI 2002, who was honored for more than 20 years of service to the Ice Palace and Grove Hotel with the gift of a new computer, presented by Miss FI Executive Producer Sal Piro, and whose number, by request, was "My Vagina is Eight Miles Wide;" Porsche, Entertainer of the Year 2003, who sang "Don't Leave Me This Way;" and Logan Hardcore, Miss FI 2011, whose reign ended that day.  Logan crowned successor Yuhua—who dazzled us as she wielded a huge cape, pink on the inside and black on the outside—as well as Dallas and Roxy; Brenda Darling, Entertainer of the Year 2011, crowned Holly; and Gusty Winds, Ms. FI 2011, crowned Monica and Whore D'oeuvre.
Holly was borne in by two hunky young male dancers for her prize-winning, African-style number.  Skyla paired "I Could Have Danced All Night," from "My Fair Lady," with "Can't Touch Me," from "Sex in the City II."  Kitten rapped about her "Roman Holiday," assisted by backup dancers who tortured her, then royally robed her.  Artfully disheveled Busted combined dialogue from the film "Precious" with "You Light Up My Lfe."  And Gassy Winds kept us laughing with her riotous number.  Remaining Entertainer contenders were Delfina as Bette Midler; Mica, singing "Redneck Woman;" ageless Julie ("We can be heroes just for one day"); Billy Little, the image of Wanda Sykes; Lady Priscilla, singing "What's Going On?;" Dixie Normous, delivering Wendy Ho's version of "Get Here," called "Fuck Me;" Tina Burner, with a medley of "I Want to Be a Rockette;" "Dance 10 Looks 3" and "Music and the Mirror" from "A Chorus Line;" and "Keep on Dancing Till the World End;" Mahogany, whose fiery number included a backward somersault; Erika Blaze, whose effort encompassed "I Can't Get No Satisfaction" and "I'm Not that Innocent;" and Lee Lee Heavenly ("Say You'll Never Let Me Go").
Others seeking the coveted Miss FI title were Tara Miso Rice, China, Frosty Flakes, and Kara Sucia.  Aurora Borealis Avalanche and Aurora Stone were the remaining Ms. FI contestants.
Brandon Cutrell sang the "Star Spangled Banner," as Kenny Holcomb carried the American flag, and the "Ballad of Miss Fire Island" ("Miss Fire Island is coming your way"), by Johnny Savoy, at the start of the event, to Logan as she stepped down, and to Yuhua as she began her reign.  Charity and Rita George, the second and third Misses FI, who won titles in 1967 and 1968 respectively, were introduced and Charity performed "The Lady Is a Tramp."  Brenda Darling's number, as she ended her reign, was "R-E-S-P-E-C-T" and Gusty gave a humorous speech about the highlights of her reign, including shopping at Payless and Rainbow.  Chuck McTague, playing outdoors, at the pool, and Richard Kennedy, in the indoor DJ booth, were responsible for music and sound.
The 48th annual Miss FI contest will take place on September 7, 2013.  ROM
The Winners
Holly Dae, Monica Storm & Yuhua Hamasaki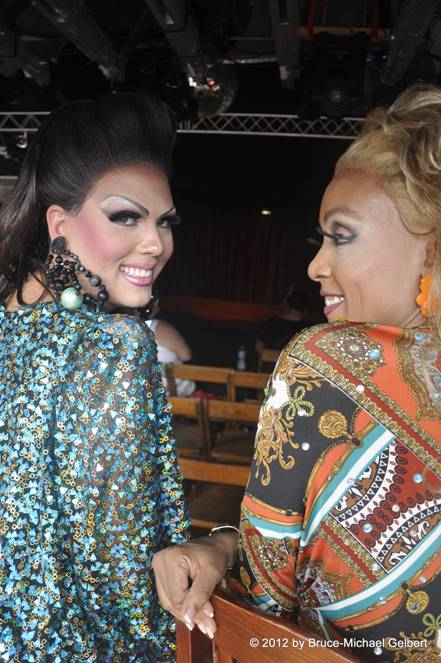 Judges Miss Fire Island 2009 Renee Flaming & Stephanie Stone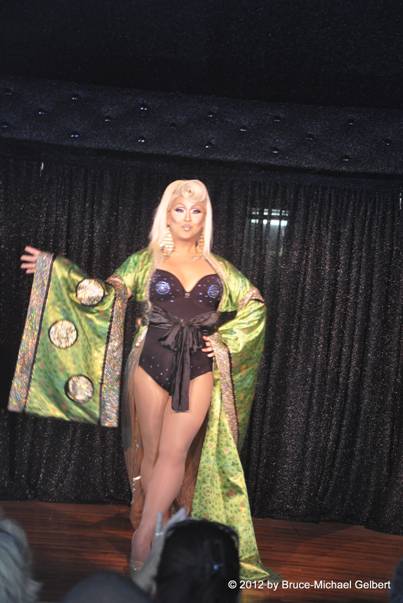 Tara Miso Rice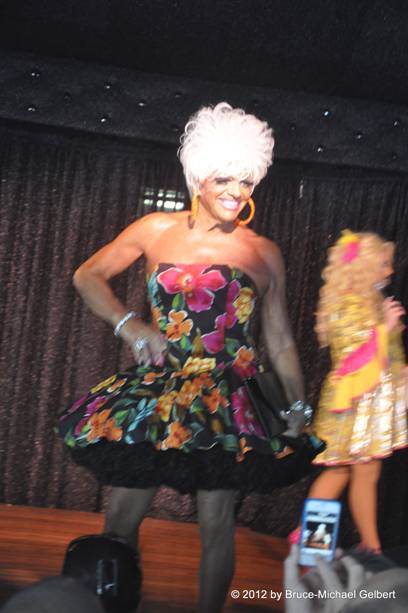 China
Miss Cherry Grove 2012 Dallas DuBois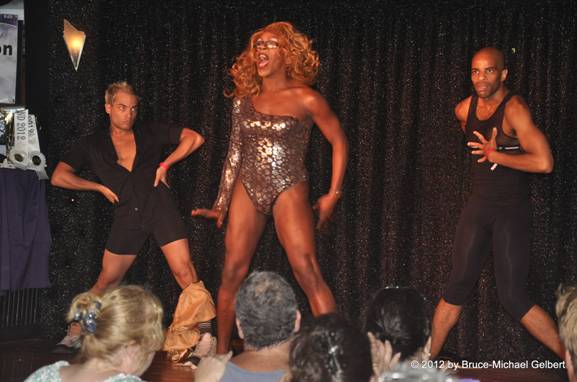 Heavenly & back up dancers
Porche, our M-C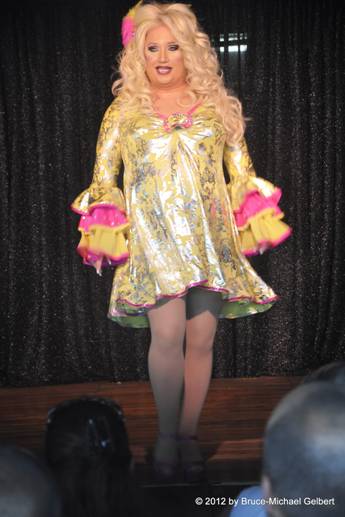 Ariel Sinclair another MC
Entertainer of the Year 2012 HollyDae & dancers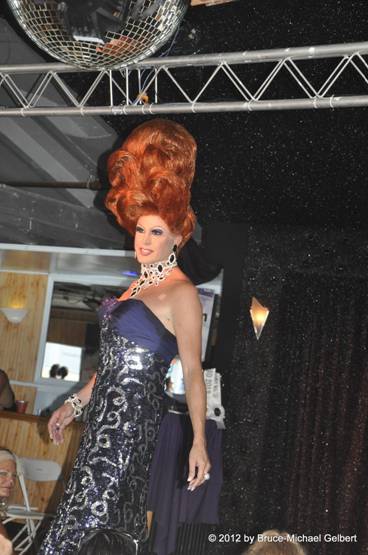 Miss Cherry Grove Whore D'oeuvre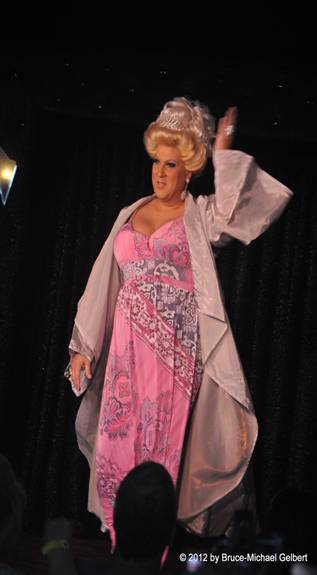 Gusty Winds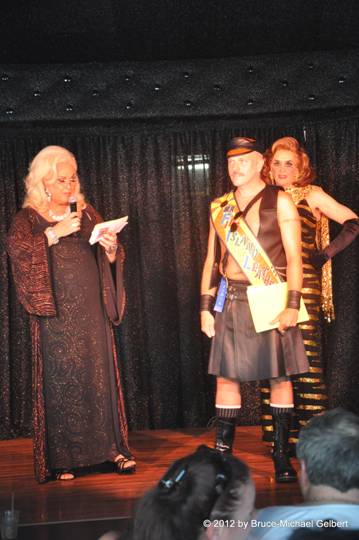 Charity, Mr Fire Island Leather Mark Nayden 2012 & Rita George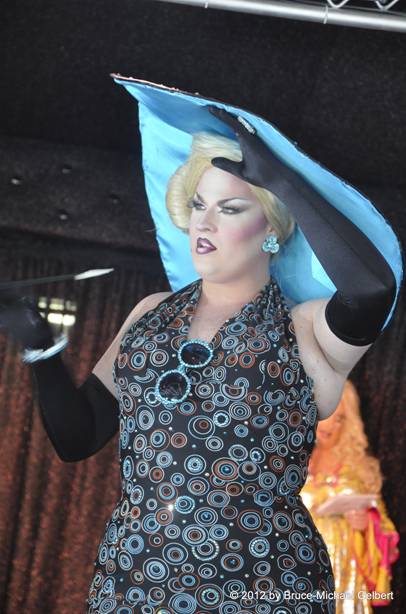 Coors Award winner Lauren Ordair
Charity & Rita George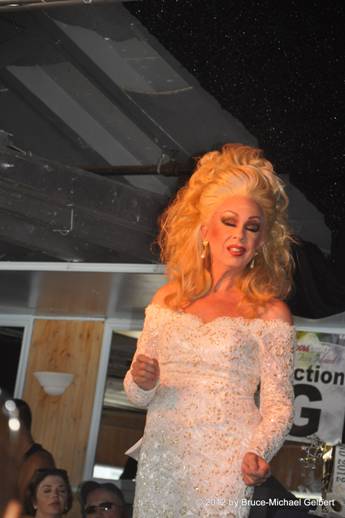 Julie
Most Popular Kitten With A Whip
Judges Award Winner SKYla
ABsolut SPonsor Award: Busted
Miss Ice Palace 2012 Roxy Brookes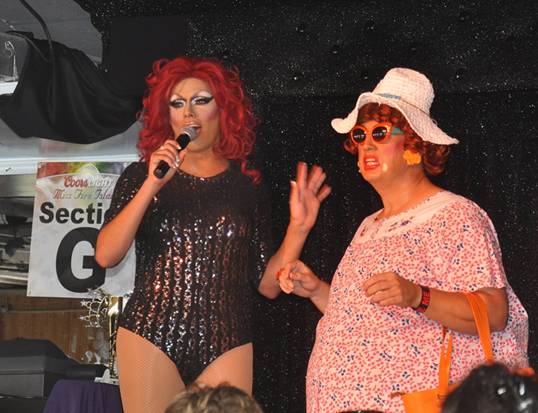 Logan Hardcore & Miller Lite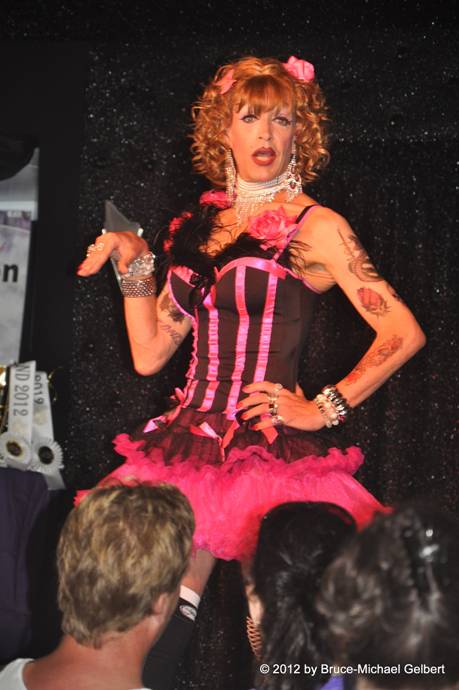 Dixie Normous
Mica sings Redneck Woman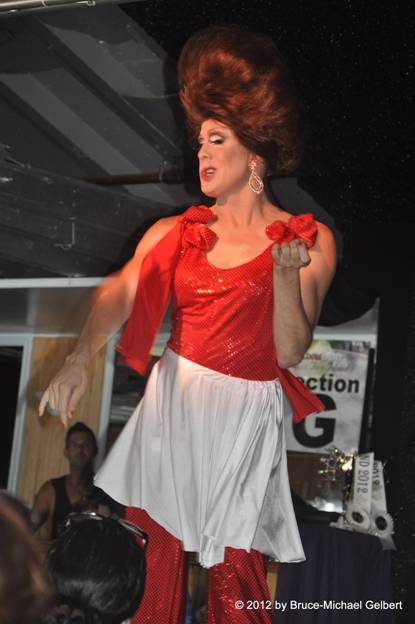 Tina Burner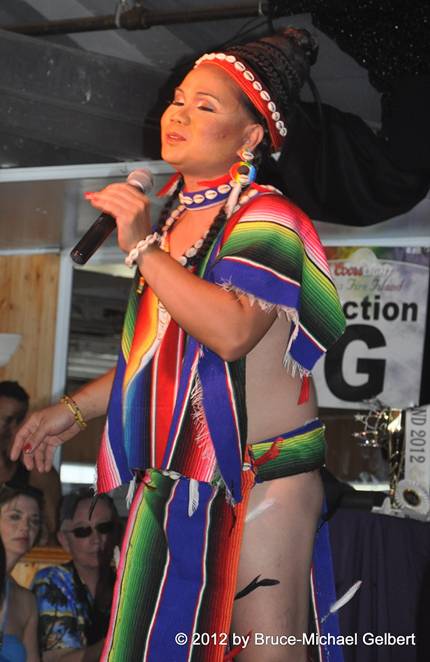 Lady Priscilla sings  Whats Going On
Billie Little as Wanda Sykes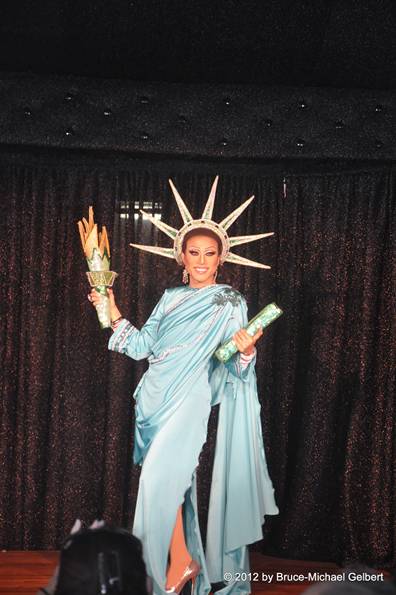 Miss Fire Island 2012 Yuhua Hamasaki