27th Annual Night of 1000 Gowns, April 6, 2013 at the Hilton
By Bruce-Michael Gelbert, Editor, New York Q News.com
Red Carpet pictures by Joseph R. Saporito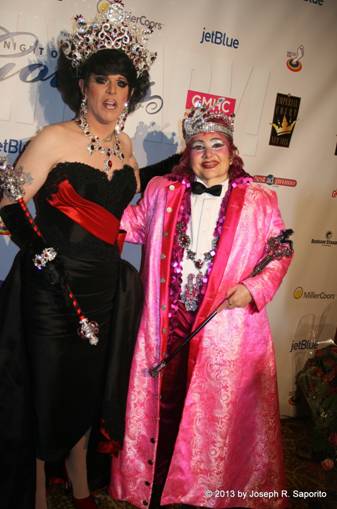 Imperial Crown Princess Royale Gracie Steeles &
Imperial Crown Prince Royal Wen-D Bouvier Pinkhouse,
 who were crowned Empress & Emperor later that night
The Imperial Court of New York (ICNY) held its 27th annual gala Night of a Thousand Gowns (NOATG), one of the de rigeur events of the social season, this year benefiting Gay Men's Health Crisis (GMHC) and Gay & Lesbian Alliance Against Defamation (GLAAD), on April 6.  It was the first NOATG at the New York Hilton, in lieu of the Marriott Marquis, in 15 years, and ICNY was crowning its new Empress, along with its first woman Emperor, since Emperor IV Shelly, in a couple of decades.
Early in the morning of April 7, after some six hours of glittering event, involving Court and illustrious guest performances, community awards, welcomes and farewells, and much other pomp and ceremony, past Monarchs crowned new leaders Rock 'n' Roll Emperor XXII of Peace, Love, Unity and Respect Wen-D Bouvier Pinkhouse and Stiletto Heeled Jersey Girl Empress XXVII Gracie Steeles.  Watching from New Mexico via live video feed, Imperial Court System Founding Empress José Sarria the First, known as the 'Widow Norton,' hailed New York's newest Monarchs with a salute of "Hip, Hip, Hooray!" which was echoed here by Queen Mother of the Americas Nicole the Great and all those assembled in the Grand Ballroom.
Prior to the Coronation, Wen-D, still as Imperial Crown Prince Royal, and friends presented us with a Coronation Walk that was a fantastic, all-encompassing salute to Rock 'n' Roll and more, to strains of "Rock 'n' Roll Music," "We Will Rock You," "I Love Rock 'n' Roll," "Over the Rainbow," "Piece of My Heart," "Nine to Five," "Rocket Man," "Girls Just Want to Have Fun," "Proud Mary," "These Boots Are Made for Walking," "Hunk of Burnin' Love," and "This Girl Is On Fire," with participants costumed recognizably as stars of the past.  Imperial Crown Princess Royale Gracie Steeles opted for a romantic approach for her black-and-white and then blue Coronation Walk, to such melodies as "So This Is Love," "If Only," and "When You Wish Upon a Star."
Earlier, Legal Age Emperor XXI of Fire & Ice, Mediator of Good and Evil Ritz Kraka took a final walk as reigning Monarch, and he and his supporters distributed flowers to those seated near the runway, while Elemental Broadway Empress XXVI of Community, Camp and Collaboration Witti Repartee took time, before stepping down, to recount the "Story of Lucy and Jessie," from Stephen Sondheim's "Follies," with four shirtless musclemen for backup dancers.
"Follies" had been very much in the air from early in the sumptuous evening.  Following a parade of the colors and singing of the Canadian and American national anthems, the former by Anthony Lee Medina and the latter by Marty Thomas & Diva—actually three divas, artistically-inclined ICNY members, including both the outgoing and incoming Monarchs, under the direction of Opulent & Ethereal Broadway Angel Empress X Ran-Dee, kicked up their heels in "Live Love Laugh (We're Still Here)," a colorful opening number, also to songs from "Follies"—"Beautiful Girls," "Buddy's Blues" (Ritz Kraka), "Rain on the Roof," "Paris" (Golden Gotham Glamazon Empress XIII and XXIII Anne Tique), "Broadway Baby" (Sapphire Heart Empress XI Gianna), and "Who's That Woman" (Witti).
During the evening, Celestial Dragon Absolute Empress VII Coco LaChine celebrated the 20th anniversary of her reign with a Double Decade Walk to an imperial salute ("Diecimila anni") from Giacomo Puccini's "Turandot;" Golden Ursus Emperor XIII of Valor, Virtue & Charm Ron and Hollywood and D'Vine Empress XVII of Sincerity and Sympathy Demi-Tasse celebrated the 10th anniversary of their year on the thrones with "Let's Face the Music" and, à la Barbra Streisand, "Just in Time; Imperial Majesty Dowager Omnia Vanitas Emperor XX Vanity Society and Imperial Majesty Dowager Empress XXV of Caftans and Cocktails Pepperica Swirl strutted their stuff; and Scintillating Silver & Jade Nightingale Empress XIV Victoria V. Weston, whose Gothic Midnight Raven Emperor X Gabriel Della Notte, President of ICNY, was very much in evidence all evening, sang mellifluously of "that touch of gold."
We were also royally entertained by Imperial Command Performances from Broadway's Karen Mason, singing "Get Happy," "Off with their Heads," from "Wonderland," joined by NOATG Executive Producer Doris Dear, and "All That Jazz," from "Chicago," with Barry Levitt at the piano; Marty Thomas & Diva, singing "When Love Takes Over" and "Born That Way;" platinum recording artist Taylor Dayne, working the crowd and singing "Can't Get Enough of Your Love, Baby," "Prove Your Love," "I'll Be Your Shelter," and "Tell It to My Heart;" "RuPaul's Drag Race All-Stars" winner Chad Michaels as Cher, doing "Strong Enough;" and scantily-clad recording artist Daniel Patrick Ellis and backup dancers.
ICNY also recognized a number of community figures for their outstanding service and contributions.  National Syndicated Radio Host Elvis Duran, introduced by veteran Fire Island and New York City bartender Johnny Pool, was given the Court's Imperial Diamond Award.  Recognition as Community Heroes went to young Jacob Rudolph, for his campaign against damaging so-called 'reparative therapy' for LGBT youth, and to activist New Jersey State Senator Barbara Buono.  The Spirit Award for the fight for equality went to Jon and Michael Galluccio, the first gay couple to win adoption protections.  Knighthoods were conferred on iconic gay rainbow flag creator Gilbert Baker; fundraiser and former porn actor Will Clark; actor and GLAAD activist Wilson Cruz; Ingrid N. Floyd, Executive Director of Iris House: A Center for Women with HIV; Dr. Marjorie J. Hill, Chief Executive Officer of GMHC; and TD Bank's Christine Modafferi.  The President's Award went to Marriage Equality's Cathy Marino-Thomas, who was there with spouse Sheila Marino-Thomas.
Also seen were "Real Housewives of New York City" Aviva Drescher and Alex McCord; "Bear City" films actor Gerald McCullouch and writer Doug Langway; television's Florencia Lozano; Broadway's Christian Borle, who was one of the evening's Honorary Chairs, along with Audra McDonald; Broadway's "Priscilla, Queen of the Desert" stars Tony Sheldon and Steven Schepis; nightlife legend Amanda Lepore; recording artist Adam Barta; and, of course, ICNY Founder and Atlas Empress Sybil the First AKA Sybil Bruncheon, who conducted a live auction, benefiting GLAAD and GMHC, at the top of the second of the evening's three acts.
Grove hotels Frank & Ramon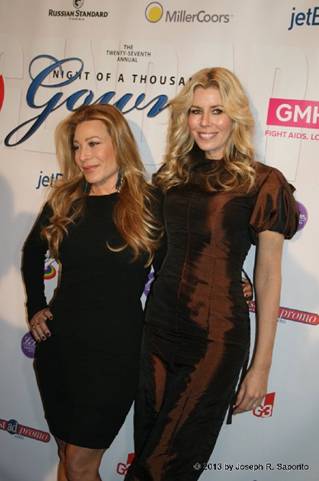 singer Taylor Dayne & Real Housewife Aviva Drescher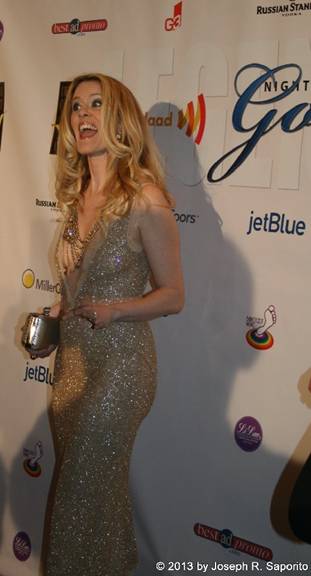 "Real Housewives of New York"'s Alex McCord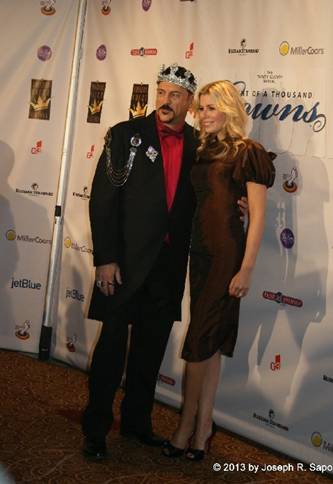 Emperor Gabriel Della Notte & Real Housewife of NY Aviva Drescher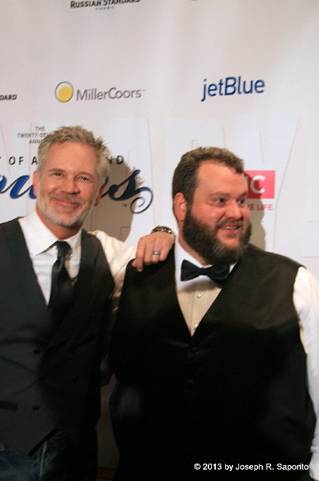 "Bear City" films actor Gerald McCullouch ("CSI") & writer Doug Langway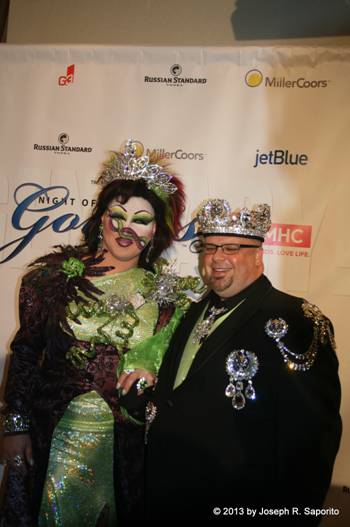 visiting royalty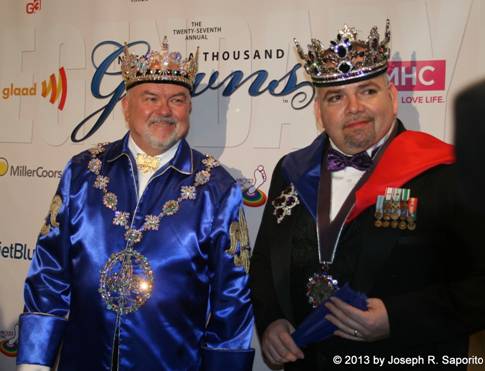 visiting royalty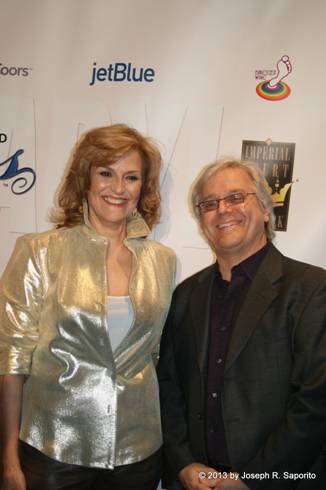 IMG_3619 Broadway singer Karen Mason & escort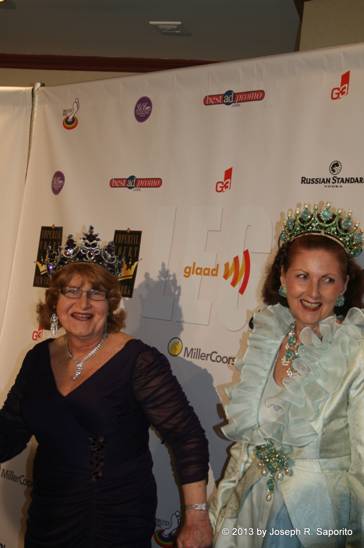 ICNY activists Babs Siperstein & Dorothy from New Jersey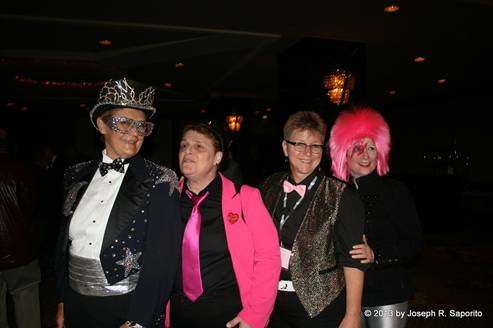 Martha, SallyAnn, Sherri & Ellen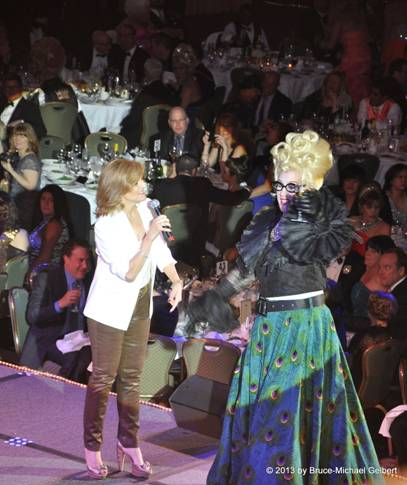 Singer Karen Mason & NOTG Exec Producver Doris Dear
Empress Witti Repartee & Emperor Ritz Kraka,
 who ended their reign that night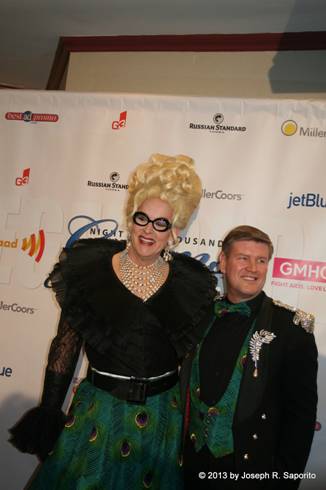 Night of 1000 Gowns Executive Producer Doris Dear & Publicist Jim Darling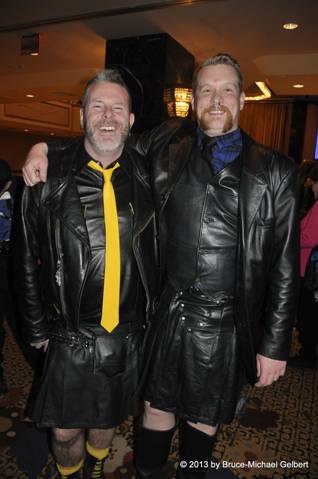 Leaathermen  Grant & Ben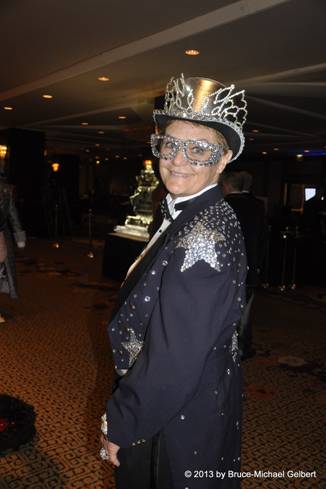 Lady Wandalust

Empress Coco LaChine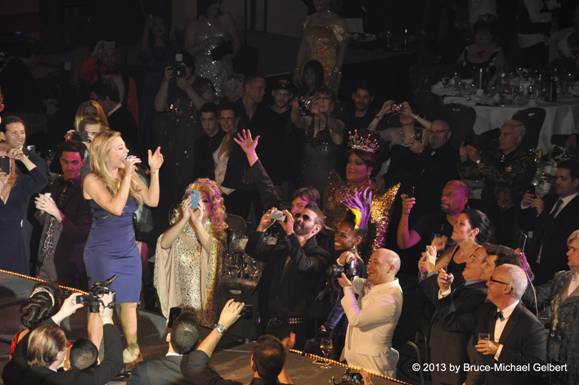 Singer Taylor Dayne