Molto Misterioso is Molto Bene
Photos by Lorraine
Ocean Aires XIII, Molto Misterioso, was the first time Isaac Steven Vaughan's masterful classical beach recital series has ever had a plot.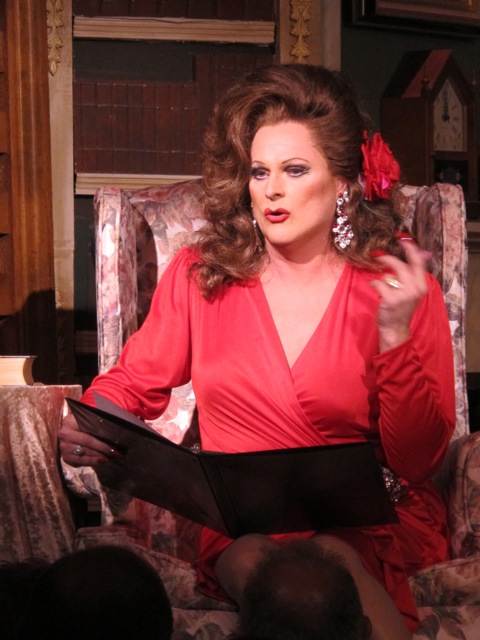 Philomena, the once and future Doyenne of Dressy Dames, acted as Mistress of Ceremonies and was in the thick of the investigation of the <Insert Scary Music Here> "attack" on YaNeeda Dunes. Ms. Dunes is Cherry Grove's Homecoming Queen and suffered an attack even while being serenaded in Seth Bedford's special arrangement of "God Save the Queen" musicians Christopher Minarich (violin), Seth Bedford (viola), Kurt Behnke (cello), Chris MacDonnell (Flute), Laura Ann Giusto (trumpet), Isaac Steven Vaughan (accordion) and Clarence Perry and Gene Rohrer (piano).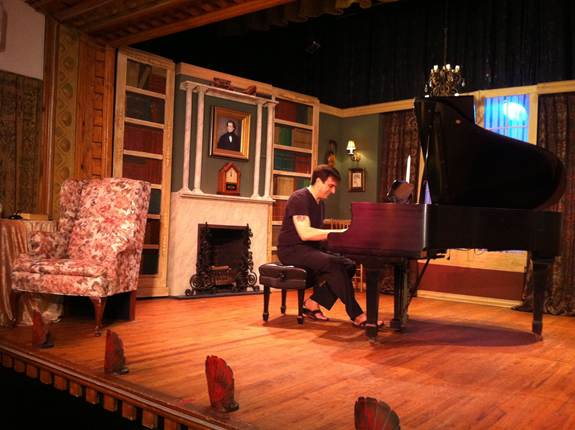 With all those witnesses, plus an audience full of more witnesses, who knew the investigation would take two acts!
Ms. Philomena was ably assisted by Miss Thing (George McGarvey), an elegant pink-gloved and bejeweled hand – hand-some, one might say! She provided many clues throughout the evening that Philomena interpreted for the rest of us!
Followed immediately by Bedford 's works "Early Chill" and "Ethyl", the smaller ensemble consisted of Seth, Christopher, Kurt and Isaac who were joined by tenor Brent Weldon Reno interpreting these modern masterpieces.
Clarence Perry was next with Black Earth from Homage to Asik Veysel, a recent work by the composer. Perry has such a range, and seeing his concentration on such a challenging speech is as inspiring as the music is thought provoking.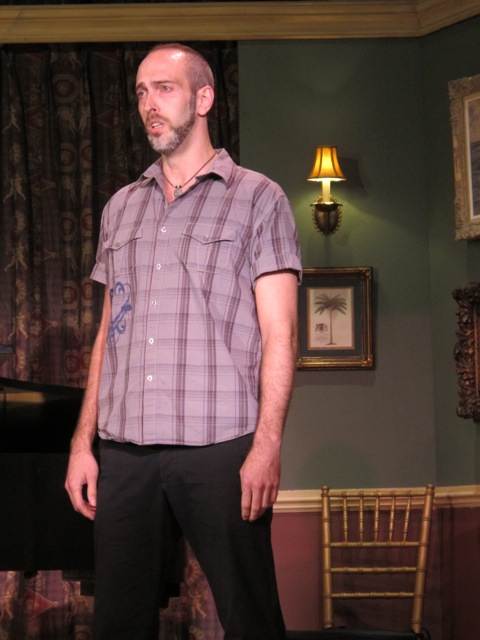 Next up was the Grove's own award-winning David Auxier in Der Doppelganger from Schubert's Schwanengesang, a great choice for an atmospheric evening.
Chris MacDonnel sparred with Isaac on Saint-Saens' Oboe Sonata in D Major, the third movement. Even while the mystery deepened, the oboe's plaintive voice seemed to be telling us something.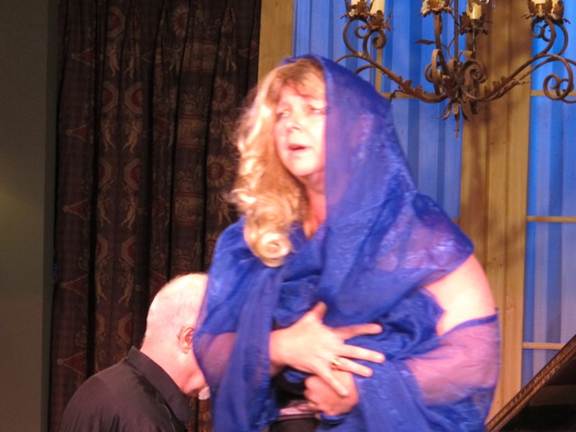 Rounding out the first act, was the chilling "Church Scene" from Faust, where Mephistopheles (bass, Eric Coyne) tells the once virtuous Marguerite (soprano, Sherri Rase) that due to her wanton ways, he's damning her to Hell.
Gene Rohrer accompanied them on piano, sounding like an entire orchestra, even while the most surprising demon chorus ultimately herded Marguerite away – who could possibly be more demonic than Ruth and Susan Freedner, and their West Side friend Tim Webster.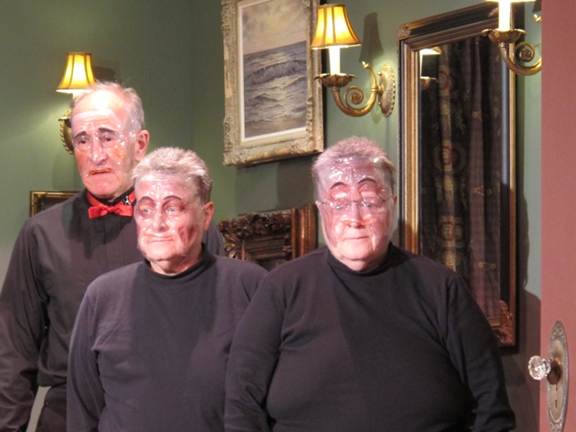 Clad in masks and equipped with ratcheting noisemakers, this was indeed a fierce trio! The audience wondered how Rase and Coyne kept their composure with so much going on!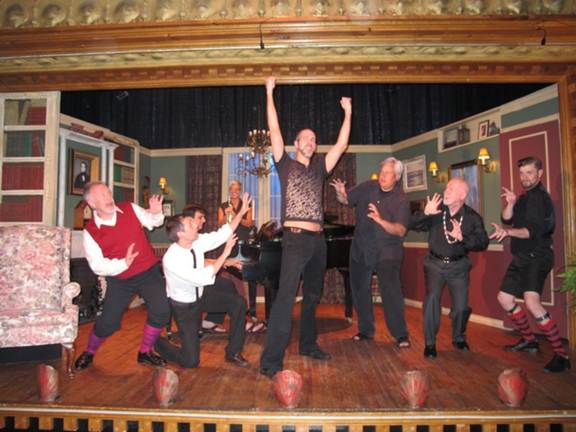 Act II opened with more clues to the mystery as well as David Auxier with a bloody ghostly chorus. He regaled us with "When the night wind howls" from Gilbert & Sullivan's Ruddigore. The chorus of Seth, Kurt, Eric, Gene, Christopher, Brent, and Curtis Strohl was accompanied by Isaac on piano and Laura on trumpet, really getting people back in the mood after the short intermission. Christopher and Kurt snuck in like thieves in the night to play Gliere's Huit Morceau, I. Prelude and VIII. Etude before creeping out again.
Isaac accompanied George McGarvey in the heart rending Tu lo sai, by Torelli. While the piece seems to have been written by Torelli in the mid 17th century, there is a mystery wrapped in a conundrum as it might be a 19th century piece written in Torelli's style – hmmmm, the plot thickens!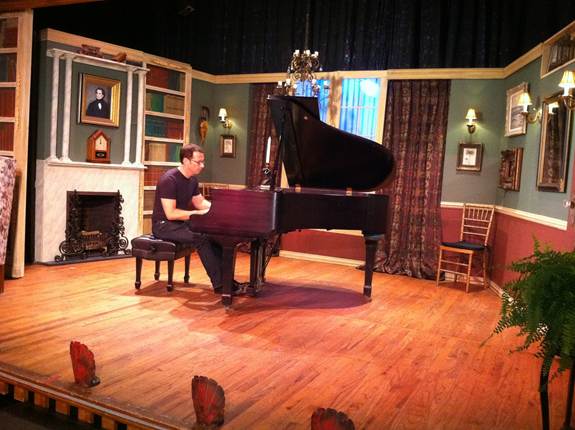 Local aficionado Anthony Chiocchi loves Beethoven, and quite honestly who doesn't? Anthony's rendition of the Rondo: Allegro movement of the Sonata in C minor showed not only technical skill but also a deep love for music. But what could possibly crown such an evening as this?
Molly Watson, making her Cherry Grove Arts Project debut, closed the evening as only a diva could – with the Queen of the Night's "vengeance" aria from Mozart's Die Zauberflote. When a woman gets angry, she's a force with which to be reckoned. When a diva gets angry, stand BACK! The coloratura passages were danced through with ease but oh, Kitty! Retract those claws! The audience emerged from the concert a buzz with what they'd seen, many saying that it's the best Ocean Aires that Isaac's done so far! From my perspective, I couldn't agree more! Oh, and what about the mystery? Which of the musicians did the dirty deed? Truly knowing how to hold an audience in the palm of her delicate hand, Philomena will NOT divulge the Evil Doer until Ocean Aires XIIII. Make sure you're on hand to give it a "Sporting" chance…