PAWS ANNUAL BENEFIT at the Ice Palace
                                       By Jeannie
"Everybody Go Rescue a Dog Tomorrow" was the battle cry as
the stars once again came out to save the animals in annual benefit. Organized by Grove's Valerie Perez, who organizes PAW (Pines Animal Welfare Society)—along with, Lee Frey of the Pines.
It brought the Ice Palace's Sal Piro came out  of semi-retirement as he introduced co-hosts Bella & Panzi. A new element has crept intro the Grove shows - probably for the first time the live performers outnumbered the lip synchers 9 to 6! Is this a trend?
THE PRE-SHOW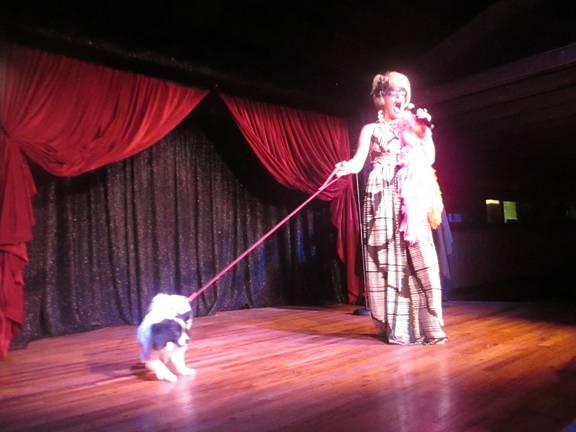 Lavinia Draper and Oscar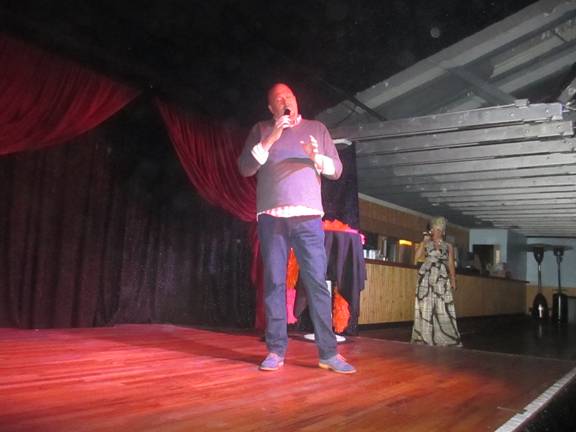 Golden Voiced Kenny Holcomb lent luster to such standards as "Till there Was You" then they adopted the animal theme with "Hound Dog" and "The Lady Is a Tramp," ending with "Last Dance."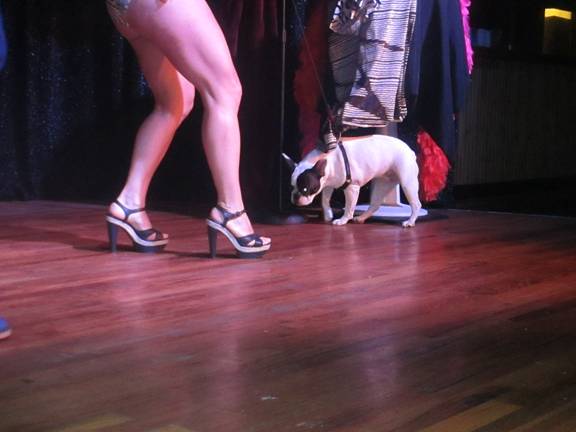 Coco seems unimpressed being on stage
Lavinia can be seen Wednesday nights and Monday night's Broadway at the Beach,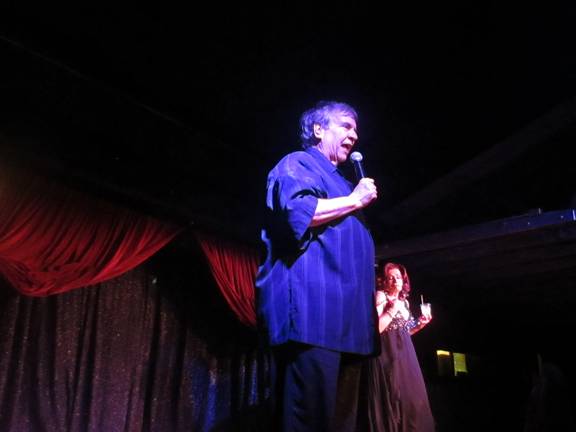 Sal came out of semi-retirement to host
Bella started her stint as Mistress of Ceremonies with "Il bacio (kiss)" planting one on the visiting pooch Coco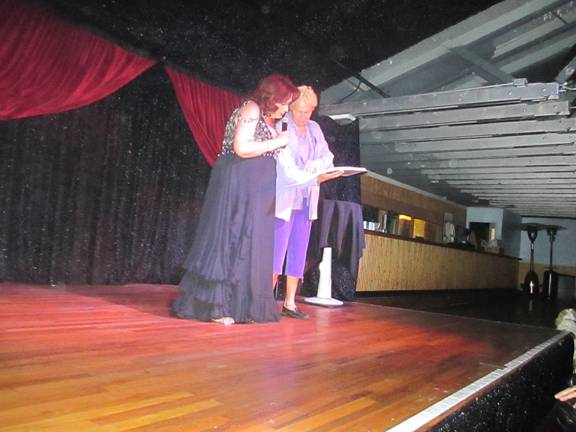 Lorraine Michels showing Bella her page in her new book "Celebrating the Heart of Cherry Grove: the Community House," available by donation to the Cherry Grove Community Association's Save Our Community House campaign,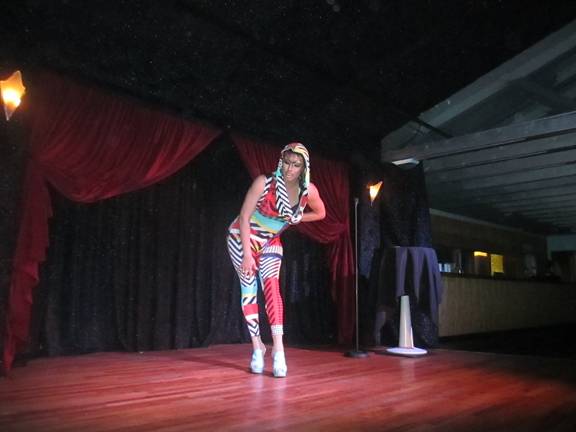 Logan Hardcore, about whom the Freedner twins murmured "She looks like a test pattern" was barred from literally hanging from the rafters but jumped, cart wheeled and split to "Don't Leave Me This Way" and "Ring My Bell."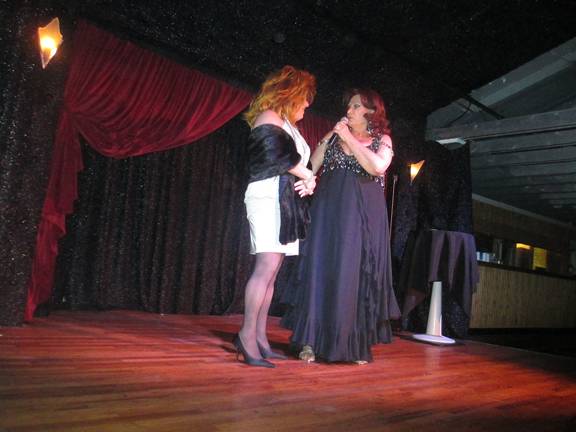 And a visit from her majesty Homecoming Queen Shirley Shapiro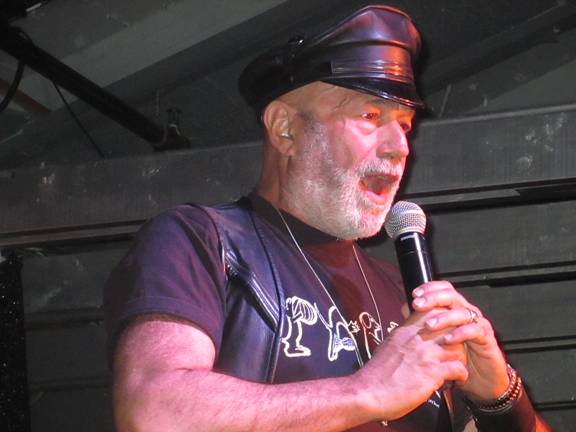 Bruce-Michael Gelbert powerfully delivered the anthem "I Am What I Am" and the audience clapped along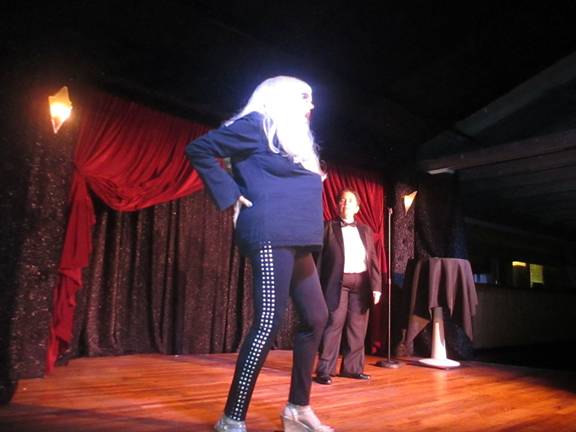 The ever inventive duo Linda Dickerman  sang Paul Anka's "Having My Baby" to Barbara Hirsch, who delivered "I Could Have Danced All Night" before delivering that very suspicious package – their Baby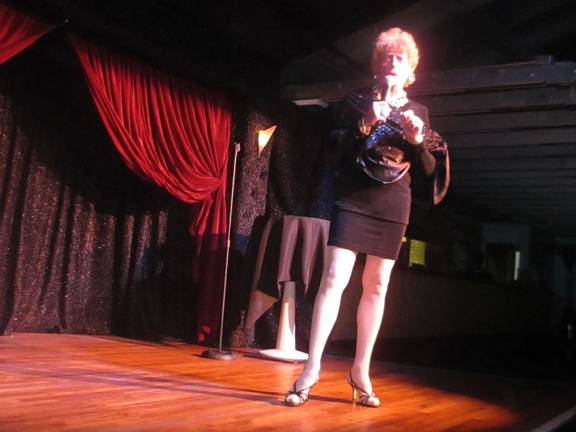 Rose Levine conjured up Merman with "Wonderful, So They Say"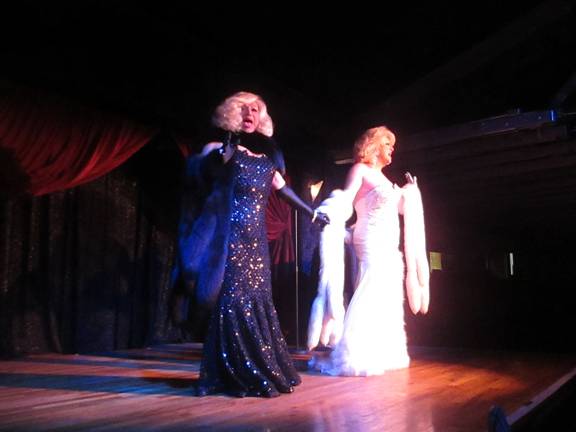 Stunning as ever, Demi-Tasse & Madison Mansfield lip synched a stirring rendition from the recently canceled TV Hit SMASH "Let Me Be Your Star"
Mario Scarpa contributed a swinging "Luck Be a Lady."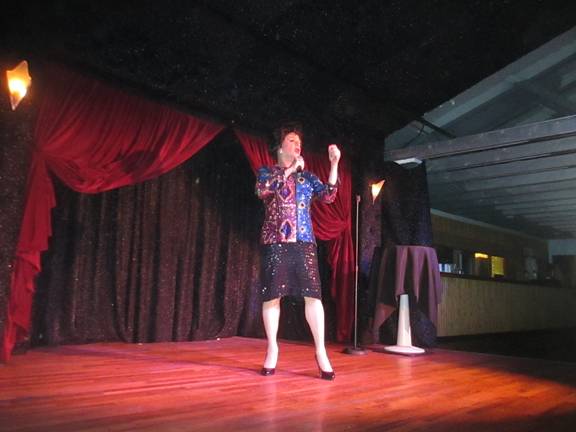 The brilliant Tommy Femia as Judy Garland brought down the house with "Rockabye Your Baby," and "Chicago" to close the act.
. Bella quipped "she's slept with everyone, Lassie, Rin Tin Tin, Mickey Rooney" 
INTERMISSION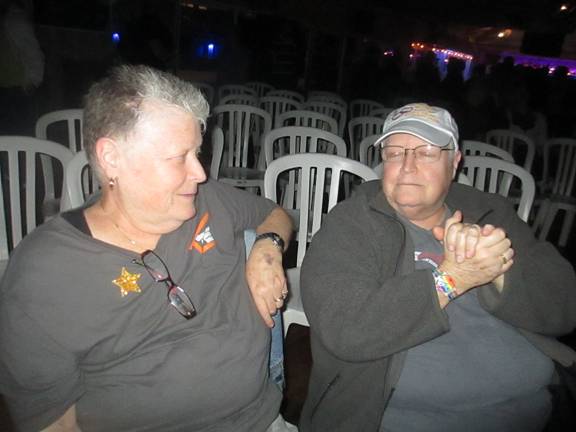 The Freedner twins chattering non-stop "We don't see each other in the winter" – one is in Florida, the ether New York.
I love it here!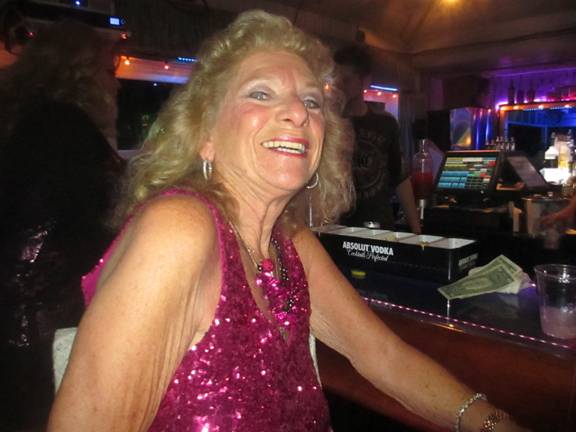 Joyce Rogers, always glamorous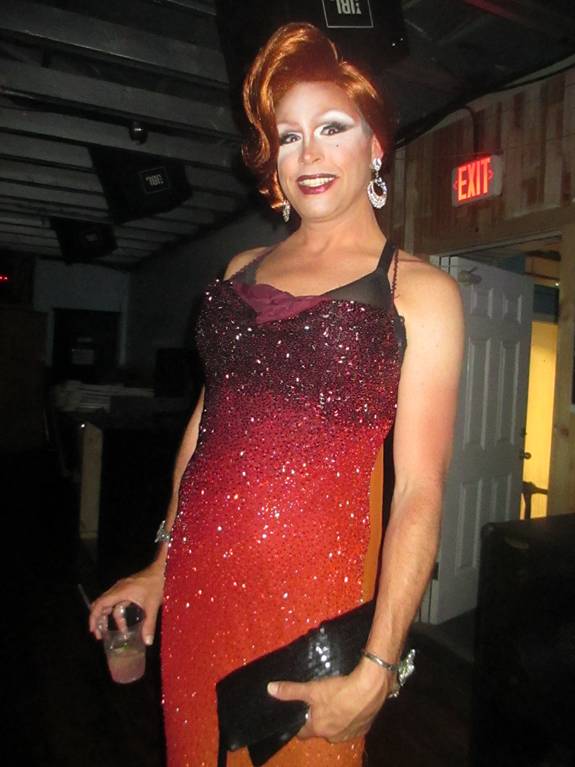 The towering Whore D'Oeuvre looking demure and ladylike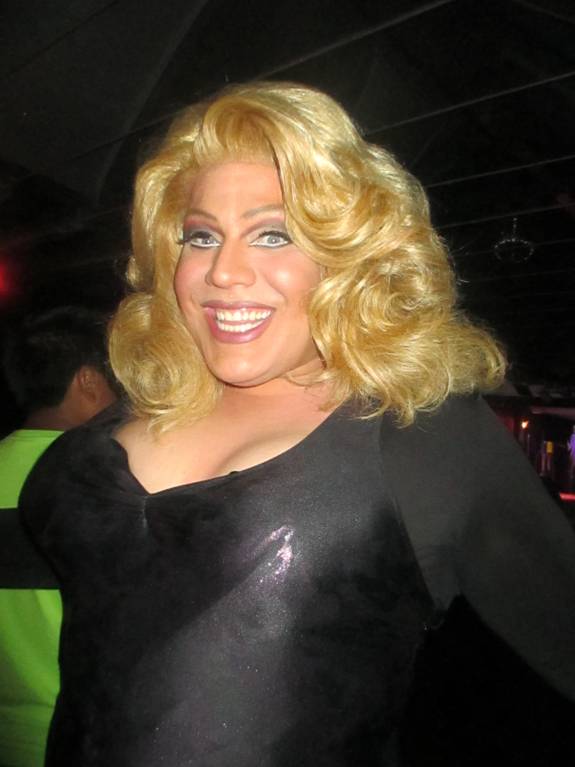 The so very talented Porsche 
ACT TWO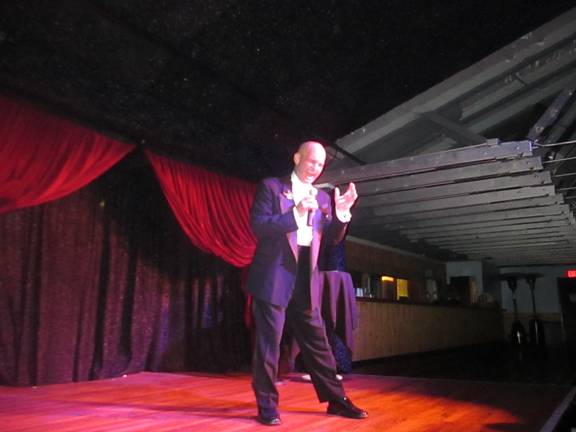 Ken Woodhouse, suave and sophisticated conjured up Sinatra with "That's Life."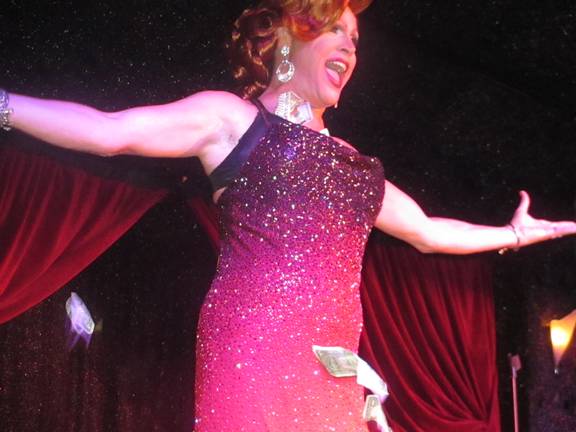 Whore D'Oeuvre (Michael), proved a magnet for money singing "It's My Time,"
Mathew of M&M's sang "My Funny Valentine", not pictured here)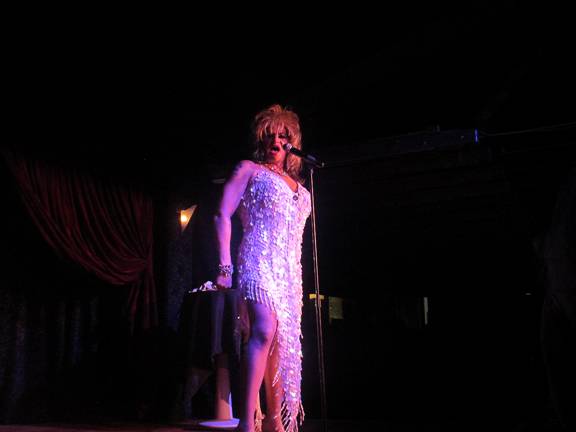 Donna Piranha announced "The bitch is back!"
MC Panzi deliciously over-the-top cracked a few salty jokes
Porsche, outdid herself doing not one but two voices in a duet with herself honoring the recently departed Jean Stapleton – as she did both Archie and Edith Bunker's "Those Were The Days"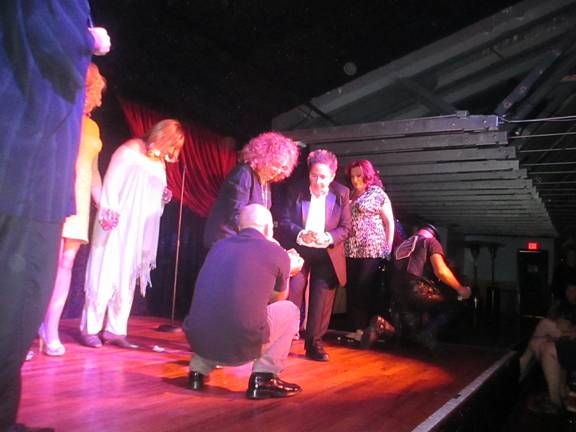 Performers on hands and knees scooping up tips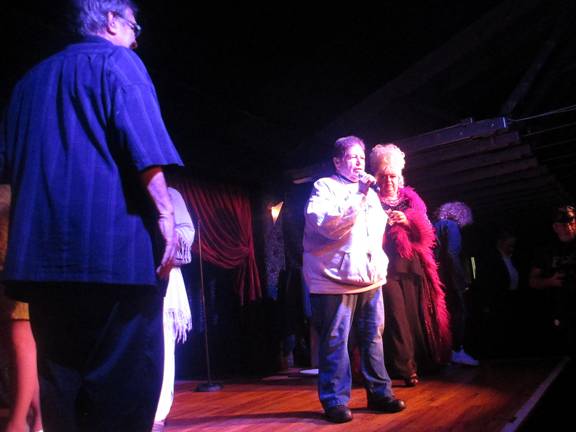 Grove's Valerie Perez, who organizes PAW (Pines Animal Welfare Society)—along with, Lee Frey  of the Pines - proved Bella right when she said "this is the one day that Valerie smiles", thanked all involved.
Thanks as always to DJ Chuck McTague's music, lights, and sound.
Tim "Sabel Scities" Byars won the  $800+ 50-50 raffle.
The evening ended on a sweet note as the crowd thronged to the lavish dessert table