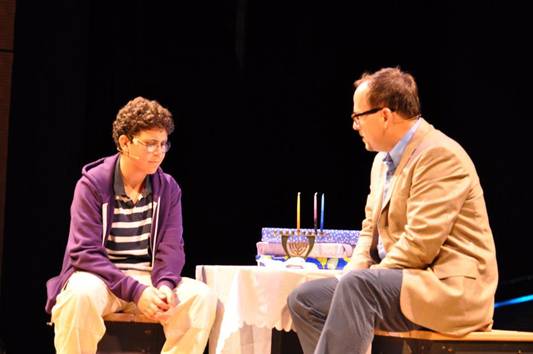 Sammy Grob (Jason) and Tom Gamblin (Marvin) sing "Father to Son"
                                      FALSETTOS
                                                          By Jeanne Lieberman
Starring Pines residents Ryan Bell, Steven Alan Black, Tom Gamblin, Sammy Grob, and Nicole Lafountaine along with Anna Ty Bergman and Cynthia Murray-Davis.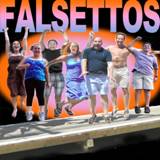 Directed by Joe Barros, Music and lyrics by William Finn. Book by William Finn and James Lapine.
The Pines Arts Project finally chose a musical they did not have to alter to relate to the predominantly gay community and a marked departure from their usual musicals (i.e. last summers' Guys & Guys, er…Dolls )
William Finn's Falsettos  was ground breaking in its subject matter:   With his son's Bar Mitzvah imminent,  Marvin (Tom Gamblin) leaves his wife Trina (Nicole LaFountaine) and son Jason (Sammy Grob) for his lover Whizzer (Ryan Bell). With Jason rebelling against his upcoming Bar Mitzvah a shrink is recommended who becomes Marvin's  psychiatrist (Steven Alan Black) and goes from being Marvin's doctor to Trina's new husband(!).  A neighborly lesbian couple Charlotte (Cynthia Murray Davis) and Cordelia (Anna Ty Bergman) lend some levity to a potentially heavy scenario. Whizzer gets AIDS, Jason decides to have his bar mitzvah after all at his bedside before he dies.
 When it was produced in l992 it was in a very different context, the world of 1979 – 1981, even before the AIDS epidemic became recognized (and named)
Opening with "Four Jews in a Room Bitching,"  one can see why the play originally inspired such reactions as "Depraved, anti-Semitic… aggressive homosexual indoctrination and the accompanying hostility toward religious belief….celebrates sexual promiscuity, disease, and death".
It was also a time when everyone saw a "shrink". Add that the chosen one breaks the rules, sees the family through a divorce and marries the wife of his patient.
Jason's Bar Mitzvah is imminent as his father, Marvin, selfishly sings "I want a tight-knit family," while trying to juggle lover, wife, son and shrink to disastrous effects.
Given an over view it a struggle to define masculinity and love during an age of permissive sexual choices in a shifting society, a modern family divided in sexuality but finally inseparable in love and death.
Bill Finn's eclectic almost sung through score ranges from show-biz razzmatazz ("Love Is Blind") to lullaby ("Father to Son") to lush ballads ("Unlikely Lovers"). Songs like "Everyone Hates His Parents", "Something Bad is Happening" and the heartbreaking final song "What Would I Do' describe the arc of the musical just as its time span goes from a relatively fun time to the horror of AIDS.  
The versatile cast, seen by the community in so many diverse roles, should be commended for delivering this complex, no frills show with no distractions from their performances which had to carry it all.  Each is praiseworthy in his/her own way. But one cannot ignore Sammy Grob, beloved grandson of the Pines' equally beloved Rita & Jack Lichtenstein, who has grown up before our eyes into the charming, and talented young g performer that he now is. Sort of adds to the family atmosphere the show tries to create.
Joe Barroe's idea t stage in the round seemed like a natural choice for a play with little sets, credit Glen Wielgus for literally burying his talent underground with a series of versatile pop ups constructed by Ryan Bell, L.I.C.(Whizzer? The guy can do anything)
Mention must be made of the band: Conductor/ piano Erik Martin, Synthesizer Jim Colleran, Reeds Joshua Jonsson, and percussionist Mary Rodriguez who learned this complex score in record time. How do they do it?
Recently seated at a table of five gay men in their 50's I was surprised how vividly they remember  and how much they still love the show, which they saw some 20 years ago..  Although some of the anguish of AIDS has for now been somewhat controlled the joy and pain of these relationships still lives. There wasn't a dry eye in the house at the play's conclusion…including mine.
                                                         Jeanne Lieberman
Notes from the Director Joe Barros
the show was never meant to look and feel conventional. I wanted to challenge the way things have been done on the island and I also wanted to examine the use of the space. It's such a beautiful space, and I thought it would be powerful to use the room for such a daring musical. I ultimately wanted to create an intimacy between the actors and the audience as I believe FALSETTOS is an intimate show. I knew that audience members would have to face an occasional back, but that was a part of this journey and a part of the magic of what it is to stage a show in the round. This cast worked so hard to create a unique experience for its audience. And one of our greatest discoveries on our unique set was that limitation is creation.
I first discovered FALSETTOS when I was 17 years old. It blew me away. I immediately connected with the material - my grandfather contracted AIDS in the early 80's during a surgery in which he needed blood. It was then passed to my grandmother and by the time they discovered what was attacking their bodies, they were literally withering away from the virus. I was barely 5 years old when this all happened but my family was well educated about what was going on and so was I. The rich story within FALSETTOS was relatable and I connected with the struggle that this family was going through. I had lived through a very similar struggle. It was all about acceptance. Accepting death - and ultimately accepting change.
FIPAP considered the show because it is a favorite of board member Steven Alan Black - in addition to many Pines residents, including cast member Nicole La Fountaine. La Fountaine and Black, long time performers of the annual musical, have wanted FIPAP to consider the show for at least the past 7 years. They, and many members of the community, were so thrilled that FALSETTOS was chosen. I had the great privilege of choreographing FIPAP's GUYS AND DOLLS last season. During that time, Steven mentioned that he may propose FALSETTOS to the board. I immediately told him that it was my favorite show, I had directed it when I was 17 as a kid in San Francisco, and that I would absolutely die to revisit the material! That production of FALSETTOS made me discover that I wanted to produce, direct, and choreograph.
We did not piece together the two shows. FALSETTOS is actually a trilogy. That trilogy is IN TROUSERS, MARCH OF THE FALSETTOS and FALSETTOLAND. However, FALSETTOS is only performed as MARCH OF THE FALSETTOS and FALSETTOLAND. IN TROUSERS played NY in 1978 (Playwrights Horizons, and later a commercial musical off-Broadway in 1985), MARCH in 1979 (Playwrights Horizons), and FALSETTOLAND in 1990 (Playwrights Horizons, and eventually a commercial production at the Lucille Lortel) the long awaited sequel to MARCH OF THE FALSETTOS. In 1991, Hartford staged mounted a production of the combined MARCH OF THE FALSETTOS and FALSETTOLAND which was directed and choreographed by Graciela Daniele. This production was rumored to transfer to Lincoln Center but it never did. In 1992, the Weissler's produced FALSETTOS on Broadway - a combination of MARCH OF THE FALSETTOS and FALSETTOLAND. This production won the 1992 Tony Awards for Best Book of a Musical and Best Score of a Musical.
We taught the music over a week and a half period, but the actors weren't called for the entire 2 weeks. And then rehearsed for 3 weeks before we opened. We had to take the extra time to teach the music because of the complexity of the score and fact that it is nearly sung through. As complex as it was, we approached the show like a play, examining all beats as scene work. The cast always worked as a sophisticated ensemble - constantly working together to make discoveries and to refine the choices their characters make.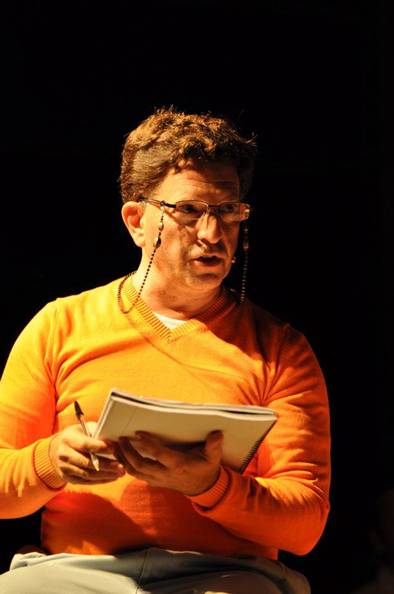 Steven Alan Black as Dr. Mendel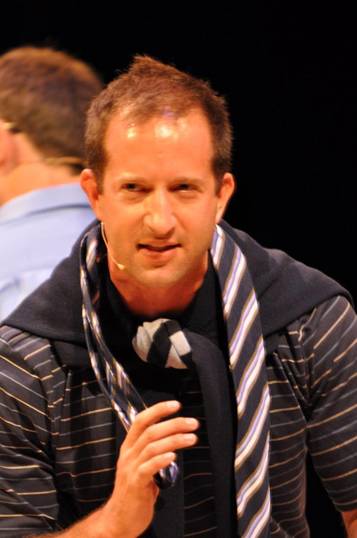 Ryan Bell as Whizzer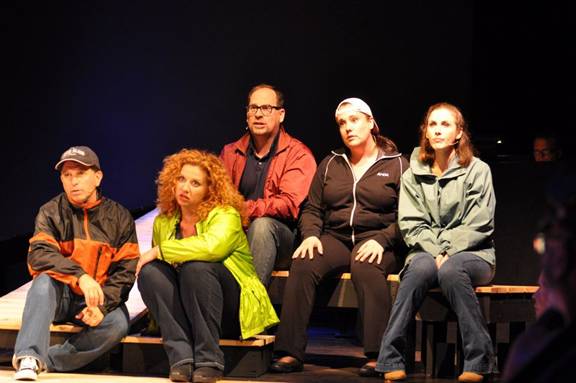 Watching "Jewish boys who cannot play baseball, play baseball."
Steven Alan Black (Mendel), Nicole LaFountaine (Trina), Tom Gamblin (Marvin , Anna Ty Bergman (Cordelia), Charlotte (Cynthia Murray Davis)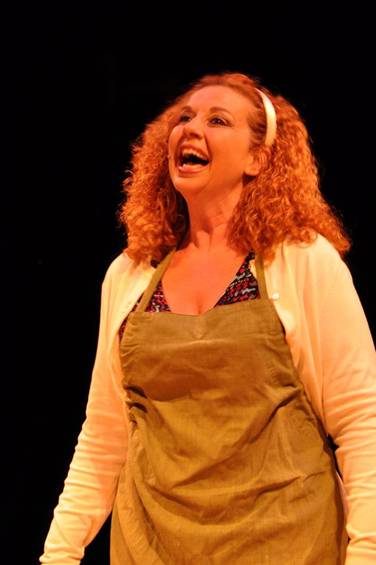 Nicole LaFountaine (Trina) sings "I'm Breaking Down" ("Trina's Song" in which she indicts the "happy frightened silly men who rule the world" )
Tom Gamblin (Marvin), Ryan Bell (Whizzer), and Anna Ty Bergman (Cordelia) sing "Days Like This"
Nicole LaFountaine (Trina) sings "Holding to the Ground"
 as Ryan Bell (Whizzer) sleeps in the foreground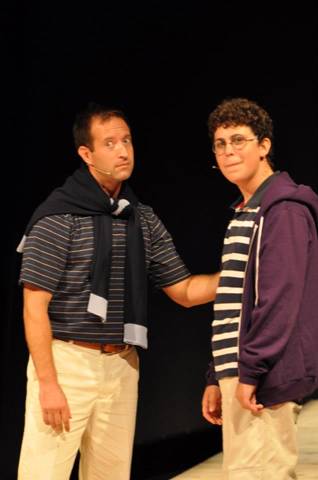 Ryan Bell & Sammy Grob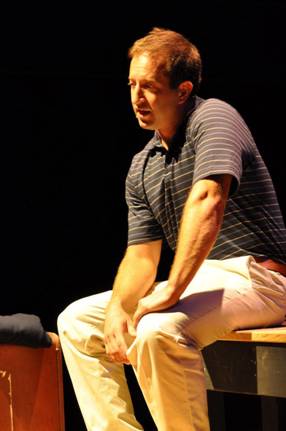 Ryan Bell as Whizzer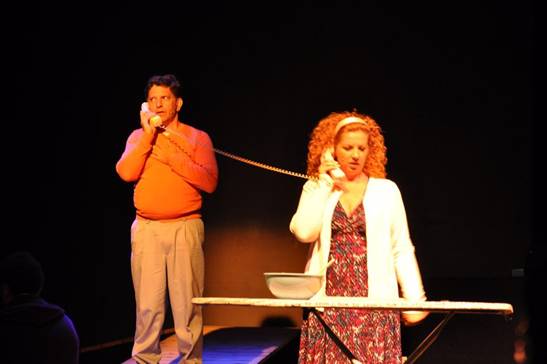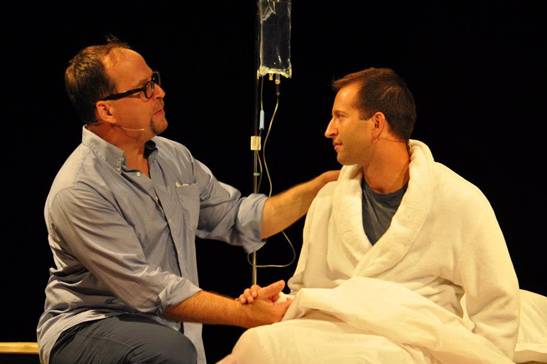 Tom Gamblin (Marvin) and Ryan Bell (Whizzer) sing "Unlikely Lovers"