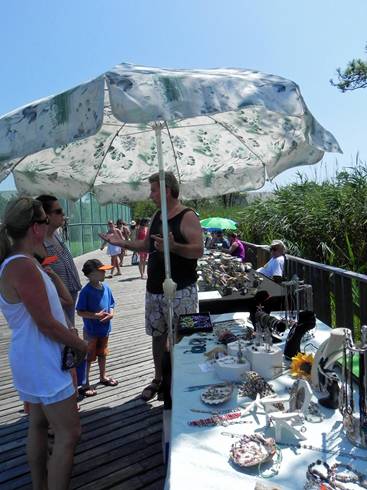 Saltaire Music and Art Festival  
                            text & photos by Bradlee White
Congratulations to Cheryl Valente, Board Member of the Saltaire Citizen's Advisory Association (SCAA) for again organizing and presenting a wonderful event.  Each board member is assigned a Saltaire event to coordinate.  Cheryl has been the heart and soul behind the Music and Arts Festival for twelve years.  Although I've been at the event several times over the years, this is the first time I've had the chance to talk to all the artists and get a picture of the event as a whole.
The music at the Gazebo was provided by the Sutton Ensemble, founded by Eileen Sutin and based in New Jersey.  The group, represented today by Ms. Sutin and two of the other nine members, has been playing delightful chamber music for this event for the past six or seven years.  A more recent addition to the festival, playing by the Fire Department, was Tommy Campo, singer and guitarist with the Craven Band, a Long Island/Fire Island favorite. 
I started with the artist/vendors down the shady side of Broadway by the Fire Department, beginning with world famous nature photographer Ann Littlejohn, a former Kismet resident.  Ann's latest ventures have been in Alaska and Canada where she photographed both brown and polar bears.  One deceptively cuddly brown bear named Paula was featured on a web site where Google picked her up. 
Amanda Kavanagh of Lonelyville showed her beautiful oils on canvas.
There were two tables of T-shirt creators seated across Pomader Walk from one another.  Leaving me feeling like the proverbial dinosaur, Anthony and Amelia (of Anthony, Amelia and James) explained that the art work on their Ts was done on an I phone.  Coty Baker of Kismet had a collection of his ironic deer prints --  a deer jumping from lifeguard stand, a deer with Martini riding a 19th century bicycle.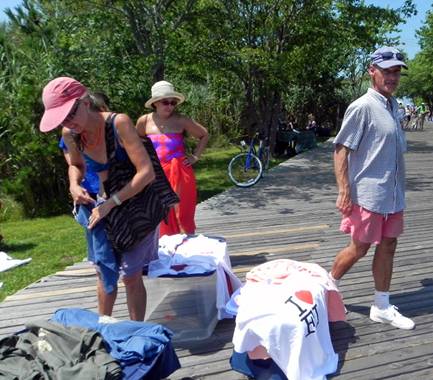 A third T-shirt vendor, Justin Healy, showed both commercial Ts and his own creations.
The Saltaire Citizen's Advisory Association (SCAA) had a table fund-raising table, selling a book of pictures and anecdotes of historical Saltaire houses as well as the latest Saltaire residents' directory.
Several groups of children were situated across from the Market.  Jude sold friendship bracelets, Kate and Rachel recycled, handmade crayons and another group was doing a brisk business selling lemonade.
Jim O'Hare, described as an ex-pat Saltarian, is a lawyer with passion for historical documents, photographs and artwork.  I was especially taken with his large, framed posters of early 20th century life.  He will be speaking at the library there on August 8th from 12-1 on six people who shaped Saltaire in the 1950s and 60s.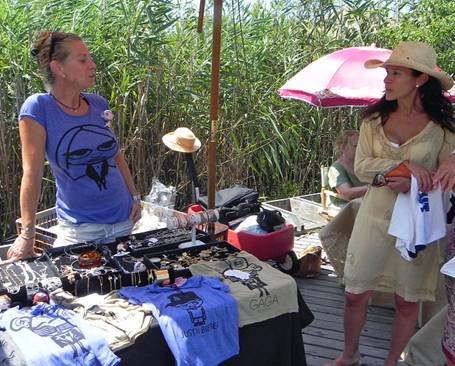 Patricia Oppenheimer maintains a fashion showroom in New York under the name XTige.  She exhibited some of the European brands she carries, such as elegant Mau Mua t-shirts with celebrity caricatures and Auderbeit French jewelry and little knitted pins.
The Saltaire Yacht Club Commodore's wife, Eugenia Meluso and their daughter were selling caps and visors to raise funds for equipment for the sailing program for village children.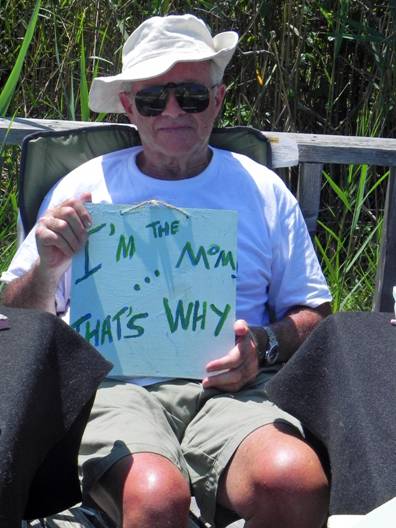 Dick Dean, a website designer, makes whimsical wooden signs, often featuring fish, which he sells for charity.
Several artisans displayed their own hand crafted jewelry including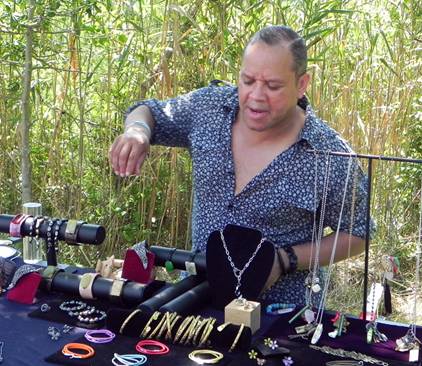 Rick Rodriquez
Donna Muncil, Jewelry by Marianne Dauernheim, (much admired by Amy Wood, Judy Phelen and JoAnn Padovano of Kismet) The Pearl Garden (purses and jewelry),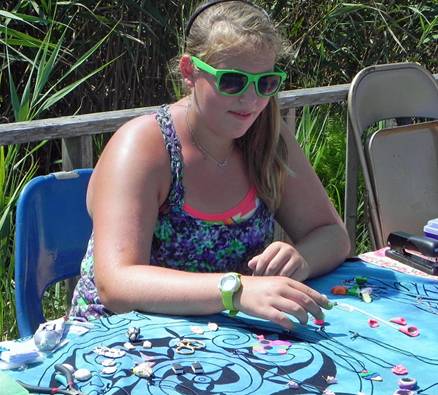 Issy, Ro's Stolen Jewelry (she began creating jewelry to replace hers which she lost in a robbery)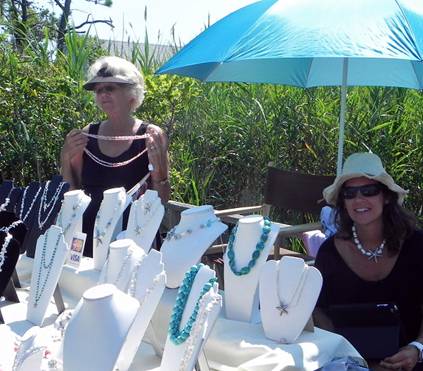 and Megan whose signature pieces are starfish.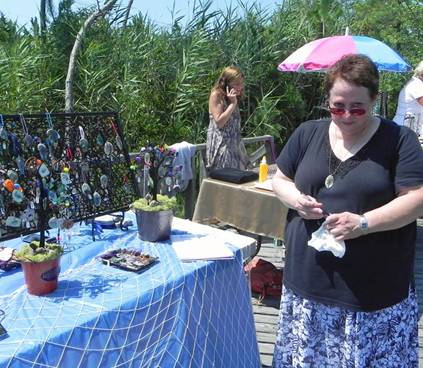 Bridget Montefiore
Bridget (Bridget's Gems) Montifiore owns a shop making and selling custom fishing equipment.  She could not bear to throw away the leftover threads and fishing line, so began using them to create striking designs on seashells which she later enamels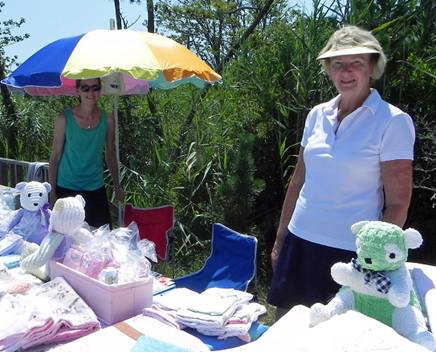 Barbara & Jennifer Olive St studio
The mother-daughter team of Jennifer Hicks and Barbara Thorpe of Long Beach create chenille baby quilts and toys as well as all sorts of other baby clothes and accessories through the Olive Street Studio.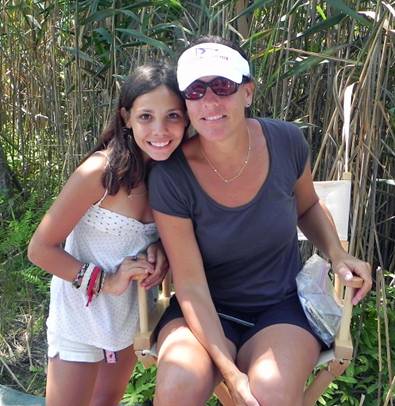 Vanessa & Rachelle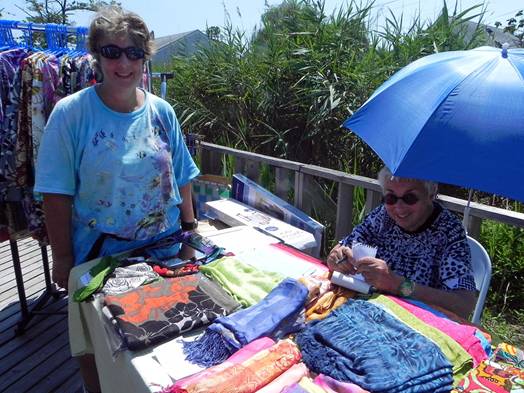 Another mother-daughter team was Rachelle, "Shelly" and Vanessa Holden who act as representatives (through Holden Worldwide LLC) for various disenfranchised women's coop crafts all over the world.  (Shelly says it's Vanessa's business – she's just a Mom, helping out). They hope to keep these crafts going by showing and selling clothing and scarves from Vietnam, Ghana, India, Indonesia to name a few.  They will have an end-of-season deck sale on August 25 at 7 Keogh Walk in Fair Harbor.