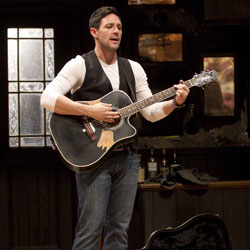 Steve Kazee in Once
(© Joan Marcus)
Talkin' Tonys – REALLY?
                                                          By Jeannie Lieberman
At last! Its over, the results are in. What have we learned by this largely populated race which, like the Belmont, had no favorites.
This is the only race in which entrants try to finish LAST! Just before the deadline! The concept is that voters, who are on cerebral overload, can only remember the last show they see. It didn't help Ghosts and Leap of Faith whi.ch came in last.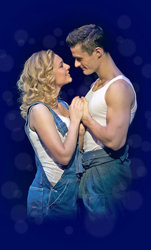 Siobhan Dillon and Mark Evans
(Photo by Matt Crockett)
Shows that opened earlier in the season invited voters back: Porgy & Bess, End of the Rainbow, The Best Man which is a smart move by producers but only helped Porgy & Bess which copped the sought after Best Revival of a Musical prize over Sondheim's Follies, one of the night's surprises.
Revenge?  Many believe its win was a backlash by the theater community after the unprecedented scathing indictment by Stephen Sondheim, questioning its legitimacy, before it opened and had producers scrambling for money. Interesting note: Follies continued its losing streak; it failed as Original Musical and twice as a Revival before this.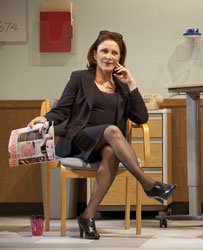 Linda Lavin in The Lyons
(© Carol
First casualty of the Tony's: The Lyons, the starring role for which Linda Lavin left Other Desert Cities, is closing July 1st. Wonder how Lavin feels with Judith Light, her replacement in that show, winning Best Featured Actress.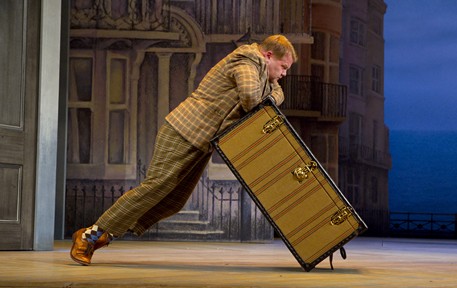 James Corden in a scene from One Man, Two Guvnors
(Photo credit: Joan Marcus)
Kids/Comedy Take Over
Slap in the face to traditional Broadway standards and veterans: – Once, an oddball one set, mini show with all newcomers, won over the favored, big scale, Broadway's top of its craft Newsies, winning for Best Musical (really?), Best Direction, Book, Sets (Over Spider Man, Follies? Really?), Lighting design (over Ghosts? Really?). Similarly incredulous Peter won for best sets!!! Amazing what a bit of rope can do and a tattered T shirt – clever but a winner/???!!! Imagine the seamstresses and carpenters who create REAL sets cringing in their cubby holes and benches this time. Think of the intricate set of that crackpot One Man Two Guvs where fast pacing in slapstick pratfalls and those ever slamming doors is tantamount to near impossible without a hitch which could be disastrous.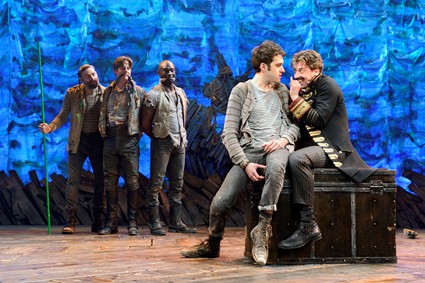 Matt D'Amico, Rick Holmes, Isaiah Johnson, Adam Chanler-Berat and
Christian Borle in a scene from Peter and the Starcatcher
(Photo credit: Courtesy of O&MCo.)
Youthful Christian Borle (having a banner year as one of the leads in TV's Smash), won Best Featured actor in Peter and the Starcatcher. Another youthful winner, Nina Arianda in Venus in Fur, beat out veterans Linda Lavin, Stockard Channing and Cynthia Nixon.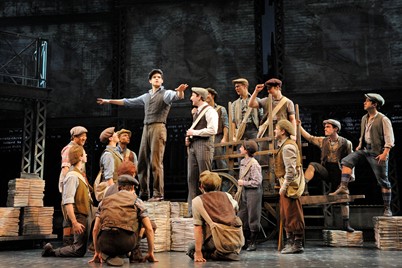 Jeremy Jordan and the cast of Newsies, The Musicial
(Photo credit: Deen van Meer)
Once over Newsies, Newbie Steve Kazee won Best Actor in a Musical in a wooden performance over fave Jeremy Jordan and veterans Danny Burstein Ron Raines, Norm Lewis.  20 something James Corden won Best Actor in a Play; this is not only a triumph of youth over veterans, legends Philip Seymour Hoffman, James Earl Jones, Frank Langella and John Lithgow but comedy over gravity.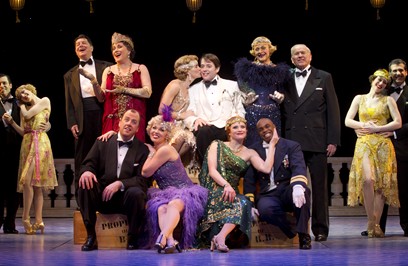 The cast of Nice Work If You Can Get It
(Photo credit: Joan Marcus)
Comedy ruled again as Michael McGrath won for Best Featured Actor in Nice Work if You Can Get It over a rapist (the serious P&B's Philip Boykin) a drug pusher (David Allen Grier) a dictator (Michael Cerveris, Evita) and even Jesus Christ (super star).
To balance things Judith Light was the only veteran in Best Feature Actress in Play, and Judy Kaye in a pack of newbies
Kids influenced Newsies, a male Annie. Alan Menkin (winning his first Tony, for Best Score, can you believe it?), said he owes its success to generations of kids who wouldn't let the movie die.
A another note of youth vs. experience – just think of the charm of Jimmy Stewart  as the foil for Harvey and think of this guy – whose name and face I keep trying to forget – and succeeding (Jim Parson's?)  Just like the rabbit Harvey his charisma is invisible…….unless you are 19 years old,
Thank goodness for 80 year old Mike Nichols and Christopher Plummer, who received the dubious compliment after presenting to Ariadna that he was her first crush in Sound of Music (a role he notoriously hated)
Random thoughts: All four nominated plays Clybourne Park, Venus in Fur, Peter &… , Other Desert Cities, came from Off Bway  which is encouraging to the myriads of Off Bway plays climbing over each other for recognition.
Once and Newsies were based on failed movies and relatively low budgets to produce.
Death stalked the winners in an oddly unexpected theme as Steve Kazee, Judith Kaye and Judith Light, thanked a recently lost parent.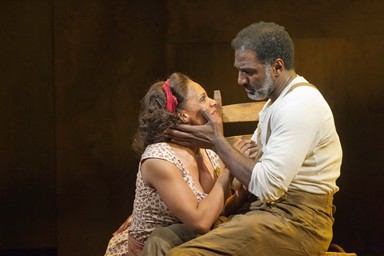 Audra McDonald and Norm Lewis as Bess and Porgy
(Photo credit: Michael J. Lutch)
Audra McDonald, winning her fifth Tony for Porgy & Bess, shed nary a tear when she won Drama Desk, Outer Critics Circle and Drama League awards, proving to all what a great actor she is.
In a specific time when religion rears its ugly head everywhere – politics/morals -and after last year's first ever Mormon inspired musical, Christianity has become a cause celebre on Byway –JC Super star, Leap of faith and Godspell (why did give them a spot on the show, having closed under a brief run…or is it on tour somewhere by the powerful voting block from the regionals).
And speaking of nothing why was Godspell given a prized spot on the show unless its touring somewhere and the greedy brokers want to squeeze more juice into it – but don't worry – no one outside of NYC watches the show I hear.
And the cruise ship version of Hairspray – no wonder Feirstein had to camp it up in a swimming tube and phony palm tree to distance himself from the shameless capitulation to a sponsor – in the world of theater, performance on a cruise ship is considered the bottom if the ladder!
… and how dare they exclude such prestigious awards as Producer Manny Azenberg's Lifetime Achievement Award along with a slew of categories integral to any production:   choreography (thank goodness for Christopher Gattelli whose life will be irrevocably changed and deservedly so),  the much ballyhoo-ed orchestrations ( the magnificent string laden score of P&B reduced to tinny,  brassy Bway orchestrations). If you want to know how Gershwin should sound listen to Nice Work if You Can Get It by Bill Elliot.
And  isn't it a testimony to his genius that not only does Gershwin have two shows running concurrently on Bway so long after his death, but one  a tragedy and one a comic gem (though manufactured by Joe DiPietro from existing music)
And other special Tony's were given to actress Bernadette Peters, actor Hugh Jackman
But practically excluded on telecast
Meet The Voters! Note When queried about how nominators/voters were chosen the late Antoinette Perry stated "it must be someone who sees every show and is not personally connected to any" – which is the exact makeup of the other awards organizations, though unfortunately lesser in impact: The Drama Desk and Outer Critics Circle voters all of whom are reporters, editors – which is exactly the requirement she stated – just  before disqualifying the few critics on the nominating/voter panels!!!
: A little while before her death Isabel Stevenson decided to make critics ineligible as nominators – saying she only wanted those who had no vested interest in the shows, no agenda or bias – so who nominates and votes: Directors, Stagehands, Producers, Actors, and Designers, ALL of whom have vested interests in the nominees o AND tour bookers (the most powerful and courted by productions for that award which automatically makes them commercially viable).
 It is a well known fact that only 70% of 851 vote, and that's like pulling teeth. And of those only a minimal few have seen all the shows.
Therefore we have a few voters, all voting for their vested interests, deciding the Tony's!! Critics should be the only voters that's why critics awards like DD OCC are the most valid.
Oh, well! It will never change.
But to theater devotees who have dedicated so much of their time seeing Broadway shows – its still the best night of the year!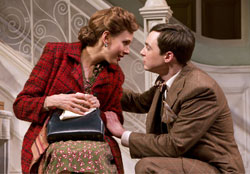 Photo by Joan Marcus
With the opening of Harvey this week – the next race to the Tony's is on!
The 2012 Tony Awards were presented at the Beacon Theater Sunday night. Neil Patrick Harris hosted the event, which was broadcast live on CBS.