The Music of McNight
Sharon McNight The First 30 Years
From Moose Hall to Carnegie Hall (and all the Gin joints on the way)
                                                                  By Jeanne Lieberman
It's an ambitious title that portends the buckshot barrage of material with its hits and misses – sort of like her life one would suppose.
Clad in what seemed like psychedelic pajamas there is still something of the promising youth that won Sharon McKnight, the breakout star of the cartoony 1989 musical Starmites  in which she milked the hell out of "Its Hard to be a Diva" which  won her a once in a lifetime Theaterworld award (for outstanding Broadway debut).  And though it may be hard to be a diva Ms McNight still does it, but in the nicest way.
It would be impossible to judge her voice, affected as she obviously was by allergies (to Fire Island?), cracking about the tissues she kept using – "these go on EBay tomorrow". Then warning her show has no theme – it's about everything utilizing blues & country music to deliver her material.
And indeed it did ramble with varying degrees of success. A song about Taiwan, where they eat dogs "When you sit down to your chow, it's not your chow" was a stretch. A sing-a-long to "Good Morning America, How are You" was more fun. A riff on being raised by elves, mother left for a leprechaun, she ran a 7 minute mile in shoes with pointed toes…went to work for Keebler inserting chocolate chips… the audience was most generous on that one.
After a prolonged buildup to an emotional song "There's A Kid Inside…I can see her coming to me…I can't forget if I tried" she changed emotional direction and went "cute",  keeping a kid theme, "Animals are People too…what did a turkey ever do to you to be served on a platter like that?' the song's message "Life can be sweet if  you learn to give up meat" which however ended with an homage to bacon…"What's a spinach salad without Bacon!    Sorry!!!"
Her Country Western song, "Fernando" included a Hawaiian inspired hand movements which she taught the audience (and which gradually degenerated into "suggestive').
Her act is interspersed with such witticisms as "Is the fucking you're getting worth the fucking you're getting?" adding she's "looking for a gay guy with lesbian tendencies" then paraphrasing "Wind Under My Wings' with "did you ever know that you're a zero…" ending with "you're the contempt beneath my feet…….goodbye". (That one was clever and much appreciated by the savvy audience).
And a song referring to people who decline an evening out saying they have a big day tomorrow with "I've got a b big night tonight and a small day tomorrow"
After confiding why she can't be a cowhands girlfriend "because I can't keep my calf's together" (ouch!) and relating how, when being attacked by a bull, she "was so tired, I ran" (that was better).
As one of her encores she teased the audience with her best material of the night, a Mae West song, "I'm Everybody's Girl"  making it clear that she should stick with  her forte, songs by that icon and Sophie Ticker about whom she had a one woman show "Red Hot Mama".
Cute and clever might fill a cabaret room but she is of the right age now to concentrate on those two women whom she incarnates brilliantly.
Concluding with "I'd like to thank Mary – that should cover everybody" she went to the lobby where she vigorously sold her C D's "Offensive Too, Volume Two" and "Song to Offend Everybody (for those who were old enough to know better but were too stoned to care") Charity snapped them up so we know we'll be hearing that material soon.
Sharon with myself and John DeMarco who was responsible for getting her to perform here.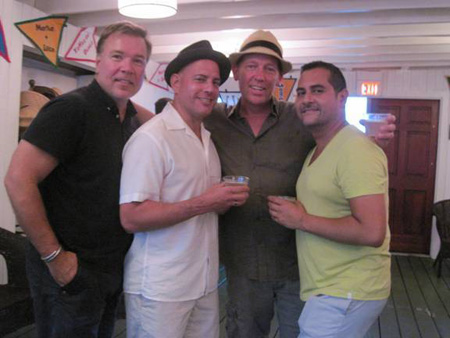 Can you name these queens attending the show??